Life in Sadhanapada - From Home to Ashram
As Sadhanapada 2019 begins, let's look at how the participants landed up at the Isha Yoga Center and their intense orientation process that set the stage for the next seven months.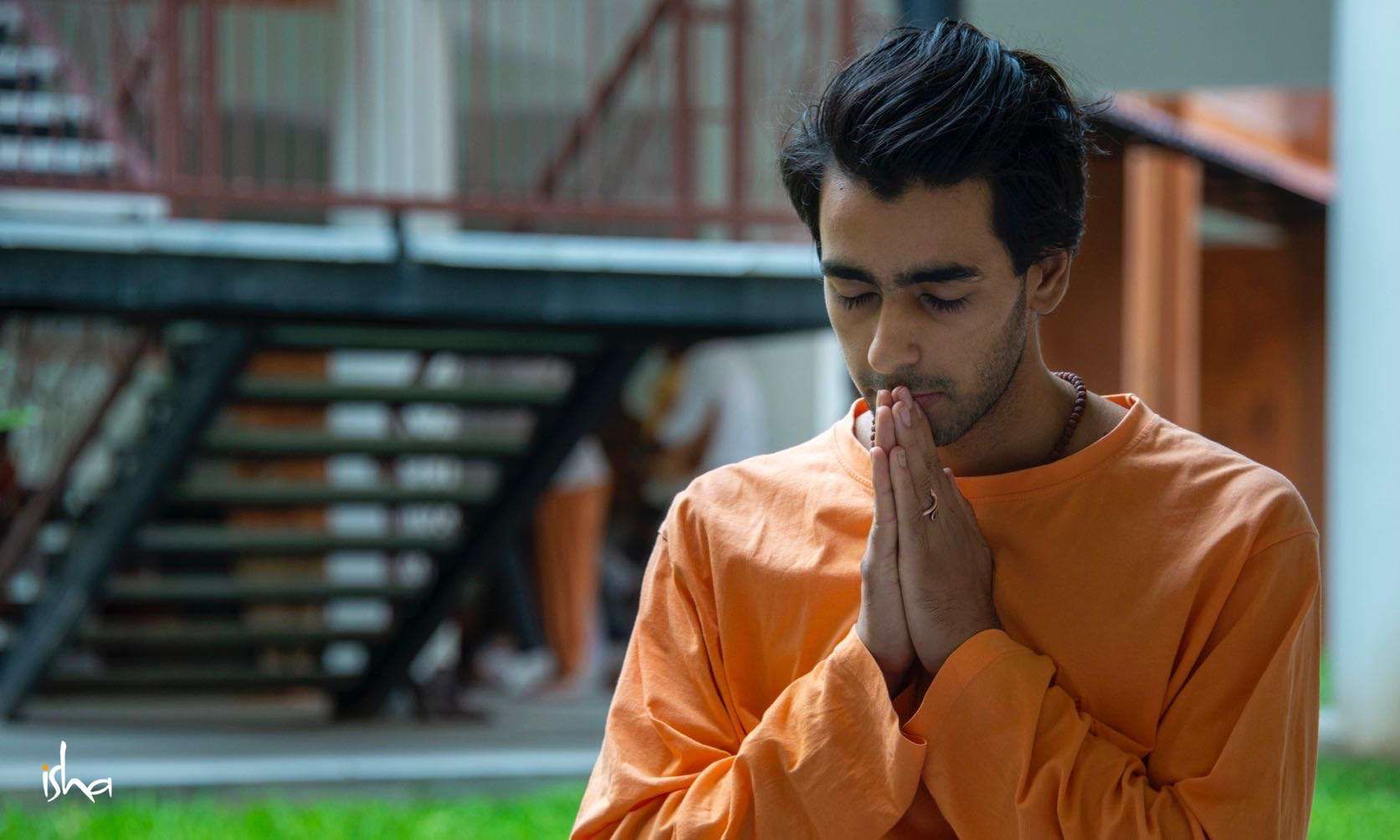 Over 800 participants from 32 countries come together to spend 7 months in the consecrated space of Isha Yoga Center, Coimbatore to work towards a new life - filled with bliss, free of stress and founded on sadhana. The participants go through an intense and disciplined sadhana schedule, contribute to Isha's activities by offering their skills, and immerse themselves in the various events and celebrations in the ashram. In this blog series, we take you behind the scenes through the ups and downs of their journey.
Life in Sadhanapada - All Articles
The Euphoria of Getting In
From those fresh out of college to business owners, professionals, doctors, engineers, musicians, civil staff, scientists and to many others, the backgrounds of the participants are as diverse as the possibilities that Sadhanapada offers.


"I'm going there, it's real!"
"Before I actually arrived, I still couldn't fully believe that I had been accepted. I thought that people here would be so strict and that because I have never volunteered in the ashram before, they could even ask me to leave. But the first volunteer I met, she just did 'Namaskaram' and smiled at me so genuinely that everything just changed from that moment on. My irrational fears dropped away. It's just unbelievable to be here. Even on the way to the ashram, seeing Sadhguru's photos on the billboards, I kept looking at them and saying to myself, 'I'm going there, it's real!'"– Bheem, 18, Jharkhand, India
"I was over the moon when I got accepted..."
"I was over the moon when I got accepted to Sadhanapada! I was overwhelmed to see that such a structured program with the necessary infrastructure and support for an inner spiritual transformation existed. A destination where one's family could send their daughters for such a length of time without the slightest hesitation and in full confidence." - Swati, 42, London, UK
Overcoming the First Hurdles
The joy of being accepted didn't come without a few hurdles for some. Coming to live in an ashram is an unconventional step and can be a tough sell for most. The participants had to convince their bosses, manage personal finances, and persuade their families of the value of the program.
"My business partners were not happy that I was leaving."
"I've been volunteering with Isha for a while now. I had heard about Sadhanapada, but I always thought that it's not for me. For someone like me, who runs multiple businesses and has an elderly mother at home, 7 months is too long of a time to be away.
"My business partners were not happy that I was leaving, but they were convinced when I made them realize that I was going to work on myself and become more efficient and productive. And I was able to make arrangements for my mother to be cared for.
Get weekly updates on the latest blogs via newsletters right in your mailbox.
"Besides, at home my sadhana wasn't happening the way it needed to. So I'm very happy to be here and can already feel the transformation taking place." – Sreekumar, 48, Kerala, India
 "Everyone thought I'd gone crazy."
"When I told people that I was going to the ashram for 7 months, nobody agreed with me. Everyone thought I'd gone crazy. The other concern was about my job prospects after a 7 month gap. I assured my parents that my time in the ashram will add value to my CV.
"I had a few self-destructive habits, which my dad had been noticing. I told him I want to improve myself, that I want to reduce my sleep, I want to be more focused, intense and balanced. Looking at my intention and determination, they said, 'You can go ahead. We hope for the best for you."' So here I am!" – Shantnu, 29, Kashmir, India 
"My family was really reluctant when I told them I would be away for 7 months."
"I have visited the ashram many times before, and it has always been a wonderful opportunity to be here, but my family was really reluctant when I told them I would be away for 7 months this time. It took a lot of convincing to make them understand how important it is for me to invest some time upon myself before I step ahead into my career.
"As I had just graduated this year and received many opportunities, my family didn't want me to turn those down. But I wanted to work upon myself for a stable foundation, to be ready for whatever next I am going to do in my life." – Shubhangi, 22, Jodhpur, India
Behind the Scenes of Guru Purnima and "In the Lap of the Master"
Sadhanapada officially started on the auspicious occasion of Guru Purnima on 16 July, 2019, however the participants checked in a few days earlier to be part of "In the Lap of the Master." This was a 2-day program where thousands of Isha meditators thronged to the ashram to be in the presence of Sadhguru. To pull off an event of this size, there was much work to be done. But as hundreds of Sadhanapada participants dived right in and offered themselves in activity (Seva), things happened without a hitch. Then on the full moon night of Guru Purnima, they participated in an intimate satsang with Sadhguru.
"It gave me a glimpse into how everyone in the ashram works tirelessly."
"I started by volunteering for the 'In the Lap of Master' program. It gave me a glimpse into how everyone in the ashram works tirelessly without complaining. They seemed exceptionally good at doing their Seva and, watching them, I felt eager to get going with our program. The past few days in the ashram has been an awakening within me. I feel that every day my awareness is growing. It feels incredible to be in this space and I feel a vibrant energy at play constantly." - Kshitij, 28, Bengaluru, India
A Whirlwind Start
After Guru Purnima, the participants went through an intense orientation where they not only learned Hatha Yoga practices but also revisited Inner Engineering and had an in-depth look at the fundamentals again which sets the basis for the upcoming 7 months of sadhana. The orientation was a whirlwind with never-seen-before videos of Sadhguru, experiencing Guru Pooja as a live process, imbibing intensity through Adiyogi Pradakshina and various other processes. During this time, unexpectedly, amidst his busy schedule, Sadhguru briefly met with the participants to gear them up for what was to come.
"It was a blessing to have a session with Sadhguru right at the beginning of the program."
"The Inner Engineering refresher during the orientation was much needed. It helped me deepen my Shambhavi and also helped me understand how these simple tools can make such a big difference.
"Going through the Hatha Yoga practices helped me refine my asanas and involve myself more in each asana. And learning the Guru Pooja a second time was helpful as I never understood its significance earlier. Finally, it was a blessing to have a session with Sadhguru right at the beginning of the program." – Neha, 26, Jaipur, India
"I'm determined to become worthy of what Sadhguru has offered me."
"For someone like Sadhguru to spend his precious time and energy on me, it means a lot to me. His compassion and concern, his single pointed focus to just offer this to us, his intense desire for us to go through this transformation – it just melted me. I'm determined to become worthy of what Sadhguru has offered me. Whatever it takes." – Ashwini, 27, Hyderabad, India


What Sadhguru Told Sadhanapada Participants
"The basic principle of sadhana is this – absolute passionate involvement with everything that I touch, but dispassion towards myself. Only then you will be able to use the tools of life in a certain way. Above all, your body and mind must become your tools, that's the idea of sadhana. Right now, just about anybody is doing whatever they want with your stuff. Situations are determining what your body and mind will do. Sadhana means only I decide what my body should do and what my mind should do."
Coming Up Next…
And just like that, the first two weeks of Sadhanapada 2019 came to a close. The powerful tools of transformation have been offered to the participants, and just when they thought they had some breathing space, a tight schedule that includes Yoga practices and Seva awaits them. In the next part of this series, we see how they learn to blend into the intensity of ashram Seva (no weekends!) and move beyond their likes and dislikes to make full use of what has been offered by Sadhguru in the form Sadhanapada.
Editor's Note: Find out more about Sadhanapada and express interest for the upcoming program here.