Life in Sadhanapada: Volunteering for Cauvery Calling, a Global Cause
With the Cauvery Calling campaign in full flow over the past month, let's see how Sadhanapada participants are faring with the new intensity of their seva.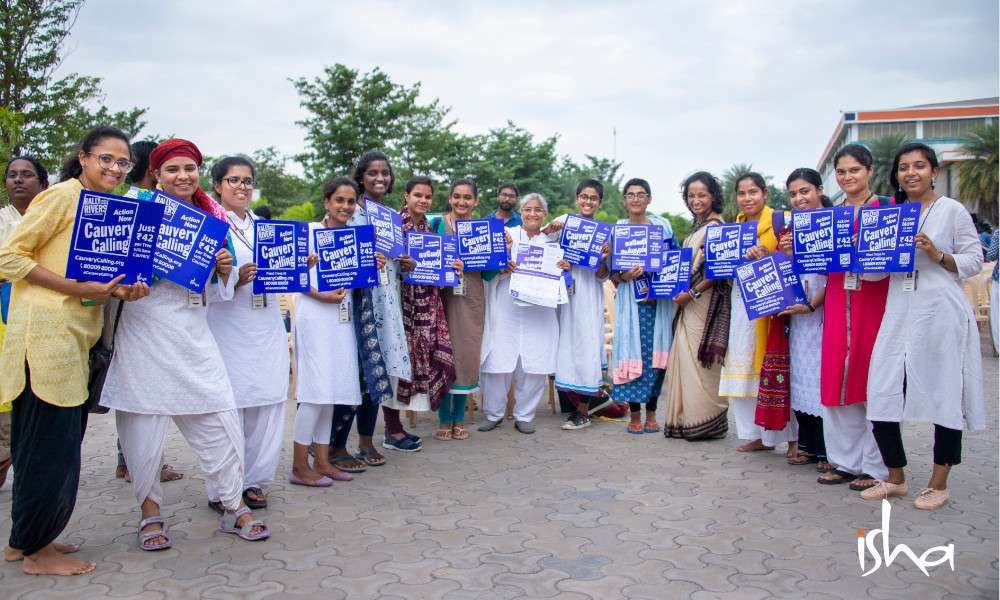 Over 800 participants from 32 countries come together to spend 7 months in the consecrated space of Isha Yoga Center, Coimbatore to work towards a new life - filled with bliss, free of stress and founded on sadhana. The participants go through an intense and disciplined sadhana schedule, contribute to Isha's activities by offering their skills, and immerse themselves in the various events and celebrations in the ashram. In this blog series, we take you behind the scenes through the ups and downs of their journey.
Life in Sadhanapada - All Articles
Two months in, the Sadhanapada participants hardly know how time has flown. Every day, they rise before the sun, sweat their way through morning practices as they put their body through the hard yards, then go for a refreshing dip in the Theerthakunds to gear them up for their daily Seva. The grinding routine is far from monotonous as new inner experiences unfold and the challenges and varieties of Seva keep them on their toes!
This month, Seva took on unique form as a mammoth historic movement was in the making before their eyes – Cauvery Calling. With Sadhguru personally riding his motorcycle across two states of India, to raise funds for planting 242 crore trees in the Cauvery River basin, volunteers answered the call to fulfill this mission of our lifetime. Through Seva, everyone was elevated to a single-pointed purpose, intensity and emotion to pull off this massive campaign.
One haircut costs the donation for 2 trees
31-year old Rajesh from Tirur, Kerala, has a passion for hairstyling that made him bring his barber kit to Sadhanapada! His skills soon became much sought after among the other participants. When his roommate suggested asking for donations to Cauvery Calling from people lining up for haircuts, it resonated with him strongly. Most of his fellow Sadhanapada participants are more than happy to give for the cause that has become dear to everyone. With the payment for each haircut being at least 2 trees, Rajesh plans to raise 1000 trees. We wish him the very best!
Like this, participants devised their own unique ways to be part of this movement. They have made their mark by collectively raising funds for over 50,000 trees so far!
What Did Sadhanapada Participants Do for Cauvery Calling?
Online and offline promotion was key to spreading awareness and getting donations for the cause. Here are a few areas the participants were involved in:
Get weekly updates on the latest blogs via newsletters right in your mailbox.
Developing an Online Game for Cauvery Calling
Designing T-shirts and posters
Writing blogs and making infographics
Shooting and editing videos to reach out to the masses
Researching on various aspects like water crisis and agroforestry
On the Move with Sadhguru
Though Sadhanapada participants commit to staying in the ashram for the 7-month period, when Cauvery Calls, one must respond. A participant shares his experience of joining Sadhguru's motorcade and being thrown headlong into action shooting videos.
"From fancy banquet halls to hanging from a car to get the perfect video scene."
"Just a day before the filming team from the ashram departed for Cauvery Calling on a two-week undertaking, I was told to join them. Not only would I witness Sadhguru in action, I would also be filming and taking pictures. Since then I have been on an insane, extremely hectic and deeply satisfying schedule. From the most picturesque, to the most slushy and muddy camp sites; from fancy banquet halls to hanging from a car to get the perfect video scene - it has been quite a journey. Children, beggars and Chief Ministers alike were supporting Cauvery Calling - it has been an eye opener for me. In this journey, my Sadhana took on a new meaning – I'm awestruck and humbled." – Arush, 45, Mumbai
Stationed in the Ashram
Watching Sadhguru relentlessly roaring onwards on his motorcycle through rain and storm not only fired up spectators but also the teams in the ashram who have been micro-managing the campaign behind the scenes. Long hours, little sleep and skimping on meals, volunteers offered themselves without complaint. The Finance department sifted through thousands of donation receipts, the social media teams worked around the clock to bring live updates from the ground, the media teams churned out articles for the press, and so on.
"It is about me."
"The more I'm involved in Cauvery Calling, I realize that Cauvery Calling is not about supporting Sadhguru or the farmers, the river or ecology - it is about me; ensuring there will be food on my plate for as long as I'm alive. It is unsettling to think I might not have water to drink or food to eat someday." – Ashwini, 27, Cincinnati, USA
Learning to Flow Like the Rivers
For some, a multi-faceted campaign like Cauvery Calling demanded that they go with the flow and do something they have never done before.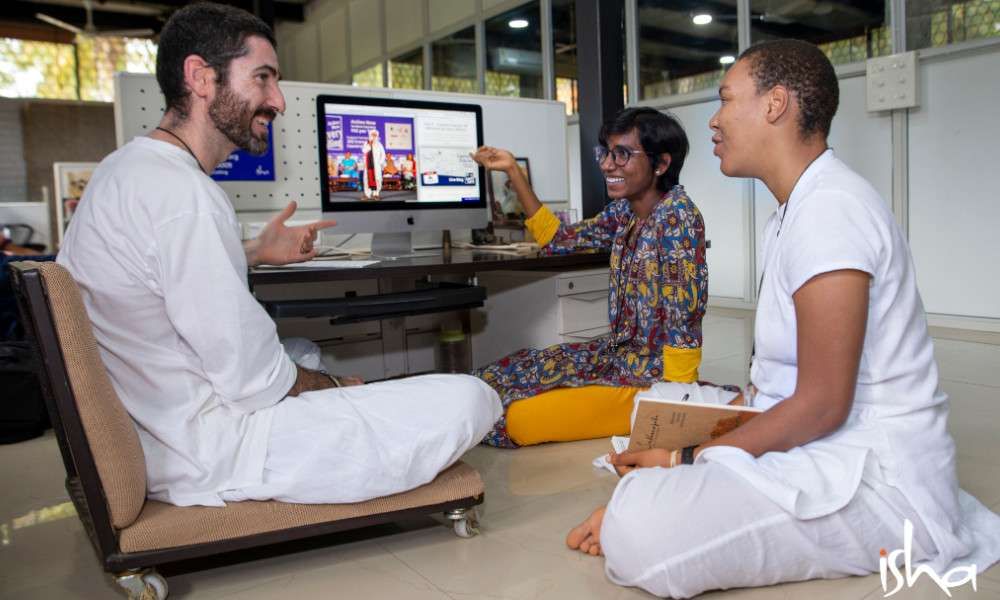 "I even wrote a rap song about Cauvery Calling."
"My capability to contribute as an individual is very limited, but Sadhguru has given me the opportunity and a platform to make a lasting impact on the world's ecology through Cauvery Calling. A subtle joy permeates through the day, and it has allowed an inner creativity to blossom into my work that I never knew existed. I even wrote a rap song about Cauvery Calling, and I never even used to listen to rap music! - Baran, 35, Melbourne, Australia
Alumni Connect
A Sadhanapada participant alumnus joined Cauvery Calling as part of the video team, who covered the entire journey across Karnataka and Tamil Nadu. Their work began weeks before the actual campaign, when they scouted the locations across the Cauvery Basin.
Doing recce and hearing from the farmers
"Being part of Cauvery Calling has been exhilarating. When we set out for the location recce, we got to see firsthand how the lack of green cover has taken its toll on the soil and, in turn, the volume of river water. During each event, we got to see an overwhelming response by individuals from all walks of life. There were groups of farmers who turned out at Hunsur and Mysuru. To hear from them, how grateful they are for such an initiative, really gave me a sense of just how necessary Cauvery Calling is." - Varun, 29, Bengaluru
Cauvery Calling Culmination
Just one day before Sadhguru planned to culminate the campaign in Coimbatore city, Sadhanapada participants got a surprise notification that they would all be attending. Enthusiastically, the following morning, they boarded a line of buses to join Sadhguru. The hourlong bus ride there was nothing short of fun as they sang and played games the entire way. Once they arrived at the venue, participants spontaneously jumped into doing what was needed. Some helped with set-up, some served food to the attendees, while others stood by the roadside to welcome Sadhguru.
"Have pledged 2000 trees and already raised funds for over 600 trees"
"On 17 September, I stood for hours to cheer on and welcome Sadhguru and the team back. I was in awe how he, at the age of 62, managed to ride 3080 km in just 14 days along with attending so many events to spread awareness, bringing people together regardless of political party, country, state, caste, and religion, and working towards a bigger goal! It was so inspiring. The dedication and focus he inspired in me has made approaching people to ask for donations take on a totally different perspective. As a first step I have pledged 2000 trees and so far have raised funds for over 600 trees." - Sushree, 24, Bhubaneswar, Odisha
"A foreigner next to me shouted, 'Save Cauvery!'"
"We were standing on the road with flags and Cauvery Calling signs while singing Nadi Stuti and shouting to every passerby, "Cauvery Cauvery!" Suddenly a foreigner next to me shouted, "Save Cauvery!" I don't know what happened, but I had tears in my eyes. Seeing people who are not from our country have such a concern for Cauvery touched me. I am more involved and doing everything in my capability to spread awareness and motivate people to donate more and more." - Kriti, 20, Ranchi, Jharkhand
Is Sadhana Only Done With Eyes Closed?
During Cauvery Calling, participants learned by experience that you need not necessarily close your eyes and sit still to become meditative; the intense and powerful process of Seva at Sadhanapada can simply make it happen.
Sadhguru says, "The whole process of yoga is just to give yourself. It is possible to simply sit here, close your eyes and give yourself to the world - but that level of awareness is not there in most human beings. They need action to give themselves towards something. So volunteering is a tremendous possibility where you can really offer yourself through your work."
"Normally, whatever little work we have to do, calculations are there. 'How much should I do? Why should I do? What will I get out of this?' In these calculations, all the beauty of doing is gone, and the very process of life becomes ugly. In day-to-day activity, to do simple things, we struggle so much because we are unwilling to give. Whether it is your work, your marriage,  your family, or whatever, you started all these things willingly because you wanted them in your life. But once you started, you forgot why you started this. Now we have started giving unwillingly, and it has become a painful process."
"Volunteering or Seva is a way of learning to make our lives into a process of just giving. A volunteer means one who is willing - not just to do this or that. He has simply become willingness."
Coming Up Next, Celebrations!
Aside from the daily joy of being in the ashram, many celebrations and fun activities have happened in the past two months of Sadhanapada. In the next series, we take you through a festive way of approaching life, with a sense of abandon. Who said that walking the spiritual path can't be fun?
Editor's Note: Find out more about Sadhanapada and express interest for the upcoming program here.