Foxtail Millets - Benefits, Nutrition and 6 Delicious Recipes
The health benefits of foxtail millet are numerous, including weight loss, diabetes management, and pregnancy support. It is high in vitamins and minerals, and has a nutty flavor which makes it a fabulous substitute for rice or wheat in various recipes.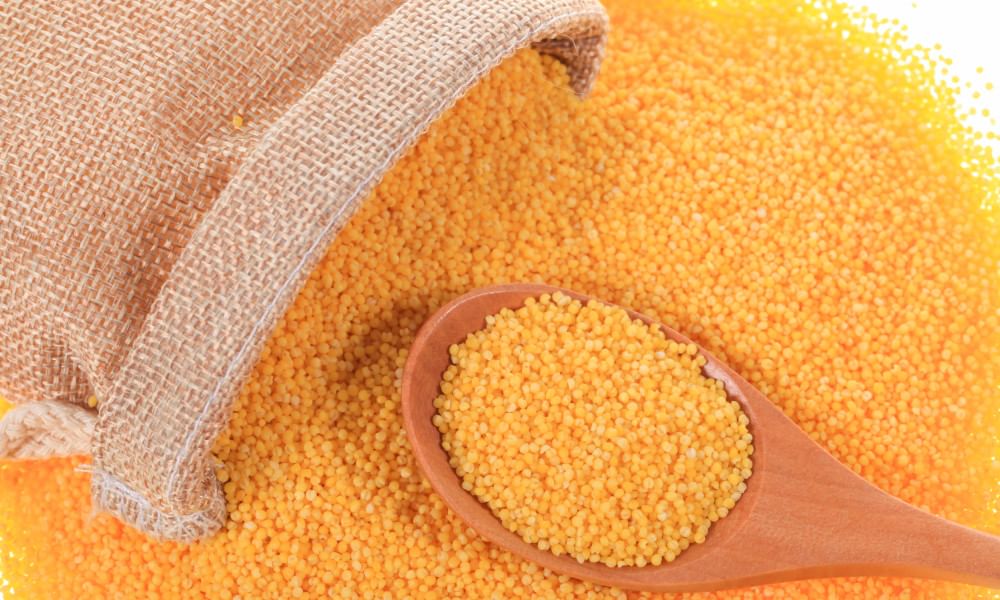 What Is Foxtail Millet?
Foxtail millet, also known as Setaria italica, is a type of grass that has been a key part of Asian cuisine for centuries. This highly nutritious grain is often used as a food source for both humans and animals, and is similar to other millets such as pearl millet and proso millet. Packed with vitamins and minerals, it has a unique, nutty flavor that makes it a tasty addition to many dishes.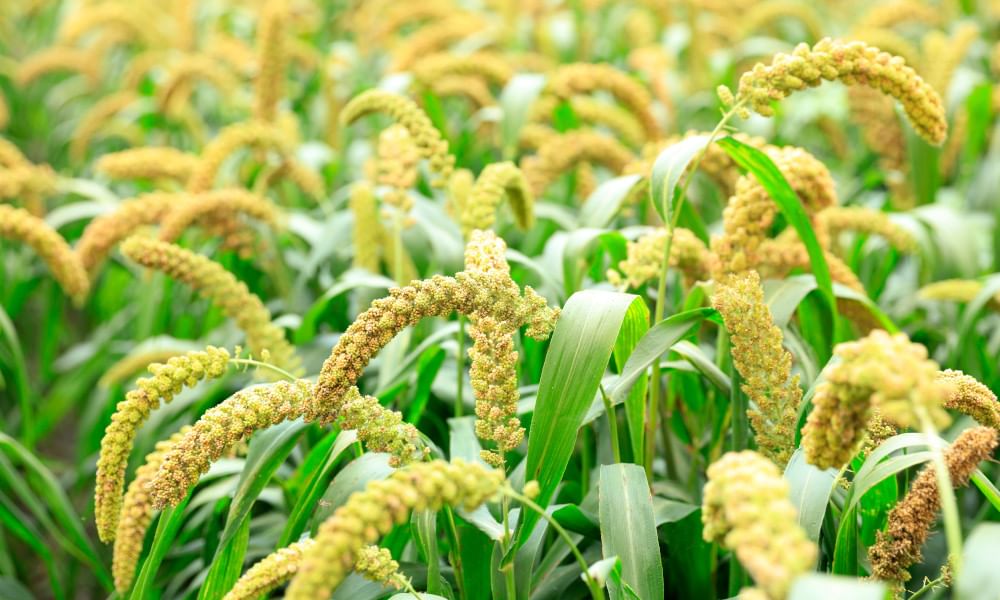 Where Are Foxtail Millets Grown?
Foxtail millet is a hardy crop that can grow in a variety of climates and soils, but it is most commonly grown in semi-arid regions where other crops may not thrive. These small, yellow grains can be found in many parts of the world, including Asia, Europe, and North America. It is also grown in some parts of Africa and South America. In Asia, it is particularly popular in countries such as China, Japan, and India. In India, cultivation of foxtail millet is mainly confined to the southern states of Andhra Pradesh, Karnataka and Tamil Nadu.
What Are the Health Benefits and Nutritional Value of Foxtail Millets?
These grains are not only rich in nutrients such as iron and calcium, they are also gluten-free, making them a suitable option for people with gluten sensitivity. The millet is high in dietary fiber, which can help support healthy digestion and may also help lower cholesterol levels leading to better cardiac health. This makes them a valuable addition to any diet, and they are often recommended by nutritionists and health experts.
But the benefits of foxtail millets go beyond their nutritional value. They are easy to grow and harvest, making them an important food source in regions with challenging climates. In fact, foxtail millets have been shown to be more drought-resistant and heat-tolerant than other crops, such as rice and wheat. This has allowed people in semi-arid regions to thrive, even in the face of difficult environmental conditions. At one time, foxtail millets were a staple diet in Asian cultures, which has unfortunately changed due to widespread cultivation of wheat and rice. In the future, with massive environmental changes expected in many parts of the world due to global warming, hardy crops such as foxtail millet might be the solution to our food requirements. 
What Is Foxtail Millet Called In Other Languages?
In Hindi, it is known as "kangni," while in Tamil it is called "thinai." In Telugu, it is known as "korra," and in Kannada, it is known as "navane." In Marathi and Gujarati, it is known as "kang," and in Bengali, it is called "kaung." In Japanese, is it called "awa," in Mandarin Chinese it is called "su," while in Korean it is called "jo."
Get weekly updates on the latest blogs via newsletters right in your mailbox.
Are Foxtail Millets Good for Diabetes?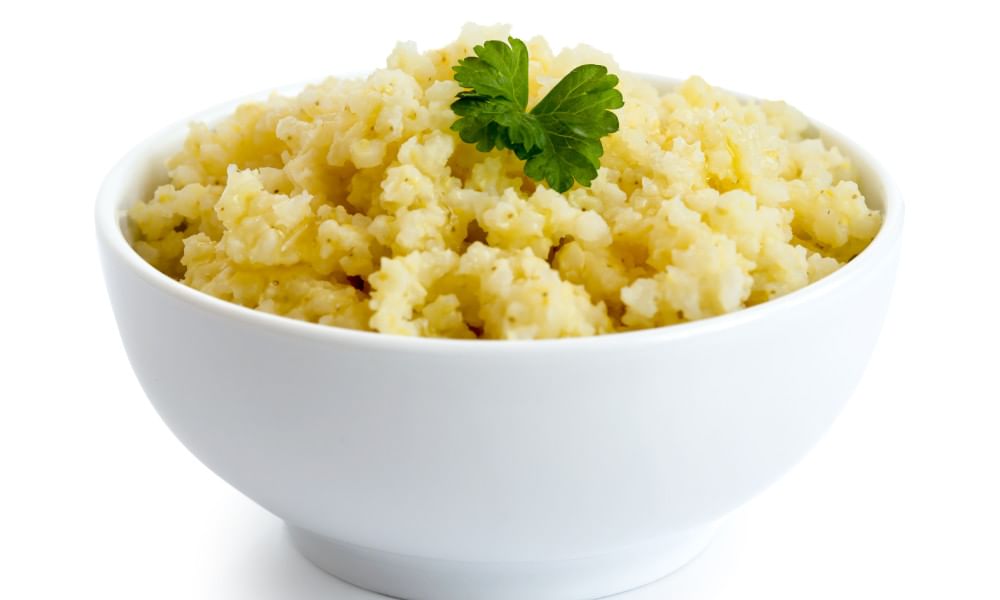 Foxtail millets have a low glycemic index, which means that they are less likely to cause spikes in blood sugar levels. This makes them a good option for people with diabetes, as well as those who are trying to lose weight. Although more research is needed in this direction, there are significant studies that have established the glucose lowering effect of foxtail millet in people with impaired glucose tolerance.
Are Foxtail Millets Good for Weight-loss?
Besides its low glycemic index, foxtail millet can also be a helpful part of a weight loss diet because it is high in fiber, which can help you feel fuller for longer. Additionally, because it is a whole grain, it provides a range of essential nutrients without being high in calories. While it can be a helpful part of a weight loss regimen, it is important to remember that a balanced diet and regular physical activity are key to achieving and maintaining a healthy weight.
Are Foxtail Millets Good for Pregnant Women?
Foxtail millet is said to be the ultimate superfood for pregnant women. It is high in fiber, which can help support healthy digestion and may also help prevent constipation, a common issue during pregnancy. Foxtail millet is also a good source of magnesium (81mg per 100gm serving), which is important for maintaining healthy bones and supporting cardiovascular health. Additionally, it is a good source of iron and other essential minerals, as well as B-vitamins, which are important for supporting the health of both the mother and the growing baby. Remember though, as with any dietary changes during pregnancy, it is always best to consult with a healthcare provider before making any changes to your diet.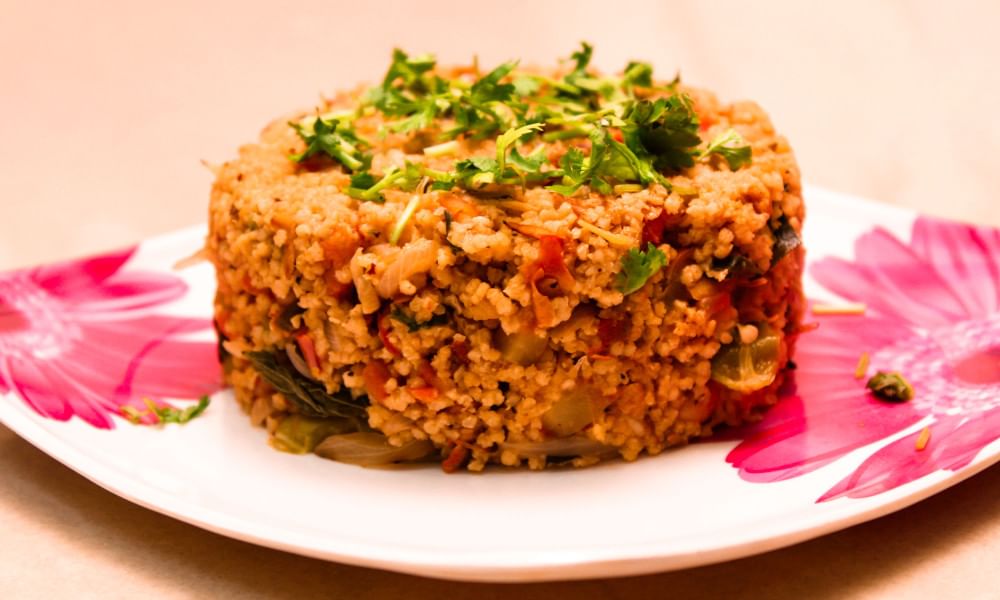 How to Cook Foxtail Millets?
They can be cooked and eaten like rice, or ground into flour and used in baking. They can also be boiled in a pressure cooker, and soaked in water before cooking to help soften them. This versatility has made them a popular food in many different cuisines, and there are countless recipes that incorporate foxtail millets in delicious and creative ways.
Foxtail Millet Recipes
1. Foxtail Millet Biryani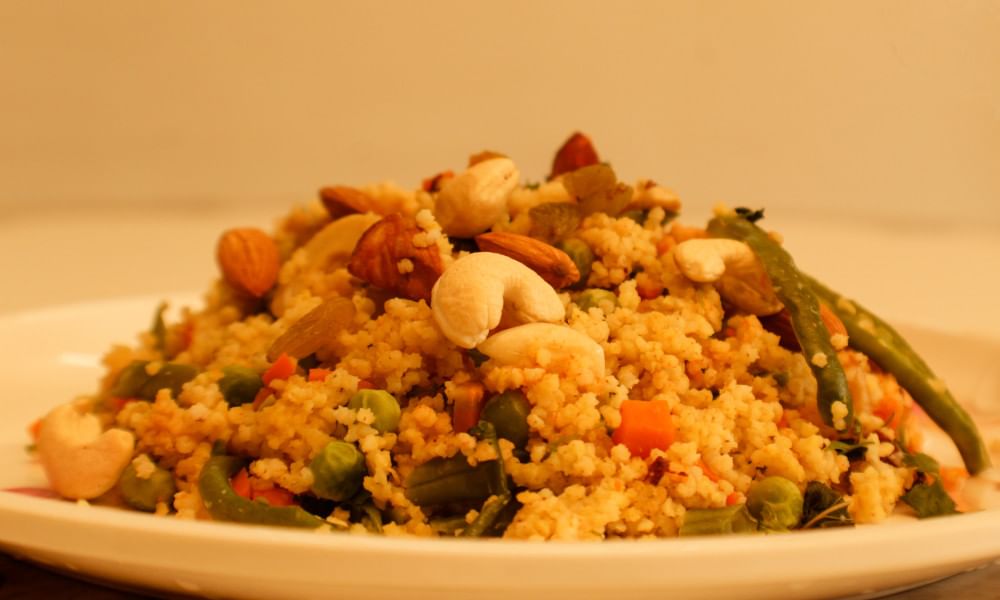 If you are looking for a tasty and satisfying biryani alternative, look no further than Foxtail millet biryani! According to research, this dish is more acceptable and received higher ratings for color, appearance, texture, taste, and overall acceptability compared to traditional rice biryani. Give it a try and see for yourself!
Ingredients
1.5 cup of foxtail millet
2 cups of water
1 tablespoon of vegetable oil
1 teaspoon of cumin seeds
1 teaspoon of grated ginger
1 cup of mixed vegetables (such as peas, carrots, and bell peppers), chopped
1/2 teaspoon of turmeric powder
1/2 teaspoon of red chili powder
1/2 teaspoon of garam masala
Salt to taste
1/2 cup of yogurt
1/2 cup chopped tomatoes
1/4 cup of chopped cilantro
1/4 cup of chopped mint
1/4 cup of sliced almonds
1/4 cup of raisins
2 tablespoons of ghee
1/4 cup of water
To make the biryani, follow these steps:
Wash the foxtail millet thoroughly at least twice and soak it for a minimum of 45 to 60 minutes.
Heat the oil in a large saucepan over medium heat. Add the cumin seeds, chopped tomatoes, salt, garam masala, and red chili powder. Cover and cook until the tomatoes are soft and mushy for about 4 to 5 minutes.
Add the ginger and sauté for a few more minutes.
Add the mixed vegetables and sauté until they are softened.
Drain the foxtail millet and add it to the saucepan. Stir to combine.
Add the yogurt and stir to combine.
Add the cilantro, mint, almonds, and raisins and stir to combine.
Add the ghee and water and stir to combine.
Reduce the heat to low and cover the saucepan with a lid. Cook for 15-20 minutes, or until the foxtail millet is cooked and the biryani is fragrant.
Turn off the heat and let it sit covered for 5 minutes. 
Serve the biryani hot, garnished with more cilantro, mint, almonds, and raisins, if desired. Enjoy!
2. Foxtail Millet Idli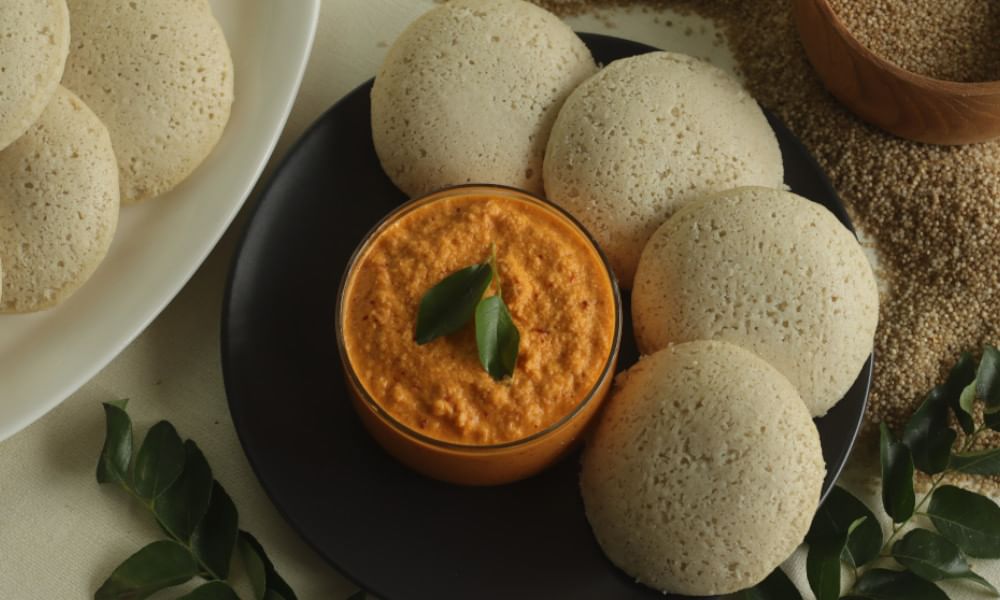 Ingredients:
1 cup foxtail millet
1/2 cup urad dal
Salt to taste
1/2 teaspoon fenugreek seeds
Instructions: 
Wash the foxtail millet and urad dal in several changes of water until the water runs clear. Soak the millet and dal separately in water for at least 6 hours or overnight.
Drain the millet and dal and grind them separately into a fine paste. Transfer the millet paste to a large bowl and the dal paste to a smaller bowl.
Mix the dal paste into the millet paste and add salt to taste. Cover the bowl with a damp cloth and set aside in a warm place to ferment for 8-12 hours.
After the batter has fermented, mix in the fenugreek seeds.
Grease the idli molds with oil or ghee and fill them with the batter. Place the molds in a steamer and steam the idlis for 10-15 minutes, or until they are cooked through.
Serve the idlis hot with chutney or sambar. Enjoy!
3. Foxtail Millet Roti
Ingredients: 
1 cup foxtail millet flour
1/2 cup whole wheat flour
1/4 teaspoon salt
1/4 cup ghee
1/2 cup warm water
Instructions:
In a large bowl, mix together the foxtail millet flour, whole wheat flour, and salt.
Add the ghee to the flour mixture and mix until the flour is crumbly.
Slowly add the warm water to the flour mixture and mix until a dough forms. The dough should be soft and pliable, but not sticky. If the dough is too dry, add a little more water. If it is too sticky, add a little more flour.
Divide the dough into small balls, about the size of a golf ball.
On a lightly floured surface, roll out each ball of dough into a thin circle, about 6 inches in diameter.
Heat a tawa or frying pan over medium-high heat. Place the roti and cook for 1-2 minutes, or until bubbles form on the surface. Flip the roti and cook for an additional 1-2 minutes, or until lightly browned.
Brush the roti with a little ghee and serve hot. Enjoy!
4. Foxtail Millet Upma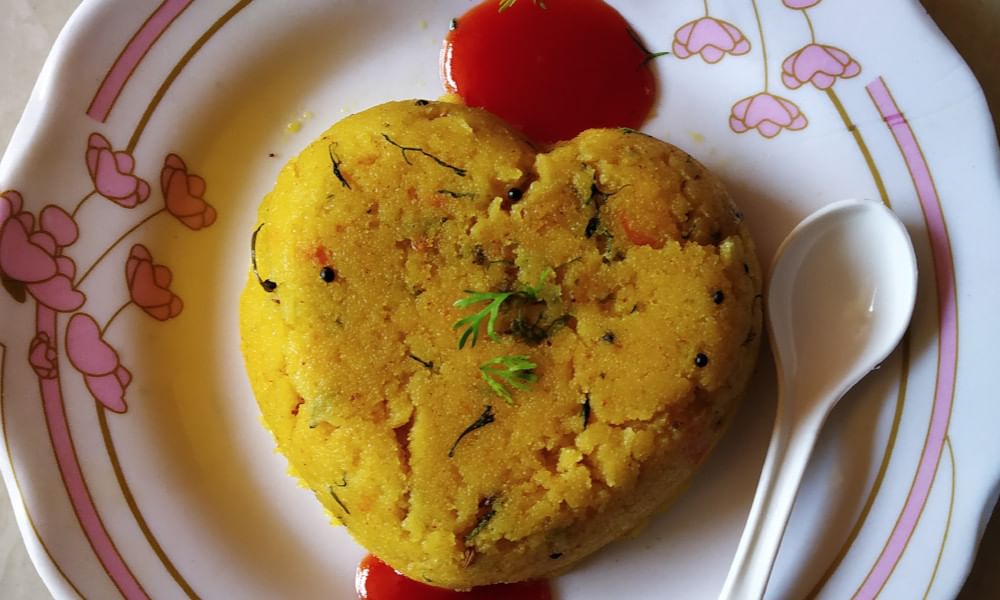 Ingredients:
1 cup foxtail millet
2 tablespoons ghee or oil
1 teaspoon mustard seeds
1 teaspoon cumin seeds
1 big capsicum, finely chopped
3-4 chopped tomatoes
1 tablespoon ginger, grated
1 carrot, finely chopped
1/2 cup peas, fresh or frozen
1/2 cup green beans, finely chopped
2 cups water
Salt to taste
1/4 cup fresh cilantro, chopped
Instructions:
Rinse the foxtail millet in several changes of water until the water runs clear.
In a saucepan, heat the ghee or oil over medium heat. Add the mustard seeds and cumin seeds and cook until they begin to sizzle.
Add the chopped tomatoes, chopped capsicum, ginger and cook for 2-3 minutes.
Add the carrot, peas, and green beans and cook for an additional 2-3 minutes, or until the vegetables are slightly softened.
Add the foxtail millet to the saucepan and stir it in with the vegetables.
Add the water and bring to a boil. Reduce the heat to low and simmer, covered, for 15-20 minutes, or until the water is absorbed and the millet is tender.
Season with salt to taste and stir in the chopped cilantro.
Serve the upma hot, garnished with additional cilantro if desired. Enjoy!
5. Foxtail Millet Ladoo
Ingredients: 
1 cup foxtail millet
1 cup palm sugar/jaggery
1/2 cup ghee
1/2 cup chopped nuts (almonds, cashews, and pistachios)
1 teaspoon cardamom powder
Instructions:
Dry roast the foxtail millet over medium heat until it turns light brown and has a nutty aroma. Allow it to cool.
Grind the roasted millet into a fine powder using a food processor or grinder.
Heat the ghee in a pan over medium heat and add the ground millet powder. Cook, stirring continuously, until the mixture turns slightly brown and has a roasted aroma.
Remove the pan from heat and add the palm sugar/jaggery and cardamom powder. Mix well.
Allow the mixture to cool slightly, then take small handfuls of the mixture and shape into balls or laddus.
Roll the laddus in chopped nuts to coat the surface.
Serve the laddus as a sweet snack or dessert.
Note: You can also add other ingredients to the laddus, such as dried fruits or coconut flakes, to add more flavor and texture. Enjoy!
6. Foxtail Millet Stuffed Bell Peppers

Ingredients: 
Capsicum/Bell peppers : 6 (2 green, 2 red and 2 yellow bell peppers will look good!)
Foxtail millet (Kangni/Navane/Thinai/Korralu) : 3 cups cooked
Black chana : ½ cup cooked
Tomatoes : ½ cup chopped
Green Beans : ½ cup chopped
Mozzarella/Feta/Pepper Jack cheese : ¾ cup
Olive oil : 3 tbsp
Lemon juice : 2 tbsp
Coriander leaves : 3 tbsp chopped
Cumin powder : 1 tsp
Black pepper powder : 2 tsp
Salt : 2 tsp
Instructions:
Preheat oven to 176°C/350°F.
Cut the tops of the bell peppers; take out the white stem part and the seeds.
In a large bowl add all the other ingredients and toss lightly once or twice.
Scoop the above filling into each of the bell peppers.
Sprinkle with cheese on top.
Place in a baking sheet and bake until the peppers are tender, for about 25-30 minutes.
Serve hot.
Millets Are The Future
As our world continues to change and evolve, it is important to consider the role that foxtail millets will play in the coming years. As the global population grows and the effects of climate change become more apparent, the need for sustainable and nutritious food sources will only increase. In this context, foxtail millets have the potential to play a crucial role in ensuring that all people have access to the food they need to thrive. 
As we look to the future, it is clear that foxtail millets will continue to be an important part of human civilization. Whether as a nutritious food source, a tasty ingredient in a variety of dishes, or a sustainable option for people living in challenging climates, these small, yellow grains will continue to play a vital role in the world we live in.