Life in Sadhanapada: Moving Beyond Likes and Dislikes
Over 800 participants from 32 countries come together to spend 7 months, in the consecrated space of Isha Yoga Center for their inner growth.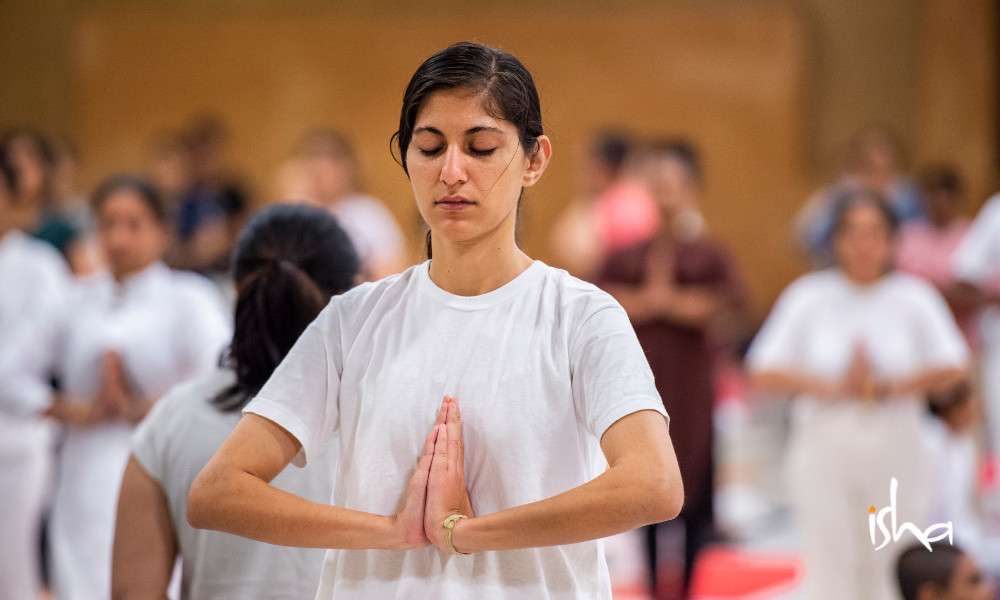 Over 800 participants from 32 countries come together to spend 7 months in the consecrated space of Isha Yoga Center, Coimbatore to work towards a new life - filled with bliss, free of stress and founded on sadhana. The participants go through an intense and disciplined sadhana schedule, contribute to Isha's activities by offering their skills, and immerse themselves in the various events and celebrations in the ashram. In this blog series, we take you behind the scenes through the ups and downs of their journey.
Life in Sadhanapada - All Articles
Revving Up to the Ashram's Pace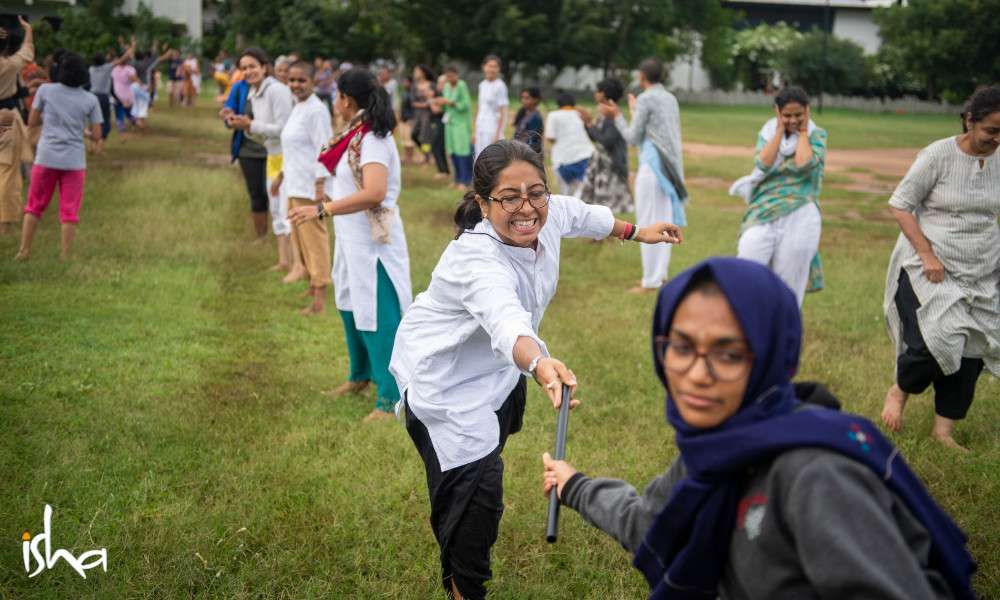 After an intense 8-day orientation where the participants learned Hatha Yoga practices and revisited the fundamentals of Inner Engineering, they jump right into the intensity of ashram life. Involving and immersing oneself into seva can be an enormously transformative process, especially in the powerfully consecrated space of Isha Yoga Center. 
Seva is an integral part of the Sadhanapada schedule, along with daily yogic practices. Some participants support in Dhyanalinga and Linga Bhairavi, others help out in Akshaya (the Isha kitchen), while others take up project management, engineering, social outreach projects, graphic design, creative writing, translation, video editing, social media, information technology – putting themselves aside and just doing what is needed.
The Sadhanapada schedule begins with a 4:30 AM wake-up call and ends at 9:30 PM. There's time for guided sadhana sessions, theerthakund dips, Dhyanalinga, Linga Bhairavi Devi, Adiyogi Pradakshina and regular practice corrections. 
Everything doesn't always go as expected and sometimes, expectations collide with reality. Boom!
"I thought we would live in a hut and eat fruits"
I thought I was coming to the ashram to live in a hut, eat only fruits and drink water from the river. But I figured even if the water is not pure, because it's Sadhguru's place, it will be energized. I expected ashram to be small but this place is huge and so beautiful. When I first sat at the Welcome Point, I couldn't stop myself from gaping at everything. The rooms where we sleep are well kept and we are allowed to stay here for free. The food is so tasty! I've never had such variety of vegetarian food before. I didn't expect to live like this. Everything is carefully designed to be conducive to sadhana. I love this place! - Bheem, 18, Jharkhand

"Every situation is a stepping stone for my growth"
Before Sadhanapada, for me sadhana just meant hatha yoga and kriyas. Without my practices, there was no sadhana. Now, everything has become sadhana and a tool for my growth. Whether it is cleaning my room, helping someone out, going through tough situations, or even simply eating or sleeping, I try to see every situation as a stepping stone for my growth. Not only has this heightened my experience of life and my capabilities, but it has also helped me look for ways to see how to use every situation for everyone's benefit. - Maanasan, 21, Canada
Not Another "Spiritual Holiday"
Unlike a holiday, where one goes for relaxation and pleasure, Sadhanapada is an intense process of growth, carefully crafted to constantly challenge one to grow every day. Participants don't often get to do what they want. In fact many have reported being "magically" appointed to roles or put in situations that bring them face-to-face with their limitations. This journey of self-transformation demands determination, grit and an active spirit of adventure.
"I overcame a huge dislike"
I remember when I first tasted bitter gourd, I could not believe how something could be so bitter, and refused to eat it. But the next time they put it on my plate, I remembered that the menu has been designed by Sadhguru and decided to trust his judgment. Not only did I eat all the bitter gourd pieces, I ate them while chewing slowly and consciously! I felt so in control for being able to overcome a huge dislike. 
P.S. Later, I googled 'bitter gourd' and was astounded by the long list of its nutritional and health benefits.
- Samantha, 27, Haiti

Get weekly updates on the latest blogs via newsletters right in your mailbox.
"Beginning to rise above likes and dislikes"
I simply love the Sadhanapada schedule. It takes away my mind's unnecessary activity in planning and executing my day. I know when to wake up, when to sleep, when and where to be at any given time. I don't have to worry thinking what I should cook for my meal. I even know when to be silent. This makes my day so easy and efficient. I have a 16-17 hour day and I do not even have to plan it. All I do is simply follow the given schedule. 
I struggled a little to maintain the silence time but when I learned to accept it, it was okay. I told myself that this is what I came here for and I remember in our first session with Sadhguru, he did ask if we were ready to accept whatever is asked from us and do it even though it may not make logical sense. I did answer "Yes" to him and now there is no turning back on that. Slowly but surely, I am beginning to rise slightly above my likes and dislikes. 
- Indu Peruri, 34, California
From Choice to Choicelessness
Every moment spent outside one's comfort zone is an opportunity to grow and it is no accident that Sadhanapada is rich and ripe with such possibilities. The joyful choicelessness of Sadhanapada helps in culturing an inner ambiance conducive for the spiritual process to open up and bear fruit. It can be quite a rollercoaster ride and participants face many challenges such as being away from family for 7 months, eating only twice a day, sleeping less than they are used to and managing social interactions in an extremely diverse group of people.
 "I am striving to overcome my smartphone addiction" 
One compulsion that I discovered after coming to the ashram is smartphone addiction. I never thought I would have this compulsion, as I rarely use my phone and I'm not someone who is always on social media, but now I find that minimal usage of the phone is extremely difficult. When I open WhatsApp for something needed for my seva, I keep checking messages from other groups and responding to other people's messages. I keep watching Sadhguru videos on YouTube, even though it's not part of my seva.
I am striving to overcome this compulsion by being conscious every time I use my smartphone, and being more mentally alert about what I'm doing and what I'm supposed to do.
- Kirtan Gajjar, 23, Gujarat
 "I quit my job but now I'm doing the same thing as my seva" 
I resigned from my job as a doctor to come for Sadhanapada, but to my utter surprise I was asked to do the same things as seva here. I had struggles and resistance about settling into seva as I was hoping for a change. But now, things are gradually changing. Even during seva and day-to-day chores, when external situations are not favorable, I simply use the Inner Engineering tools.
As I start seeing seva as Sadhana, I am starting to become less resistant. Earlier it used to bother me when people would come to me with endless questions anytime and anywhere, but now I am able to answer them with patience and a smile on my face.
- Dr. Simi Das, 29, Assam
"Simple guidelines help me grow"
I have so much gratitude towards Sadhguru and everyone here for letting me stay in a space like this, for nurturing me and allowing me to grow in so many ways. It's just bringing tears to my eyes when I look around and see people who are committed not just to their own well-being but the well-being of everyone else. 
There is Sadhana in every aspect in the ashram, not just the morning and evening practices but in every activity that we do and, in every situation that we walk into. The simple guidelines that we are asked to follow is contributing towards my inner growth in a big way. 
I cannot even begin to imagine what kind of people it takes to build and maintain a space like this. 
- Vaishnavi, 26, Telangana
How Is This Going To Transform Me?
As the first month of Sadhanapada comes to a close, participants find themselves exploring unknown inner terrain and unfamiliar outer situations. Sometimes there is doubt, confusion and the grounding process of facing reality. For some, the knowledge that the program has been designed by Sadhguru himself is enough. Then there are those who are expecting (and hopefully striving!) to become more clear, intense and balanced in a lasting way. Some are simply enjoying the Sadhanapada adventure. 
When faced with new challenges, one's own limitations and tricks of the mind, sometimes the seemingly innocuous thought pops up – "How is this going to transform me?" Let's hear from someone who has been through it all in Sadhanapada 2018. 
A Sadhanapada Alumnus Shares His Story 
When I applied for Sadhanapada, I had very little idea about what I was getting into. I was excited and nervous but determined to ensure that I live the rest of my life with a firm command over my body and mind. 
During the program, my own thoughts and emotions said a thousand things and often questioned my purpose of being here and doing daily Yoga and Seva. I struggled to grasp how simply following instructions would transform me. Now when I look back, those 7 months were the most fruitful time of my life that no home/college/work could provide. The support system at Ashram was invaluable and learning to work joyfully among other spiritual aspirants turned my understanding of the spiritual process upside down. 
It is only when I came back home that I realized how being in Sadhanapada has laid a solid foundation for me and that I can retain the choice on how to be, no matter what the outer situation.
-Gourav, 29, Rajasthan
Sadhguru Explains Likes and Dislikes
Sadhguru:
The building blocks for your personality are your likes and dislikes. What you call as "my personality" is just a complex system of likes and dislikes. What is the difference between you and the next person? Your likes and dislikes are different. Now, the basis of Yoga is just to help you go beyond these likes and dislikes. Whatever we are doing here is fundamentally to destroy the process of liking and disliking.
The logical mind thinks, "I'll do what I like. This is my freedom." The very basis of your bondage is in your likes and dislikes, but your mind makes you believe doing what you like is your freedom. 
People have these juvenile ideas of freedom: "I will do whatever I feel like." That is not freedom, that is compulsion. What does freedom truly mean? Freedom means that there are no compulsions within you. That means you can joyfully do whatever is needed. 
Coming Up Next…
Some Sadhanapada participants find their seva an exciting challenge and love the novelty of it, while others find themselves reliving the shadows of their past. At the Isha Yoga Center, volunteering activities can range from simple to very complex, and impact many people within and beyond the ashram walls. In the next part of this series, read all about the participants' experiences of volunteering and the opportunity to contribute to a global ecological cause through Cauvery Calling.
Editor's Note: Find out more about Sadhanapada and express interest for the upcoming program here.