4 Immunity-Boosting Drinks to Help Prevent Viral Infections
Boosting our immunity during the times of seasonal infections and coronavirus is most important. Here are some quick and super healthy immunity boosting drink recipes to strengthen your immune system.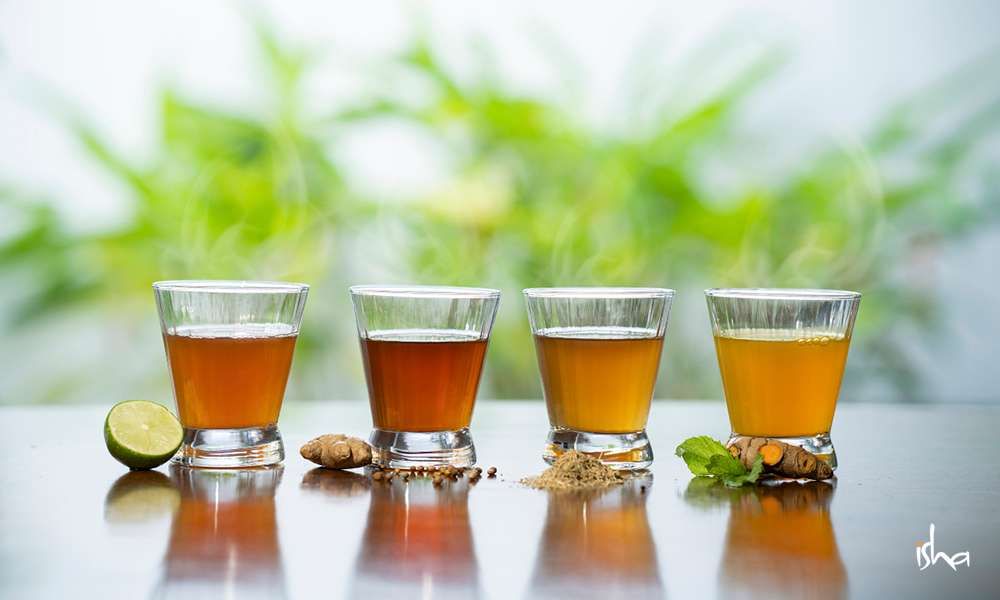 #1 Immunity-Boosting Drink – 4 Ingredient Herbal Concoction (A Time-Tested Recipe from Sadhguru's Grandmother!)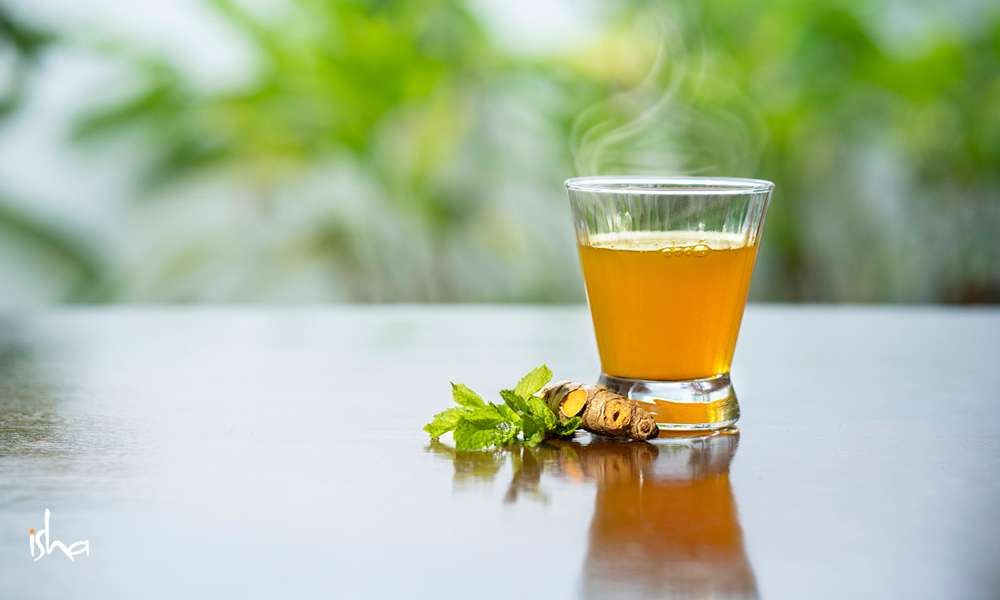 Sadhguru
: "When there are viral infections or influenza going around, one simple thing is just to consume hot water with a little bit of honey, a little bit of turmeric, and, if possible, some mint or coriander. If you drink this every three hours, respiratory infections will not happen to you because all these infections first lodge themselves in your throat before going into the respiratory tract. But if you drink these substances - warm water with honey, turmeric, and coriander or mint - then it goes into the stomach bag and there they cannot cause much damage to you.
"I know there are a whole lot of people who will say that there is no scientific proof that this will work, but it worked wonderfully well for my great-grandmother, my grandmother and for myself. That is enough proof for me. It has worked wonderfully well for generations of people." 
Here is how this drink is made:
To hot water, add a little bit of honey, turmeric and mint or coriander.
#2 Immunity-Boosting Drink – Nilavembu Kashayam – A Siddha Medicine/Concoction
Sadhguru: "Right now, for all the police and medical personnel operating our region around the Yoga Center, we are providing what is called as Nilavembu Kashayam, which works very well. We also distributed this across Tamil Nadu when the dengue fever was on, and it made a big difference then."
A herbal decoction made with potent herbs, Nilavembu Kashayam is meant to help boost immunity and support the body's health. Nilavembu Kashayam has been traditionally used in Siddha medicine as a remedy for fever and for its ability to prevent various infections. It can also be used to relieve body aches, fatigue and headache.
The herbal combination is made from natural herbs with medicinal properties including Nilavembu (Green Chiretta), black pepper, white sandalwood, dry ginger, vetiver (Khus), snake gourd, nut grass, Vilamichai ver (root) and parpat.
Get weekly updates on the latest blogs via newsletters right in your mailbox.
This ancient Siddha medicine for curing viral infections finds its way in modern-day research as well.
As part of Isha Foundation's rural outreach work to combat COVID-19, Nilavembu Kashayam is being prepared and distributed to all nearby villages and small towns. Click here to read more about how people are responding to this effort.
Nilavembu Kashayam is an integral part of the diet at Isha Yoga Center and is consumed before every meal, twice a day. The drink can be ordered online at Isha Life and is sure to be available at your local Siddha or Ayurvedic pharmacy.
Here is how this drink is made:
Boil 5 gms (one tablespoon) of powder with 200 ml of water until the decoction is reduced to 50 ml. Since the taste of the decoction is bitter, we can add honey or palm jaggery to it.
#3 Immunity-Boosting Drink – Sukku Coffee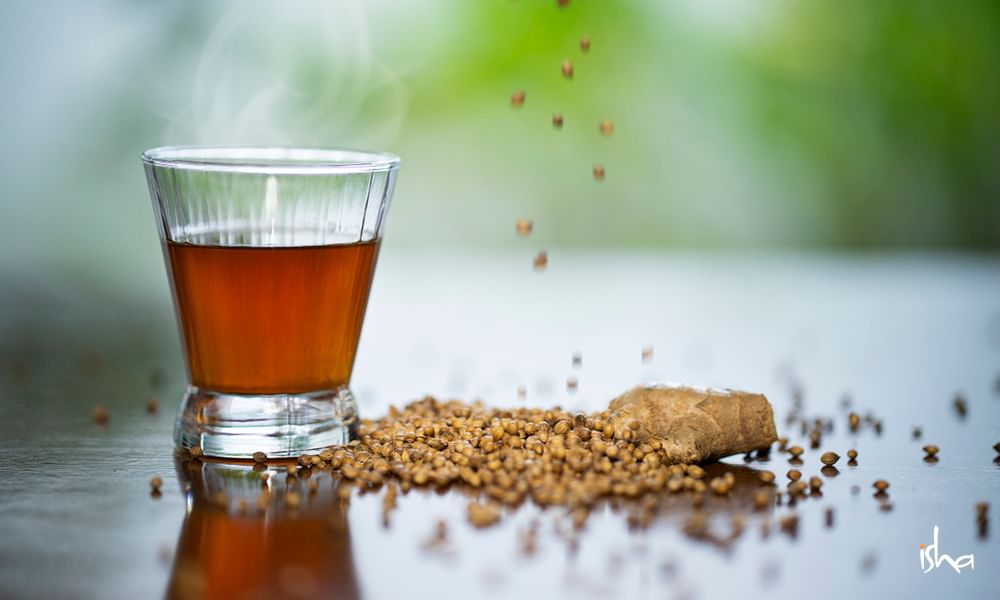 Enjoy a refreshing early morning drink without all the harmful caffeine. Sukku Coffee is a hot non-caffeinated beverage that offers an array of health benefits, from aiding digestion and soothing a sore throat to relieving nausea, bloating and other common ailments.
Yield: Makes 4 (small teacups)
Ingredients:
Ginger, slightly crushed: 2-inch long piece
Coriander seeds: 4 tsp
Palm jaggery to taste
Method:
Bring four cups of water to boil. Add the ginger and coriander seeds; lower the heat and simmer for 3–4 minutes. Remove from heat and strain.
Add the palm jaggery and stir until it dissolves. Serve hot! 
#4 Immunity-Boosting Drink – Hot Lime
Extremely simple to make and hugely beneficial, this three-ingredient-drink is soothing as well as healthy. This recipe has been around for many generations and is a well-known traditional elixir. Studies have found that consumption of honey reduces both cough severity and frequency in young children with respiratory infections. Lemons are an abundant source of Vitamin C and according to established research, Vitamin C helps stimulate the production of white blood cells that helps the body fight infections.
Here is how this drink is made:
To 250 ml of hot water, add the juice of 1 lemon, 1 teaspoon of honey and 2 tablespoons of jaggery/ palm jaggery/coconut sugar.
Stir well and consume while still hot. It is best to drink this 3-5 times a day, at regular intervals. 
In these challenging times, a simple viral infection could prove to be fatal. We hope that these four healthy beverages provide you an extra layer of protection from COVID-19 by boosting the immune system. In addition to consuming these drinks, Sadhguru shares another interesting perspective on staying healthy and boosting immunity:
Sadhguru: "I do not know how the allopathic system of medicine looks at it, but in the Yogic system we always consider the most important thing for you to be healthy is that you are exuberant and joyful. Bringing balance and a sense of exuberance in the system is very vital for boosting the immune system."
Editor's Note: Inner Engineering Online is available free of cost for COVID Warriors and at half the cost for everyone else. Sukku Coffee (caffeine-free) is available at ishalife.com. Turmeric available in powder and capsule at Ishalife.com