Offerings From Sadhguru In Challenging Times
Sadhguru offers a daily practice and Sadhana Support to help us tide through these unusually challenging times.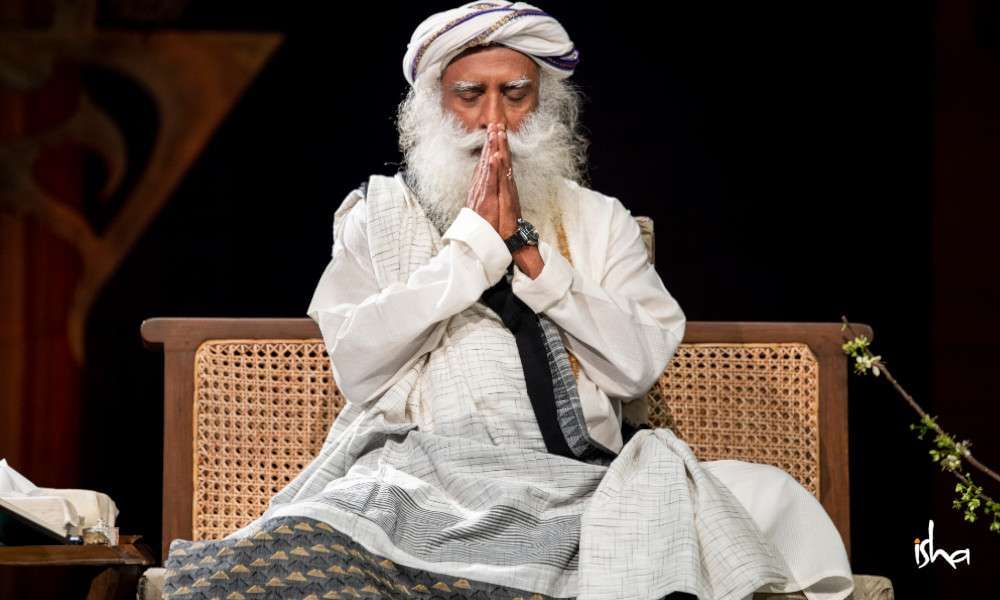 We are going through extraordinarily challenging times, with the coronavirus (COVID-19) pandemic spreading across the globe. Most of us are experiencing dramatic changes in our daily lives. In such a situation, it is even more vital to enhance our exuberance, inner balance, and wellbeing, so we can be a strong and uplifting support to everyone around us.
Towards this, Sadhguru has offered a simple but powerful guided sadhana, a daily practice that everyone can make use of. Those wishing to receive more support can sign up for a daily practice schedule.
DAILY SADHANA (PRACTICE) – open to all
"Yoga Yoga Yogeshwaraya" chant (12 cycles) followed by Isha Kriya meditation
Learning the Practice
Step 1: Sadhguru on the significance of the practice
Step 2: Learn the Yoga Yoga Yogeshwaraya chant
Step 3: Learn Isha Kriya
Step 4: Full guided daily practice: "Yoga Yoga Yogeshwaraya" chant followed by Isha Kriya
Simha Kriya 
A Simple but Powerful Yogic Process to Enhance Lung Capacity and Help Improve Immunity
Get weekly updates on the latest blogs via newsletters right in your mailbox.
As a support in these challenging times, Sadhguru has offered a simple practice to help improve one's immunity and strengthen one's respiratory system.
Conditions for the Practice
Ensure your stomach is not too full; you should be somewhat hungry. Ideally, give at least 2 ½ hours space between your last meal and the practice.

Anyone between the age of 6 to 70 years can do the practice, regardless of their physiological and medical conditions.

Those below 6 years of age and those above 70 years of age can also do the practice, but they must do the breathing 12 times only (not 21 times).

People with brain hemorrhage or brain tumor can do the practice, but they must do the breathing 12 times only (not 21 times).
Inner Engineering Online (IEO) – An offering from Isha Foundation during challenging times
IEO Free for Medical Professionals and Police Personnel
We are extremely grateful to all the medical professionals and police personnel (India) for their selfless service and sacrifice to keep us all safe in the fight against the coronavirus pandemic. In gratitude and appreciation, we are offering IEO free of cost to help support your own wellbeing. IEO is available in English, Hindi and Tamil. This free offer is available until Nov 8, 2020. Ensure to offer this gift to the healthcare and police personnel in your apartment, neighborhood, relations or friends.
IEO 50% reduced fee for others
Until Nov 8, 2020, IEO is available at 50% discount for everyone else. Please make use of this opportunity to enhance your exuberance, balance and inner wellbeing.
FOR THOSE INITIATED INTO SHAMBHAVI MAHAMUDRA KRIYA 
When faced with any challenge, our intelligence, health, and balance, become of utmost importance. It becomes even more essential to turn inward. If you wish to make use of this lockdown/quarantine time to deepen your practices and create more exuberance and stability within, you can register for a structured 40-Day sadhana support.
We will connect with those of you who register with further details and a daily practice schedule devised by Sadhguru.
Register below for the 40-day sadhana support.
(Please note there is no need to sign up again if you already signed up in the "Daily Sadhana" section)
For more information, please contact us at
SadhanaSupport.usa@ishafoundation.org (For USA and Canada)
SadhanaSupport.europe@ishafoundation.org (For UK and Europe)
SadhanaSupport.apac@ishafoundation.org (For Asia (except India) and Australia/New Zealand)
SadhanaSupport.russian@ishafoundation.org (For Russian-speaking countries)
SadhanaSupport@ishafoundation.org (For India and the rest of the world)