Are You Game For Life?
Sadhguru looks at how sports can be truly life-transforming, and speaks of how it has brought about a huge change in rural Tamil Nadu.
Isha Gramotsavam, a celebration of rural life and rejuvenation is taking place on December 9, in Coimbatore. The festival showcases the essence of rural Tamil Nadu, through an elaborate display of rural art, drama, dance, music and food specialties. The event will also highlight the role of sports in rural life by featuring the final rounds of the inter-village sports tournament.
In this article, Sadhguru looks at how sports can be truly life-transforming, and speaks of how it has brought about a huge change in rural Tamil Nadu.
Sadhguru:
The English expression, "Are you game?" simply means, "Are you ready for life?" Playing a game or a sport is an essential ingredient to build a
healthy life
– physically, mentally, and spiritually. The most important aspect of playing a game or sport is that you cannot do it half-heartedly. You may go to your work half-heartedly, you may handle your marriage half-heartedly, but you cannot play a sport half-heartedly. Unless you involve yourself, there is no game.
An essential part of playing a sport is absolute involvement. This is why a football game happening somewhere in another part of the world can make a billion people stand up and scream in their homes. Just the tremendous involvement the players are showing is what brings this simple sport alive. This involvement also brings a fundamental spirit into everyone which is essential for life. No one can play a game unless they really want to win. At the same time, it is alright if you lose. This is a significant quality to bring into one's life – handling both your victory and your failure gracefully.
So it is important to bring sport to every human being on the planet. Particularly in our country, we want to ensure that we start a movement of sports in a big way. If sport is used as an entry point, social transformation, economic revitalization and spiritual development of the human being can be very easily introduced into societies.
Celebrating Life
India is a country which had a festival for every day of the year. The whole culture was constantly in a state of celebration. If today was the day to plough the land, it was one kind of celebration. If tomorrow was the day to plant, it was another kind of celebration. If the next day was the day to weed, it was another kind of celebration. The harvest, of course, was an elaborate celebration. People were truly "game for life" and celebrated every aspect of it.
Get weekly updates on the latest blogs via newsletters right in your mailbox.
Slowly, this celebratory culture has moved into a state of depression. A large part of the Indian population, which is in the rural areas of the country, has lost this celebratory mood completely, mainly because of a few generations of abject poverty. But by introducing sport into the culture, it can do miracles.
Sport is a simple way of making a human being function beyond his limitations, with a certain exuberance of life. At Isha, we have effectively used sport as an entry activity to revitalize rural societies through our project, Action for Rural Rejuvenation.
Initially, when we tried to go into the rural community with our programs and projects, there was a big resistance because of the caste and creed distinctions. We decided to bring sport in, and this made a world of difference. Now, whoever played the game well became the important person in the village. No one was concerned about his caste, creed, or parentage anymore.
This is the significance of sports, that once you are into it, who you are and what you are doing right now becomes most important – not who your father was. Every man is valued for his worth, not for what he has been. You don't see anyone in the country asking, "Which caste does Mahendra Singh Dhoni belong to?" because no one is bothered about it. What he does on the field is all that matters to us.
Changing Rural Tamil Nadu
Another important aspect of sport is the level of physical fitness it brings. Today, among rural communities in India, musculoskeletal problems are one of the three major health issues. After we brought sport into action, we also introduced yoga, and this has brought a huge change in the way people live. People have grown out of their smoking and drinking addictions and are now working to be fit because they want to get into the sports teams.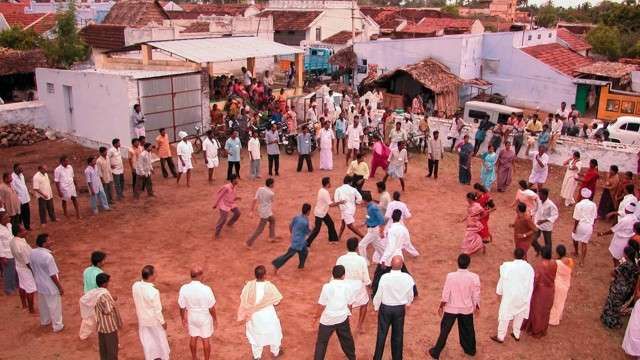 The kind of involvement that sport has brought about in the rural communities in Tamil Nadu, irrespective of gender and age, is remarkable. Particularly, many older women have never played a game in their life after they were six or seven years of age. Now, at the age of seventy, they come and participate in the tournaments! There is such joy and pleasure of watching these inter-village tournaments, where the older women actually play with the youth and win the games. This is the miracle of sport.
This is an incredible movement that has started in Tamil Nadu, and we want to see that this happens to the whole country. The idea is not necessarily about developing a competitive sport, but to bring the spirit of sport into everyone's life – to make everyone "game for life."
Editor's Note: Stay tuned for updates on Isha Gramotsavam 2018. Visit isha.sadhguru.org/gramotsavam for more information.