Third Isha Rural Health Clinic Established - Grand Opening in Alandurai, India
Isha has opened its third Isha Rural Health Clinic in Alandurai, the next larger village just a few kilometers from Isha Yoga Center.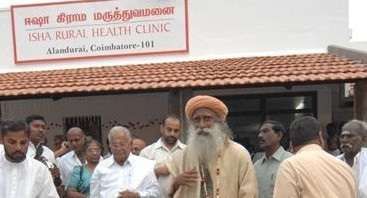 Isha has opened its third Isha Rural Health Clinic in Alandurai, the next larger village just a few kilometers from Isha Yoga Center. The inauguration on 4 October 2008 was celebrated in the presence of Sadhguru and many distinguished guests, collaborators and supporters of Isha's outreach projects including Shri Ravi Venkatesan, Chairman, Microsoft, India, who sponsored the Clinic, Shri Ramesh Rao. Division General Manager (Operations & Maintenance), Suzlon Infrastructure Ltd., Dr. Kumaran, Dean, Coimbatore Medical College Hospital, Dr. Shanmuganathan, Chairman, Ganga Hospital, Dr. Marie Sugandha, JD, Public Health Services, Dr. Porkai Pandiyan DD, Public Health Services and the Panchayat presidents of the Alandurai and Panapatti villages.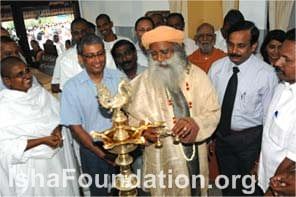 On the same event, medical hospitals which had supported Isha's Arogya Alai Health Awareness Campaign in Coimbatore were honored for their participation. Ganga Hospital, Ramakrishna Hospital, KG Hospital, PSG Hospital, Lotus Eye Care Hospital, Sankara Eye Hospital and ICFAI supported this initiative of Isha's Action for Rural Rejuvenation (ARR) to improve the level of health in underserved areas of Coimbatore.
Get weekly updates on the latest blogs via newsletters right in your mailbox.
Orator, poet and journalist, Kalaimamani Shri Marabin Maindan Muthiah gave a brief yet comprehensive outline of Isha's rural outreach and community care, saying that Action for Rural Rejuvenation has reached more than 3800 villages, serving a population of over 5.8 million people. He went on to unveil Isha's latest rural outreach program, Arogya Gramam, a comprehensive rural development plan in association with Suzlon and PCI that will include health care services, rural economic development and environmental protection in a number of adopted villages over the next five years.
He also indicated that this was a historical moment where Action for Rural Rejuvenation, which had so far been entirely managed by volunteers, would evolve into a people's movement to create waves of bliss, health and peace.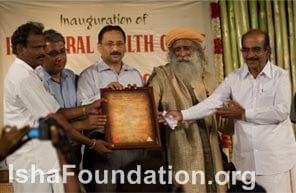 Shri Kannappan, Member of the Legislative Assembly from Thondamuthur acknowledged that by rejuvenating villages, Sadhguru through ARR had done what the government had failed to do, and he extended his cooperation for Isha's outreach programs. Shri Porkai Pandian recalled his association with Isha for over 10 years and commended their services and said, even the government had started outreach projects after seeing Isha's work.
The sponsors and supporters present had one thing in common: they all offered their unbridled support for Isha's outreach efforts. If such people who are in the position to make a powerful impact are willing to extend their help to the rural poor, there is hope for significant change.
Sadhguru in his address said that though it has been 60 years since freedom from the colonial power, we have not become free from illness or poverty. He urged everyone to do whatever needs to be done. He pointed out that the hospital cannot give true well-being. He said that his dream is that we would create places that would be such that no hospital would be required.
He also touched upon the various aspects of rural life including farming etc. Pointing out the potential that this kind of support from outside holds for their community, he asked, "Do we have the fervor to respond to such support?" He urged the youth to put aside all differences and step forward.
As the first notes played by Sounds of Isha resounded across the field, the response was uproarious, and in no time at all, people were up on their feet, dancing to the beats of the drums. An overwhelming crowd spontaneously rushed near the dais to offer whatever they had in their pockets to Sadhguru, who was seen graciously offering his pranam to their love and support.