A Traveler's Guide to the Isha Yoga Center, Coimbatore
Isha yoga center in India is a sacred space for self transformation where spiritual seekers from all over the globe gather to pursue the spiritual path.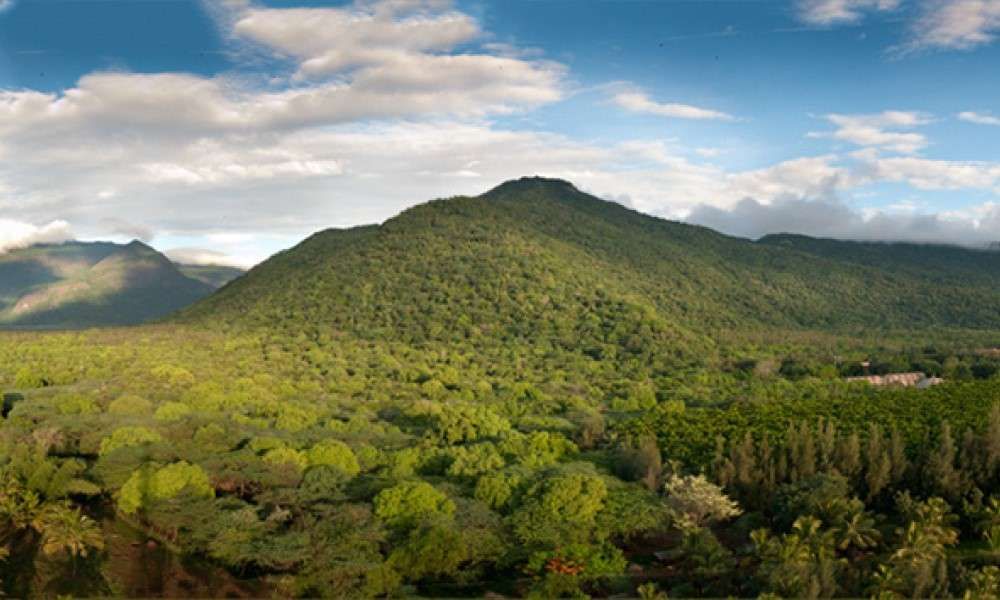 The foothills of the Velliangiri Mountains, forty kilometers from the city of Coimbatore in southern India, serve as home for the Isha Yoga Center. Created as a powerful center for inner growth, this popular destination attracts people from all parts of the world and is unique in its offering of all the four major paths of yoga - Gnana (knowledge), Karma (action), Kriya (energy), and Bhakthi (devotion).
Getting There
The
Isha Yoga Center
is situated 30 km West of Coimbatore, a major industrial city in South India. Coimbatore is well connected by air, rail and road. Airlines operate regular flights to Coimbatore from Chennai, Delhi, Mumbai and Bangalore. Train services are available from all major cities in India. Regular bus and taxi services are also available from Coimbatore to Isha Yoga Center. The ashram requires registration at least two weeks prior to your visit, but it is best to notify the registration team at least four weeks in advance of your travel to complete the necessary formalities.
See
Dhyanalinga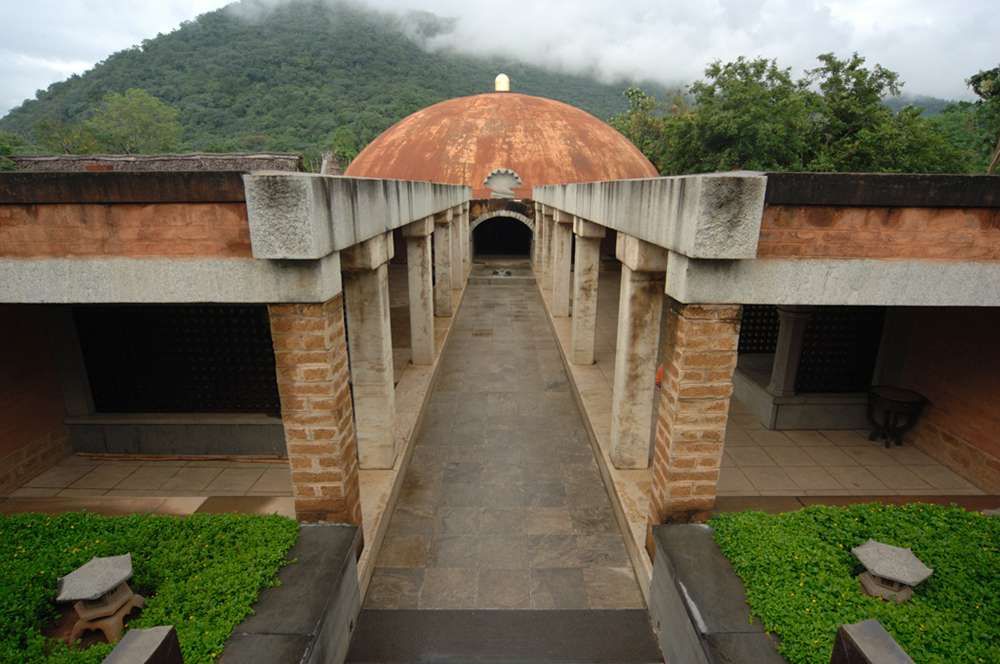 The Dhyanalinga is the first of its kind to be completed in over 2000 years. This powerful meditative space does not ascribe to any particular faith or belief system nor does it require any ritual, prayer, or worship. Dhyanalinga was consecrated by Sadhguru after an intense three-year process known as prana pratishtha. At a height of 13' 9", Dhyanalinga is the largest mercury-based, live linga in the world. It is a powerful and unique energy-form sitting under a pillarless 250,000-brick dome structure. In the metaphysical sense, Dhyanalinga is a guru, an energy center of tremendous proportions.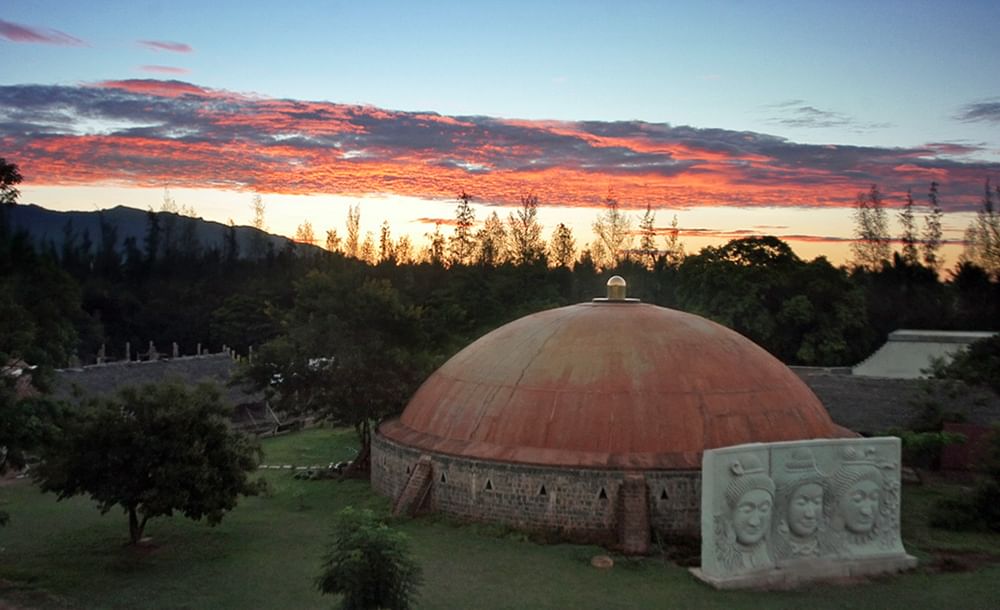 The earthy colors, the natural granite, and the fusion of unconventional surfaces and shapes that adorn this space create an ethereal ambiance and an apt atmosphere to receive the grace of the Dhyanalinga.
"Just sitting silently for a few minutes within the sphere of Dhyanalinga is enough to make even those unaware of meditation experience a state of deep meditativeness" – Sadhguru
Theerthakunds
In India, it is a tradition that before entering any ​sacred space, one wets the entire body to make it more receptive to the temple's energies. The Suryakund and the Chandrakund were created for gents and ladies respectively, as preparatory tools before entering the Dhyanalinga.
Since ancient times, Mercury has been an important substance in all kinds of spiritual alchemy around the world. The theerthakunds contain solidified mercury lingas or rasalingas. They are ellipsoidal in shape and 99.8% pure mercury, solidified at room temperature. According to the principles of modern chemistry, this kind of solidification is not possible. But here, the rasalingas have been solidified by Sadhguru through the ancient science of Indian alchemy.

The Theerthakunds, though basically meant as preparatory tools to enter Dhyanalinga, are very powerful by themselves. A dip in their crystal clear waters straightens out the imbalances in one's energies, which leads to physical and mental wellbeing. Above all, it creates a tremendous receptivity to imbibe the energies of Dhyanalinga.
Form and Design
Every nook and cranny of the Isha Yoga Center is a delightful discovery when you are here for the first time, and even on subsequent visits. The place exudes a special charm - a heady mix of meticulousness and chaos coupled with the exhilarating scent of clean air, herbs and flowers. Designed by Sadhguru himself, the structures within the ashram are unique sights to behold. Particularly noteworthy are the Spanda Hall and the Adiyogi Alayam.

The Spanda Hall is a meditation hall and program facility. Visually striking, with an expansive white marble floor and a free standing pitched roof, the dominating feature of this space is the exquisite wall mural, painted using only natural vegetable dyes and earth extracts, depicting the life of a Yogi. Measuring 140 x 12 ft, this masterpiece of art is the largest of its kind in the world.
Get weekly updates on the latest blogs via newsletters right in your mailbox.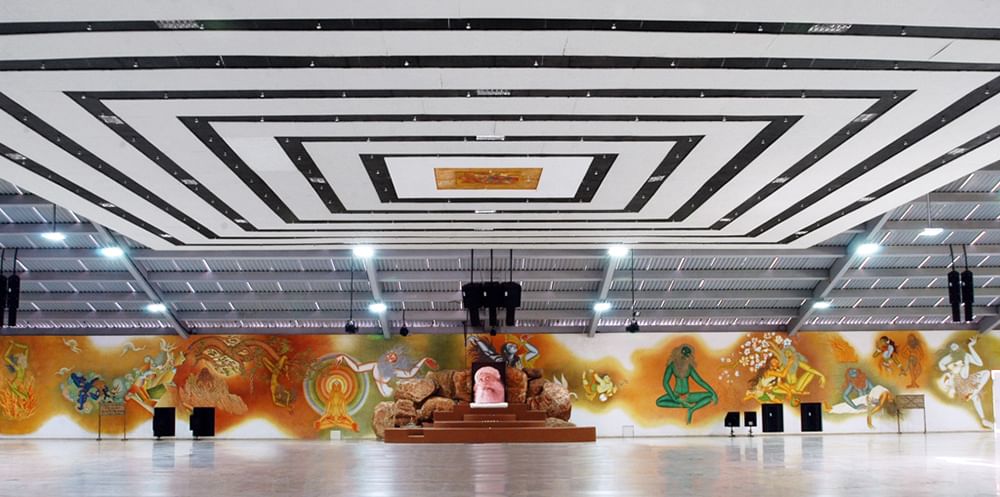 The consecration of the Adiyogi Alayam happened in late 2011, and was attended by over 11,000 Isha meditators. In Sadhguru's words, "we created an Adiyogi Alayam to bring back classical yoga in its purest form. Not studio yoga, not book yoga, not the kinds of things that are being done in the world today, but proper classical yoga, which is a phenomenally powerful science." The Isha Hatha School of Yoga conducts classes in the Adiyogi Alayam.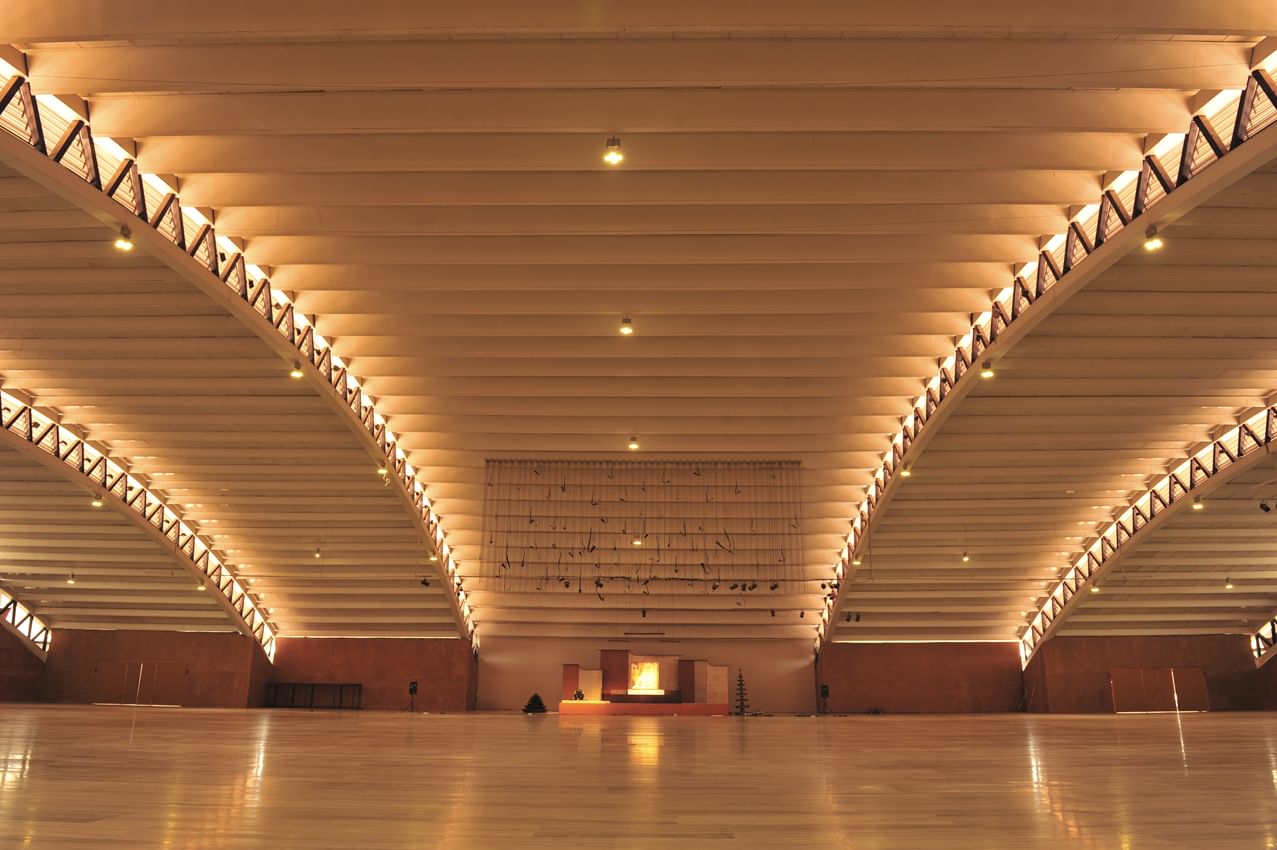 Special Events
Nada Aradhana is an offering of sound to the Dhyanalinga, an etheric blend of vocals, singing bowls, drums and various other instruments amplified within the reverberating Dome, transporting one into the timeless space of the Dhyanalinga.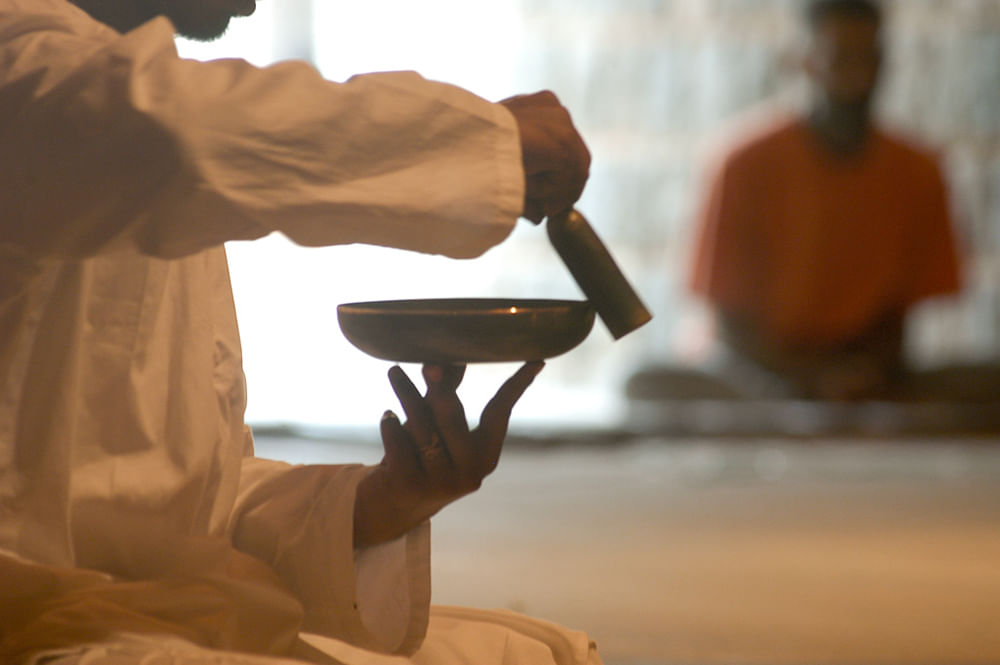 The offering takes place twice during the day from 11:50 a.m. to 12:10 p.m. and from 5:50 p.m. to 6:10 p.m. These times are recognized in the yogic tradition as the sandhya kalas. A sandhya kala is a phase when nature undergoes certain transitions and makes a person more receptive.
Pancha Bhuta Aradhana: The basis of all creation, including the physical body, are the five elements. The wellbeing of the body and mind can be determined by purifying the five elements within the human system. The Pancha Bhuta Aradhana makes use of the system of yoga called Bhuta Shuddhi, meaning the purification of elements, and is particularly beneficial for those who experience weak and unstable constitutions, psychological instabilities, disturbed sleep, a constant sense of fear, and will also be supportive for the fulfillment of one's ambitions. Pancha Bhuta Aradhana is held on the 14th day of every lunar month, between 5:40 pm and 6:20 pm at the Dhyanalinga.
Yaksha: In an endeavor to preserve and promote the uniqueness, purity and diversity of India's performing arts, Isha Foundation annually hosts Yaksha, a 7-day feast of music and dance, amidst the sacred space of the Dhyanalinga. The name of the festival is inspired by Yakshas – celestial beings in Indian mythology.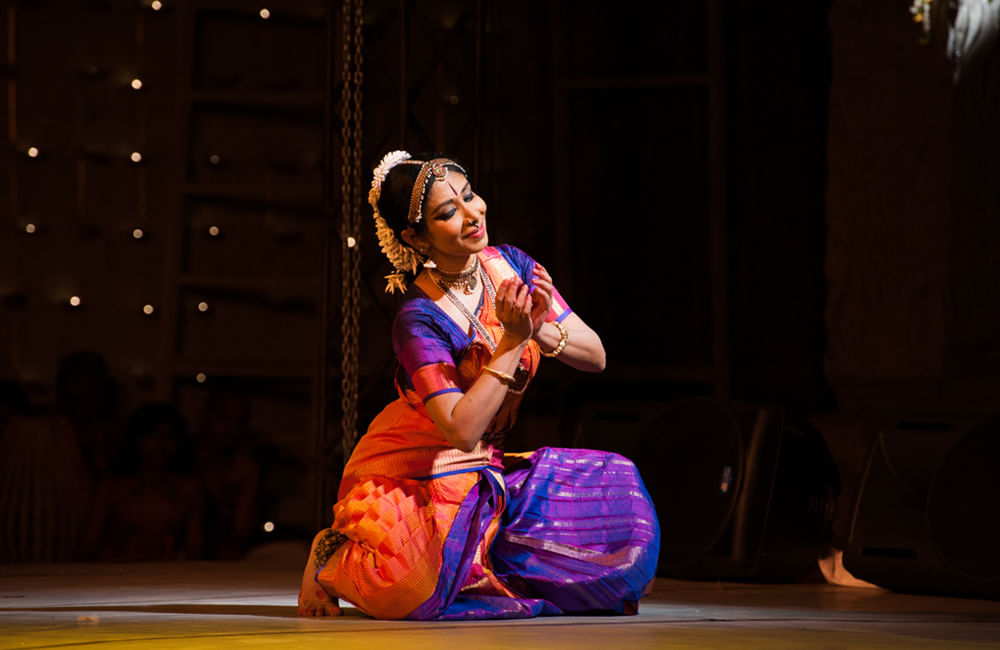 Yaksha provides a common platform for artistes to perform and connoisseurs to see and appreciate these ancient arts performed by masters as well as novices. These performances are conducted against the backdrop of the Dhyanalinga. Yaksha is held every year in the month of February/March, culminating in the nightlong celebration of the Mahashivarathri festival.
Mahashivarathri: The day before the Amavasya (New Moon) of each month is called Shivarathri. The Shivarathri that occurs between February and March each year is considered to be especially auspicious and is celebrated as Mahashivarathri. Traditionally, one is advised to stay awake throughout the night of Mahashivarathri, to make use of the unique planetary positions. Any spiritual sadhana performed on this night has a deeper impact on the system.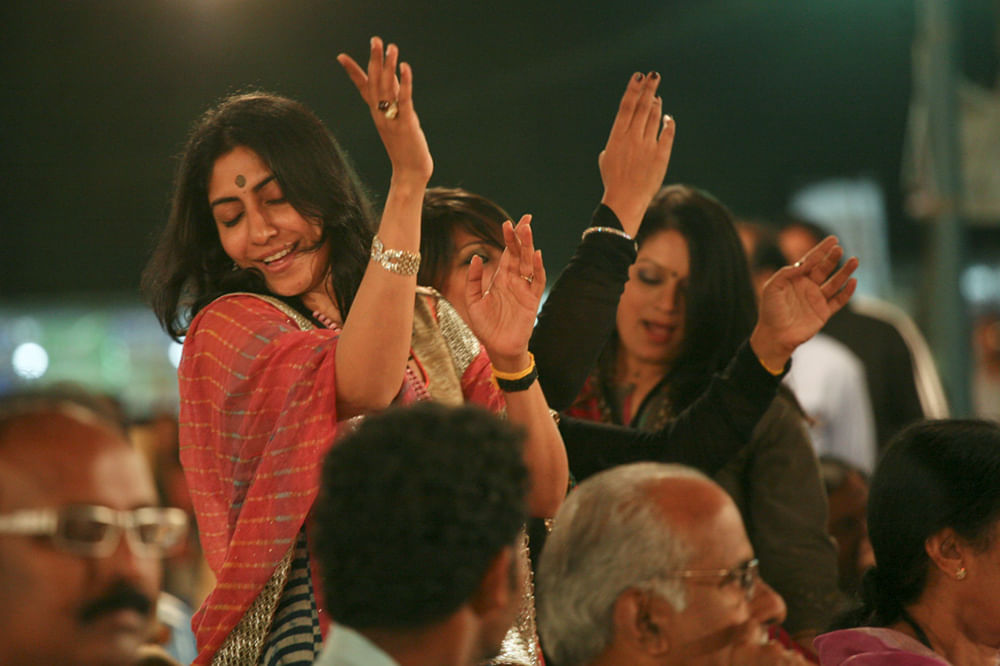 At the Isha Yoga Center, Sadhguru takes this opportunity to conduct a nightlong Sathsang of explosive meditations, interspersed with lively and colorful cultural events held in his presence. Classical music concerts by renowned Indian artists like Hariprasad Chaurasia, Pandit Jasraj, the Gundecha Brothers, Dr. Bala Murali Krishna, Wasifuddin Dagar, Sudha Raghunathan, Bombay Jaishree and Pandit Shivakumar Sharma are a predominant feature of this festival. The festival also showcases more contemporary genres by artists such as Sivamani, Kailash Kher and Prem Joshua. Attended by several thousands of people from far and wide, this unique festival is an opportunity to bask in the grace of the Dhyanalinga.
Celebrations begin with Guru Pooja at 6:00 pm in the Dhyanalinga on that day and conclude at 6:00 am the following morning.
Do
Aumkar Initiation
Visitors coming to the Dhyanalinga can further their experience by attending this daily introduction to the timeless and powerful mantra "Aum". This simple meditation when practiced can help strengthen one's physical and mental constitution and bring about tremendous balance and wellbeing. This fundamental mantra is known to have transcendental qualities. It can bring peace and balance to the meditator's system, and is known to relieve people from numerous physical and mental ailments when practiced regularly.
Aumkar Initiation takes place in the Dhyanalinga Complex every day from 12:30 pm to 1:15 pm and is open to all.
Yoga Programs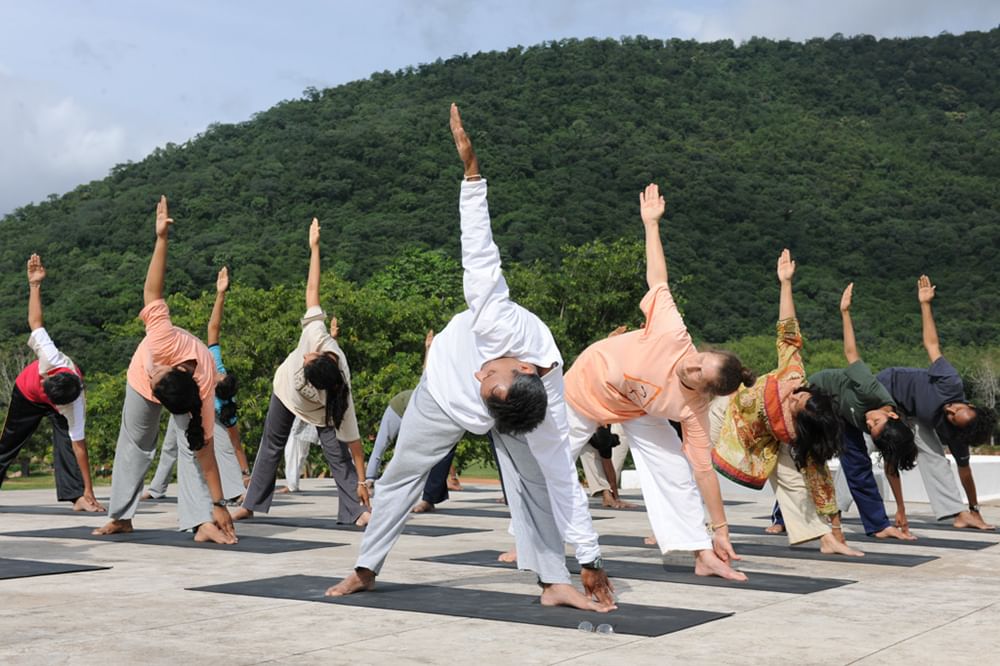 Isha Yoga Programs are offered throughout the year at the ashram. You could come for 3 days and experience the Inner Engineering Retreat, a residential program offering many possibilities for inner growth and exploration. There's also Hata yoga, Shoonya Meditation, and advanced programs like Bhava Spandana and Samyama. The
Isha Foundation is a volunteer-based organization and gives over 250,000 volunteers the opportunity to grow through selfless action. Isha Foundation works to manifest the experience of the divine in every human being. Sadhguru maintains that divinity is inherent in every aspect of life, and a combination of head (gnana yoga), heart (bhakti yoga), hands (karma yoga) and energy (kriya yoga) is the most effective method for inner growth and transformation.
While at the Isha Yoga Center on short visits, volunteers can help with kitchen activities, Isha Yoga program activities, or any of Isha's social projects.
Eat
Pepper Vine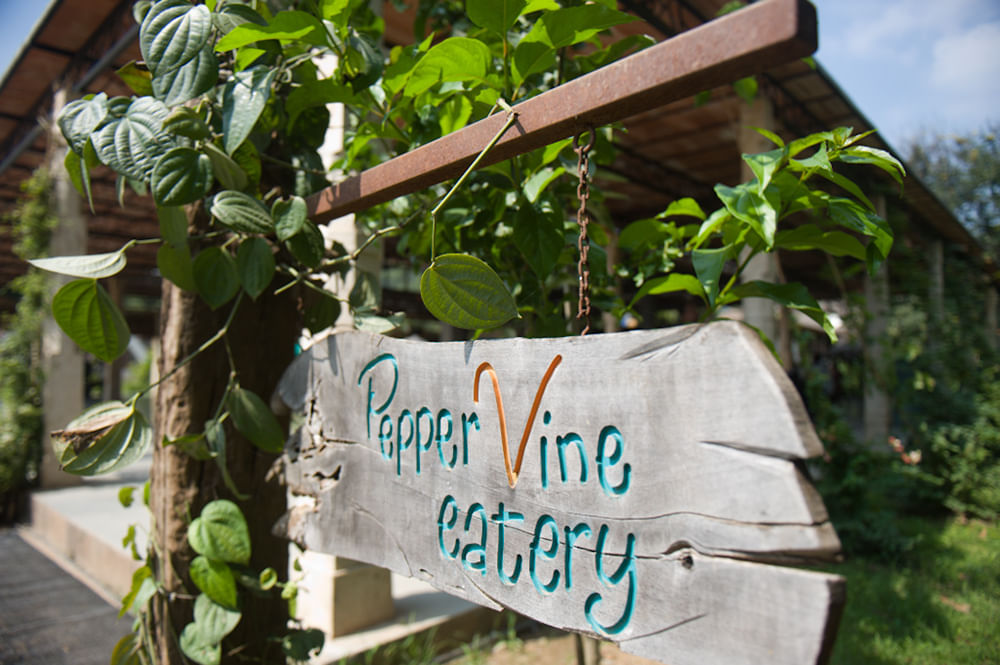 The Pepper Vine Eatery is Isha's very own cafeteria, open from 8:30 am to 7:30 pm every day. A steady supply of fresh fruit juices, milk, tea, coffee and snacks are always available to visitors. A must-try item is the eggless cake, available in carrot, nut and chocolate flavors. A sweet and spicy confection, the aroma of this cake is something that lingers on long after. Pepper Vine also stocks Isha Ruchi products.
Stay
Cottages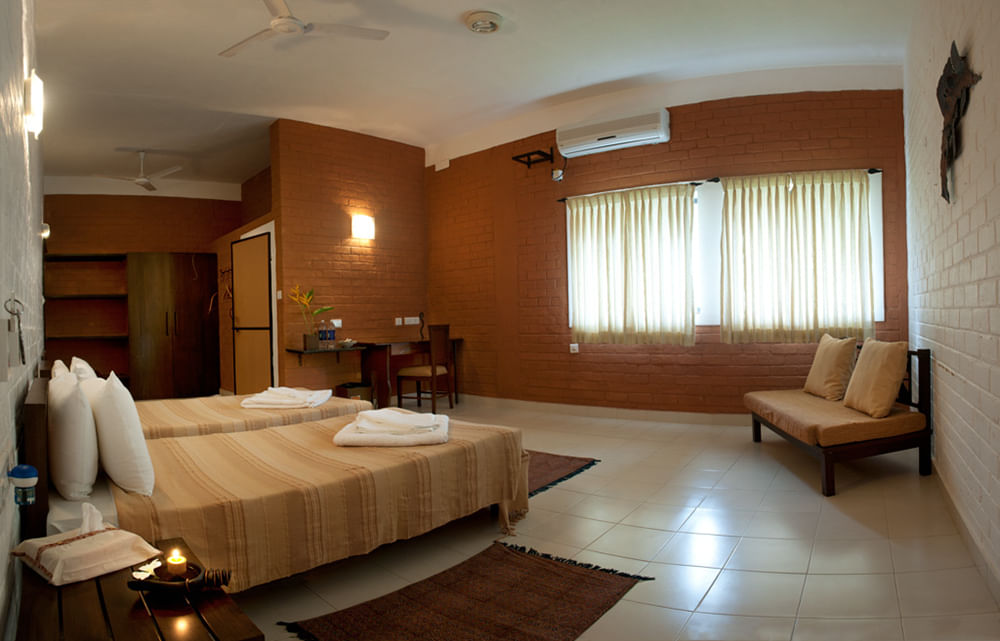 Isha Cottages welcome guests into a relaxing space that blends rich, earth-tone hues within a simple, yet elegant setting. A distinctive interior design and Isha's own furniture line underscore the rustic and cozy feel of the guest units. The cottages aim at providing ashram guests with a comfortable stay, to make the best possible use of the powerful ambience of the Dhyanalinga. The stay includes two wholesome and nutritious vegetarian meals per day. Booking cottages at least two weeks prior to your visit is recommended, owing to the high frequency of visitors to the ashram.
Nalanda Conference Center
The Nalanda guest accommodations include well-appointed, air-conditioned guestrooms as well as a spacious 4-room executive suite. Nalanda not only offers all the necessary facilities (including audio/visual equipment, internet connection etc.) for exclusive executive meetings ensuring privacy and productivity, but also provides a beautiful setting for intimate social events. You can book Nalanda either for your own events, experience an Inner Engineering Retreat, tailor-made corporate programs, or combine your stay with the offerings of the Isha Rejuvenation Center.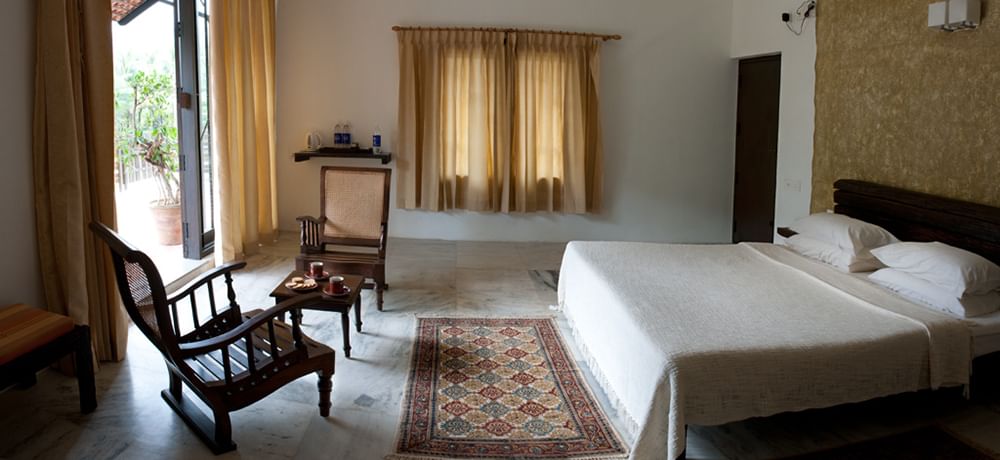 Nalanda accommodation is also open to meditators and guests who wish to simply be in the sacred space of Isha Yoga Center for a few days.
From the moment you arrive in the beautiful surroundings of the sacred Velliangiri Hills, your rejuvenation begins. The serene atmosphere of the Isha Yoga Center and Dhyanalinga has profound transformative affects. Come - relax, renew, revive and rejuvenate.
Have you been to the Isha Yoga Center recently, or planning a visit soon? We would love to hear all about your experience! Please write to us at: blog@ishafoundation.org, and don't forget to send us pictures too, so we can share your story with the world through the Isha Blog. You could also tell us about your experience at the ashram in the comments below.
Update: We are pleased to announce that Isha Yoga Center has been featured by Huffington Post Lifestyle as one of the must-visit, Top 10 Tranquil Yoga and Meditation Retreats in India, in an article dated 29th March, 2013. We would like to take this opportunity to invite you once more to relax and rejuvenate in the beautiful space that is the Isha Yoga Center!