The Bicycle Yogis: Through the Rear-view Mirror
After 4 months on the road, peddling the states of Tamil Nadu and Karnataka, the Bicycle Yogis have now touched over 32,000 people, sharing the gift of Yoga with rural India. Over the New Year the team took a short break to relax, to look back and to look forward at the road that lies ahead. Let's hear their story in their own words.
Three Isha Hatha Yoga teachers, as part of their initiative "Bicycle Yogis," have set forth on an 6500 km journey from Kanyakumari to the Himalayas to offer classical Yoga to children in villages - on bicycles!
Ajay Shares His Accidental Introduction to Yoga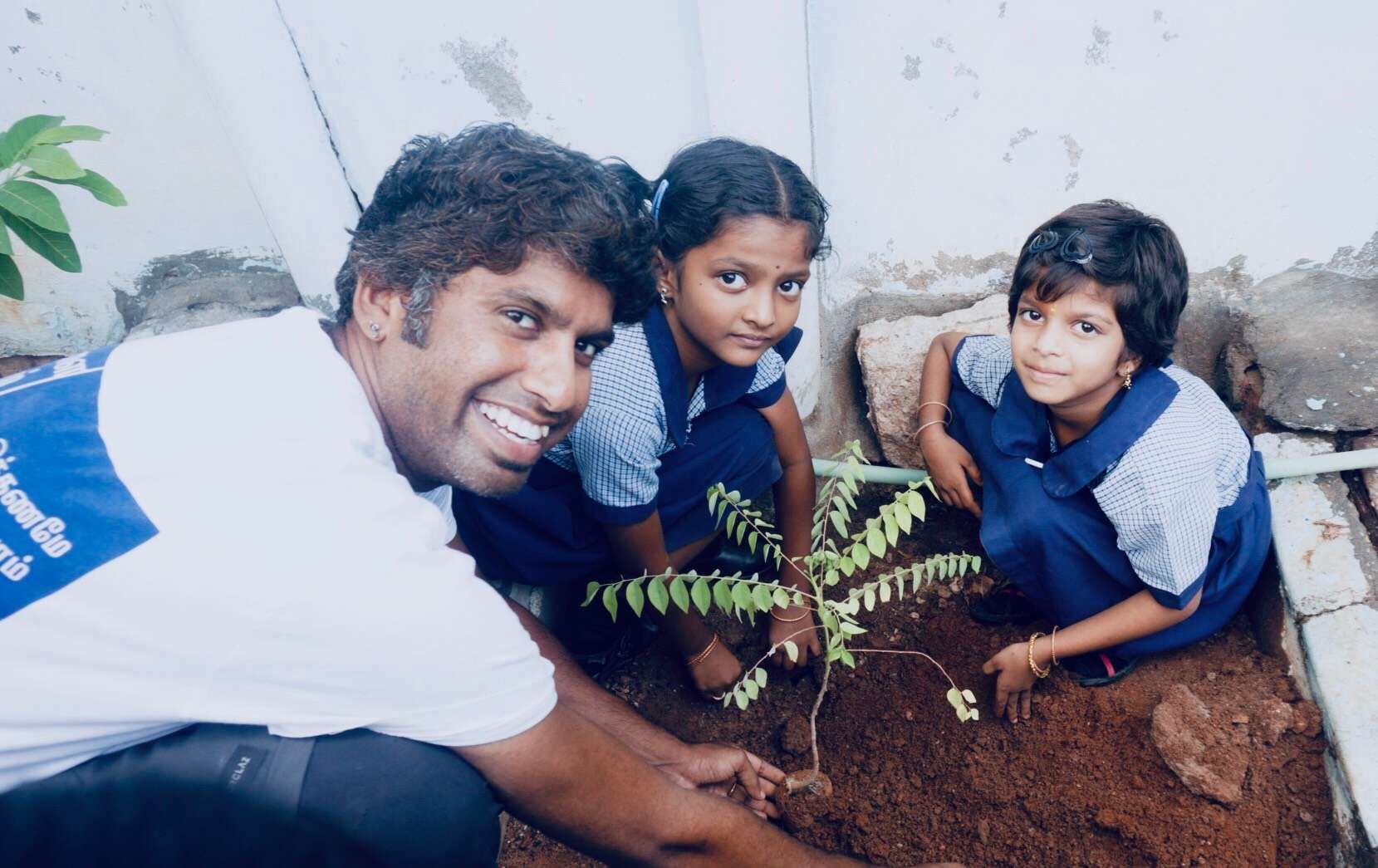 Ajay: "In 2009, I had been doing some Hatha Yoga practices on my own with the help of a book, when one of my friends asked me to join for a Yoga program. It happened to be the Inner Engineering program. Initially nothing made sense to me until I completed one mandala (40 days) of Shambhavi Mahamudra. It changed my life in multiple ways which I could never imagine. I was upgraded in my mind, body and energy. I was in utter shock, asking how is this possible?! In 22 years of my life, I felt truly empowered, like I never felt before. Why didn't anyone tell me about this? Why is Yoga not part of the Indian education system? After research I came to know that Yoga was one of the core elements of our education system until various invasions happened and the British made changes to suit their needs. This was when a strong will arose within me to do my best to spread Yoga to as many people as possible. That is where the Bicycle Yogis come in!
Pushing Our Limits
"In the final phase of our Tamil Nadu journey, we really pushed our limits like never before; we split into separate teams and covered 12 sessions in a single day. The following day we re-visited the schools for review sessions, and in the evening we bicycled 65 km overnight from Kaveripattinam to Hosur (mostly uphill), reaching our destination at 1:30 AM. We somehow managed to wake up early in the morning to teach our next session. Tamil Nadu definitely ended on a high.
Looking Back in Disbelief
"As the Tamil Nadu trail comes to a close, we took a breather to reflect on the enormity of what we have taken on over the last four months. We are really happy to look back at the 18,000+ lives we have touched in Tamil Nadu alone. It's astounding that this happened through us. This is just the beginning, with 3200 km to go and thousands more lives to touch. Our team was really pumped up despite being physically exhausted. We decided to take a short break to visit friends and family and to recharge the batteries for the next leg of the trail.
32,000 People and Still Counting
"At this point of our journey we have made an effort to spread Yoga across the states of Karnataka and Tamil Nadu and have taught practices to over 32,000 people. With 3,200 km still to go, I would like to leave you with Vivekananda's quote which has been a driving force since my childhood, 'Arise, awake, and stop not till the goal is reached!'"
Annie's Renewed Sense of Appreciation
Get weekly updates on the latest blogs via newsletters right in your mailbox.
Annie: "After being in 'go' mode for three months continuously - either on the bike or teaching, I was looking forward to a break. I didn't have any friends or family around India, so I visited the ashram to relax and get back on track, and to see some people whom I love. It was amazing to be at the Isha Yoga Center, and I instantly felt great! The volunteering activity given to me wasn't really relaxing - it was to clean and sweep the consecrated spaces across the ashram, but it definitely gave me a renewed sense of appreciation for all the volunteers who offer themselves through Seva.
The Only Girl
"As we were on our bicycle adventure, I was constantly trying to work on myself, and make improvements. Especially during the break and with more free time I saw lots of tricks my mind tried to play with me, especially with more free time. 'Maybe Bicycle Yogis isn't for you… you're the only girl… maybe it's not a girl thing… maybe you should go home and relax.' I tend to ignore the mind when it goes these directions these days, as I know the mind is just throwing up all kinds of messages that society has been telling me for years. But it is a little difficult being the only girl and I am actively trying to find girls who are up for the adventure.
"After a long break, I felt really rested and relaxed - and much more prepared to move forward in this journey."
Overcoming Setbacks 
Shivanga: "After New Year's, we were supposed to start again bicycling with the help of a Telugu speaking teacher, but somehow the dates didn't work out after all, and we felt pretty stuck as we all had met back up in Bangalore and thought we would resume from Bagepalli shortly after. We tried to plan, re-plan, talk to people, but nothing really worked. Until we got in contact with two willing and motivated teachers from the newest batch, Pramod and Santosh, who speak Kannada really well. So we changed the route to stay in Karnataka for as long as possible, rather than going into Andhra Pradesh and Telangana. As I'm writing this, the team is in Pavagada while I'm on a bus to join them soon. I'm coming from the airport after having renewed my visa in Sri Lanka. It feels good to be on the way back, I feel very well rested and ready for anything! Can't let them teach all these classes without me!"
The Progress
Bicycle Yogis were planning to pedal across Maharashtra over the next month but have decided to cancel all upcoming classes due to the COVID-19 lockdown. But there was a dilemma as they have to keep moving in order to reach the Himalayas on time, at the same time they don't want to cycle past any place without taking classes.
The solution:
Keep moving on the bicycles, collect contacts wherever possible on the way. Hopefully after a month when the lockdown is lifted, one of the Bicycle Yogis will join a supporting Marathi teacher on a motorbike to conduct classes based on the contacts they made, while the other two Bicycle Yogis will continue their journey northward.
Don't miss out as we follow the pan-India journey of the Bicycle Yogis in this new series. It's sure to be "wheelie" fun! Any schools interested in hosting the Bicycle Yogis can email them at thebicycleyogis@gmail.com
For more frequent updates, find the Bicycle Yogis on Facebook, Instagram, Twitter.
Editor's Note: Inspired to become an Isha Hatha Yoga teacher? For more information, visit www.isha.sadhguru.org/HYTT or mail info@ishahathayoga.com.