Chettinad Recipes - Thattai and Pal Kozhukattai
Sweeten and spice up your Diwali with these recipes for a delectable sweet – Pal Kozhukattai –and a savory – Spicy Thattai – from the Chettinadu region of Tamil Nadu.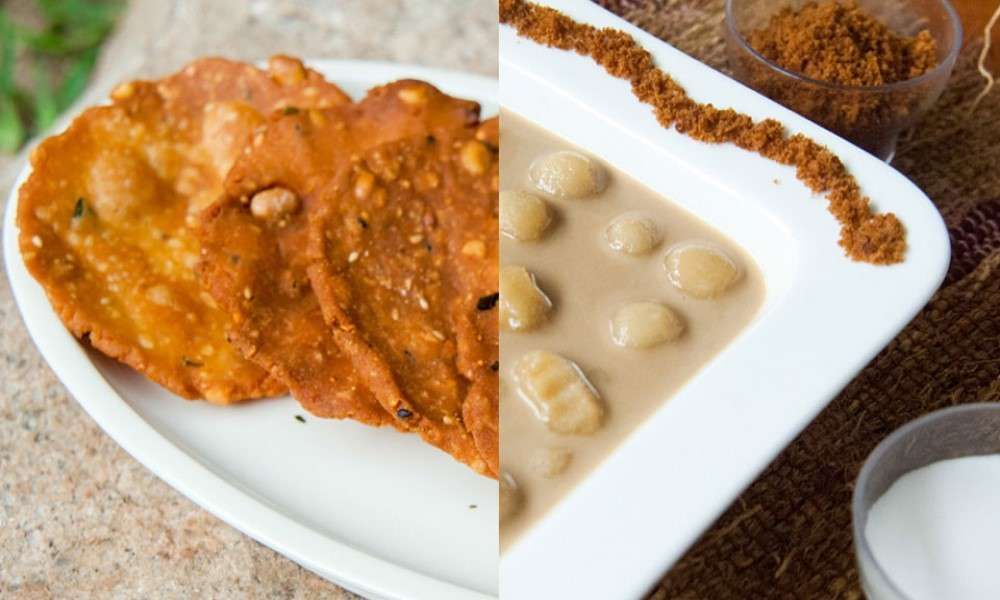 Today we have for you two Chettinad recipes – something sweet and something savory – from the town of Karaikudi, Tamil Nadu. Karaikudi belongs to the Chettinad area, a collection of 76 villages and towns and largely home to members of the Chettiar community. One of our Isha Volunteers, from Karaikudi, was generous enough to share these Chettinad recipes from her hometown with us, and they were tried, tested and devoured by the entire blog team here at the ashram.

Spicy Thattai (Rice Flour Crisps)
Thattai is a savory snack famous all over South India in various forms. They are enjoyed by the Telugu-folk as Chekkalu and Kannadigas love their Nippattu. Although the basic concept is the same, the recipes vary from region to region and even kitchen to kitchen! This particular Spicy Thattai recipe comes to us straight from the kitchens of Chettinad. We hope you enjoy it as much as we did.
Spicy Thattai Recipe (Makes 25 to 30)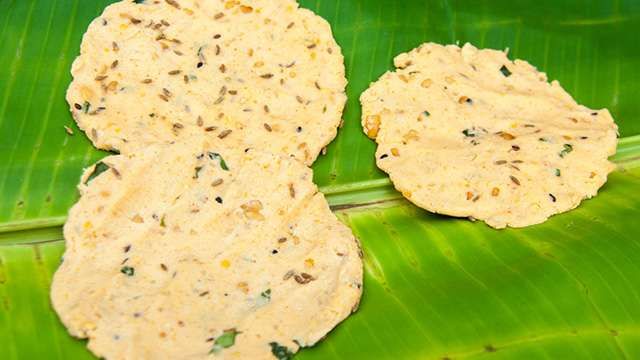 Roasted Rice Flour – 300g
Roasted Channa Dal Powder – 70g
Roasted Peanut Powder – 70g
Soaked Channa Dal – 25 gm
Melted Butter – 3 Tsp.
Sesame Seeds (Black or White) – 4 Tsp.
Cumin Seeds – 1 Tsp.
Red Chilli Powder – 2 Tsp. or to taste
Curry Leaves – 10 to 12 leaves
Salt – to taste
Any Vegetable Oil – for frying
Get weekly updates on the latest blogs via newsletters right in your mailbox.
Mix all the ingredients with water sufficient to make a smooth dough. Pinch the dough into balls, roughly 1.5 inches in diameter. On a wet muslin cloth, press the dough flat until it is about 2/3rd mm thick. Deep fry in hot oil until golden brown. Remove from oil and place on a paper towel to absorb the excess oil. Wait for the thattais to cool and serve!
Pal Kozhukattai (Rice Flour Dumplings in a Sweet Coconut Sauce)
We have to tell you that this dish is every bit as delicious as it sounds. The sauce in particular is quite delectable. We'll waste no time and go straight to one of our favourite Chettinad recipes.
Pal Kozhukattai Recipe (Serves 4)
For the Dumplings:
Roasted Rice Flour – 200g
Powdered sugar – 2 Tsp.
Salt – A Pinch
Hot water to make the dough
Mix the rice flour with sugar, salt and hot water and knead it to a dough-like consistency. Shape small dumplings out of the dough, about the size of a marble. Steam the prepared dumplings in an idli cooker or steam cooker.
For the Sauce:

Powdered Jaggery – 200 g
Coconut Milk – 200ml
Water – 50ml
Cardamom Powder – a pinch
Scraped Fresh Coconut – optional
Roasted cashews – optional
Add the jaggery and water to a sauce pan and boil the mixture until you achieve a syrup of single-string consistency. Take off the stove and let it cool for about 2 minutes. Then add coconut milk and cardamom powder to the jaggery syrup. Add the rice dumplings to this sweet sauce. Sprinkle freshly scraped coconut and roasted cashews to garnish. Serve hot or cold.
We hope you give these fabulous Chettinad recipes a try and tell us how they turned out. We'll be back soon with more sweet and savory recipes. Stay tuned!

Editor's Note: Get the latest updates from the Isha Blog. Twitter, facebook, rss or browser extensions, take your pick.