Mahashivratri 2014 Updates
We bring you some of the highlights from the rapturous night of Mahashivratri 2014.
Thank you for joining us for Mahashivratri 2014
We can't tell you what an incredible experience it was to have you all here with us this last week, it's been a blessing to be able to bring this to you all... Please consider making a donation so we can continue to make this possibility available in the future. Visit: http://isha.co/DN8INR | Pranam, Isha volunteers
Thank you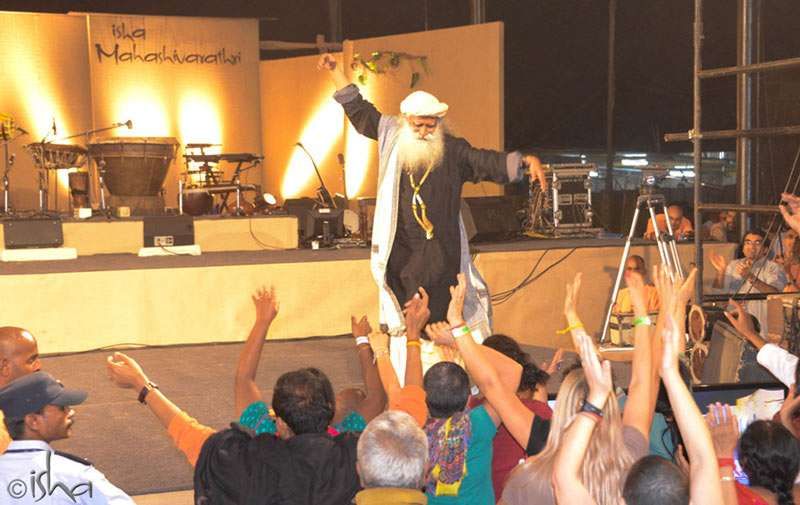 We hope this "Night of Shiva" has been an enriching and awakening experience for you. Thank you for joining the Mahashivratri celebrations. #ShivaTonight
Please support Mahashivratri
It is Sadhguru's wish that as many as possible experience Mahashivratri. To make this possible, we have offered the webstream free. However, enormous costs are involved, so any donation you wish to make will be a great support. No amount is too small. Thank you. isha.co/DN8INR
Spiritual process
Spiritual process is a heightened level of abandon. You do not abandon life – you abandon the straight jacket of a personality that you created for yourself. -Sadhguru #ShivaTonight
Mahashivratri celebrations at Trichy
Thanks to our Online Streaming Partners @...
Special Thanks for bringing this to millions of people – http://Speakingtree.in | http://swasthiktv.com | http://www.dinamalar.com | http://idevotionalindia.com/ | https://www.shemaroo.com/ |
Tell us what you think
Please give us feedback about the webstream. Help us make it better. http://isha.co/MSR-Survey
Mystic Quotes in your Inbox
Get Sadhguru's quotes in your inbox everyday. http://online.isha.in
Annadanam - an offering of food
Annadanam is offered to over one lakh devotees on Mahashivratri night. If you would like to support our effort, please consider donating at http://online.isha.in
Get weekly updates on the latest blogs via newsletters right in your mailbox.
Midnight Meditation with Sadhguru
Get the Isha Chants Android App
Listen to the Vairagya chants on your mobile. http://online.isha.in
Tweet from Sadhguru
May this night of Shiva make your life Blissful. -Sg #ShivaTonight
Shekhar Kapur releases Eternal Echoes.
Get Eternal Echoes and more of Sadhguru's latest books at http://online.isha.in
Isha brahmacharis present an impressive demonstration of Kalari.
Sadhguru
Sadhguru addresses the audience.
Sounds of Isha
The percussionists of Sounds of Isha set the mood.
Sadhguru sets the rhythm
Sadhguru arrives and welcomes everyone in three languages - Hindi, Tamil, English - and sets the rhythm with his damaru! #ShivaTonight
Thunderclap has gone live
Roar with us! #ShivaTonight
Behind the Scenes
Lakhs of people are expected to attend the Mahashivratri celebrations tonight. Here is a behind-the-scenes look at how the grounds were prepared. #ShivaTonight
Brihadeeswara Temple, Tanjore
One among the many programs around #Mahashivarathri is the first Southern Isha Sacred Walks pilgrimage. Read upon the where, what and how about the pilgrimage - http://isha.co/1ln1dxB #ShivaTonight
Live Blog
Mahashivratri, the biggest night on the Isha calendar, is here. We will be bringing you reports, behind-the-scenes action, pictures, videos and live updates on this blog http://isha.co/1kbXyCu
Tonight's Schedule...
Heres a rough Schedule for tonight... 6:00 -6:30 pm Pancha bhuta aradhana live | 6:30 - 7:00 pm Welcome drums and kalari performance | 7:00 - 7:50 pm Welcome address by Sadhguru | 7:50 - 8:50 pm Pandit Jasraj | 8:50 - 9:00 pm New releases | 9:00 - 9:15 pm Sounds of Isha | 9:15 pm - 00:50 am Discourse by Sadhguru | 00:50 - 1:30 am Sounds of Isha | 1:30 - 3:00 am Ashit Desai | 3:00 - 3:50 am Sounds of Isha | 3:50 - 5:10 am Rajasthan Roots | 5:10 - 5:45 am Sounds of Isha | 5:45 - 6:00 am Closing by Sadhguru |