Life in Sadhanapada: The Different Flavors of Seva
There is a mind-boggling variety of Seva opportunities available in the ashram, and the Sadhanapada team painstakingly ensures that every single participant gets a taste of all the flavors offered.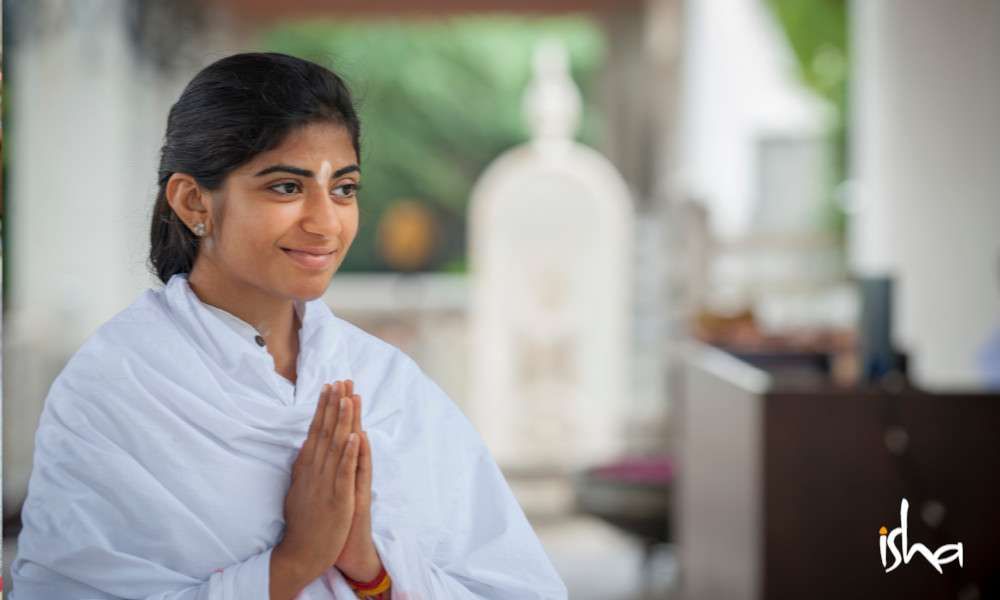 Over 800 participants from 32 countries come together to spend 7 months in the consecrated space of Isha Yoga Center for their inner growth.
Life in Sadhanapada - All Articles
Sadhanapada provides one with the opportunity to volunteer and be part of a vision beyond oneself through seva. With over 80 activities on offer during the program, participants don't know where they will be allocated, what they will be doing, or even how long they will be doing it. During the 7 months, one could be out on the farms planting, picking, and harvesting; or they could be sitting at a computer writing, designing, and emailing.
As an effective tool in peeling layers of resistance, this conscious choicelessness provides a great opportunity to become willing to do whatever is required and to learn to live without friction. This allows participants to establish a sense of balance, stability, and clarity within.
Anna Seva
"Anna" literally means "food" in Sanskrit. A few thousand meals are served at Isha Yoga Center every day. Aptly named by Sadhguru as Biksha hall, the dining hall serves two meals as annadanam (or offering of food): brunch at 10:00 AM and dinner at 7:00 PM.
Enjoying a meal may seem like the most mundane of tasks at first glance, but during Anna Seva, the participants discover what really goes into making it happen. Food is very carefully served in a specific sequence…and many have earned gentle rebukes for serving rice before salad!
Serving hungry spiritual aspirants is the perfect way to cultivate a sense of inclusiveness and offering, making one aware that even the simplest of activities is of utmost importance. Anna Seva has been incorporated into Sadhanapada to help enhance this quality in the participants.
Becoming Meditative Is Much Easier While Doing Something Physical
"Anna Seva was the best volunteering experience ever! It was great to get to be physically active during Seva (since my usual Seva is in the office), and I found that becoming meditative is much easier for me while doing something physical (Anna Seva) than mental (Office Seva)!"- Genevieve, 30, Canada
Peeled Off Layers of Unwillingness
"I remember watching people clean the leftover food from the sinks and thinking to myself, 'I don't want to do that.' A few days later I forced myself to do it because I recognized the limitation within myself and was surprised to notice that I enjoyed the entire process. After that when someone asked me who was cleaning the sink, I responded saying, 'hopefully me.' Anna Seva was one of the most rewarding experiences of my life in so many ways, and I truly had such an incredible time in the space, with the people, and within myself." - Bianna, 27, Australia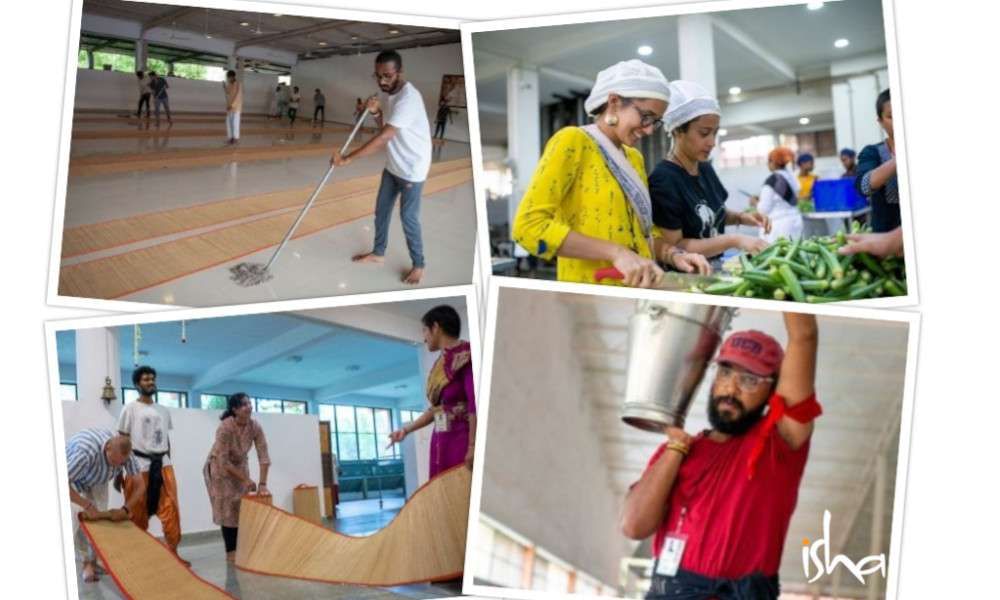 Get weekly updates on the latest blogs via newsletters right in your mailbox.
Biksha Hall Has the Same Sanctity As Dhyanalinga
"The joy of hosting in the Biksha Hall and serving each and every person as if it was Sadhguru himself was inexplicable. I have decided that next time when my family asks me to take them to important places in Isha, I would take them to Dhyanalinga, Linga Bhairavi, Adiyogi and also Biksha Hall. Because it is a place where sanctity is maintained as much as it is in Dhyanalinga or Linga Bhairavi." - Sreekanth, 26, Andhra Pradesh, India
Linga Seva
A powerful energy form, Dhyanalinga is a doorway to enlightenment and liberation that draws thousands of devotees to the Isha Yoga Center every day. Just being in the space of Dhyanalinga is enough to make one meditative. Linga Seva is a possibility opened up by Sadhguru where one can offer oneself in this sacred space and make it available for all to experience.
Linga Seva is something that every Sadhanapada participant looks forward to. It doesn't matter what one's regular Seva may be – in Finance, IT, Gardening, Legal activities, Graphic Design or Translation – one could be pulled out and sent into 10 days of Linga Seva at any time! This "musical chairs" of Seva is very much by design and a unique opportunity to grow.
It Felt Like a Homecoming
"I had always managed to find some excuse not to go to Dhyanalinga. I always felt a little uncomfortable when I was going there because I never really understood what was going on. But during the process of Linga Seva you offer yourself totally, despite your own likes and dislikes, just doing whatever is needed to maintain the whole ambiance of the space. This sense of offering and giving myself has opened up a completely new connection to Dhyanalinga for me.      The place just started to make me feel that there is no other place I need to go, that everything is just right here. It is really hard to express that in words. It just felt like coming home." - Annabell, 22, Germany

For the First Time, I Understood What Devotion Is
"Initially, when I found out that I will be joining the Isha IT department, I was in turmoil because I would be involved with the very computers I was trying to run away from for 7 months! So Linga Seva came with perfect timing     . I met all kinds of people, from all ages and backgrounds. In the process of welcoming the visitors, I learnt how to be with them. In those 10 intense days of waking up early and going to bed very late, and being ON all the time, the turmoil that I was in got released. I never really understood what devotion was. I thought it was love and dedication. But it seems to be a level above that, because love can be exclusive, but once devotion touched me, it became a pervading quality that seeped into everything that I did." - Nathalie, 34, Canada
Made More Progress in Nine Days Than I Would Have in Nine Months
"Watching my roommate struggle to wake up every day at 3:00 AM and crash late on the bed every night after 10:00 PM made me think that Linga Seva was probably a very physically demanding process. I even read the Dhyanalinga chapter in Mystics Musings the previous day to make sure that I 'prepared myself.' Little did I know that it had nothing to do with anything physical or my psychological nonsense.      In those nine days, I've made more progress as a human being than I would have otherwise made in nine months, or even more." - Guhan, 22, Tamil Nadu, India
Program Volunteering
The ideal vacation is when there is no work to do, but in Sadhanapada, people look forward to taking a break from their usual work, just to work even more as program volunteers! But why would anyone choose volunteering for an Isha program over, say, a weekend in Bali? Read on to find out…
BSP Volunteering Taught Me the Joy of Giving
"A Bhava Spandana Program (BSP) was arranged for 350 Sadhanapada participants and we were 108 volunteers. We were hardly sleeping for 4 hours a night, but I never felt this kind of powerful energy before, not even during my own BSP as a participant. When I came out after volunteering, I was changed. I realized the joy of giving is the most important thing – once you get touched by that Grace you want to live in that dimension. All other things just seem so insignificant to me. That was actually when my Sadhanapada started." - Pranshu, 27, Maharashtra, India
With Isha Yoga Center always witness to multiple programs happening simultaneously, often back to back, the opportunity to volunteer and be part of a program is available to everyone residing in the ashram. This not only helps support Sadhguru's effort to offer tools for transformation to all, it also enables one to be part of a powerful spiritual process.
Damaru Seva  and Playing Music as An Offering
If you ever thought that the ambiance in the Isha office spaces is anything resembling a corporate setup, the myth is swiftly and firmly busted when a band of angavastram-clad damaru-wielding volunteers arrive on the scene with gentle smiles and thunderous beats. Making their afternoon rounds to every part of the ashram, they make sure that everybody is vibrant and wide awake! One need not be a musician to join, and the only qualification needed is willingness.
First Experience of Damaru Seva
"During general volunteering when I first saw a few volunteers dressed in white angavastrams going around playing drums and a tambourine,      I wondered if I will ever get to do this. A few weeks into Sadhanapada, my team was asked if we were interested to go for Damaru Seva. I felt a little bit of resistance, doubting if I will be able to finish the entire activity considering it was very hot outside. Once we started the Seva, we just kept going. Suddenly the heat didn't matter.      It was a beautiful experience and we came back to the department agreeing to be back again next month for Damaru Seva." - Ashin Paul, 27, Karnataka, India
Creativity Unfolds Itself When Playing Music in Dhyanalinga
"Playing music as an offering to Dhyanalinga is changing many things within me. The acoustics of the dome are unique and very inspiring – every note gains an intensity and beauty that helps the music to flow effortlessly. For me, creating music there is an immeasurable blessing, and my way of playing and approach to the instrument is changing so much. When I play in Dhyanalinga, I feel that creativity unfolds itself in the present moment. The energies of the space help me take 'risks' without losing balance and also remain in a state of offering. I just close my eyes and connect with the music; it is like going into a beautiful abyss… it is not me anymore." - Gabriel, 39, Brazil
At the Maatu Mane Farms
Named Maatu Mane, Isha's own cowshed is a cozy home to creatures of the bovine kind. Taking care of the cows and the bulls requires both vigor and tenderness, which makes it a perfect place for one's growth.
Felt My Limitations Breaking
"Being a veterinary doctor, I was posted at the Maatu Mane department in the ashram as my Seva. Initially I was very happy because of the fact that I will get to do my veterinary practice again, but then as days passed, I found out that apart from treating the animals there are so many other things like feeding them, giving them water, cleaning away their dung, and using it as manure for the plants to grow. And while doing all these activities I slowly realized how many layers of resistance I had towards all these tasks. Never before have I done anything like this so consciously and felt the nature around me so magnificently. I can actually see all the limitations breaking. It's been 3 months since I have been working here, and when I look back, I feel that I am no longer the same person that I was before. I am truly grateful to all the people in my Seva and my coordinator for making me a different person altogether." - Sonika, 24, Karnataka, India
Prithvi Prema Seva
A wonderful opportunity to be with nature and immerse oneself (literally!) into soil and sun, Prithvi Prema Seva was designed by Sadhguru to allow people to form a deep contact with the five elements - a very fundamental aspect of Yoga.
Imagine an engineer, a singer, an accountant and a software developer landing up in Sadhanapada, only to be sent to spend hours in intense physical work. It is the blessing of being so close to nature and the breathtaking backdrop of the majestic Velliangiri hills that makes them take up the challenge with utmost joy.
Prithvi Prema Seva involves planting trees, weeding, picking flowers and travelling to nearby farms to pluck guavas, lemons and custard apples (no eating while picking!).
Life Is Becoming Bigger Than My Own Thought and Emotion
"When they told me that I'm a part of Prithvi Prema Seva, being a nature lover I was very excited. One month was initially difficult because we were totally exposed to sunlight and rain, and we were in soil the entire day. But once the body got used to that, I started enjoying it. As Sadhguru says, life is throbbing everywhere around – but I was totally engaged in my own psychological drama, and I couldn't even spare some time to look at life around. Now when I see those worms, insects, beautiful butterflies, and even the blade of grass which is simply sprouting, I see it with so much joy and respect, it is melting my personality." - Gauri, 28, Maharashtra, India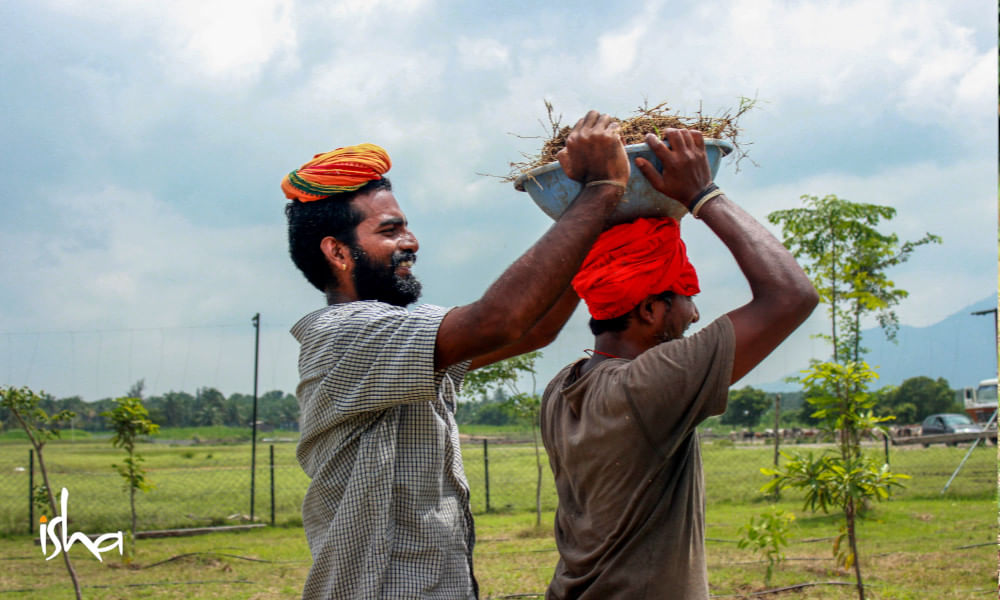 It Expanded My Cultural Horizons
"Well, going to the farms each day and being together with all kinds of people, I feel enriched culturally, because it seems obvious that, 'Okay, we're the same people, same humans,' but there are subtle differences in our cultural backgrounds. It's just fun to notice these differences and to make friends from all over India and the world." – Mikus, 32, Latvia
English Publications
English Publications is about curating Sadhguru's content and making it available to the English-speaking public. It is a body of people who work together to provide the public with articles (like this one), social media posts, information about events, and more. At the same time, it ensures that Sadhguru's message remains authentic and undistorted. 
"I have recently completed a degree in philosophy, so I am familiar with working at a computer for long hours. I was very focused and clear, but there was a certain stubbornness about me. English Publications, as a Sadhanapada participant is of a different caliber. It has brought up everything that was rigid/self-interested within myself and allowed me to re-evaluate what or who I am in relation to other people. It's a huge responsibility and privilege to be at the forefront of Sadhguru's Global Initiatives, and it can be overwhelming until I fully step in and embrace it – then it becomes a part of me, or I become a part of it. The work I do in English Publications therefore provides me with the perfect opportunity to surrender to the process, deepen the distinction between what I want and what is needed, align my skills and insights with a larger vision, and work with a team of individuals who make me feel included and supported. Work in the office starts at 11 am and lasts for about 8 hours, which allows me the time to do my sadhana in the morning and evening" – Evan Draper, 26, United Kingdom, England.
Coming Up Next...
Navigating your way through the prudently designed Sadhanapada schedule can be quite a task. Next time, we share a few tips and hacks to surviving and thriving in Sadhanapada in the form of "The Sadhanapada Survival Guide!"
Editor's Note: Find out more about Sadhanapada and express interest for the upcoming program here.