An Extra-Ordinary teacher who lives in a thatch house
In part 7 of the series "Voices from a Path Breaking School" we bring you the story of one of Isha Vidhya's outstanding teachers! Over the course of this series, we will present you with the insights and experiences of an Isha volunteer intent on sharing the stories of transformation brought about through Isha Vidhya.
கூரை வீட்டில் வாழ்ந்தாலும் கோபுரமாய் உயர்ந்தார்!
"The significance of a teacher is not to just rattle off information, but to inspire and allow each student to blossom." - Sadhguru
His father, mother, and two sisters worked as manual labor to finance his education
Son of utterly poor, illiterate, agricultural labor workers, Jyotilingam, B.A., M.Phil, B.Ed. Social Sciences, was a fortunate child! He got the chance to continue his studies while his father, mother and two sisters worked as manual labor to finance his studies. Studying under chimney light (as there was no electricity in their house until three years ago), Jyotilingam did his parents proud by passing his B.A. in Economics with excellent grades. Later, though he was offered a seat in a statewide renowned university, he completed his M.Phil in one of the best colleges in Erode on scholarship.
Teaching was his dream job – and now Isha Vidhya, his dream school
Three months before he completed his M.Phil, when he was desperately looking for a job, he joined the Isha Vidhya School in his neighborhood, so he could save on travel expenses. He had always loved being with children, his parents had told us, and here he found himself enjoying the bliss of being with the "little angels of 2nd grade," even though he felt he had no teaching skills.
Get weekly updates on the latest blogs via newsletters right in your mailbox.
Soon, he was promoted to teach 9th grade students. Last year, when these children spent extended hours at school during a 6 month period in preparation for their 10th grade public examination, Jyotilingam offered to stay on with them as their guardian for no extra salary or compensation.
He would come to school before the children (sometimes even at 3 am), and left after them (some days after 11 pm). He took them to the doctor when they were sick, uplifted them with his bright smile and loving words when they were down, served them food, played with them, did yoga with them… Whatever was needed to keep the students happy and focused on their schedule, Jyotilingam did it with love, care, patience and understanding. He is one of the most loved teachers in the school because of his sheer commitment, passion, and involvement with children.
Captivated by the "Joy" of Making a Difference
Combined with his excellent academic background and his dedication, his popularity among students didn't go unnoticed in the region's academic circles, and he is being offered positions in other schools with much higher salaries. He, however, has refused such offers.
"Being with the exuberant children of Isha Vidhya, who come from such a variety of backgrounds, and giving them a chance for a good education makes my heart sing – it makes me happy."
Jyotilingam still lives in a thatch roof house, with his aging parents, who continue to work. His father feels proud that his son is doing something to help the community. Meanwhile his sister's children are now studying in Isha Vidhya, and her husband works as a security guard in the school. Jyotilingam's mother wishes that he one day have a proper house so he can marry well. We do not know if he has the same wish, but we do know that young Jyotilingam has already found his heart's fulfillment.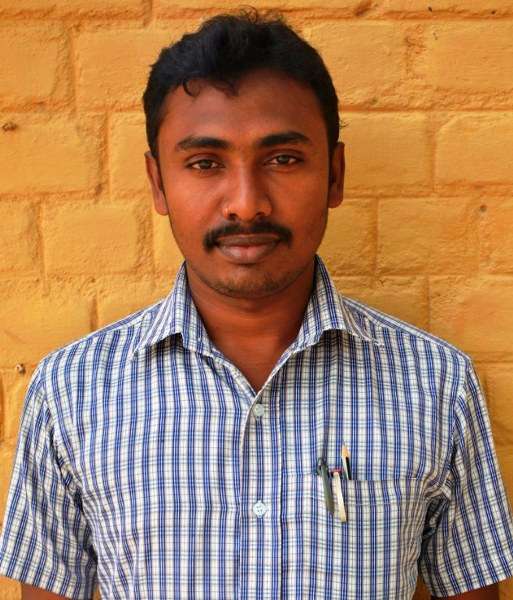 Editor's Note: "Innovating India's Schooling" is a conference, designed and conducted by Isha Vidhya, Isha Home School and the Isha Leadership Academy to bring together concerned individuals and thinkers from the fields of education, government and industry. Through a series of lectures, debates and discussions, the conference seeks to redefine education as a tool to not just create a highly productive workforce, but also shape an inclusive, responsible and joyful society. The event also marks the tenth anniversary of Isha Vidhya, the rural education initiative of Isha Foundation. Learn more. Follow #10YrsOfIshaVidhya on Facebook and Twitter for the latest updates.