Mysticism Takes Center Stage at Madison Square Garden
New York City recently witnessed its largest Mystic Eye program with Sadhguru, attended by thousands of people at the iconic Madison Square Garden in Manhattan.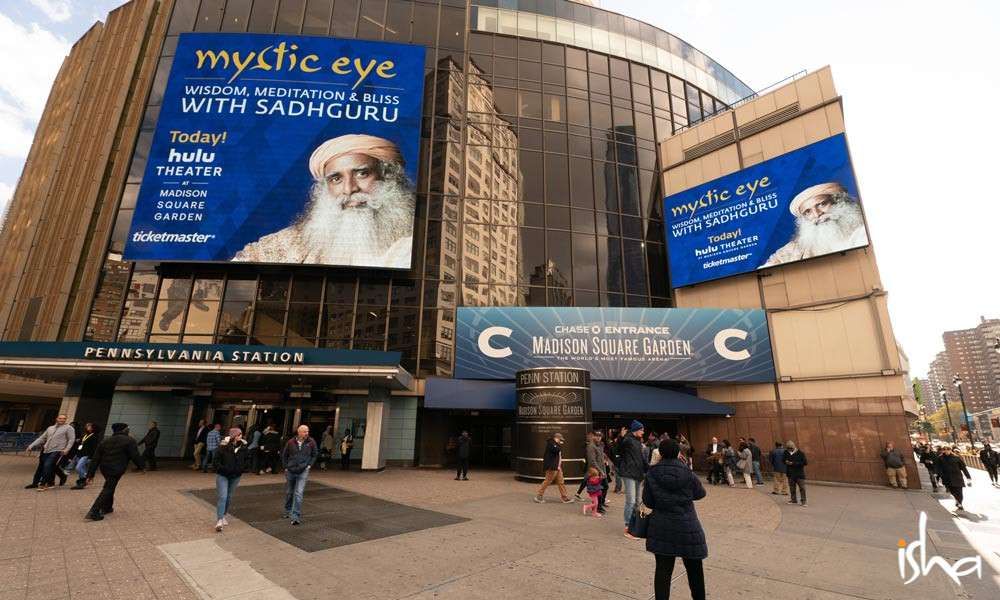 Madison Square Garden has hosted many superstars like The Rolling Stones and Elton John, and is home to major sporting events, but for the very first time, "The World's Most Famous Arena," welcomed Sadhguru to center stage. Nearly 5,000 people attended Mystic Eye on November 3rd in New York City. Some came just to get a glimpse of Sadhguru in person after watching his talks on YouTube. Some came to explore meditation. Some were intrigued about encountering a mystic, while others came because they simply could not miss the opportunity of being in Sadhguru's presence.
Earlier in the day, preparations were underway for the event. By early afternoon the stage was decorated with earthy reds and burnished orange and long lines of participants filled the theater. Several people who saw the theater for the first time gushed about how intimate the setting was. Volunteers shared their excitement over being involved with the event preparations.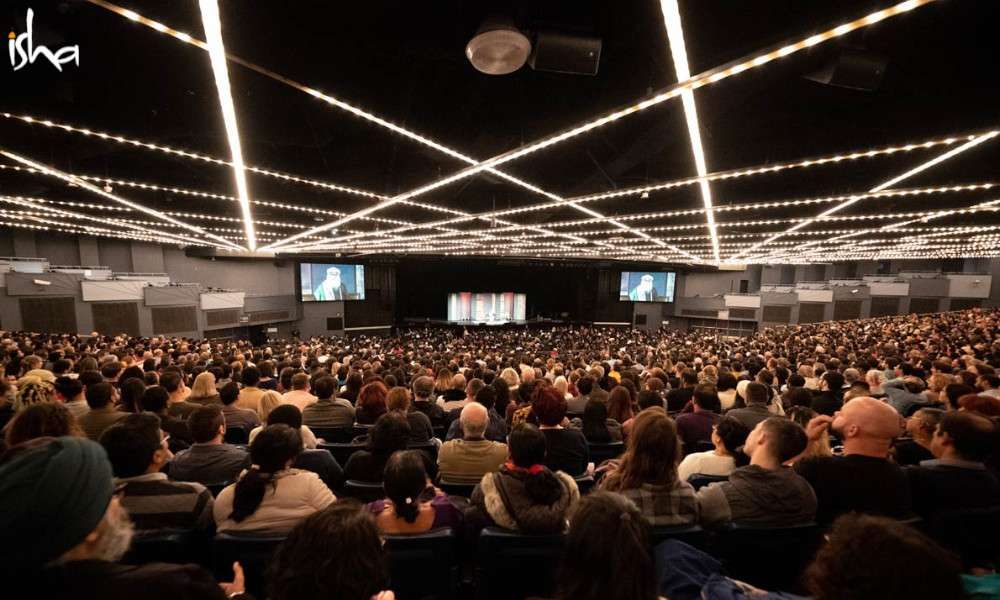 Joe Losauru, a volunteer who completed Inner Engineering with Sadhguru in Philadelphia in April said, "It is as if a fog has lifted from my eyes. My relationship with my family has undergone a sea change post my Inner Engineering program. I feel closer to nature. I have less fear and do not suffer from anxiety anymore. I could not wait to come to Mystic Eye to see Sadhguru in person again."
Another volunteer from Philadelphia shared, "I must have walked past the Madison Square Garden in New York City 50+ times in the last 6 years, including once when I attended a music concert there. Everyone in the United States knows Madison Square Garden. Literally everyone. It was an unbelievable sight to see thousands of people at a spiritual event. I am still awestruck."

Sounds of Isha opened the afternoon program with an enchanting composition, creating an atmosphere of joy and meditativeness. Sadhguru entered the stage gracefully as the eagerly waiting audience was overwhelmed by his presence.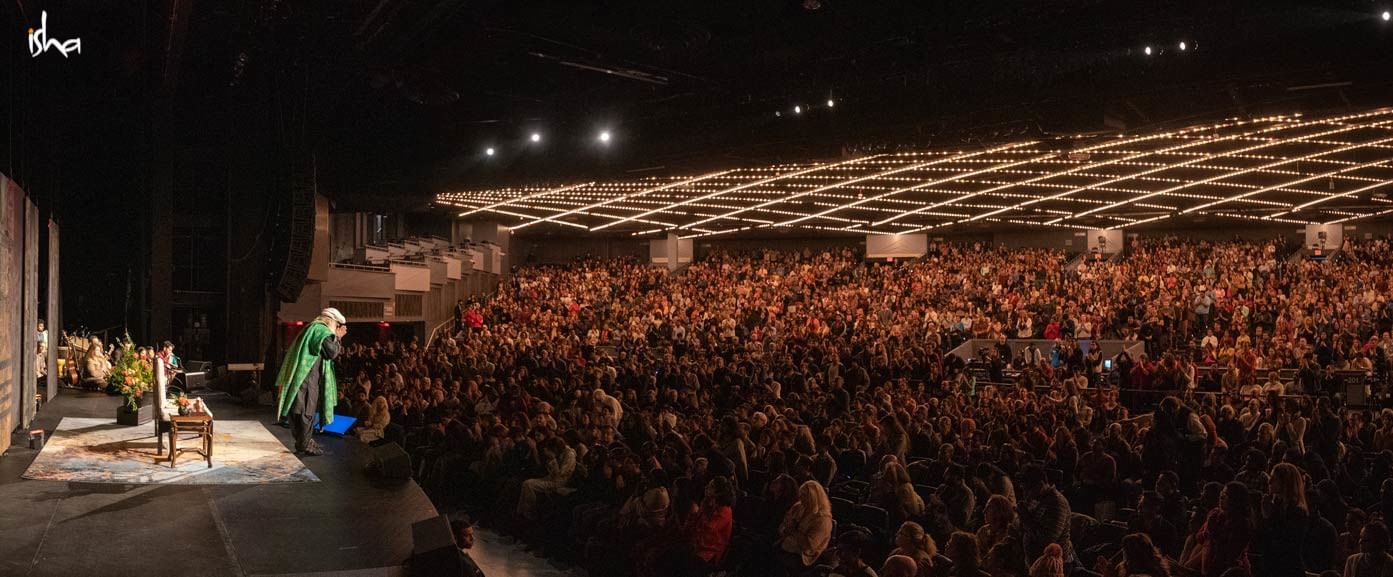 For the next five hours, Sadhguru interwove his words of wisdom with several anecdotes and the ever-popular Shankaran Pillai jokes, expounding on topics that resonated with all present. Many shared that Sadhguru somehow addressed exactly what was on their minds at that moment.
Get weekly updates on the latest blogs via newsletters right in your mailbox.
Here are some choice excerpts from the talk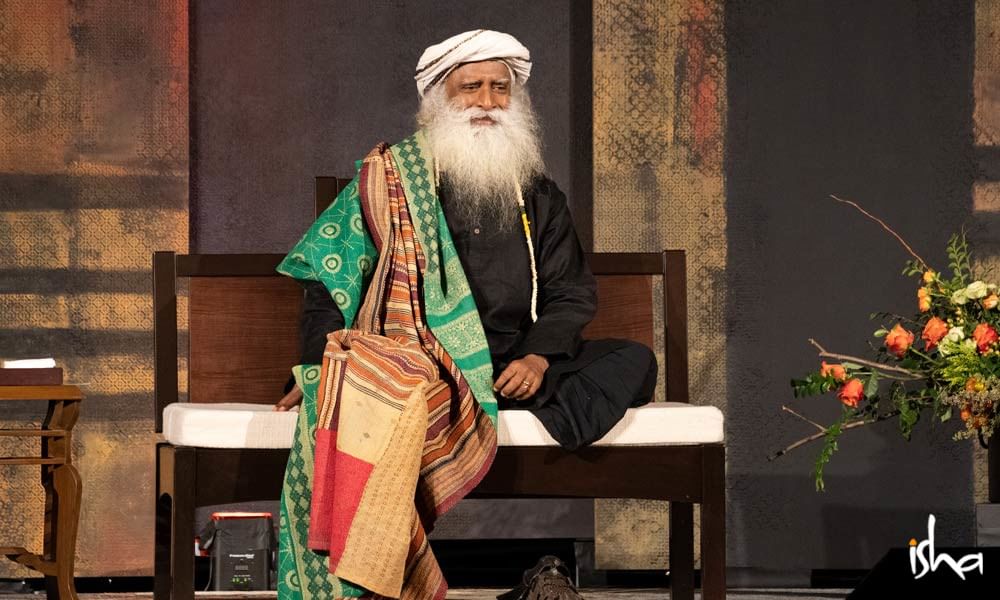 Sadhguru
:
"Whether you feel peaceful, happy, unhappy, ecstatic, miserable, terrible, depressed, painful, whatever experience happens to you, does it come from inside, or does it come from outside? If you know all human experience is only being generated from within you, the only thing that you have to do is to take charge of it."
The time for mysticism to become mainstream is coming, because all these generations of people largely spend their time taking care of survival.
"The time for mysticism to become mainstream is coming, because all these generations of people largely spent their time taking care of survival. Just to organize a roof on their head and their food took an entire day. It's only this generation where survival is better organized than ever before, that today you have time to freak! You're freaking because you don't know how to harness this energy, so you freak and release it somehow. If you harness this, it'll become mysticism."
"When we say mysticism, we are talking about an existential dimension. This is not about what I think or what you think. It is about seeing a little more than what you are seeing right now."
Some Participant Expressions
During the break, 90% of the people stayed in the hall when they saw that Sadhguru was still on the stage. People who were sitting in the back of the hall jumped at the opportunity of being in close proximity with him, and gathered around the stage. Many of the participants requested Sadhguru to sign their Inner Engineering: A Yogi's Guide to Joy book, which he generously did, and engaged with them for the duration of the break.
Some of the participants shared their experiences:
""So wonderful, the way he talks, the way he explains and puts things into perspective. He started with explaining perception - I mean that's huge, it just opens up - it makes you pause and think. The way he cracks jokes, the ease - it helps you to get the complexities."
Another participant, Sharon, spoke about how she came across Sadhguru on YouTube: "That was it. It was him I was looking for. I am getting goosebumps seeing thousands of people here. I cannot believe right now that I am watching him in person. He is extraordinary!"
Christopher Eddy, a New Yorker originally from Trinidad, happily shares how last month he was browsing online about Mahatma Gandhi and his influence on more than 2 million people. A post about Sadhguru and his influence at a global level came up on his feed. He comments, "I couldn't believe how one man could have such an impact. I read more and more about him, saw his videos, and I have been in awe of him ever since. I really wanted to see him in person and a week later, I saw an advertisement for the Mystic Eye program in New York. I couldn't contain my happiness and immediately booked my ticket."
Hannah, a midwife from Connecticut who has delivered over 2000 babies, shares with us how she found Sadhguru online when she was recovering from a knee and ankle injury, and how he has been an immense part of her recovery.
One Hulu Theatre Security Staff Member was asked to share his thoughts about managing the huge crowd. He said, "I have done this work numerous times before. I have worked as a security person here for so many music concerts and sports events. But my mind isn't able to fathom that we're seeing all these people here for a meditation event."
After the break, Sadhguru offered powerful guided meditations that left the participants ecstatic and blissful. Some experienced absolute stillness while others overflowed with tears of joy and love.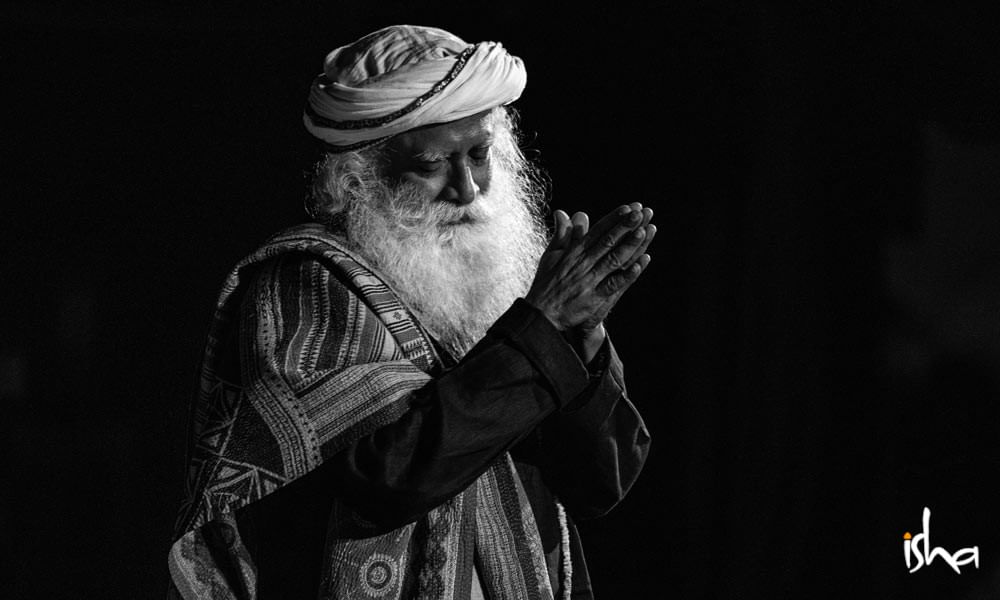 Sadhguru closed on an inspiring note: ""Today I can sit here and talk to not only all of you – if we want, we can sit here and talk to the entire planet. Because of this technological capability, for the first time in the history of humanity, there is a possibility that mysticism could become mainstream. It need not be a fringe thing. The very fact that we're sitting in Madison Square Garden and talking about mysticism, it has come to center stage, obviously." 
Editor's Note: Watch Sadhguru on Fox5 TV Show Good Day New York.