Kerala Flood Relief Work – Isha's On-Ground Action
As Kerala reeled under its worst flood in nearly a century, 175 Isha volunteers including 50 Nadi Veeras and several doctors were on the ground involved in rescue efforts, providing basic amenities, medical aid, and cleaning houses and temples. In these ongoing efforts, they have reached out to 68,000 people so far. Below is an attempt to give you a more close-up view of what happened in the "God's own country".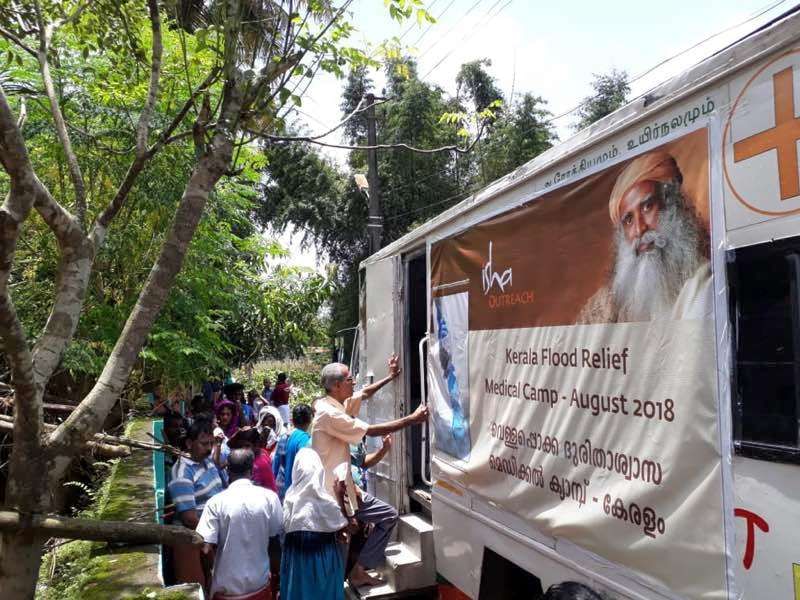 What Happened in Kerala?
In the last 2 months, the state of Kerala has experienced its worst floods in a century. Torrential rainfall forced the state government to open 35 of its 42 dams for the first time in history. All 14 districts were under high alert, and the flooding and landslides have destroyed hundreds of villages. 80% of the state has been cut-off from power supply. Onam celebrations were cancelled and Kochi International Airport has been shut down due to flooding on the runways.
The Scale of Damage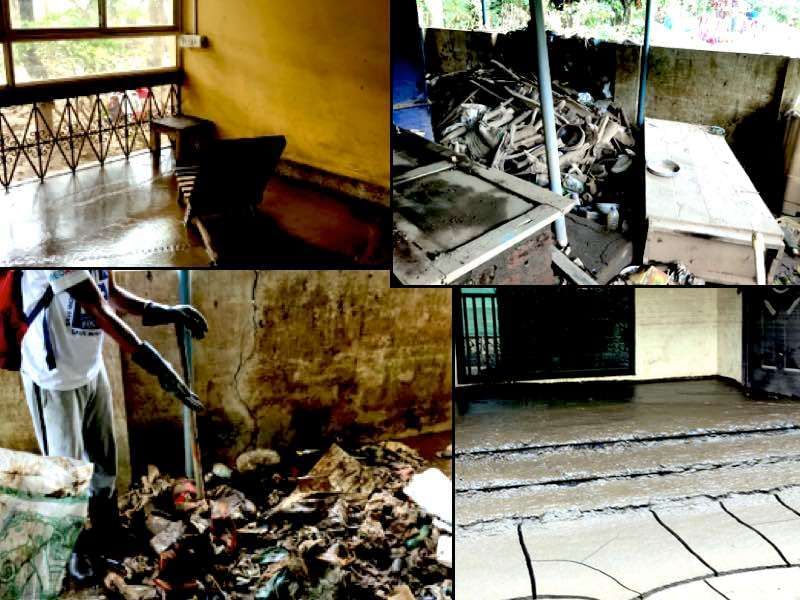 Having endured a death toll of almost a thousand people and with around 80,000 rescued by central forces like the Indian Army and Navy, state forces and local fishermen, the scale of damage the state has endured is immense. Over 1 million people have found shelter in 4000 relief camps. 
The damage to the state is estimated to be at least Rs. 10,000 crores. The central government has given Rs. 500 crore for relief and 16 state governments have donated between Rs. 1 crore to Rs. 25 crores each. But it is barely enough. Kerala desperately needs aid from individuals and private entities.
"It is 'some experience' to be part of this state now - from entering unknown houses, to seeing people wandering here and there in need of drinking water or brooms or cleaning materials in an extreme flood affected area. It is not an easy sight to endure.  Clearing out 6 cm deep layers of mud with hidden snakes, frogs and reptiles was not something we had prepared for. But the energy and enthusiasm that this little help has brought to people to revive themselves and get going again can't be expressed in words," 

- Dakshyani Das, Nadi Veera who was on the ground working to reach out to the victims of the Kerala flood.
Isha on the Ground in Kerala
"Isha volunteers came to our rescue on 22nd August, when our resources to help 300 families in Ward No. 12 of Kotayail Kovillakkam fell short. Not only did we receive cleaning materials but also periodic follow-up calls checking on our progress. These 300 families have got a renewed vigour to work and clean up their homes after they received abundant supplies. Thank you Isha, you are true champions serving the underprivileged."

- Priya Singh, Camp Coordinator, Cocoon Foundation
Get weekly updates on the latest blogs via newsletters right in your mailbox.
68,000 people have benefited from Isha's efforts in the last four days. Below is a detailed account.
Rescue Efforts
Our volunteers were able to help 120 stranded people by forwarding their requests in time to qualified rescue teams.
Cleaning Support 
21 young Nadi Veeras were allotted to provide cleaning support for homes once the floods receded. They have so far cleaned about 100 houses, the Adishankara Temple at Kalady, and the Anjaneya temple at Deshom. It took 30 volunteers two days to clean these temples.
Focusing their efforts where most needed, the volunteers came to the aid of single elderly women and old couples who had no one else at home to help them. The elderly thanked the youngsters saying, "You are like my children," and "We will never forget what you did for us."  
Basic Amenities
Isha teams collected 5 truckloads of relief materials from Tiruppur, Coimbatore, Thiruvananthapuram, Kollam and Palakkad with food items, cleaning materials, clothing, gum boots, masks, medicines, etc.
More than 60 volunteers came together to arrange basic rehabilitation kits to assist people to clean their homes upon return.
Around 250 camps were provided with: 
Basic food items like rice and pulses for 24,000 people
Clothing for adults and children for 40,000 people
2600 cleaning kits reaching out to around 12,000 people
General medicines like ORS and cough syrup for 8000 people
People came from as far as Nilambur to collect materials. They were able to support the camps located predominantly in Aluva, Parur, Chenganur, Pathanamthitta, Vaikom, Thuravoor and Cherthala.
A few volunteers even took the initiative to make food packets and personally drove to 6-8 camps to replenish their food supply.
As more people are leaving the camps and returning to their homes, there has been a shortage of cleaning materials in local markets. So, many camps and volunteers were very happy to receive a cleaning kit.
Medical Aid
Three Isha Outreach Mobile Medical Vans have been in operation from 21st August around the affected areas.
They are screening an average of 740 people per day.
Common ailments were: fever, upper and lower respiratory tract infections, gastroenteritis, Washerman's foot, diabetes, hypertension, nail bed infections, skin allergies, minor injuries, etc.
Major areas covered were Perumbavoor, Aluva, Paravoor, and Maliankara
Volunteers spent 5 hours mixing kashayam (herbal tonic to boost immunity and prevent disease), which was a big hit. An average of 120 liters of Nilavembu Kashayam is being distributed per day.
Most of the patients appreciated how the medical services provided were different than in other camps, as Ayurvedic treatments in camps are rare. Additionally, the patients were happy to learn that doctors from other states had come to serve them.
The volunteers expressed their gratitude to Sadhguru for offering them an opportunity to be of service in this time of utmost need and make a small contribution to the Kerala Flood Relief work. 
Editor's Note: To support these on-going efforts of Kerala Flood Relief, please donate at: http://isha.co/KeralaRelief-India India, http://isha.co/KeralaRelief-Overseas Overseas.