Isha Inclusion - Embracing Creation Indiscriminately
A few rows of small, close-packed one room dwellings along a narrow road, people living densely packed in a microcosm of its own - Gandhigram Colony outside Semmedu, Coimbatore, seems just like any other Dalit settlement in rural India. But something was different on this Sunday, 2 March 2008… The access to Poondi Road framed with a palm and banana leaf vazhai maram panthal , men setting up the seat of honor under a canopy, women arranging traditional offerings of flowers and fruits in front of it, elders conducting the scenery, children scampering around in their best outfits - young and old were up on their feet in eager anticipation.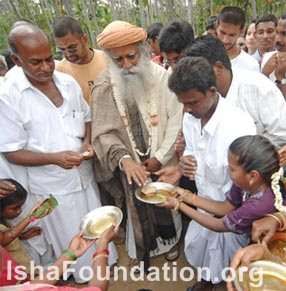 A short notice announcement in the morning after practices, and many of the ashram residents and guests set out in busses, cars and two-wheelers for the festive event in the nearby settlement a few kilometers from the Ashram. On site, they were welcomed by the booming sound of self-made drums. It didn't take long for the driving rhythms to take over and people from different cultural and caste backgrounds rollickingly danced along, simply for the joy of it. When Sadhguru finally arrived, women rushed by with metal plates of kumkum water, chillis and betel leafs for a special ritual to ward off evil spirits before giving an elaborate traditional welcome with garlands and aarthi to pay obeisance to the guest of honor.
Villagers and ashram residents irrespective of their caste, creed and cultural background were sitting side-by-side in the scorching sun as Sadhguru addressed the dwellers. He stated, "All creatures, including the creeping and crawling ones have come from the Earth; so have human beings. But some people believe they have come from heaven and others have come from somewhere else. This has created deep divisions in the society which are both unjust and cruel. Unless humanity transcends this, no real progress is possible.
Caste discrimination has come to prove itself as one of the most inhuman and terrible manifestations of human prejudice. All of us should definitely strive to end this discrimination. There is no room to postpone it anymore. People ask me, do I consider all castes as equal? I say no. I do not consider any caste at all. This is reflected in Isha as an organization and in the work we do everywhere. Wherever Isha volunteers go, this is the essence that they will spread.
Get weekly updates on the latest blogs via newsletters right in your mailbox.
This is the reason we are able to work with every kind of people in the world. We do not see any distinction in castes, creeds, religion, gender and nationality.
Over the last thousand years especially, terrible injustice has been perpetuated in the name of castes. But reacting to it with anger and violence is not the solution. People must enhance their capabilities, people must empower themselves in the areas of health, education and improve the quality of their lives. In this area we are willing to extend any kind of support that you need," he assured. In response to a request to build a temple, Sadhguru said, "There are many temples already. There is also the Dhyanalinga Temple nearby. It is your temple, we don't need to create one more. Instead, if a few of you are willing to come forward and take the responsibility to make it happen, we can provide you with good teachers to tutor your children. If you will take the responsibility to maintain it, we can build toilets for your village. This will be a boon for you and your future generations", Sadhguru suggested. Sadhguru also acknowledged the Brahmin priests from the nearby temple for joining the event and encouraged them to carry forward the gesture.
Sadhguru invited everyone to have lunch and sat down on the straw mats rolled out on both sides the village path to eat with those who are still widely considered as "untouchables". For this occasion, a feast meal was prepared and brought from the Ashram, and as ashram residents offered it on fresh banana leaves, one could feel that it was a very significant moment not only for those who were being served, but also for those who were serving.
Following the meal, Sadhguru toured the colony and visited the homes of many of its dwellers who were clearly overwhelmed that a great Guru was visiting their home, which they kept repeating they never even imagined in their dreams. Sadhguru chatted with the village elders, youth, men and women with much ease and affection, alternating between Tamil and Telugu, since the mother tongue of most of the people was Telugu. A large band of children kept following him throughout with whom he often stopped and broke into a conversation.
For this segregated community whose members have been widely excluded by caste society, this event was not only unprecedented, the prospect of support by Isha is a silver lining on the horizon for the young generation to escape from poor living conditions, predetermined social isolation, degrading living conditions and the confinement to the most menial jobs.
If would like to support our work in whatever means you wish to create an inclusive culture of equal opportunities, please visit the
our website
.