Impulses for a New View on Life - Sadhguru in Phoenix, Arizona
The incense was lit and sandalwood fragrance began wafting through beautifully decorated Mesa Convention Center in preparation for "An Evening with the Mystic" on June 19th in Phoenix. The violin and tabla music along with the shining smiles of our volunteers greeted the nearly 1300 people who joined us to be with and listen to Sadhguru for a few hours.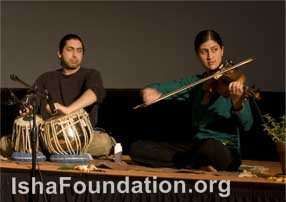 They laughed and applauded, asked questions and listened as Sadhguru provided valuable insights and new ways to approach life. One questioner asked about how to keep a child happy. Sadhguru answered that it was better to not mess with the child, not try to force things or feel the need to teach anything. Rather, to let the child grow up naturally. Another asked about all the philosophies that are available in books. Sadhguru answered that we cannot force a change on ourselves. What is required is a change in inner consciousness. One man stated that although he himself was a happy person, still the events of the world made him sad, and asked what he could do. Sadhguru answered that the only thing we can change is our inner world. This, we must be able to control. The technologies offered through Isha Yoga help us do exactly this.
Get weekly updates on the latest blogs via newsletters right in your mailbox.
As the evening drew to a close, intrigued audience members purchased DVD's, books and CD's, and eagerly registered for the upcoming Inner Engineering class in Phoenix before departing with broadly smiling faces hinting at the immensity of this opportunity to be with Sadhguru.
Once the last guests left, the hustling and bustling activity of the evening swirled to a halt as Phoenix volunteers quietly settled to await a brief Sathsang with Sadhguru. His arrival was announced by the unmistakable chanting that filled the hall with a silent resonance. Soon after, all the voices united as they echoed Sadhguru's chant. For most of the meditators, this was their first encounter with the Master; the ultimate icing on the cake after many months of dedicated preparation for the special evening.
In such an intimate setting, one could feel Sadhguru's joyful radiance filling everyone with blissful energy. Some meditators took this rare opportunity to ask questions that had been burning within them for a long time. In response to a question about healing, Sadhguru succinctly stated that you are the one who creates the disease, but you can also heal it. Another seeker explained how he has become more confused since his Inner Engineering Program. Sadhguru asked, "You may be more confused, but better, isn't it?" followed by a characteristic laugh! He continued to explain that one may become more confused, but becoming blissful is what counts; with confusion the longing to know only becomes deeper. With these final words, inner confusion within the listeners seemed to dissipate as everyone bowed down to the Master in gratitude for such a wonderful evening.