Christmas Baking with Marlana: Chocolate Cake (Eggless) and Fruit & Nut Drops
Today we have two more recipes of delectable dishes for your Christmas Baking!
Marlana Carnett and her husband, Reto Caprez, are on their fourth visit to Isha Yoga Center. Marlana is an amazing baker, so we got the couple into the Isha Kitchen to make us some lovely Christmas Treats. Last week, we shared with you the recipes for Marlana's Ragi Cookies and Peanut Butter Cookies. This week, we have two more delicious Christmas treats for you!
As Marlana and Reto baked for the blog team, many life stories were swapped. In last week's episode of Baking with Marlana, we gave you a glimpse of the couple's journey to Isha Yoga Center. Today, they'd like to share with you their experience of food at the ashram.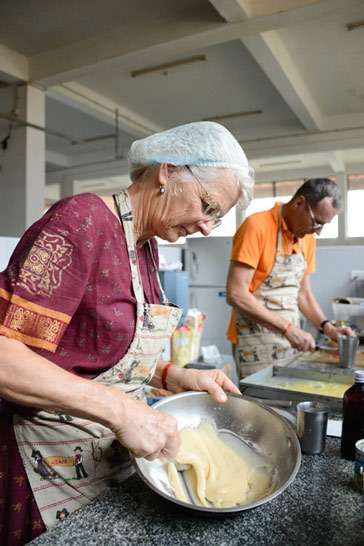 Marlana: "If I could say something about the regular food in the ashram, it is that two meals a day is plenty and so much time is saved. I ate in the non-spicy section because I found the food offered there had more variety and was still spicy enough. If ever I had some digestive problems, I ate only white rice and bananas and was soon better. During my third stay at the ashram, I volunteered in the kitchen and helped making baked goods for the overseas courses. I stayed for 6 weeks until after Mahashivarathri and postponed my departure twice, it was so great to be here and I felt constantly happy! This visit, it was with pleasure that Reto and I set out to bake some Christmas specialties.
The Fruit Drops were chosen for their colorfulness and the nutrition of nuts and fruits. Chocolate cake is not especially for Christmas; any time of year it is first choice for most."
Eggless Chocolate Cake with Chocolate Frosting – Makes 8 to 12 pieces
For the Cake
Get weekly updates on the latest blogs via newsletters right in your mailbox.
½ cup cocoa
2 cups whole wheat flour
1 cup brown sugar
1 ½ tsp. baking soda
1 ½ tsp. baking powder
2 tsp. cinnamon
¾ cup vegetable oil
1 cup yogurt
½ cup raisins or chopped figs/walnuts (optional)
Sift together the cocoa, flour, baking soda, baking powder and cinnamon. Cream together the sugar and oil. Add 1/3 of dry ingredients with half the yogurt and mix well. Add the next third of dry ingredients with remaining yogurt and finally the last third of dry ingredients. Mix. Bake in a greased and floured 10 inch loaf pan or an 8 inch square baking pan for 20-25 minutes at 180°C. Turn out onto a rack to cool. Frosting is optional.
For the Frosting
Melt 100 gm of bittersweet chocolate with ½ cup butter. Add 1 cup sifted powdered sugar or more if needed. Spread over the cooled cake.
Fruit & Nut Drops – Makes 36
3 cups chopped nuts (walnuts, almonds, cashews, hazelnuts)
2 ½ cups coconut flakes (we used freshly grated and squeezed dry)
1 ½ cup pineapple chopped fine
1 ½ cup cherries chopped fine
1 cup pitted and chopped best quality dates
1 ½ cups sweetened condensed milk
½ cup rice flour
Grease a cookie sheet well. Put 2 tbsp. flour on top and shake well to cover the grease, then tap off excess. Mix the condensed milk and rice flour to a smooth paste. Add all remaining ingredients. Drop tablespoons of the mixture on the cookie sheet 1 inch apart and bake for 23 minutes at 180°C. Remove with a spatula and cool on a rack.
Editor's Note: Do you have any great eggless baked treats to share? Tell us in the comments below!