Rally for Rivers: World Environment Day Updates
Read about the latest update on Rally for Rivers: This World Environment Day, Maharashtra kicked off the Rally for Rivers project in Yavatmal, Sadhguru spoke on an environment panel, and PGH held a Green Marathon for the 2019 planting season.
Catch Up on the RFR Movement
Sadhguru launched one of the world's biggest environmental campaigns, Rally for Rivers in 2017 in which he personally drove across 16 Indian states in a month's time. The initiative enlarged into a large-scale people's movement with the participation, in various modes, of over 162 million people, across all walks of life. Subsequently, the Office of the Prime Minister formed an executive committee spearheaded by NITI Aayog. On June 6, 2018, NITI Aayog issued an advisory to all 29 States and Union Territories recommending implementation of the River Revitalization policy. In March 2019, Maharashtra became the first state to formally approve Rally for Rivers' pilot project for revitalization of Waghari River in Yavatmal district.  
Rally for Rivers Takes Root in Maharashtra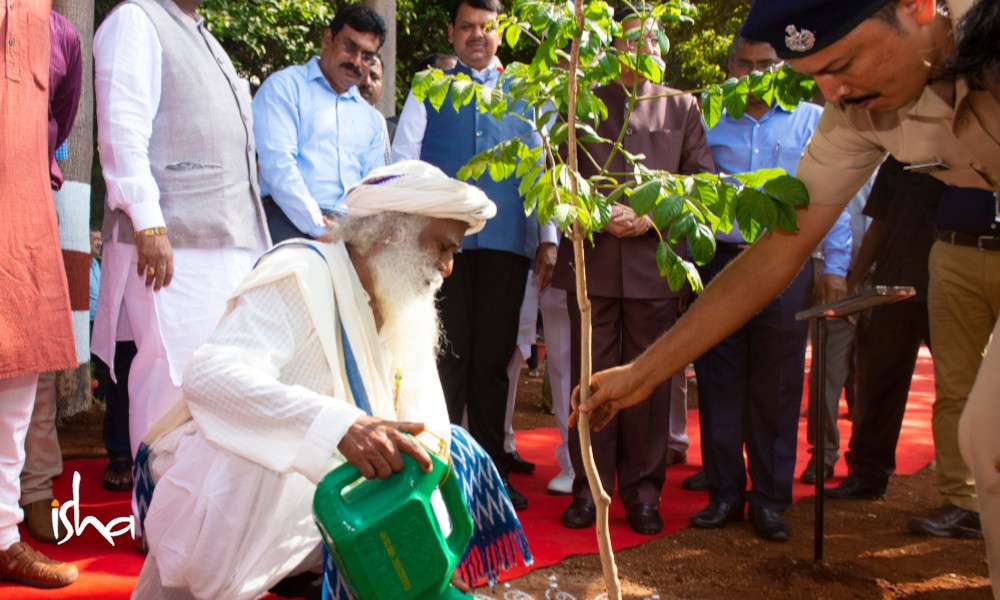 World Environment Day marked the newest effort in the progress of 'Rally for Rivers.' Sadhguru was in Mumbai, Maharashtra to kick off a tree plantation drive planned in Yavatmal along the Waghari River as part of the revitalization program by the Maharashtra government. For this maiden 'Rally for Rivers' Project, H.E. Governor of Maharashtra Shri Ch. Vidyasagar Rao, Chief Minister Shri Devendra Fadnavis (who laid the foundation stone), and Minister of Finance & Planning and Forests Shri Sudhir Mungantiwar were present. Sadhguru congratulated the Cabinet and Hon'ble Governor for their proactive involvement, their strong pitch for the environment, and their demonstrated resolve to turn around the fortune of distressed farmers in the state.
Sadhguru said, "Maharashtra is taking the lead in doing the right things to preserve and nurture river ecology. In collaboration with the Govt. of Maharashtra, Rally for Rivers wants to make Waghari and Yavatmal an example for the rest of the country to emulate. This will be a model for the nation that ecology and economy can indeed work together."
From Farmer Suicide Capital to Farmers' Heaven
Sadhguru spoke of the project, that it "will not only support the river and biodiversity around the river but also boost farmers' income manifold." News Bharati reports the aims of the project are "To revitalize Waghari and improve soil fertility and farmer's economy. The project entails plantation on both sides of the river within the active mark of the floodplains. This will facilitate local farmers to shift from crop-based agriculture to tree-based farming to improve soil fertility, increasing horticulture fruit tree cultivation and medicinal tree-based agriculture in the region."
When asked why the launch was taking place at the Waghari River, Sadhguru told The Times of India: "Yavatmal as we know is famous for its suicides. How bad can it get when a region is known for its suicide rate. The idea is, if it works in Yavatmal, it will work anywhere. We want a model to take shape in a place where the problem is extreme. If we can transform that place, it will become an accepted model for the country. The first thing is to engage with people. In the next one year, we will meet all 9,000 families settled there and also set up a helpline so that they can call in case of distress."
RFR Impact: Discourse on Rivers has Changed
Times Of India  also asked about the impact of 'Rally for Rivers' in creating measurable social change. According to Sadhguru, "Rally for Rivers' recommendations have become official. The NITI Aayog has sent it to all 29 states/UTs and they have accepted it. Some states like Odisha and Maharashtra have been proactive about implementing the recommendations and agro-forestry is being taken up in a big way. We have memorandums of understanding (MoUs) with six states now – Maharashtra, Chhattisgarh, Punjab, Assam, Gujarat and Karnataka. What is significant is that a lot of activists, government officials and science scholars who would only talk about inter-linking or check dams are now talking about plantation when it comes to rivers."
Our Existence is a Co-existence
Sadhguru also went on Instagram with a message for World Environment Day: "Your life is not an individual existence. What you exhale, the trees are inhaling. What you inhale, the trees are exhaling. If this was in everyone's experience, would we have to tell you to plant trees and protect the environment? We need to understand this that our existence here is a co-existence. The air that we breathe, the food that we eat, the water that we drink, and the very atmosphere that we live in is a collaboration of all life on this planet. The first and foremost thing is to understand that life is not human-centric. We are not the central piece. For some reason, we are the crown of life in terms of evolution, but we are not the central piece. It's important that every life flourishes for our life to flourish. Without you and me, all other life will flourish, but without them, we cannot exist. Let's take care of this planet for ourselves and for future generations to come."
Solutions for Depleted Water Resources
Later in the afternoon, Sadhguru convened along with BK Shivani, Baba Ram Dev, and Acharya Lokesh in a conversation presented by Ahimsa Vishwa Bharti to discuss "Environment Protection through Peace and Harmony." Sadhguru spoke at length about the depletion of India's water resources and the only solution to this problem.
Get weekly updates on the latest blogs via newsletters right in your mailbox.
Sadhguru said India's solutions to saving rivers must be unique to Indian geography. He said unlike most rivers in the world, "Only 4% of India's rivers are glacial water. The rest of it is rain water stored in the land and slowly let out." But how can we ensure that water is stored in the land? Sadhguru explains, "There is no rocket science to this... We simply have to increase the vegetation. The only way you can have water held in the soil is for the soil to have substantial organic content. Organic content comes only through the leaves from the tree and animal waste." He adds that "In the last 100 years, the monsoons, the volume of water in the form of rain on this subcontinent has not come down If you do not encourage growing trees, you cannot put green cover back on the land. Without green cover, there is no way you can hold the rainwater throughout the year."
Sadhguru has said "The simplest solution to rejuvenate India's rivers is to maintain a minimum of 1 km tree cover on the river sides. Forest trees can be planted on government land and fruit trees on farm land."
Green Marathon: Raising Awareness for Planting Trees
Also on WED, Project GreenHands (PGH) hosted the "Green Marathon" in Coimbatore's VOC Park covering 5 km. More than 500 people participated in the event. PGH collaborated with CRPF, BSF, RAF, Young Indians, Ratinam Educational Institutions, TIE, representatives of which participated in the marathon alongside Isha Volunteers, Isha Samskriti students, Isha Vidhya students, and Kovai Athletics Club. 
PGH conducted this marathon as an awareness drive towards their upcoming planting season for 2019 through which they will enable the plantation of 5 million saplings.
PGH nurseries also distributed saplings to school and college students, hospital staff, police officers, along with the general public, who enthusiastically received the saplings, excited to be part of the WED celebrations. Some of them pledged to plant a target number of trees by the end of the year. K.Retinum from Pudukkottai District, for example, has a goal of planting 5000 trees this year on 70 acres of land. There was a great reception among those gathered and eagerness for doing their bit to enhance the environment. The plantation drives happened in multiple locations in Tamil Nadu such as Aranthangi, Arakonam, Erode, Gobichettipalyam, Kancheepuram, Vellore, Keeramangalam, Madurai, Neyveli, Konavattam, Odukathur, Perambalur, Puducherry, Salem, Srivaikundam, Thanjavur, Thirumadivakkavam, Vellore, Veerakanur, and Virinchipuram.
If all of us take some time to plant and take care of a few saplings, we can change the world!
Increasing green cover and revitalization of rivers works hand in hand. Through RFR and PGH, these two arms of Isha Outreach are broadcasting this message near and far, so that through the plantation of trees, in time, India's rivers will flow again.
Editor's Note: We are looking forward to a major scaling up in on-ground action in 2019. Join us and become a part of the driving force. Register to volunteer full-time at RallyforRivers.org.