Isha Leadership Alumni Meets in Four Metros - A Magical Unfolding
How four alumni meets of the Isha Leadership Academy ensued across India in just 2 months, is an example of Sadhguru's unique and esoteric insight. Read on to know more.
The alumni of Isha Leadership Academy have the tremendous opportunity to set new paradigms in business purpose, culture and practices — if they become a genuine source of strength and support for each other. Guided by Sadhguru's unique insights and wisdom, the vibrant community of alumni can become harbingers of raising human consciousness, and support in conducting businesses sensibly and inclusively. This possibility became closer to reality over the span of the last three months, as if by magic. Read on to find out the full story.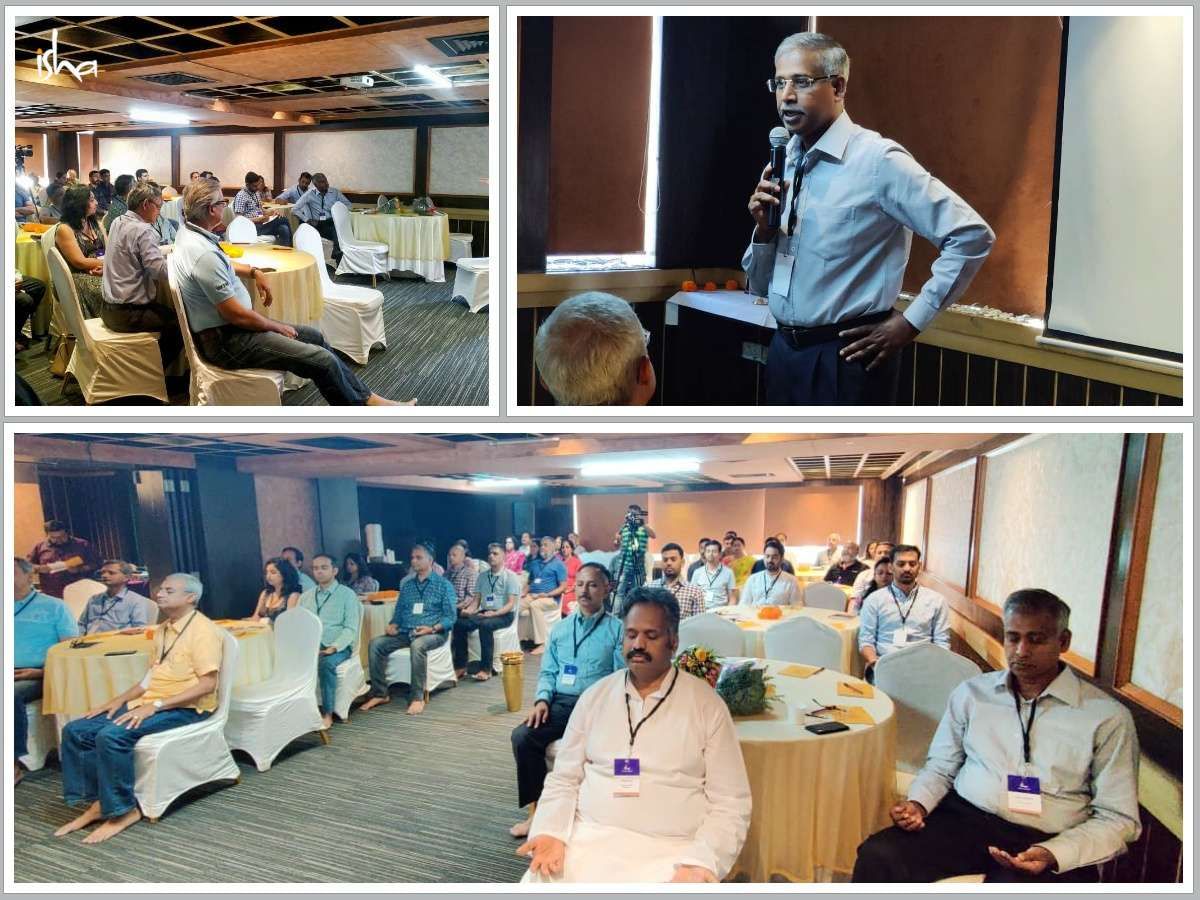 Isha INSIGHT 2019 had just concluded on Nov 30, but one of the inspired Isha Leadership volunteers at the ashram was still thirsty for more, wanting to do something more for the participants. On the first opportunity, the volunteer proposed individually to three other volunteers in Hyderabad — Prasad Atmakur, Partner, Access Technology Partners LLC; Srikantham Venkata Sashank, Co-Founder & Director, Deep Red Ink Consulting Pvt. Ltd.; and Srinivas Reddy Mallareddygari, Managing Director, Kofax India Private Ltd., "Would it not be nice if we could organize a small-scale Freshers' Welcome for the participants in your region?" she urged. Since everyone had instantly liked the idea, the volunteer brought them together on a call. "Why don't we call an all alumni meet in Hyderabad," Srinivas gently suggested on the call. "Yes!" echoed all of them. They formed a team led by Srinivas and the Isha volunteers got into action with their usual zest.
Within 20 days of forming the team, on Jan 5, the first ever alumni meet took place in Hyderabad at Isha Life. Despite the short notice, nearly 30% of alumni turned up for the meet. This three-hour session included a powerful meditation, and Sadhguru's perspective on "What is leadership?" followed by a sumptuous lunch. The participants were left in joy and gratitude. They now want to use this as a platform to create a vibrant Isha Leadership Academy chapter in Hyderabad.
"I joined Isha INSIGHT to be able to think outside the box and to interact with like-minded individuals who wish to contribute and make a difference. It's a great pleasure to be a part of this group," said Dr. Sudha, MD, Biotex, at this first ever alumni meet in Hyderabad. Some were thrilled that they were exposed to the delectable cuisine of Isha Life. "This was the best thali I have ever had!" said Meera M, Founder Director, Gati Infrastructure.
Get weekly updates on the latest blogs via newsletters right in your mailbox.
While all this was happening in Hyderabad, the Mumbai team got inspired to make it happen for the alumni of their region too. Adding the grand flavor of the business capital of India, Mumbai volunteers took the format of the meet to the next level. On Jan 19, Mumbai volunteers created the ambiance and vibrancy of a mini INSIGHT at the prestigious 'The Club' at Andheri, sponsored by Dinesh Khanna, for the alumni. The team also inspired Nilesh Shah, MD, Kotak Mahindra Asset Management Co Ltd. and Prashant Jain, ED, and CIO, HDFC Bank Mutual Funds, to come over and mentor a group of 35 participants, which included CEOs of many companies.
The Delhi volunteers, not wanting to be left behind, made full use of the ambiance and energy of Isha Delhi Center, and organized the meet on the eve of Republic day. The core team of organizers included two Isha INSIGHT alumni Vikramjeet Roy, CEO, Maccaferri, India, and Anju Gupta, a NIFT alumnus and CEO of Obeetee; and one alumnus of "Human Is Not A Resource," Vijay Jamwal, ex-CHRO Gartner India, among others. Led by Pranay Dhabhai, President & CEO, GBES Asia Ltd., Hong Kong, and Isha volunteer, the program was successful in setting up the agenda for the local chapter of Isha Leadership Academy. At Delhi, the participants particularly appreciated the session with Ajay Kaul, the force behind the growth of Domino from 60 crores to 6000 crores in India. Inspired by his experience, energy and commitment to share, many participants came forward with questions, and the session had to be extended.
In Bangalore, it was a different story altogether. Somehow a group of volunteers comprising of three INSIGHT alumni, three other senior executives and two local Isha volunteers were brought together in a WhatsApp group. They had not met one another before, nor have any of them volunteered for an Isha program before. After an initial ice-breaking period, these volunteers just took off. The spirit, involvement, and commitment they displayed were overwhelming. At one time when the team was struggling with venue selection, "Let's go for the most central location, and I will sponsor the venue," said Sridhar Dharmarajan, MD, MSE Software. This was a pleasant surprise to all, as Sridhar could barely check the messages in the group amid his busy schedule away in Spain. Anand Hiremath, CEO-Founder, Quantumm Events, not only personally supported in arranging the logistics like any other Isha volunteer, but also sponsored all equipment hire and other materials.
The team worked like fire, yet in such a coherence and harmony that no one could believe that they hadn't even met a few days ago. The fervor of the top executives in wanting to make this event happen was matched only by the involvement of the Isha volunteers — one of them actually brought organic coconut and jaggery laddus as his offering for the participants and volunteers.
Bangalore meet saw the maximum turnout of alumni. Inspirational Shanker Annaswamy, former MD, IBM India, who is on the board of IndusInd Bank Ltd., TransUnion CIBIL., and HealthCare Global, and recipient of the "Best CEO" Forbes India Leadership Award, enthralled the participants with his powerful stories from his corporate journey. Jeby Cherian, former Managing Partner, IBM, now co-creator of Isha Leadership Academy, unfolded the purpose, design, and plan of the Academy that is gearing to solving India's biggest problems by creating global leaders of the future!
Before the alumni sat for a guided meditation, supported by Jeby Cherian, Sridhar Dharmarajan kicked off a debate on how alumni wished to take this initiative forward, and the ideas came flying from every corner of the Oleander hall at the IRIS hotel – the meet venue. "This was something alumni were looking for. Especially after INSIGHT, most haven't had any further connect. They thanked us profusely for organizing this event," shared Nidhi Verma, an Isha volunteer. "The meet brought back memories of Isha INSIGHT 2014, which had deeply impacted me. Here I found a common thread of spirituality, and I connected easily with these top corporate executives. It's a great initiative and I hope this chapter lives up to the expectations," shared Mythily Ramesh, an IIMA alumnus, founder of NextWealth, and a board member at Karnataka Bank and IIM Udaipur.
Reminiscing about how it all happened, the volunteer who visualized these meets three months earlier shared, "If I look back to Dec 15, I was standing in that parking area near Welcome Point in Isha Yoga Center when I first spoke to another volunteer about organizing such meets at various cities. Seeing how these four events just unfolded seemingly out of nothing within the next two months, I feel privileged to have tasted the 'doing' of what we refer to as 'Sadhguru's Grace,' not just its presence."
Watch for the upcoming Alumni Meet in Chennai soon. 
Editor's Note: Join upcoming "Human Is NOT a Resource 2020" conclave at Isha Yoga Center from June 12 to 14. Crafted by Sadhguru, this novel paradigm uniquely brings together the CEOs and CXOs with CHROs to rethink and reimagine a business organization that allows human genius to unfold. Early bird is open. Know more.