Isha INSIGHT 2019 Day 1 – Vibrance and Verve
Vibrance and Verve Mark Day 1 of Isha INSIGHT as the participants cozy up to the breathtakingly beautiful yet homely ambiance of the ashram. Disruptive innovators come together with some extraordinary entrepreneurs to imbibe the DNA of their success. Here is how their day unfolded:
219 corporate leaders from 17 states and 12 countries come together to learn how to scale up their business as well as themselves, all set to a theme inspired by the entrepreneurial spirit of vibrant Gujarat. 
Day 1 || Day 2 || Day 3|| Day 4
Insight essentially means being able to see that which most fail to see. This is the hallmark of leadership. If it is combined with inspiration and integrity, success is guaranteed for both individual and society. -Sg #IshaINSIGHT @IshaLeadership pic.twitter.com/PyGDwVpEQA

— Sadhguru (@SadhguruJV) November 28, 2019
It could not have been a more perfect day – November nip in the air, early morning mist and a spectacular view of the mountains as clouds cascade down gracefully. You can inhale the calm.
But behind the massive doors of Spanda hall, it's a different world altogether. It's controlled frenzy at its best. Hands are working overtime – sweeping, shifting, cleaning; snatches of urgent conversation drift on the cool air - "Where's the fruit bowl?" "What about table 5?" "That should go on the right, not left."
And then the music starts – for just a fraction of a second the frenzy seems to quieten only to be reignited to a new tempo... the dandiya dancers get into their act, leaping and twirling, the singers belt out foot-tapping rural folk music and suddenly Gujarat comes alive at Isha. Vibrant colours, the weaving chakra, Gandhi caps, hand-woven khadi garlands...the works!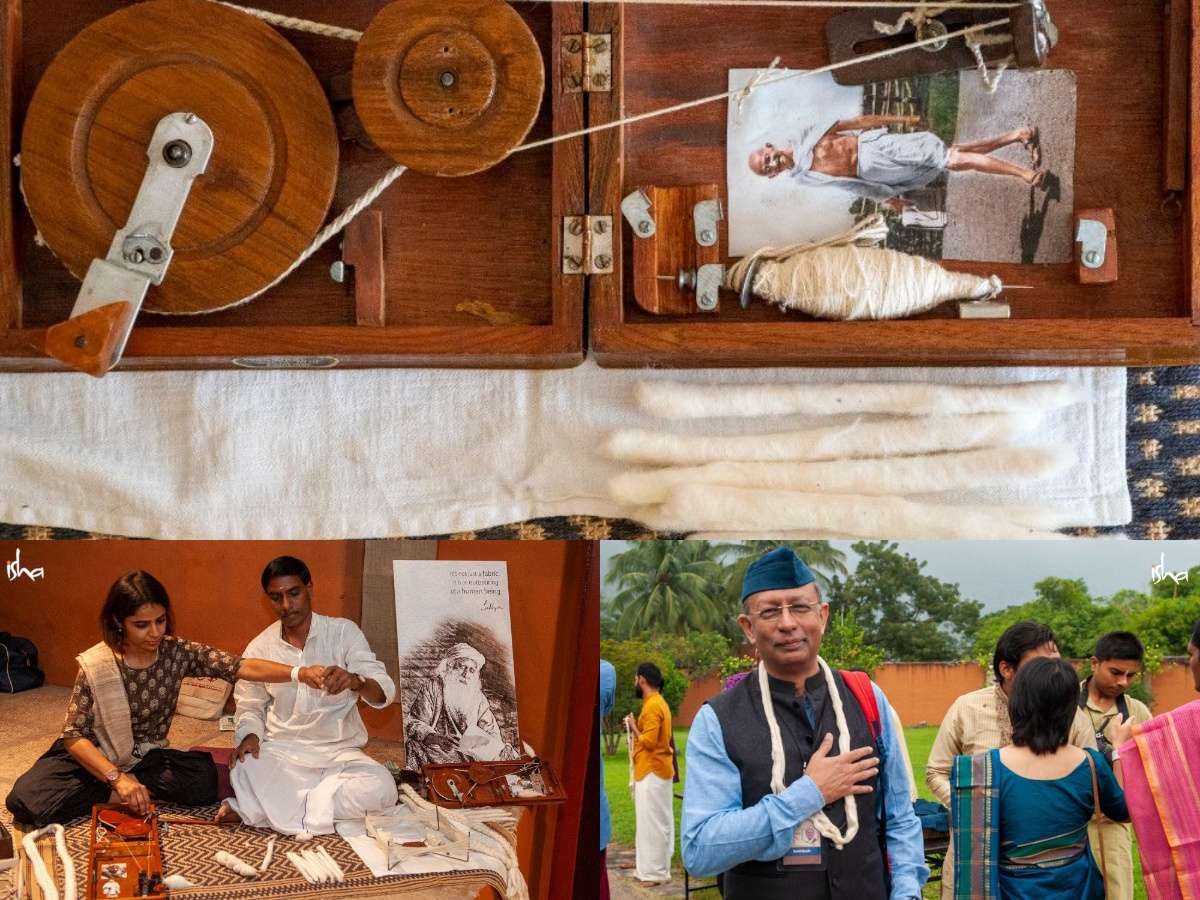 It's Day 1 of Isha INSIGHT, Isha Leadership Academy's annual leadership program, and it's running house-full. "There is collective experience of over 5000 years in this hall," says B.S. Nagesh, Chairman of Shoppers Stop and the Master of Ceremonies for the program. "Add Sadhguru's 10,000 years of wisdom and we have plenty of wisdom and experience to gain from over the next four days," he concludes.
When Sadhguru walks in, the energy in the room shifts dramatically. The air is so thick with anticipation that you could cut it with a knife. Sadhguru has returned to the Ashram last evening after nearly a month of overseas engagements and is in at 9 AM sharp.
The participants are riveted to hear Sadhguru speak about the need to transform the definition of leadership, and the three critical ingredients that make a great leader – insight, integrity and inspiration. Dismantling the myth that equates intellect with intelligence, Sadhguru says it is insight and not intellect that sets a leader apart from those whom he leads. "The reason why there is no insight is because people are trying to function largely from their intellect. This is the unfortunate consequence of education." He says, offering new insight on an old concept. "Integrity means that your commitment is to something larger than yourself," – that's a new one too, as is - "If there has to be inspiration within you, there has to be an element of uncertainty. Where there is no danger, there is no adventure, where there is no adventure, nobody will be inspired by you." Hmmm... the things they don't teach you in business school!
Get weekly updates on the latest blogs via newsletters right in your mailbox.
"Where there is no danger there is no adventure; where there is no adventure, nobody will be inspired by you. People should see what they're not willing to step into, you're willing to step into." - @SadhguruJV at #IshaINSIGHT 2019 pic.twitter.com/nIwyOxUpCf

— Isha Leadership Academy (@IshaLeadership) November 27, 2019
The Man Who is Making India Fly
Deep Kalra, Founder of MakeMyTrip knows what Sadhguru is talking about. It was insight that made him spot an opportunity when no one else did. He talks about his journey with an honesty that is endearing and relatable, tempered with an effervescent passion towards his 20-year-old venture which opened up unimaginable travel opportunities for the Indian traveller. His venture has also been an adventure in many ways. "I have to admit, I'm very impatient," he says when Raman Roy exhorts him to talk about what drives him to try new things. "I get bored very easily," he says adding that discovering himself has been his biggest learning in his entrepreneurial journey.
Raman Roy is a much decorated serial entrepreneur himself. He is the Chairman and Managing Director of Quattro Global Services and seems to know the pulse of the room. He often prefaces his questions to Kalra with, "There are many people in this room who would want to know," and the audience is always ready to soak in Kalra's words.
The peppy Isha tunes timed to perfection by Sounds of Isha enliven proceedings throughout the day and participants can't help shake a leg; the beat stays with them as they eat, meet, greet and enjoy the atmosphere.
Samskriti and Itihaas
Post lunch, a heart-stopping performance by students of Isha Samskriti visibly overwhelms participants. These students are indeed made for the Universe and not universities (as Sadhguru likes to remind us often).
After Samskriti, itihaas follows. Sanjeev Sanyal, historian and Economic Advisor to the Government of India, treats the audience to a spellbinding history lesson that traces back Indian entrepreneurship to the B.C. period. Sanyal ascribes the more recent risk-averse characteristic of the Indian trader to the Turkish invasion that destroyed the nerve centre of Indian maritime trade.
A Silk Route Of A Different Kind
From absorbing history to popular clothing: A young fifth generation entrepreneur, Lavanya Nalli of the famous Nalli Silks strikes an instant rapport with the audience with her soft-spoken mannerism and well-modulated narration of her journey into, out of and back again into her family business. When the floor opens up for questions, Lavanya is flooded by questions and patiently yet passionately talks about everything from her business and personal journey to core values, customer service, philanthropy and even family dynamics. As the young lady concludes her session, the audience spontaneously come to their feet for a standing ovation.
And Finally, The Guru Emerges…
After all is said and done, after participants share their takeaways, after business leaders share their knowledge, after celebrating entrepreneurial success, it's time for the audience to glimpse another dimension of human possibility.
"One who aspires to be in situations that are just the way one want them to be, that means that one is definitely not in a state of adventure, maybe not even in a venture." - @SadhguruJV at #IshaINSIGHT 2019 #Leadership pic.twitter.com/oeMWAxG9P8

— Isha Leadership Academy (@IshaLeadership) November 27, 2019
Sadhguru returns. Gently leading the audience into unexplored terrain, Sadhguru casually tosses a googly like only a Guru can: "Everything that you are aspiring for right now, multiplied by a million, if all that happened tomorrow morning, you're not going to rest." But a Guru also shows the way: "There is something within you that wants to expand endlessly... infinite expansion is only possible if you look at life not only as a physical dimension... infinite means it's beyond your perception."
"If one wants to constantly enter new possibilities and develop Insight into any new situation, then one needs a very profound sense of attention." - @SadhguruJV at #IshaINSIGHT 2019 pic.twitter.com/7yHQs3hMyh

— Isha Leadership Academy (@IshaLeadership) November 27, 2019
Sadhguru guides the audience through Chit Shakti, a guided meditation to access one's higher dimension, the source of unsullied intelligence and expand one's identity into a universal identity.
After the Chit Shakti guided meditation with Sadhguru, Day 1 ends with Raman Roy recounting how he came to be known as, "The Father of the Indian BPO Industry."
But Not Before A Delectable Dinner…
The participants step out after an invigorating day only to be greeted by a sumptuous spread and cheerful volunteers with their ever-ready smiles. There's a small bonfire crackling and the turban-clad dandiya dancers are back. They're supported with full gusto by the folk singers. And so the day ends as it began – with music, dance and of course, Insight. We've come a full circle on Day 1.
Editor's Note: For regular updates about the on-going Isha INSIGHT 2019, visit Isha Leadership Academy's Twitter page.