Day 3 - Cauvery Diaries: Of Motorcycles and a Mystic
Today Cauvery Calling tides into Mysore, a city that can claim to be the origin of this visionary initiative as it is the birthplace of Sadhguru. Stay tuned to the Cauvery Diaries!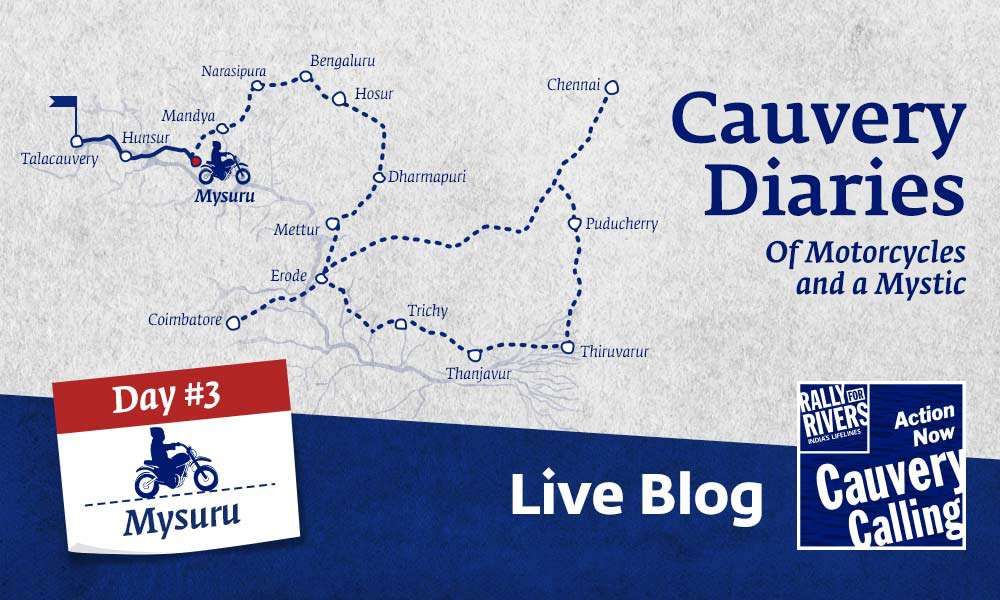 Yesterday, the Cauvery Calling movement swept through the lush forests of Nagarhole to the town of Hunsur. Today it will tide into Mysore, a city that can claim to be the origin of this visionary initiative as it is the birthplace of Sadhguru. Follow the Cauvery Diaries Live.
Sadhguru explains why planting trees in the farm in large groups is better
https://www.instagram.com/p/B2CCGoaFKv_/
Cauvery Calling rides into Mysuru on Day 3, a place with a big Sadhguru Connect!
#CauveryCalling rides into Mysuru, a place with a big #SadhguruConnect!#CauveryDiaries - Day 3https://t.co/Lr6uqgSKpp pic.twitter.com/88uiMb1LNB

— Rally For Rivers - Cauvery Calling (@rallyforrivers) September 5, 2019
Sadhguru Meets a Successful Agroforestry Farmer
Farmer Gangadhar impresses Sadhguru with the agroforestry methods he uses in his 12 acres of farm land. Sadhguru explains how agroforestry changes according to the lay of the land, and is practiced in a scientific way.
Sadhguru Meets a Successful Agroforestry Farmer
Farmer Gangadhar impresses @SadhguruJV with the agroforestry methods he uses in his 12 acres of farm land. #CauveryDiaries Day 3. #CauveryCalling https://t.co/Lr6uqgSKpp pic.twitter.com/FsSGW40Fwh

— Rally For Rivers - Cauvery Calling (@rallyforrivers) September 5, 2019
What makes the three "Queens" - Kangana, Kajal and Tamannaah - come together? Cauvery Calling of course!
Watch their passionate appeal to you.
Our farmers feed 1+ billion people but they are barely eating properly. #CauveryCalling can improve farmers' condition dramatically. @tamannaahspeaks, @KanganaTeam & I will make it happen. What about you?
Donate @ https://t.co/g4t2VoCSy8
Watch the Video!#3Queens4Cauvery pic.twitter.com/dXlXp6hiDn

— Kajal Aggarwal (@MsKajalAggarwal) September 5, 2019
Sadhguru Gorges on Mysuru Guavas!
As we wait for more updates from Mysuru, watch this clip from last night. After an action-packed event at Hunsur, Sadhguru makes a pitstop near Krishna Raja Sagara dam en route to Mysuru. Why? To feast on Mysuru Guavas of course!
https://www.instagram.com/p/B2BgqiZgswh/
The intensity of Isha Samskriti students' Kalaripayattu performance added to the already charged up atmosphere at the venue of this evening's talk in Mysuru.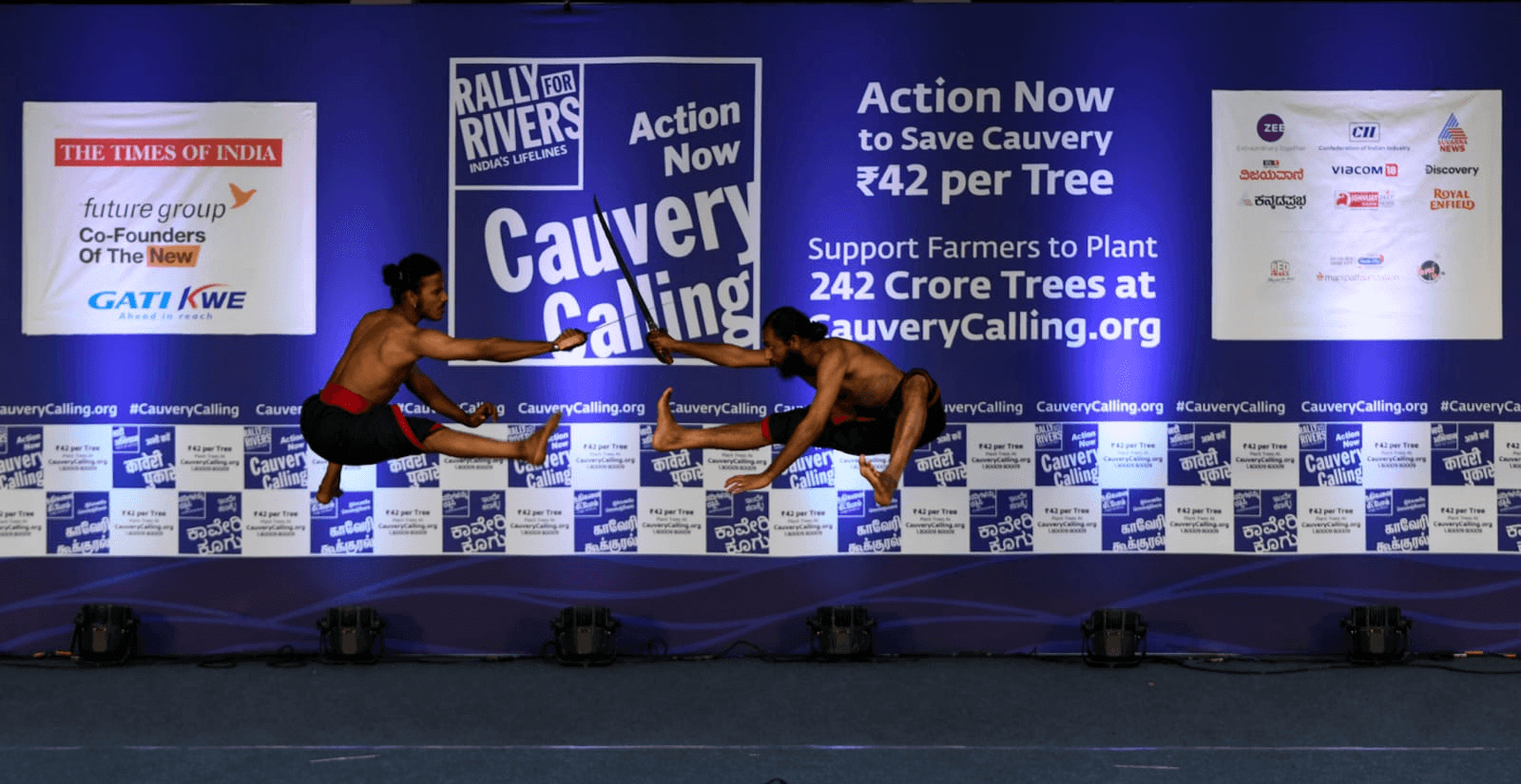 A sea of blue at the Open Air Theatre in Mysuru this evening.
6:20pm - Ananya Bhat, a star singer in Mysuru enthralls the audience with her soulful voice as she sings her trademark "Sojugada Sooju Mallige".
On the dais, Kangana Ranaut, who has been a constant support for Cauvery Calling, has come forward to do her part for the environment by donating ₹42 lakhs to plant 1 lakh trees across the Cauvery Basin. She realizes the importance of Cauvery, do you?
5:15 pm: At the Mysuru venue, Sadhguru rides straight up to the dais, much to everyone's shock! He is 15 minutes ahead of schedule...all the celebration and welcoming beats must have drawn him sooner!
Soon after, Sadhguru takes a group photo with the bikers at the Open Air Theatre, Manasangagotri.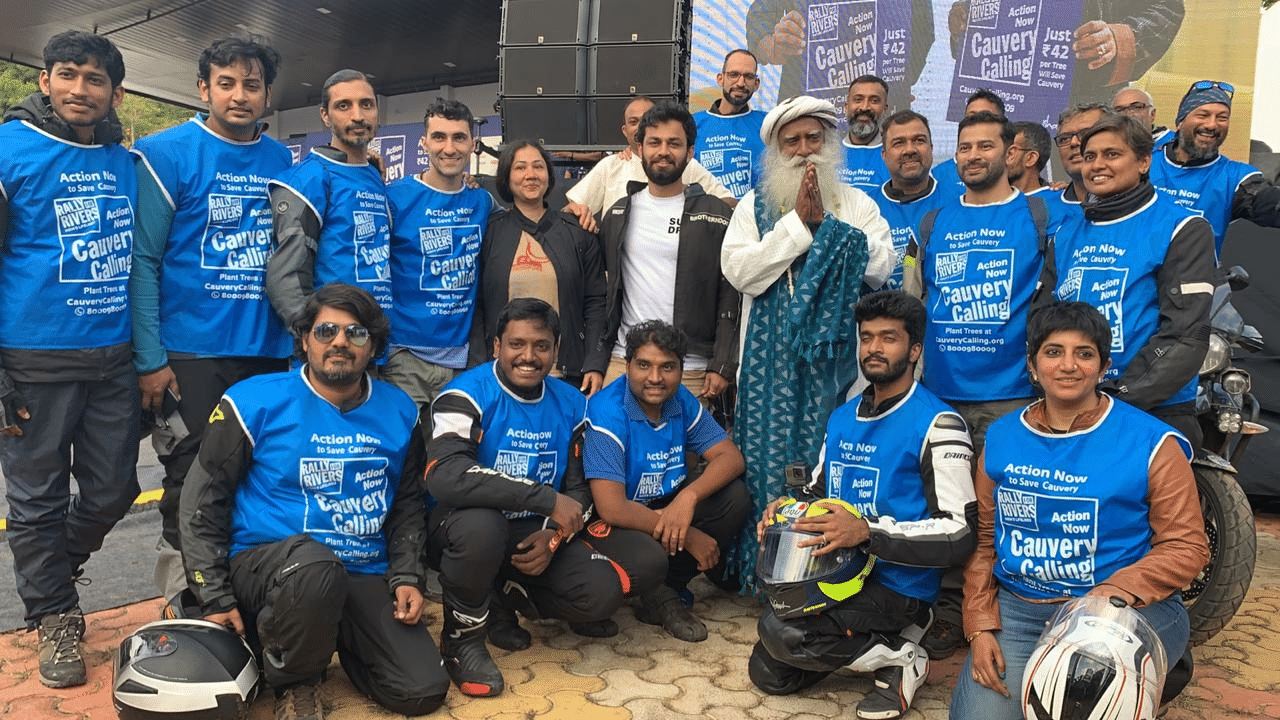 Mysuru is all set to celebrate and welcome Sadhguru. Dollu Kunitha folk dancers offer a resounding greeting to all. A high current seems to be passing through veins of all those at the University of Mysore premises, as their Mystic alumnus will arrive soon.
Earlier today, participants of the Chamundi Sacred Walks were taken on a royal tour through the Mysuru Palace, which is partly a property of Maharaja Yaduveer Wadiyar, one of our guests for this evening's event.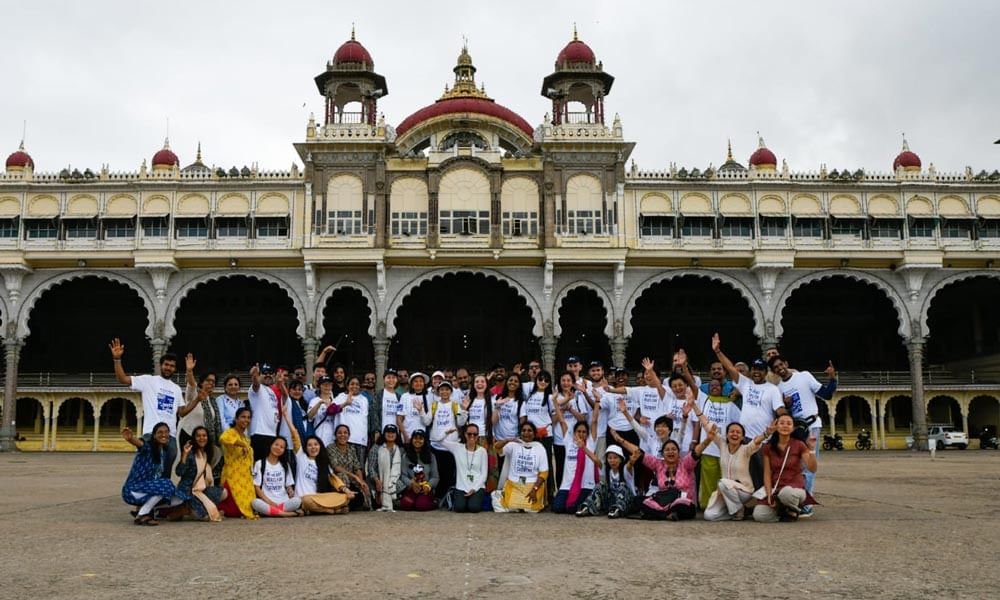 This participant was found proudly posing inside the mahal with his t-shirt declaring, "My heart beats for Cauvery."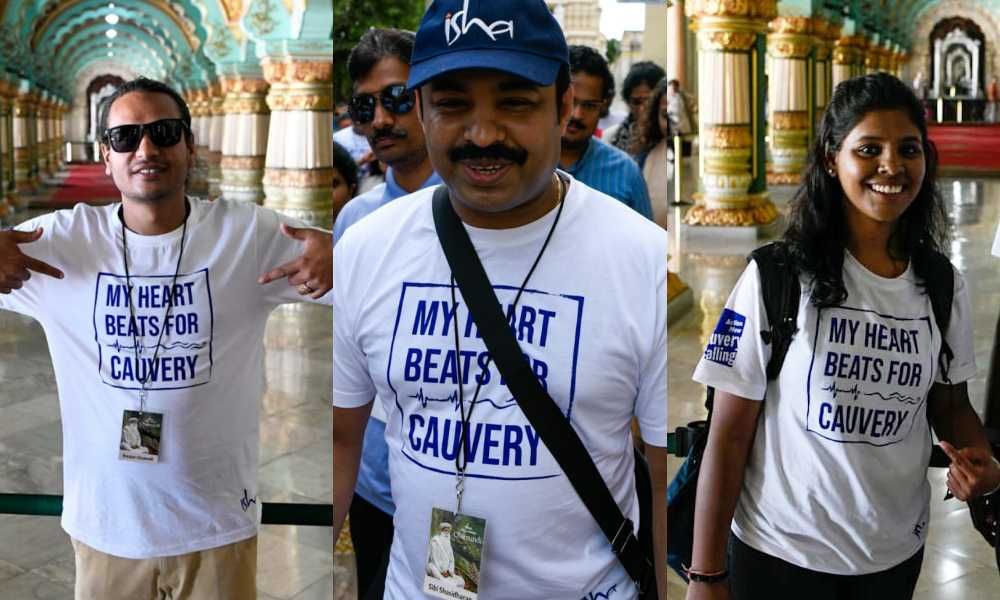 So does ours. Does your heart beat for Cauvery too?
Participants found lounging in front of the royal house of Mysuru: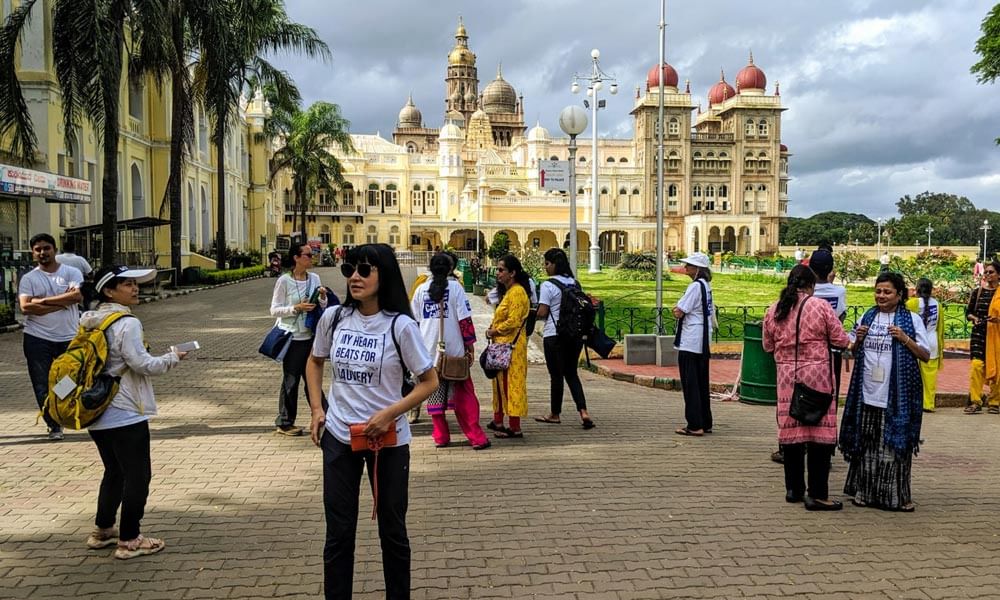 Join the Livestream of the Mysuru event at 6:00pm
As the riders make their way to Mysuru for the event today, you should be present too, at least virtually, if not physically. Find the link below to join the live stream.
Flood Facts - Mysuru
On August 8, 2019, Mysuru district received 62.2mm of rainfall, 32 times the long-term average for that day. 34 acres of land and 102 homes were destroyed due to the floods. In Heggadadevana Kote, 433 acres of crops were lost due to the outflow of water from the Kabini reservoir. Hunsur taluk in Mysuru was also flooded as the water from the Taraka dam was released on Friday.
Even in August 2018, the gates of Kabini dam had to be opened, flooding nearby towns and villages.
Get weekly updates on the latest blogs via newsletters right in your mailbox.
The riders along with Sadhguru will be leaving shortly for the Mysuru event which is at Manasagangotri. Earlier today, Sadhguru was welcomed by officials of the JSS College for a quick respite at the JSS guest house, from where the crew will be leaving now.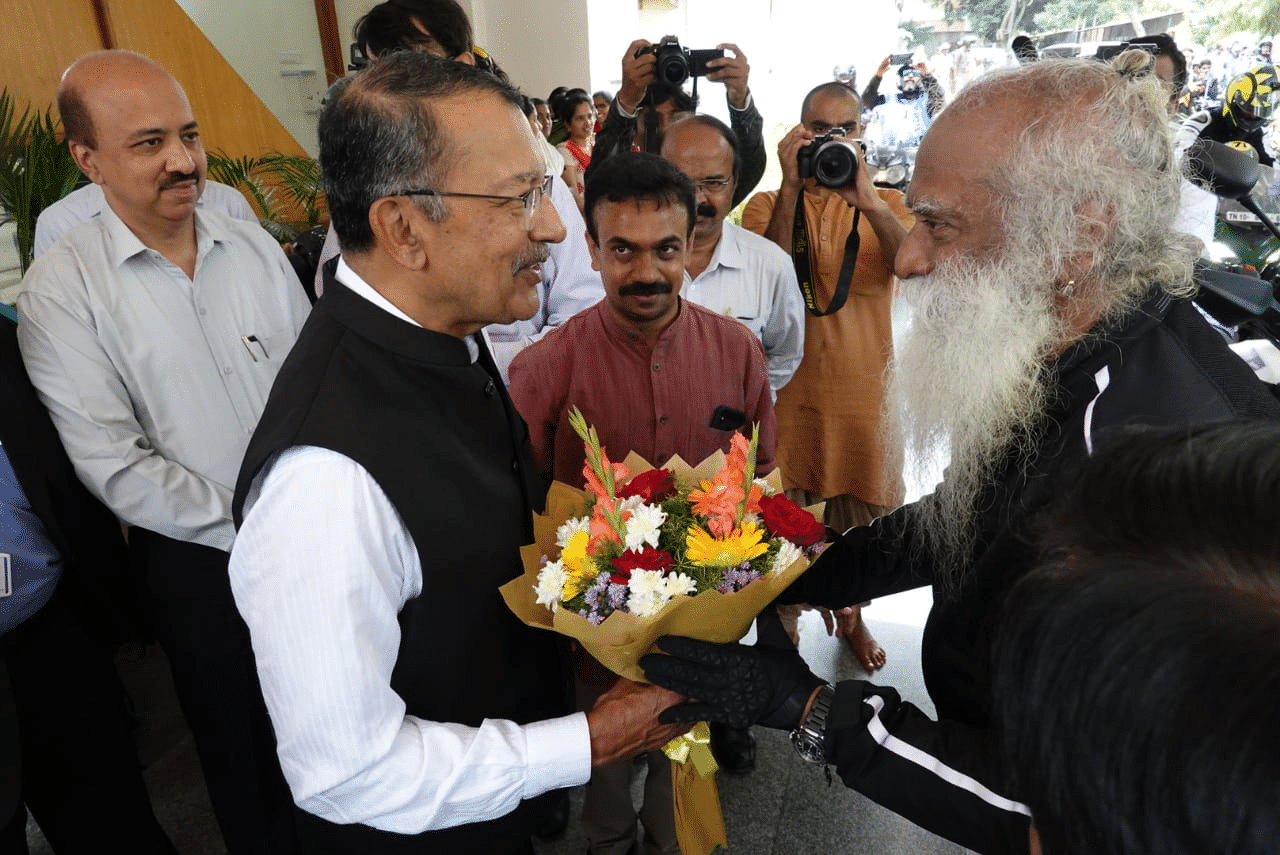 Stay tuned, as we continue to stalk the riders for more updates...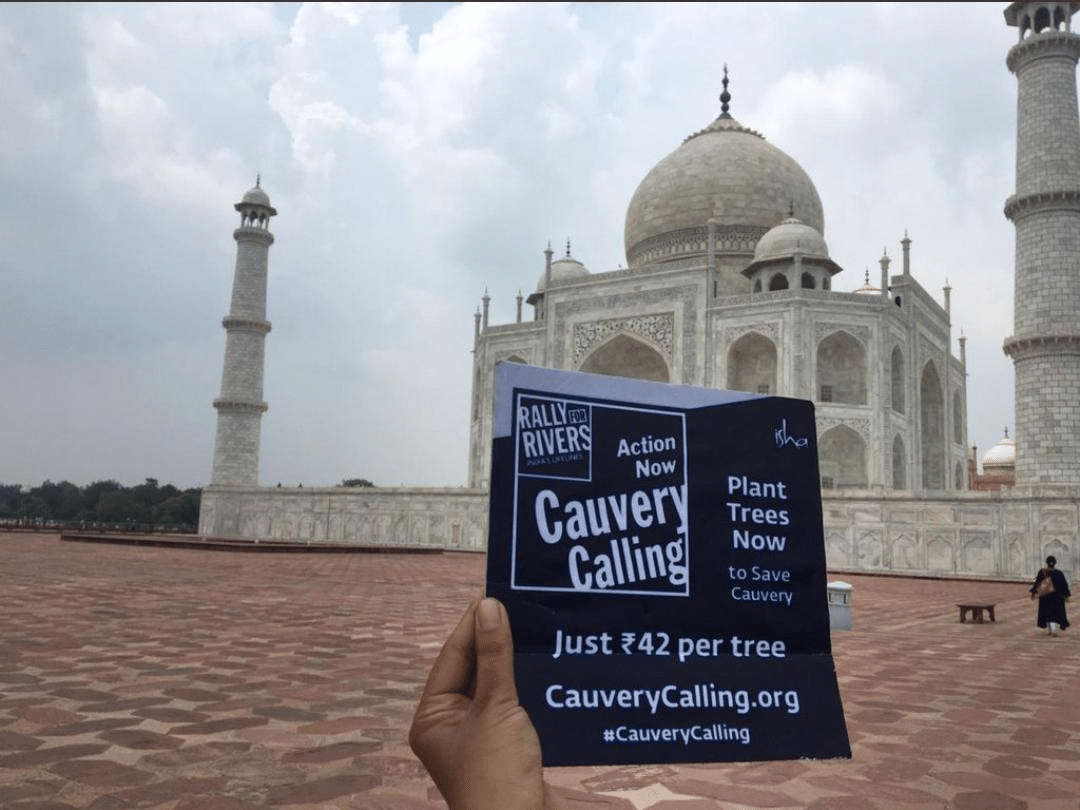 From one river to the other:
Situated on the banks of Yamuna, the volunteers hooked up Taj Mahal to play brand ambassador to support Cauvery's cause. We think, river Yamuna is in full support too, because, today me, tomorrow you...
As we wait for more updates from Mysuru today, check out Sadhguru's safari ride in Nagarhole - Land of the Cobra!
Sadhguru at Nagarhole - Land of the Cobra @SadhguruJV takes a safari ride through one of the most well-known national parks in India - Nagarhole.#CauveryDiaries - Day 2 #CauveryCalling
Find more details at:https://t.co/HVmjG4ZiXI pic.twitter.com/y7abggisxC

— Rally For Rivers - Cauvery Calling (@rallyforrivers) September 4, 2019
Around 600 school children stun the Mayiladuthurai town as their procession for Cauvery Calling gets massive public attention. With every passing day, we are seeing more and more youngsters sprawling in to connect to the cause.
As shared by one of our volunteers, she was surprised to see a message from her daughter's school (below), suggesting that they contribute to Cauvery Calling.
Such events are a source of true motivation, every initiative matters!
Two Generations Come Together at Mysuru
Isha volunteers never fail to stand out. Vijji and her husband, an elderly couple who reside in the Isha Yoga Center, headed off to Mysuru to join hands with the youth. This time they are on the move, inviting people for the evening program with Sadhguru in Mysuru. They visited the sprawling campus of the Manasagangotri, University of Mysore and invited the students for Sadhguru's evening program. If all the youngsters came forward, they will definitely light up Cauvery Calling!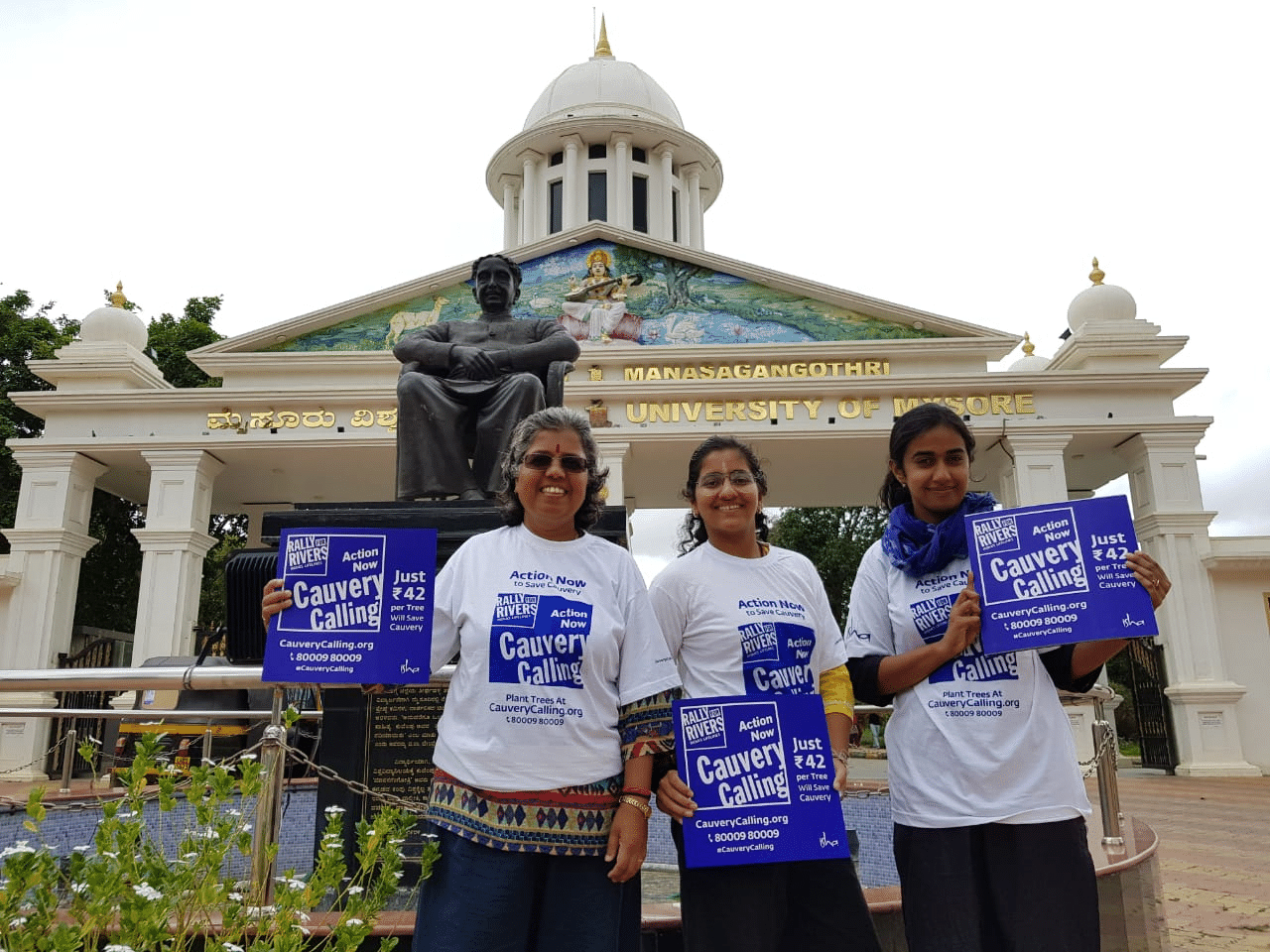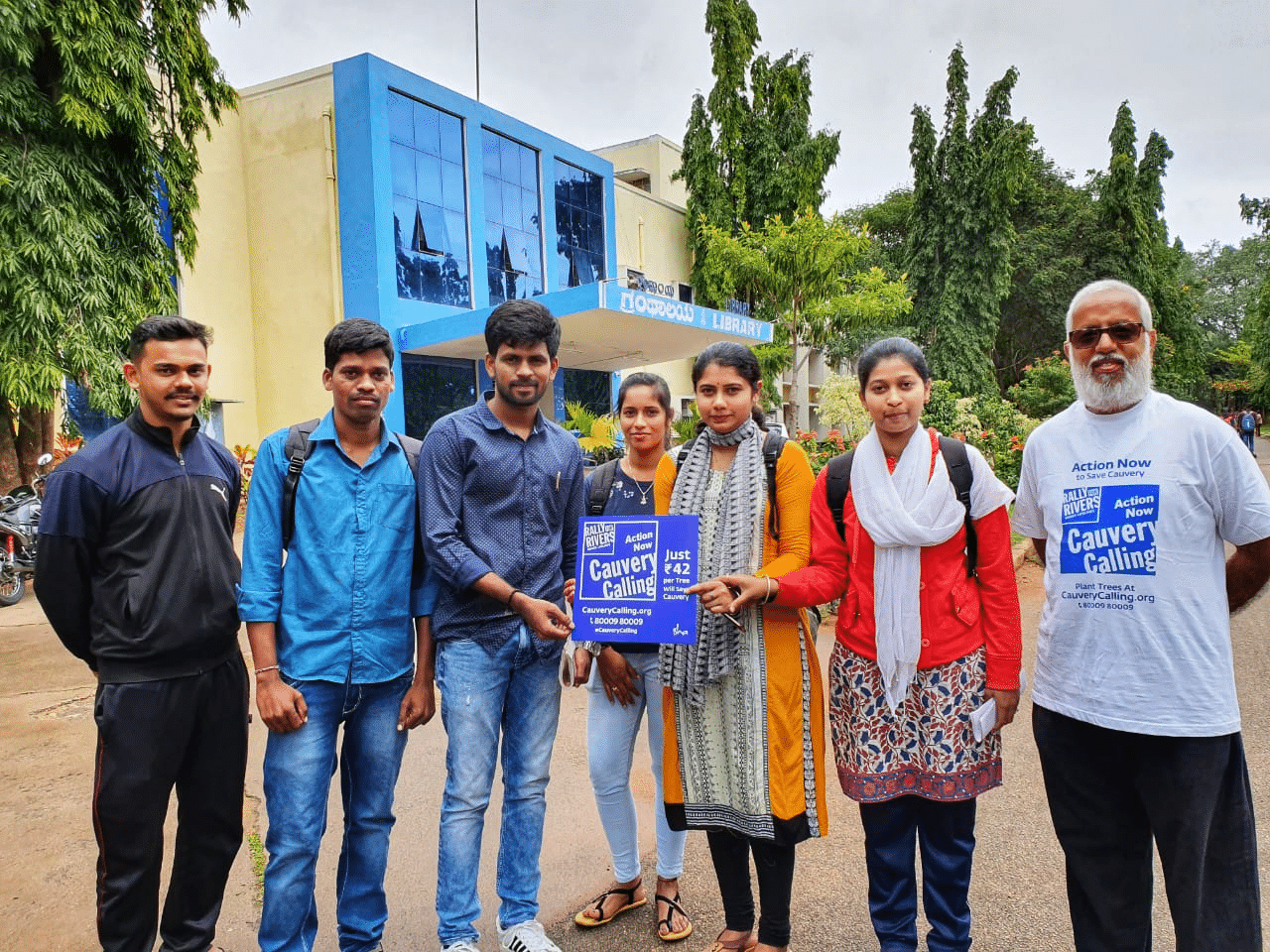 Not too big, never too small...
When Pratham came across RJ Raunac's support for Cauvery Calling, he decided to do his bit for the community. He vowed to collect donations for 20k trees on his part and started reaching out to his friends and relatives, till he realized the momentum was fizzling out. So he took to social media and ended up collecting his share of donations, sooner than expected. So, now Pratham's commitment has just gotten an upgrade, from 20k trees to 40k trees.
Jothi, a volunteer from Pondicherry had hired a painter to paint her house. Seeing the Cauvery Calling placards, the painter contributed his share for five trees. Jothi is just amazed by the sheer support that Cauvery Calling has been receiving.
Contributions no matter how big or small, Cauvery needs it all. It's 40 lakh trees and counting, and still a long way to go!.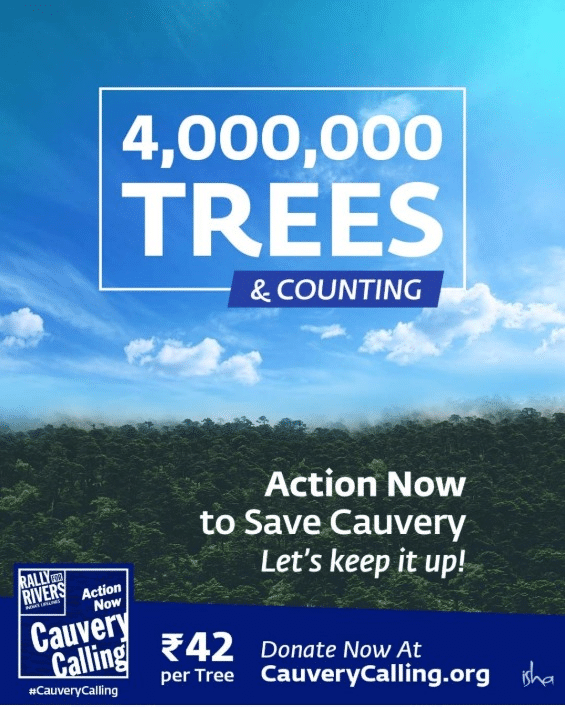 Let us get rolling, to get Cauvery flowing.
Watch the Highlights of Day 1 of Cauvery Calling!
Cauvery Calling took off from Talacauvery as Sadhguru led a doughty band of motorcyclists through Day 1.
No Looking Back After Tasting the Fruits
During the Farmers' Outreach Campaign, Isha volunteers were visiting villages across Karnataka and Tamil Nadu to encourage farmers to shift to agroforestry. In Mysuru district, they were pleased to find an agroforestry veteran!
Sri Naganna, a lecturer at a government Girls Junior College, is a farmer with more than 80 acres of (joint-holding) farmland at Hunase Kuppe, Periyapattana Taluk, Mysore District. He has not only been practicing agroforestry for the last 20+ years but also states that several farmers in his village have since then converted to agroforestry. He has planted several silver oak and teak trees, he is an example for all the farmers, especially for those who will switch to agroforestry in the coming years.
When the volunteers visited his village, he proudly showed them around and also invited the team to visit his farm. When asked about his reason behind picking up agroforestry he proudly said: "When someone has tasted the fruits, there is no looking back."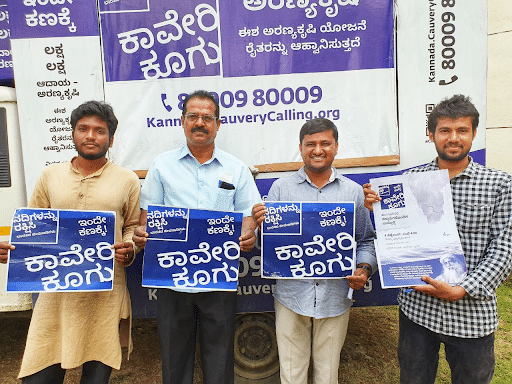 Painting the Town Blue
Volunteers set out to paint the town blue and support Sadhguru as he enters Mysuru, with his flock of riders swarming behind. How can they not, when their hometown's Mystic child has come up with a plan to save Cauvery?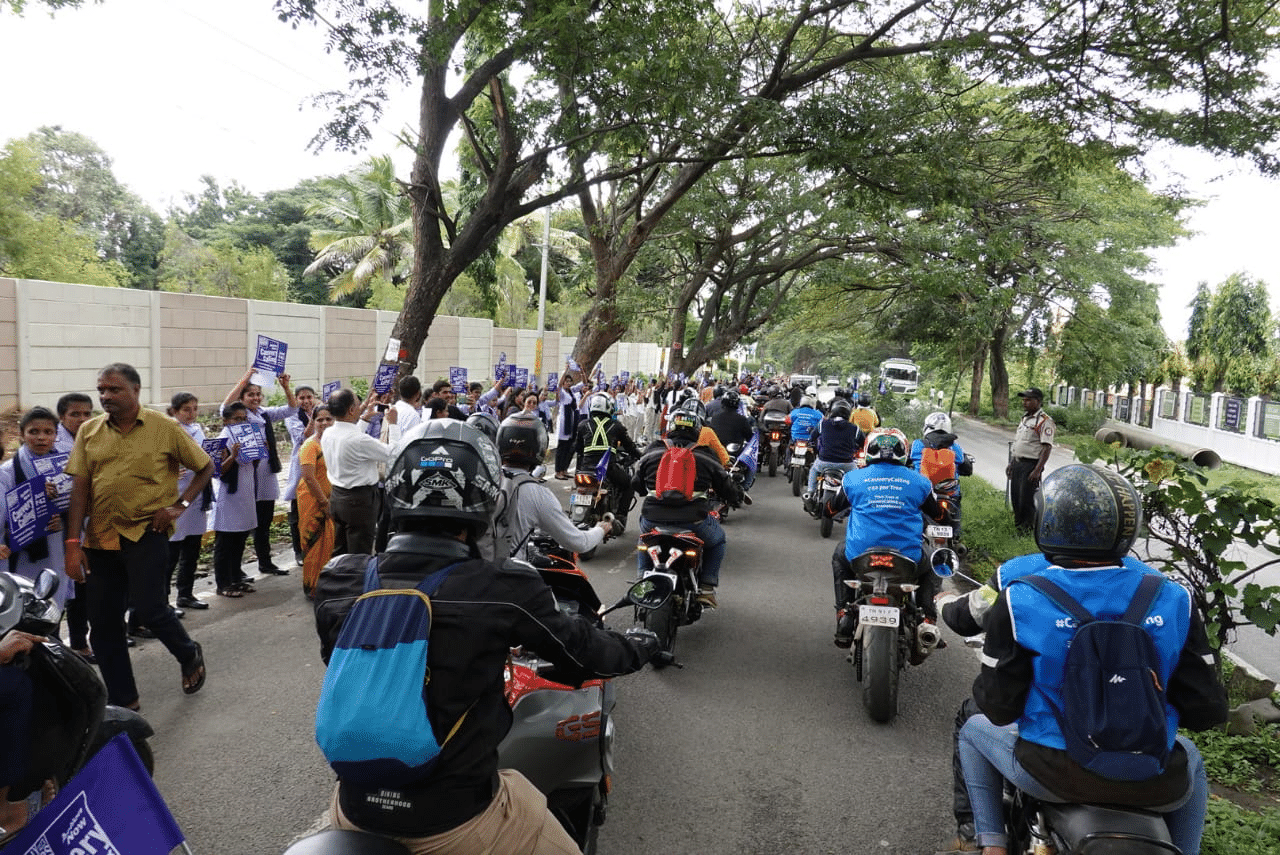 Lady in Blue
This lady was decked up in blue, in a display of support for Cauvery Calling. We don't know if it was coincidental or not, even her bike was blue...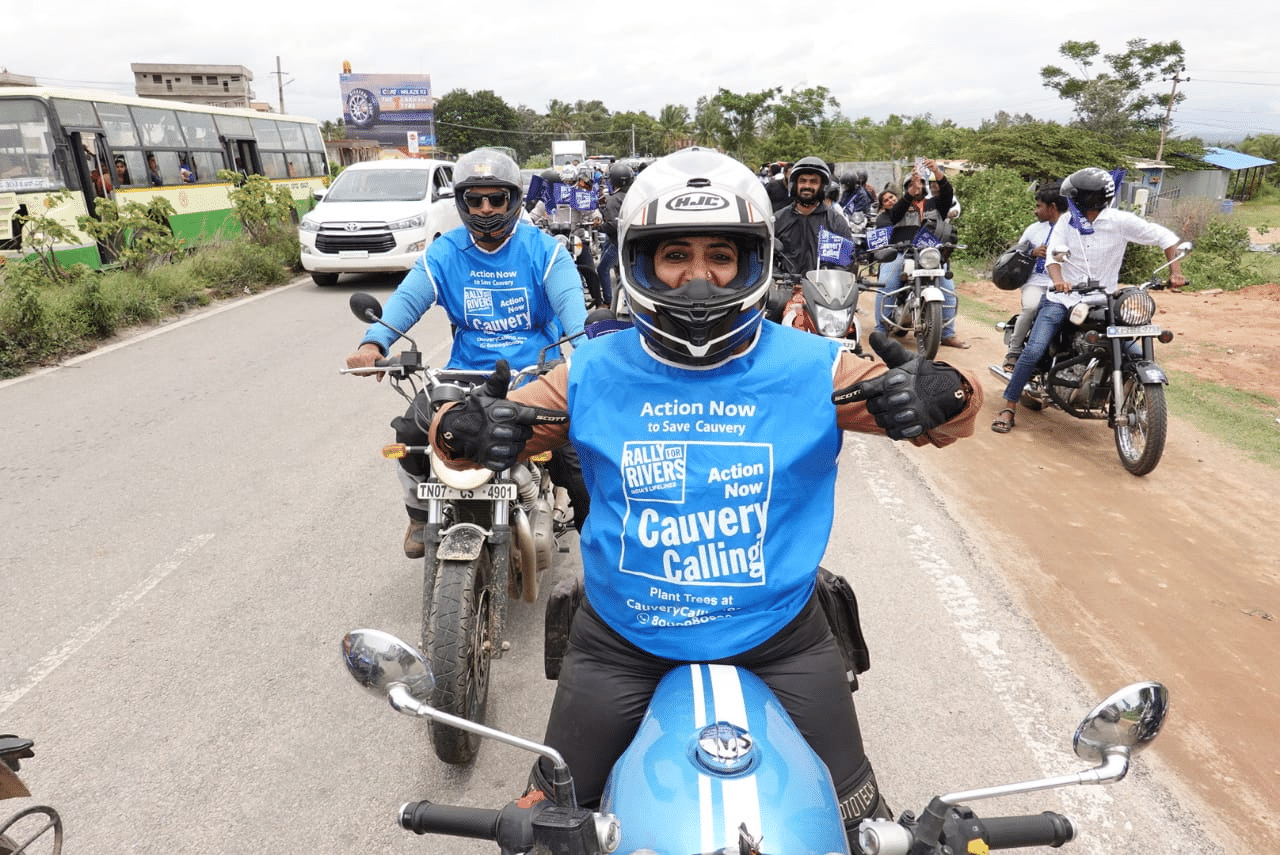 Say Cheese!
"When in front of a camera, we pose" is this rider's motto as he makes a cool pose from his bike.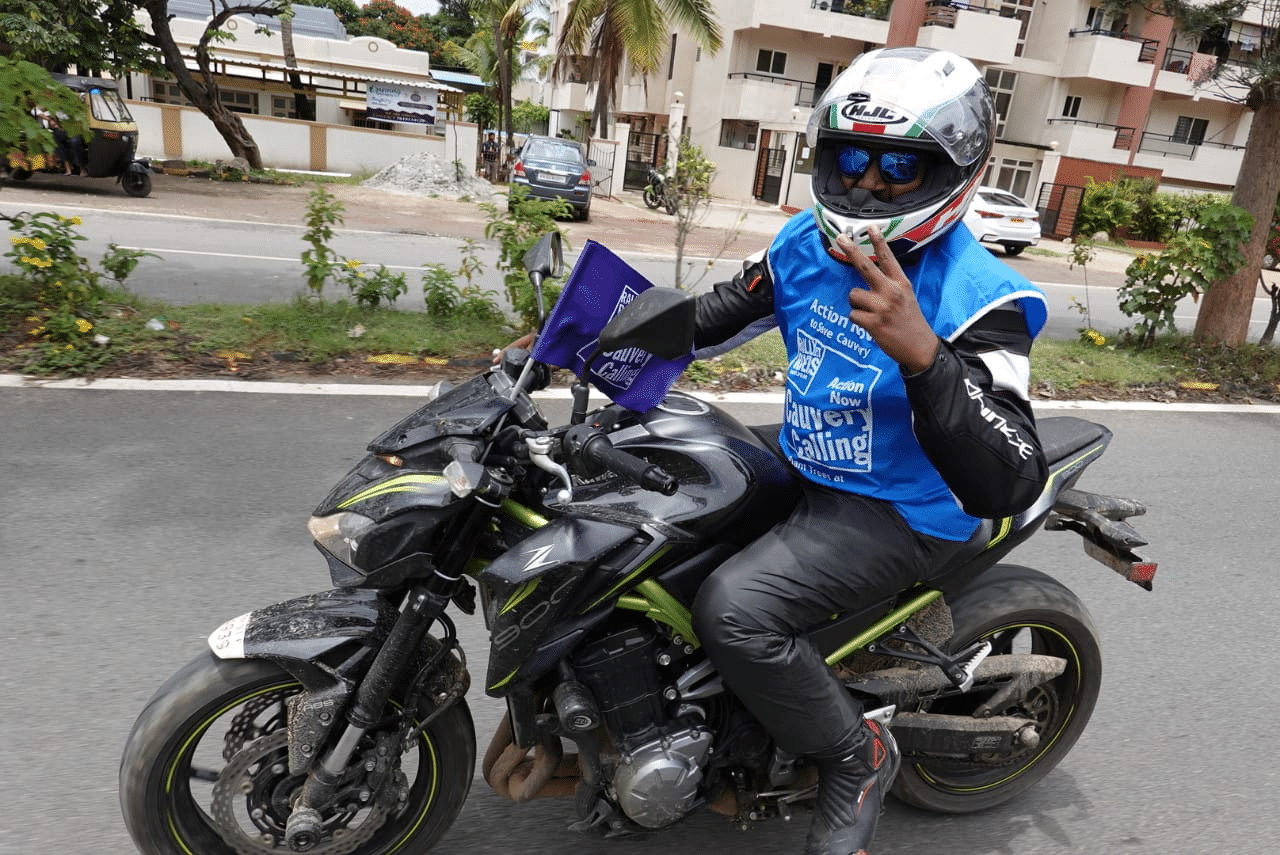 In Full Gear!
This exhausted rider was caught stealing a wink of sleep in full biking gear as he found a moment's peace, in what is otherwise an unending ride with Sadhguru.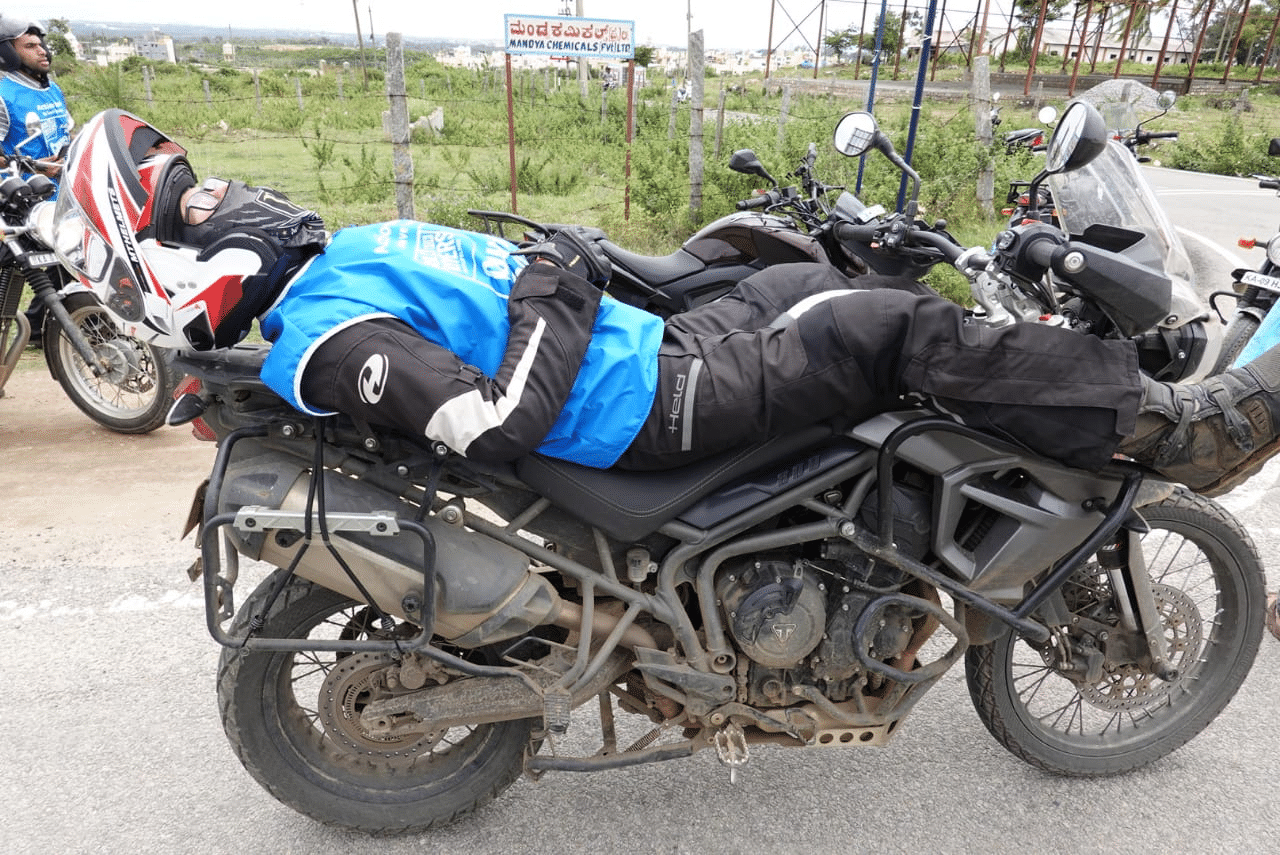 Amidst the Muscles:
With a slew of big, muscular bikes riding along with Sadhguru, this lady was found amidst those monstrous machines, riding a cute girly scooty. Support for Cauvery Calling keeps showing up in all shapes and sizes...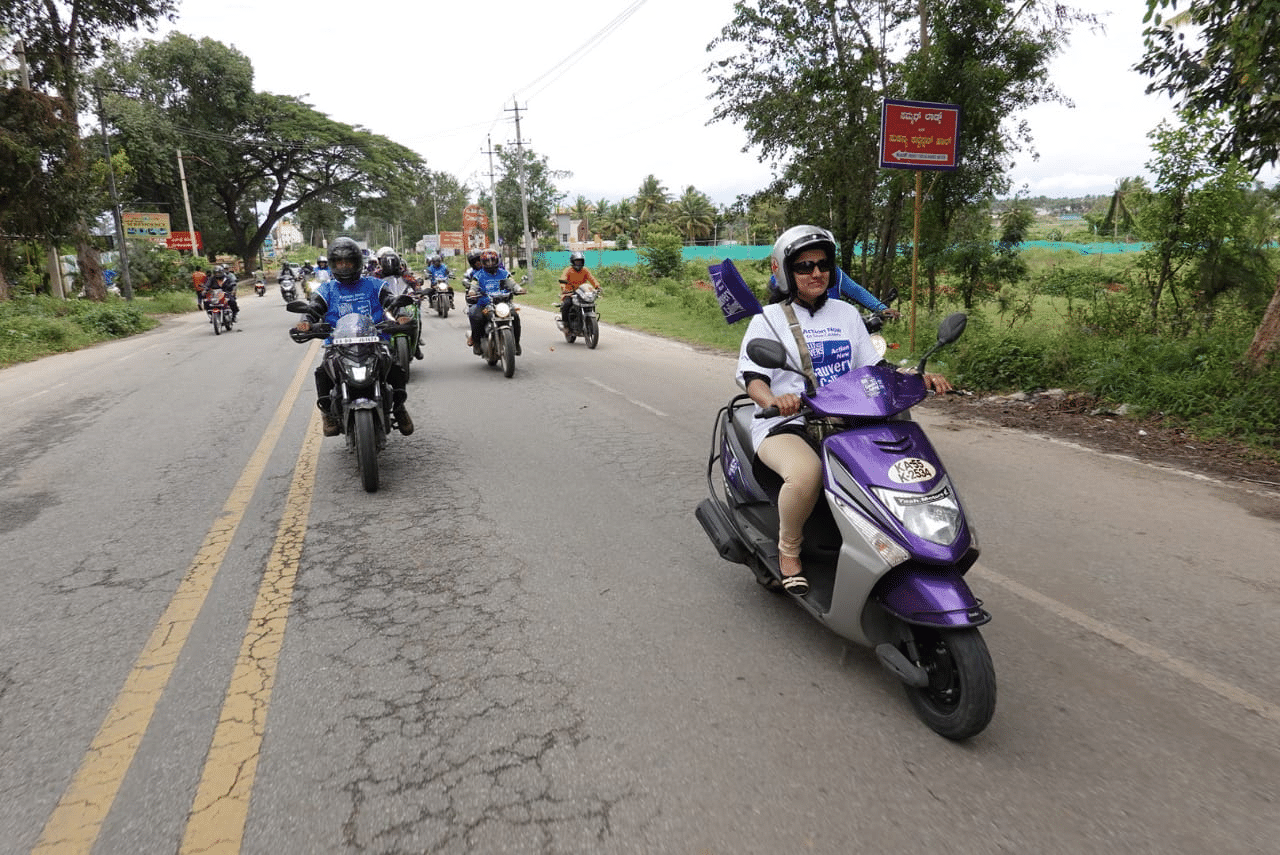 Lore and Legends - Mysore
The main event in Mysore will begin at 6:00pm today.
The name Mysore comes from the word Mahishasura. As per the legends, the demon Mahishasura once ruled this area. Goddess Chamundeshwari killed him to protect the people. The Chamundeshwari temple here is one of the most famous tourist attractions.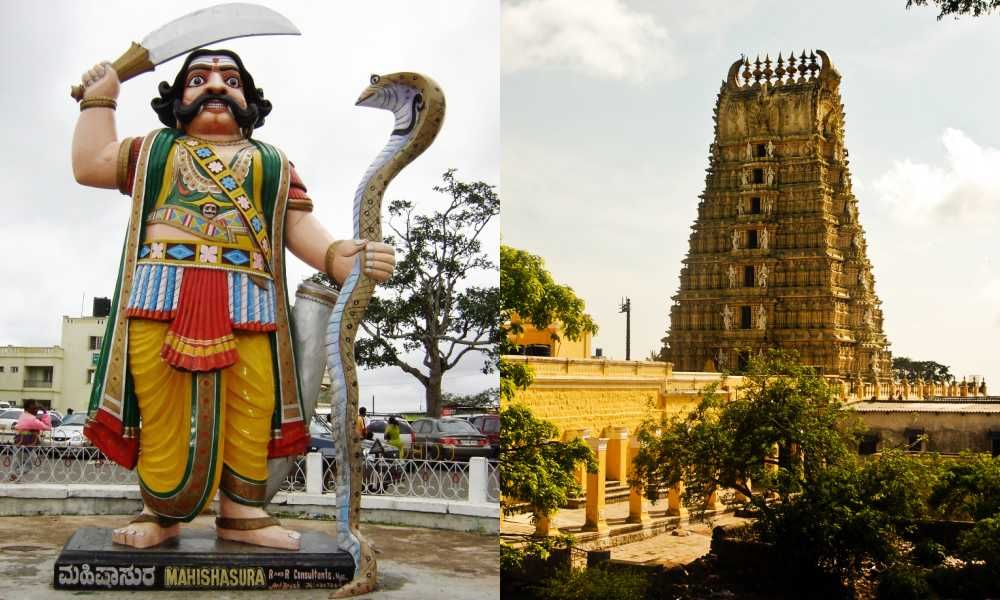 Apart from these interesting legends and stories, Mysore has been a fast-growing city. It was one of the first cities in Asia to take up planned development. Mysore University is the oldest in the whole Karnataka, and the city became the first WiFi-enabled city of India in 2010. The pace of this city's growth is exciting as well as alarming. It is staring at a severe water scarcity in the coming years.
Water Clock – Mysore
Since the summer of 2016, every year, Karnataka has had to stop water supply from Krishnaraja Sagara Dam to canals for agriculture. This was due to limited drinking water reserves. This April , a severe drinking water shortage had hit the outskirts of the city, forcing the authorities to supply drinking water through tankers. Cauvery Calling is all set to rescue the people of Mysore. Just like it did in the past, the city shall conquer the demon.
When our four-legged friends make a point that Cauvery is just as important to animals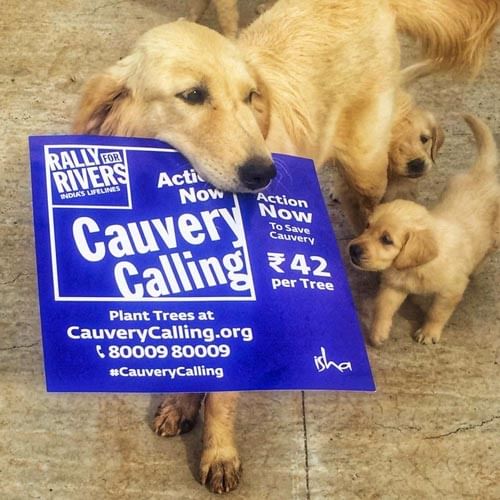 This grandpa is the adopted father of actor Rajnikanth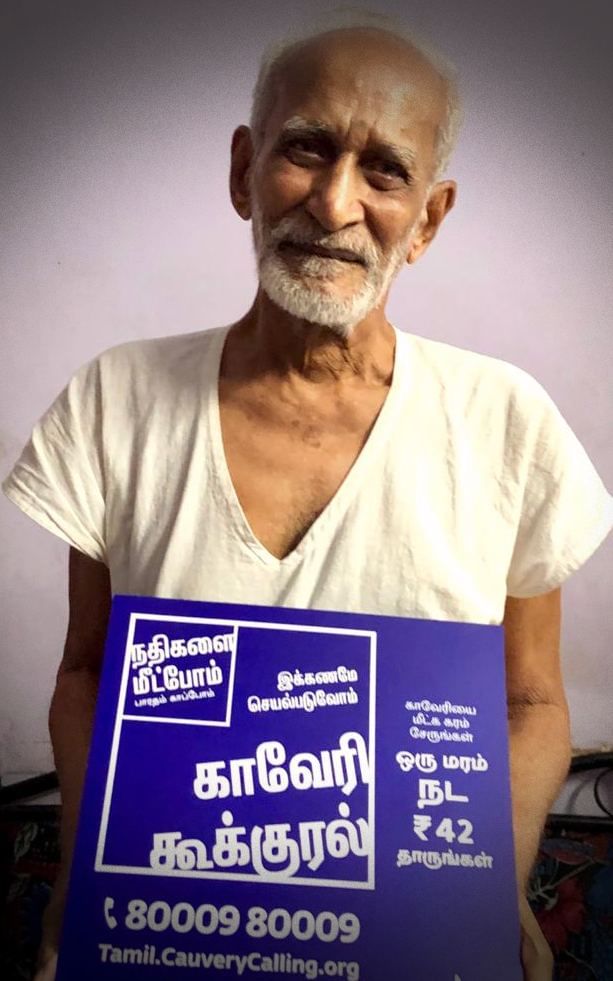 Palam Kalyanasundaram is a 79-year old librarian in full support of Cauvery Calling. He was named as the "Man of the Millennium" by an American organization. If the Man of the Millenium can support Cauvery Calling, so can you. Learn more about the great deeds of Palam Kalyanasundaram here.
12:20pm - Cauvery Calling rolls into Mysore, Sadhguru's hometown, to a rousing welcome. In every nook and corner, people are waving blue placards in support for donating trees for our beloved farmers.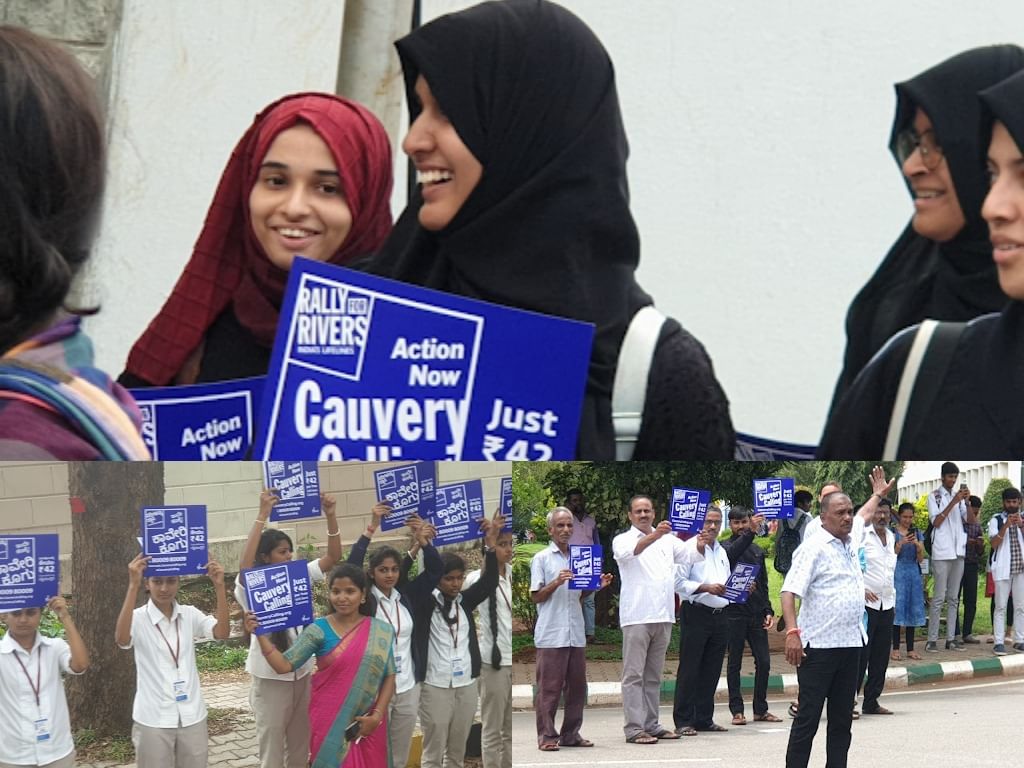 #DaddyDaughterGoals
For Prakash Devarajan and his daughter, dad-daughter goals are pretty different and Cauvery couldn't be more thankful to them for it. They started it with their support for Rally for Rivers in 2017 by bringing awareness
.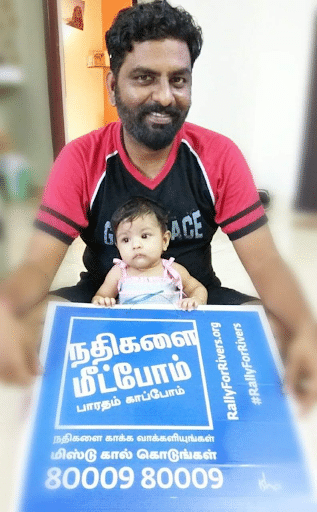 Now, in 2019 they pledge their support for action now to save Cauvery.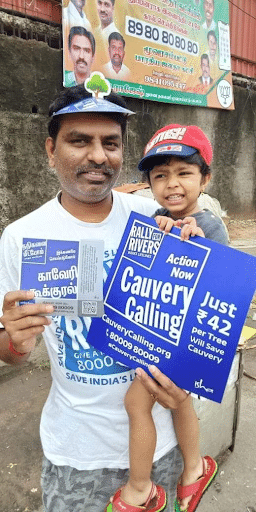 By 2024, their goal should be accomplished!
11:40am - Kannada actress Pranitha Subhash was so inspired after her conversation with Sadhguru that she hopped on a bike and joined him for the rally until Mysore. She quickly slipped on a jacket and got herself a helmet and jumped onto the bike of one of the female riders. Waving the Cauvery Calling flag, she seems to be having the time of her life. "I'm loving it... This is my first time on a bike for a rally, and the fact that it's for such a good cause makes it even more special," said Pranitha.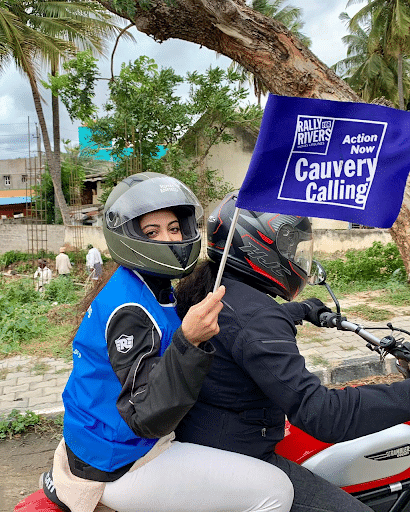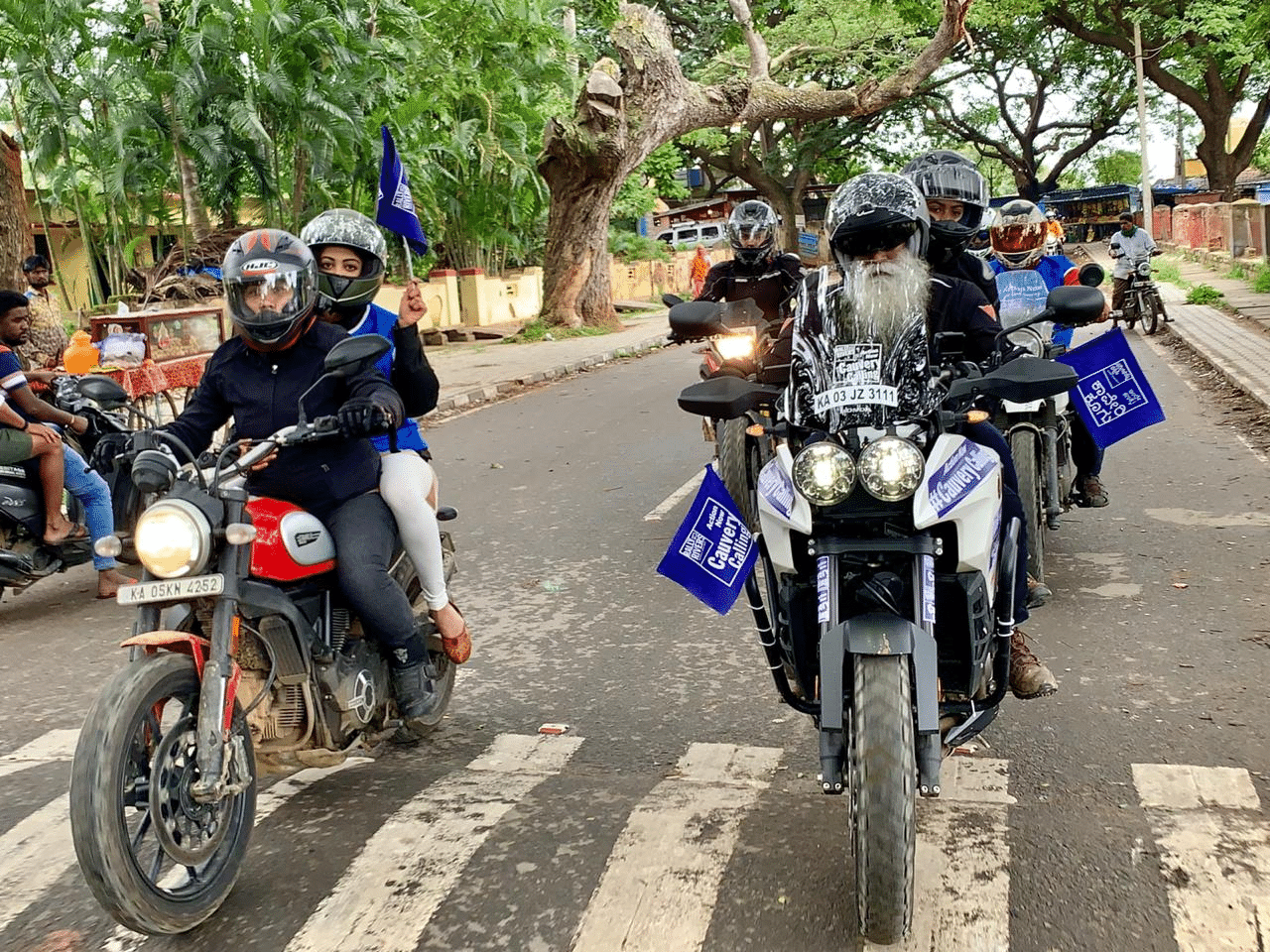 10:45am - A news reporter from Vijayavani, the Kannada newspaper, engaged in an impromptu interview with Sadhguru.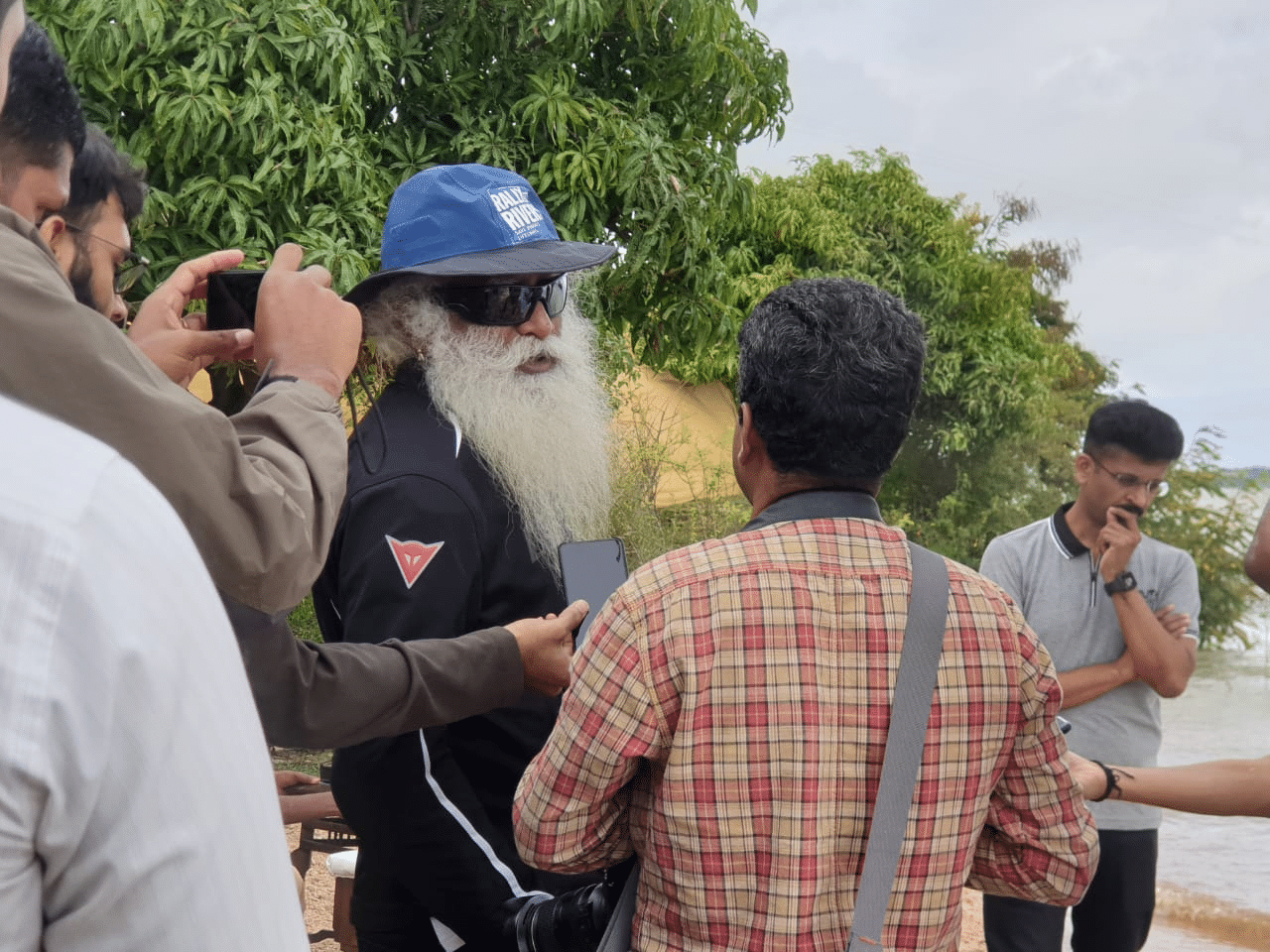 Sadhguru interacts with media and celebrities in the chilly morning hours along the banks of Cauvery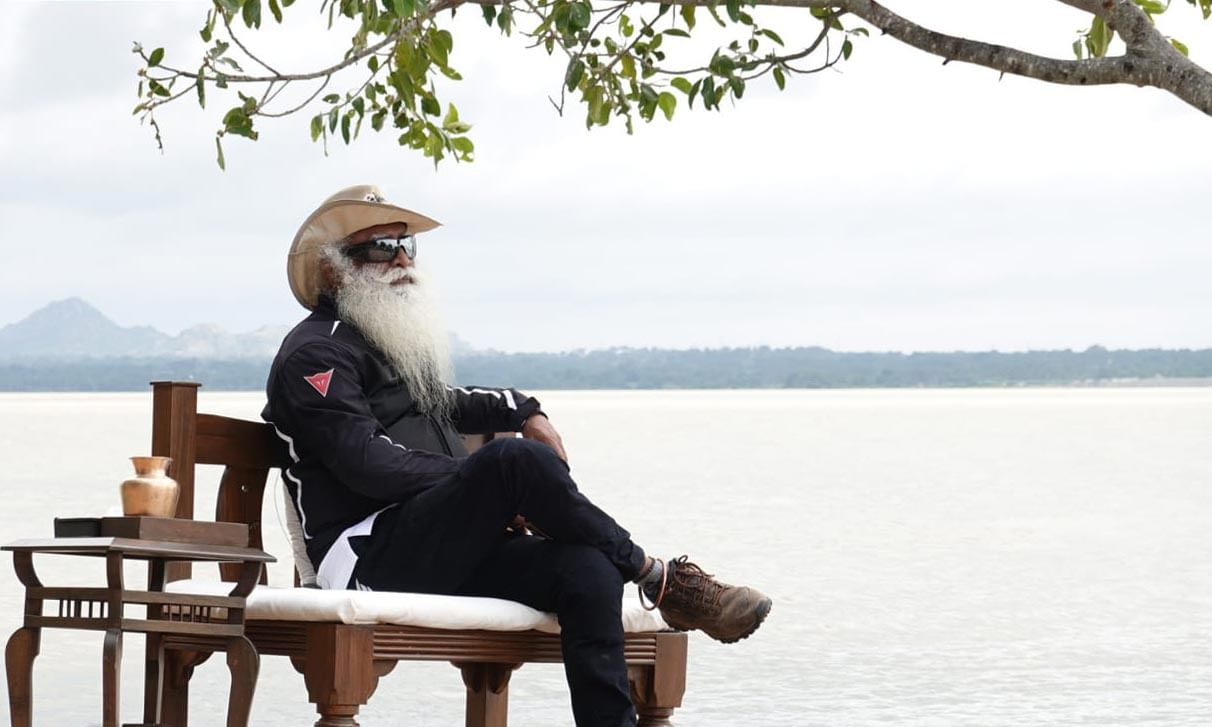 In the stunning setting at backwaters of Cauvery, actress Pranita Subhash in conversation with Sadhguru.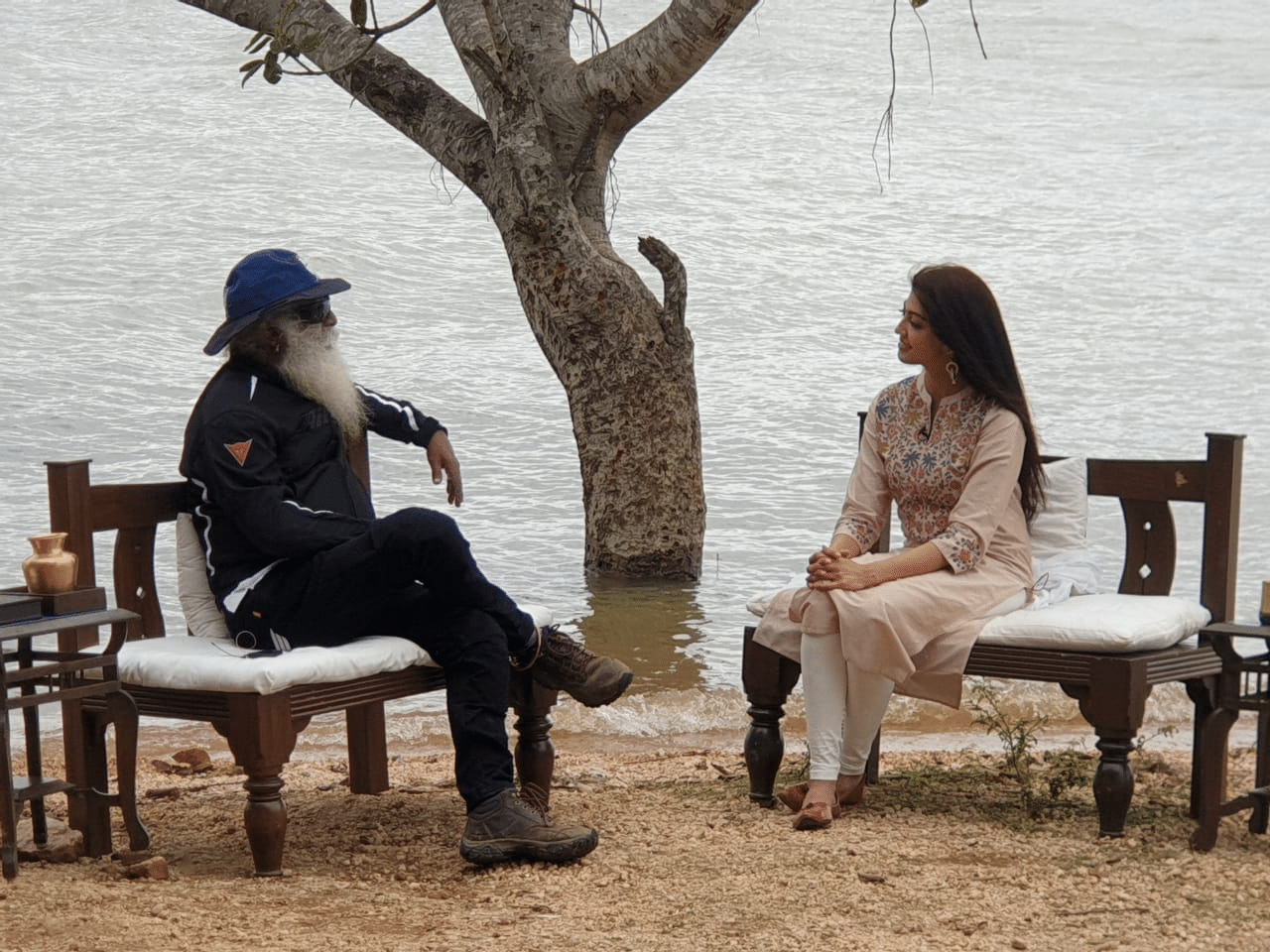 News18 had an interview with Sadhguru.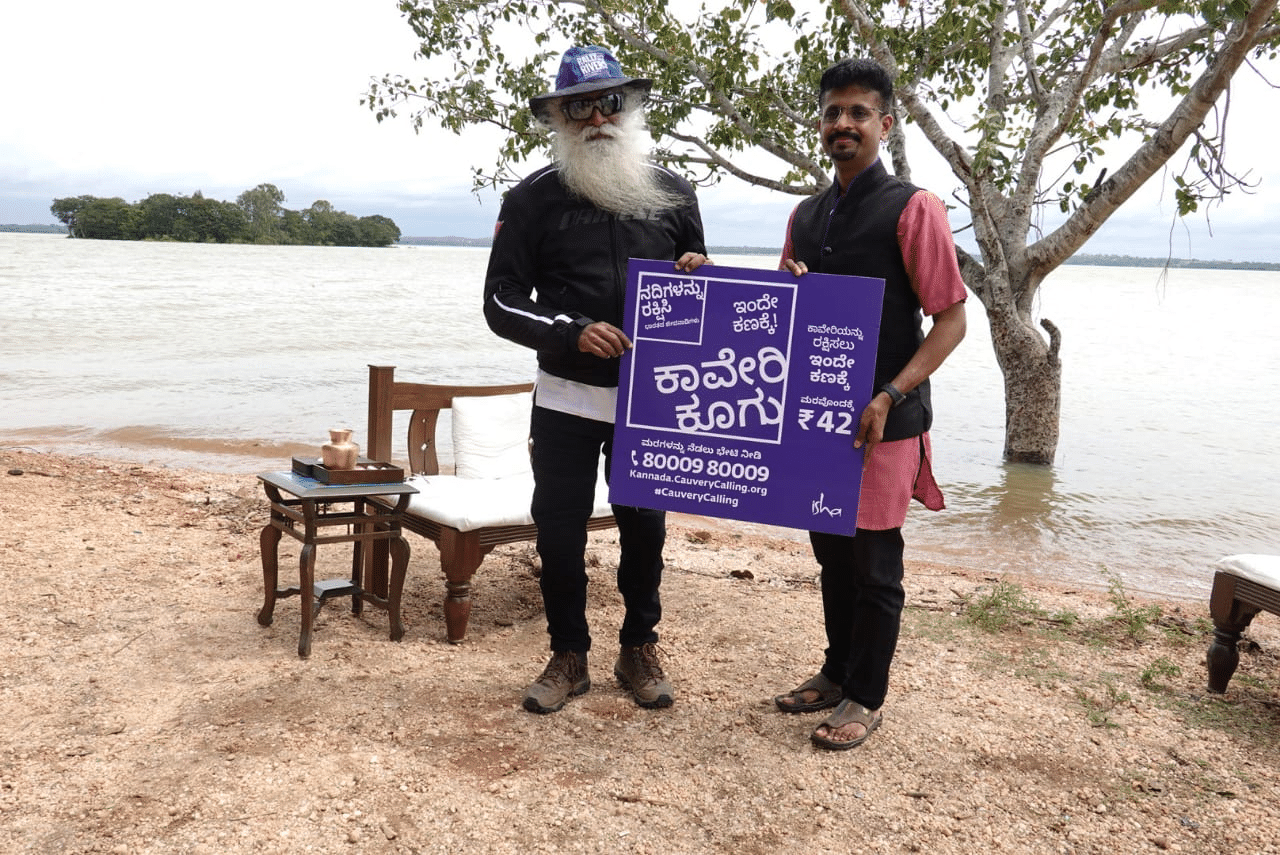 A disaster lurks behind this pretty scene of flowing waters and wildlife. This reservoir which should have filled up over the course of a few weeks is full in just a few days. Loss of forests has made the water turn brown as it runs across the land surface rapidly, carrying fertile soil with it.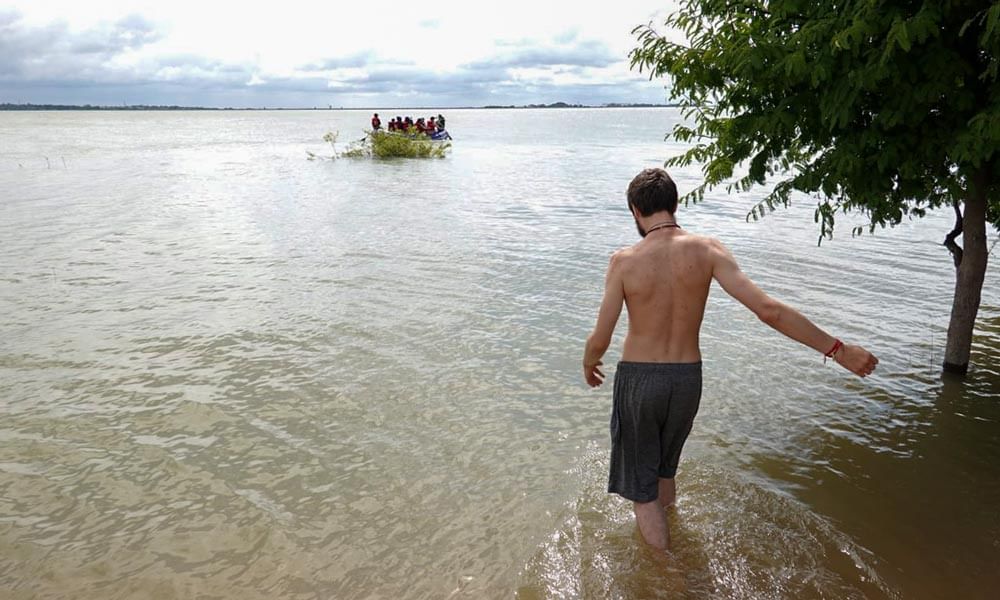 Meanwhile, the participants took to the rafts prepared by volunteers for a short ride in Cauvery.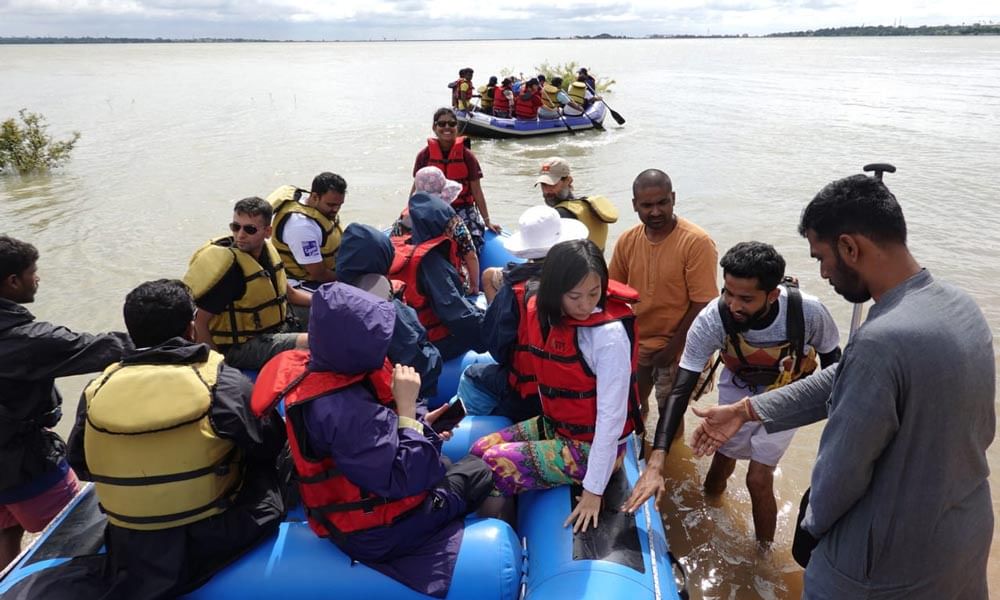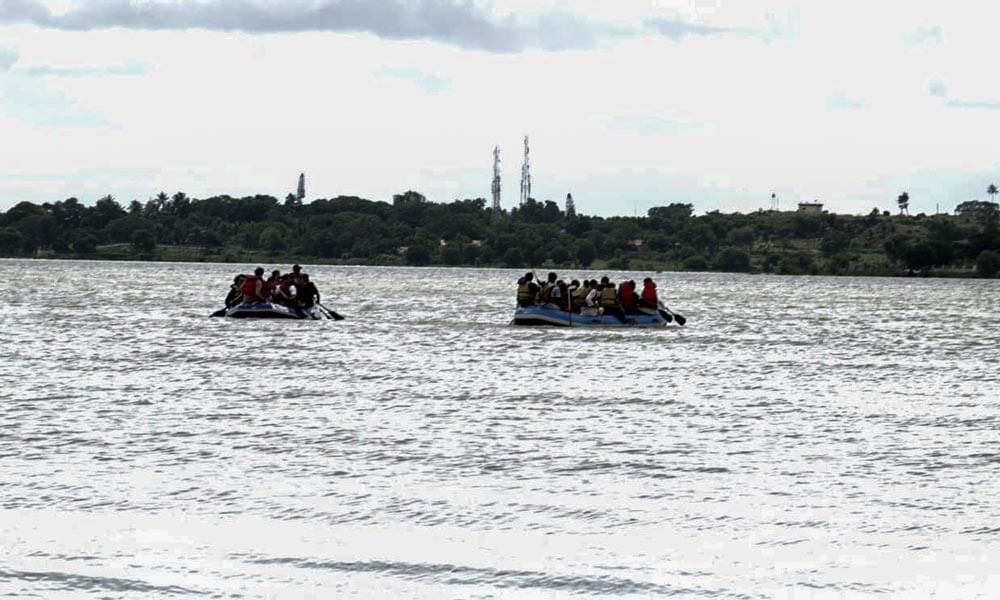 An update from last night's events at the campsite
A stunning bird's eye view of the campsite where Sadhguru, the riders and participants spent the night at Krishnaraja Sagar.
In a light-hearted conversation with Ragini Dwivedi, from the campsite at Krishnaraja Sagar, she implored Sadhguru to take us through a nostalgic trip: "Traveling through Karnataka must be an experience down memory lane for you," she probed the Mystic. Sadhguru, not missing a beat, retorted that for him everything is alive now and he doesn't have nostalgia about anything.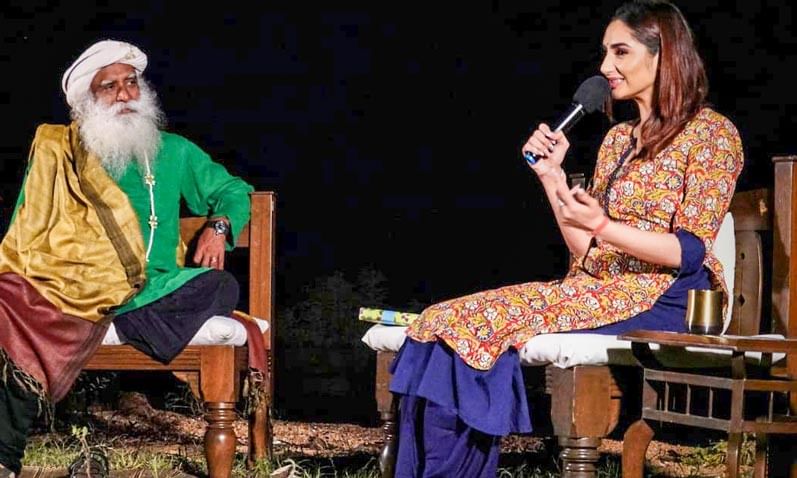 The participants sat spellbound, listening to stories in front of a campfire at night - stories of motorcycles and the memories of the Mystic.
"Let me give my feet to the crocodile," Sadhguru playfully declared before putting his feet in the Cauvery water as the tales continued flowing from him.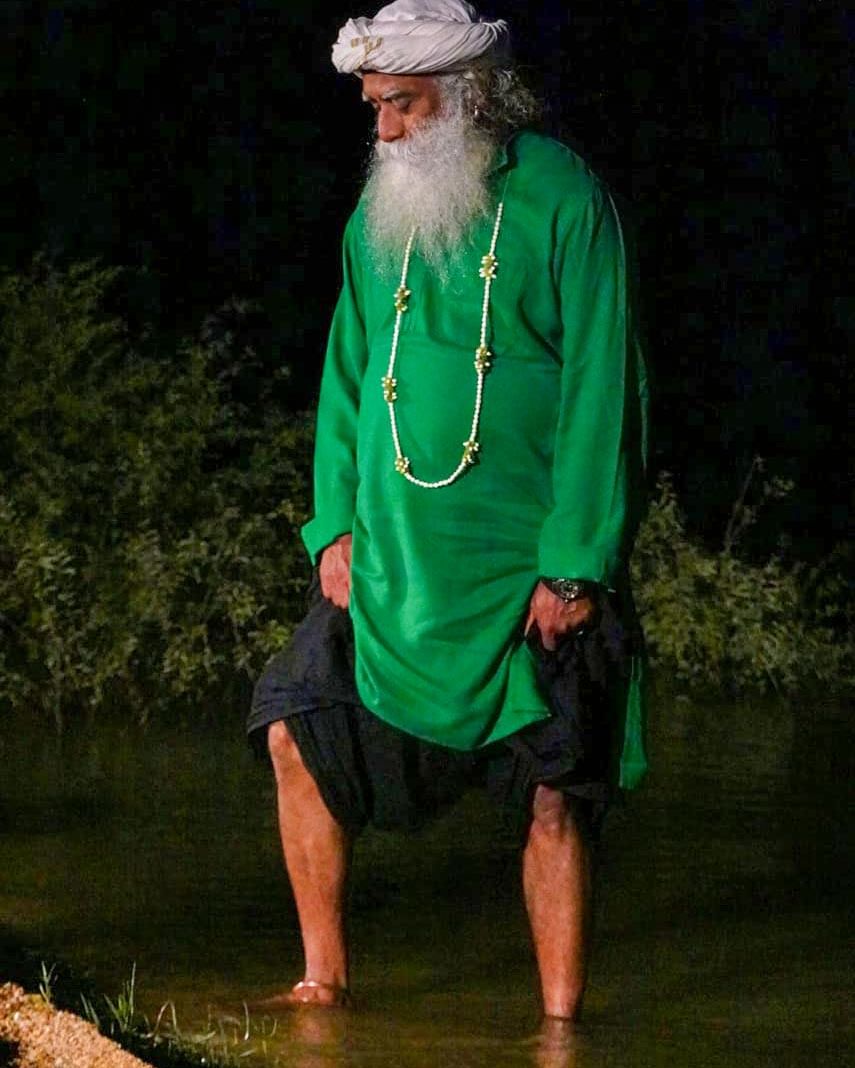 The long day came and went like a breeze as the riders retired. Another amazing day, where they got to ride along with Sadhguru.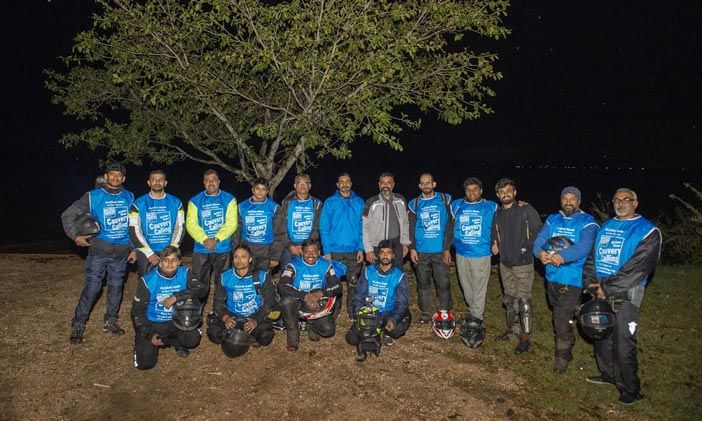 The happy riders pose for a picture as they freeze the memory - creating a new story to be told for future generations.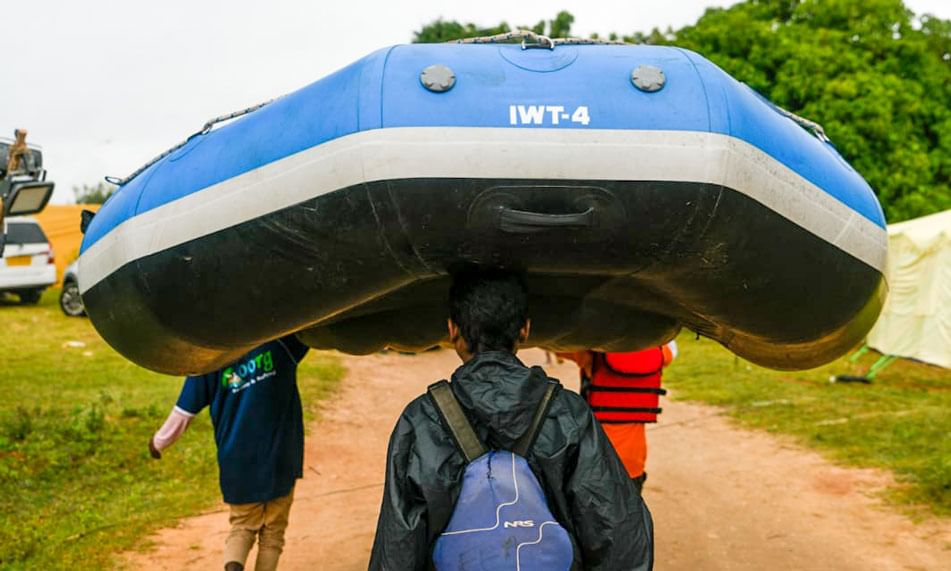 8:45am - The scene from the future if Cauvery Calling doesn't succeed...we will be carrying boats on our heads! Just kidding, the participants are setting off for a boating ride in Cauvery after food.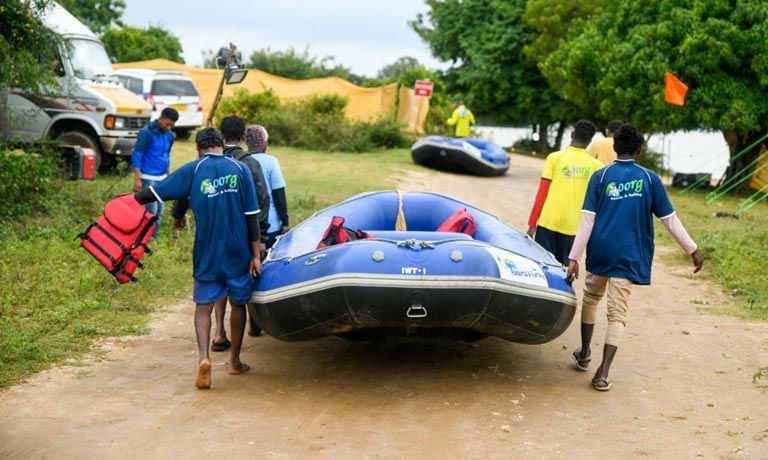 Speaking of breakfast, see what has been lined up this morning! Another round of Karnataka mouth-watering delicacies.... a special version of rava upma, rava kesari, with a taste of Isha yogic cuisine - a delectable zucchini mushroom salad.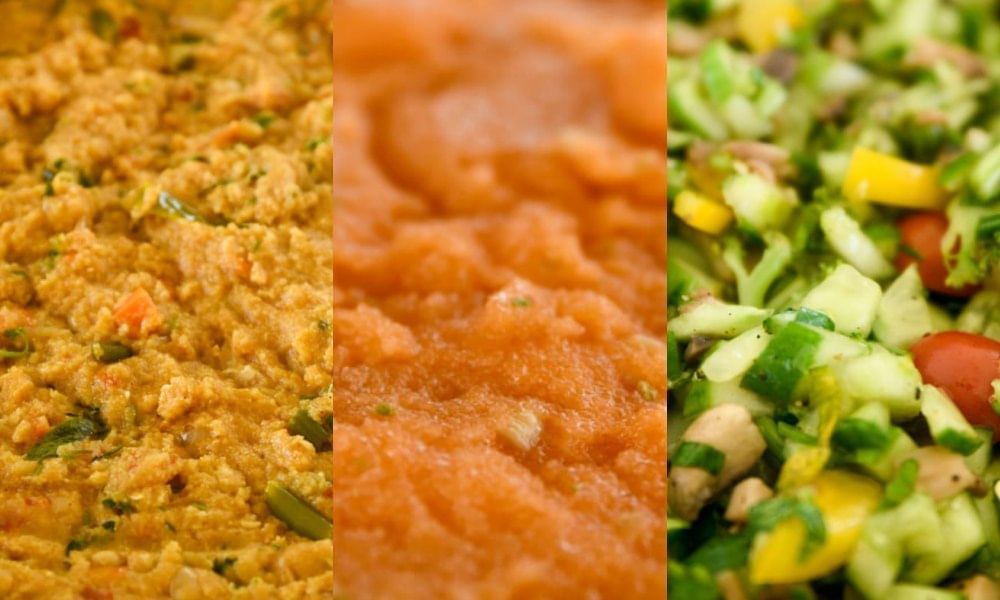 8:30am - "It's a blessing to be at Cauvery with Sadhguru and my Isha family to be at the beginning of this amazing project, which will not only benefit India but the world by setting an example," says Mojgan, a participant from Dubai, in a contemplative mood after the morning yoga.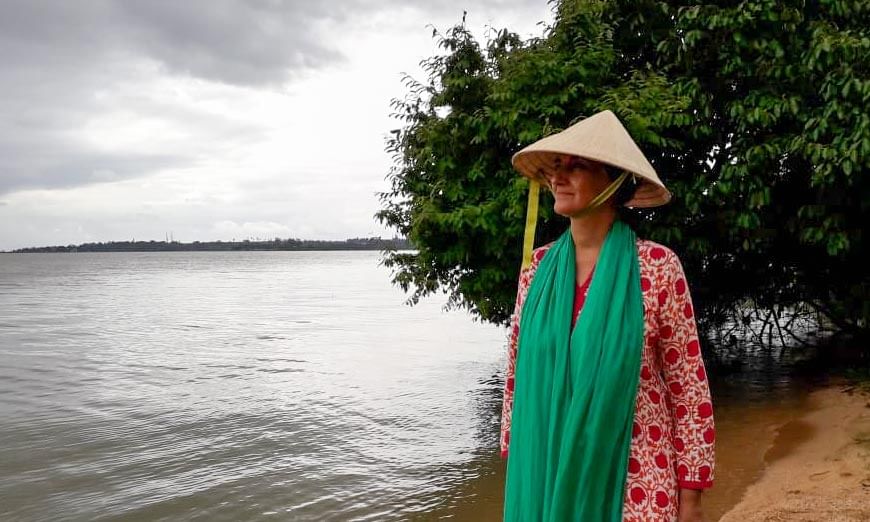 7:00am - Drizzling morning clouds make way for the sun to participate in the Guru Pooja, invoking the enlightened ones to bless the endeavor of making Cauvery flow again. Participants then begin their morning yoga practices on the campsite at Krishnasagar.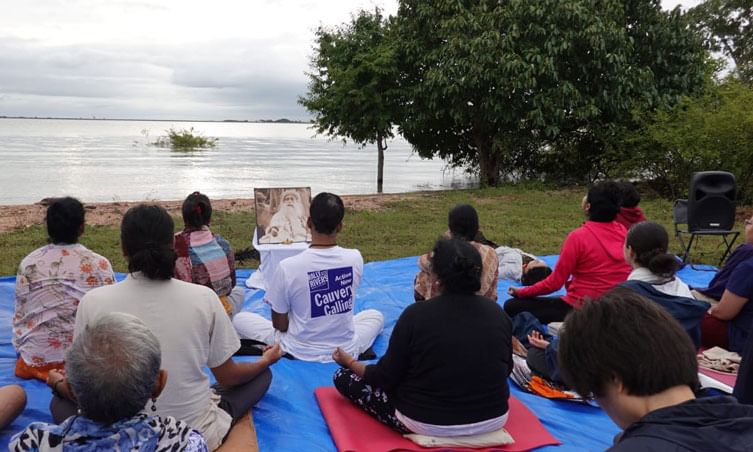 As we wait for new updates to flow in from the ground teams, here are some highlights from yesterday.
Day 2 of #CauveryCalling. Jungle Safari, passionate riders and the wonderful people of Hunsur made it very special. -Sg #FREEINDIAOfWaterCrisis #CauveryDiaries @vishvamukhi @raginidwivedi24 #HVishwanath https://t.co/ojVKY8no2J pic.twitter.com/JnF7d0vxet

— Sadhguru (@SadhguruJV) September 4, 2019
Thank you for your kind appreciation @SadhguruJV ji. Will certainly not miss the call of Cauvery. Waiting to be summoned. Please tell me when and where. I can't wait! #CauveryCalling https://t.co/wwrOLfOr19

— Mohit Chauhan (@_MohitChauhan) September 4, 2019