"Education need not only be a tool for survival but for enhancing perception.
The children must blossom and flower into great human beings."
Isha Vidhya, a not-for-profit education initiative, works for the economic and social empowerment of rural children in the villages across the southern states of Tamil Nadu and Andhra Pradesh, India. Through this effort, the foundation is committed to raising the level of education and literacy in rural India and to helping disadvantaged children realize their full potential.
Isha Vidhya currently operates 9 schools (8 in Tamil Nadu and 1 in Andhra Pradesh) with 5200 students of whom 56% are on scholarship. The rest of the students pay a nominal fee. Each school will support 1100 students when completed.
Sadhguru's intention and goal is to start at least one English-medium school in each of the 32 districts in Tamil Nadu and through them, intervene in the surrounding government schools to raise the quality of education there as well.
The Isha Vidhya schools follow a carefully planned methodology designed to educate and nurture the wellbeing of rural children on all levels – academically, physically and mentally. The approach has been specially designed to compensate for the absence of an English-speaking environment and the shortage of qualified teachers, creating a scalable model for delivering quality education.
Key features of this methodology include:
English-medium instruction, emphasizing language acquisition at a young age.
Multiple-sensory learning methods that take education beyond recitation and memorization
Innovative, state-of-the-art computer-assisted learning programs with a computer-to-student ratio of 1 to 5
Extensive libraries in print, audio, video and computer materials to enhance the learning process
Recognition and celebration of the identity, culture and tradition of the rural communities
Alternative learning approaches ranging from computer-based lessons to organic farming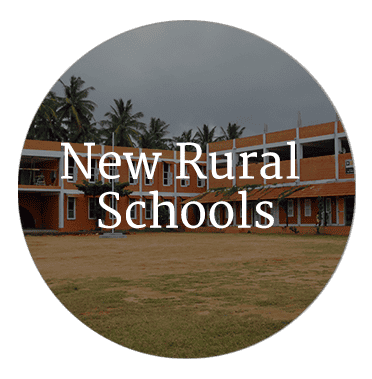 8 in Tamil Nadu in districts of Coimbatore, Erode, Salem, Cuddalore, Villupuram, Tuticorin, Nagarkoil & Dharmapuri, 1 in AP in Chittoor Dt.
Many of the students are first- generation school-goers with 58% supported by full tuition scholarships and the rest pay a subsidised fee.
Isha Vidhya actively promotes education of female children by visiting villages, counselling parents and providing facilities for girls.
Labs, digital classrooms and playgrounds
Extensive audio, video and computer material for English education
Attention to sports, arts, the environment, health and yoga
Balanced meals provided with proteins fortified with micro-nutrients
"This school is very, very good. It is different from other schools. In other schools,
if you tell one thing wrong, they will beat you. Here it is not like that. I like school because the teachers are not beating or scolding us. They are teaching nicely. Here they are introducing all the new subjects. For the first term, they had a special class to help the students who came from Tamil-medium schools. Now the classes are just in English!"
Class II students, Isha Vidhya School, Kurandi
"In his previous school, he studied out of compulsion, but now he learns with interest and joy. He always likes to take part in all extracurricular activities. Due to my work pressure, we could not support him but now in Isha Vidhya, he takes part in all activities without my help. And, he takes care of me too"
"The computer facilities provided to our children, even at the L.K.G. level, are on par with the engineering colleges. I have no words to express my gratitude to Sadhguru for this boon to our villages. The children have a very good opportunity to develop their talents in various fields. They are always jumping with joy! I also feel very happy to be amidst them. I am blessed to be a small part of this learning process happening in the fresh, evergreen environment."
Principal at Isha Vidhya School, Perumapalayam
"A few days back I got this wonderful mail from Isha Vidhya. I was so thrilled to see the children's faces, their interests and the report card. I can't wait to hug them and it's going to take me at least another year to do so. I couldn't stop my tears of joy. Kudos to the Isha Vidhya team for their thoughtfulness. Why do we need to wait for the New Year to make a resolution? Today is THE day, and let's make a difference in someone's life!"
(Scholarship donor)
"The enthusiasm, respect and love in this school is palpable. Here's to many more of its kind! All the very best on this endeavor."
(Atlanta, Georgia, USA)
Government School Adoption Program
"Close to 10 million children study in the government schools of Tamil Nadu. Right now, the situation is not so palatable, but we can change that. It only takes a small amount of intervention to get them inspired, educated, and skilled. With a little bit of involvement, a lot can be done."
Most children in the country go to government schools. The government has recently taken significant steps to improve education for children –
one of which is to partner with voluntary agencies to improve the quality of education they provide.
Having made pioneering advances in rural education through Isha Vidhya, Isha Education has taken the next step in adopting 55 schools in the districts of Coimbatore, Dharmapuri, Salem, Viluppuram and Kanchipuram in the state of Tamil Nadu. This will improve the quality of education in these schools and benefit approximately 45000 + students.