Hands of Grace – Manipuri Black Stone Pottery
In this week's edition of Hands of Grace, we take a look at Black Manipuri Stoneware, a beautiful, contemporary-looking form of pottery from the village of Longpi in Manipur.
Hands of Grace, a handicrafts fair, is being organized by Isha Foundation during Navratri, from 9th to 13th October at the Isha Yoga Center. 50 stalls will showcase thousands of exquisite items including furniture, interior décor, garments, organic bodycare products, stone and metal crafts, accessories and gift items, offering the gamut of India's arts and crafts tradition. Hands of Grace is an endeavor of Isha Foundation that seeks to rejuvenate India's traditional arts and crafts industry and establish a lasting legacy for future generations. It is a part of Isha's larger initiative to revive India's cultural ethos.
Through this 4-week series on the Isha Blog, we hope to showcase a few of the varied handicraft forms and craftspersons who will be a part of Hands of Grace. Today, we focus on the art of Manipuri Black Stone Pottery.
Craft: Manipuri Black Stone Pottery
Artisan: Presley Ngasainao
Village: Longpi (Loree), Ukhrul District, Manipur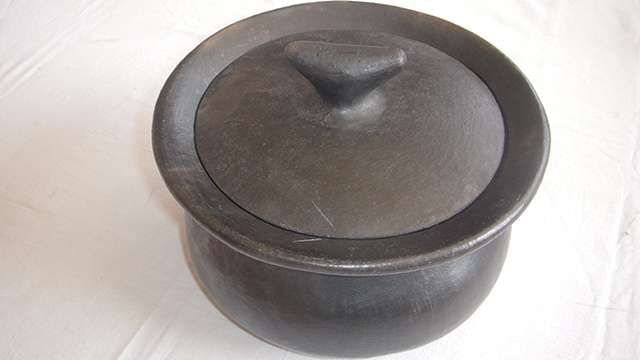 Get weekly updates on the latest blogs via newsletters right in your mailbox.
Presley belongs to the Tangkhul Naga tribe of the village of Longpi (or Loree) in Manipur. Longpi is well-known for its age-old stone pottery art – Longpi Hamlei. Presley is special, because she and 16 other women of the village together formed a "Loree Hamlei" Village Pottery Collective seven years ago that makes and markets this form of pottery. Longpi Hamlei cookware has gained popularity all over India and is being supplied to niche craft stores across the country and even abroad.
The raw materials used are weathered rock and serpentine rock, which according to locals, are available at Longpi alone. The two rocks are crushed to a powder and mixed with water in a ratio of 5:3 to form a clay-like consistency. The dull-brown mixture is kneaded the entire day and flattened on a wooden board for the initial slab work. Uniquely, Longpi pots are not crafted on a potter's wheel. Every item is shaped by hand with the help of molds and tools. Once the shaped clay has dried and is hard enough, it is taken to an open bonfire and heated for 5 to 7 hours at temperatures over 1200 degrees centigrade. The pottery is taken out when still hot and scrubbed with a local leaf known as the machee, giving it a smooth finish and nice shine. The final products are gray-black cooking pots and kettles, charming bowls, and mugs and trays, frequently accompanied with a lacing of fine cane at the handles and knobs. They have a distinctly earthy, yet contemporary appearance.
Almost every family in Longpi knows how to make black stone pottery, an art that is unique to this village. Whether they sell it or not, they do make the pots for their own use. Presley herself learnt the craft of Longpi Hamlei from her grandfather; she has seen it made by her grandparents since she was a little girl. It is believed that large-sized black stone pots were the main pots used among the Tangkhuls before aluminum pots were invented. This pottery was also referred to as Royal Pottery at one time, since only the rich and noble families of Manipur could afford them.
Longpi Hamlei pots and pans can be used for direct cooking over gas stoves or firewood, and are microwave-safe as well. Although several of these pottery items are decorative in design, they are conceived for utility-cooking and prepared with a basic hardiness. Particularly, these pots are good for simmering and slow cooking for hours over a low flame, homogenizing and condensing meat and lentils. The contents of the pot continue to sizzle for a long time after it is taken off the heat, ensuring that the food continues to remain hot. The raw materials used in the pottery are completely natural and no chemicals are used, ensuring that food prepared in them does not have any adverse health effects.