Re-establishing the Ancient Ardhanarishvara Temple in Chennai
A group of people got together and with Sadhguru's guidance, renovated and re-established an ancient Ardhanarishvara temple in Chennai over a period of three years.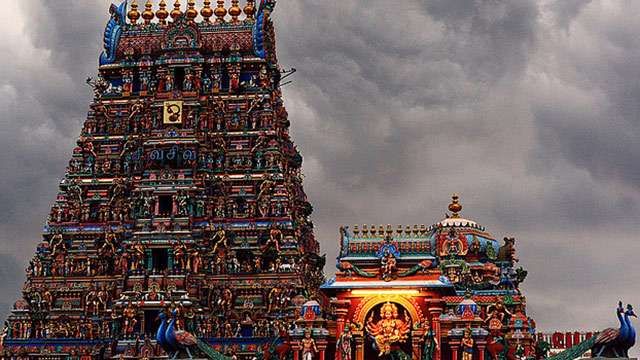 The city of Chennai is a bustling metropolis of several million people and a center of trade and industry. But its modernity is rooted in a fascinating history rich in temples and spaces of tremendous energy. Among the flyovers and multi-storied buildings are several ancient temples – many over a thousand years old. The Kapaleeshwarar temple, the Kalikambal temple and the Marundeeswarar temple are some well-known examples. But there are also many relatively unknown temples in back-alleys and bylanes with equally illustrious histories. One such is the Ardhanarishvara temple in Egmore.
Today, the temple is sandwiched between apartment blocks with nothing left but the garba griha (sanctum sanctorum), which occupies a space of barely a few square meters. But the temple in its original glory was a very different structure. The story as we know it begins about 200 years ago when a large linga was found under the bed of a dry water tank along with a Vishnu and Vinayaka idol. The linga was identified as an Ardhanarishvara linga – one half masculine and the other feminine. The age of the linga was unknown, but it was thought to have been the main deity of a temple whose praises were sung by no less than the Nayanmar Appar over a thousand years ago.
In those days, Chennai's Cooum River, today a water body polluted by industrial effluents and sewage, was known as the Ksheera Nadhi or River of Milk. In the area of the temple it was called Uttaravahini because its course ran towards the north. The linga, after being dug out, was installed in a specially constructed temple a few acres in extent, with a temple pond and several smaller associated shrines in its premises. Times have changed though. Unbridled development has taken its toll. Encroachment and real estate have gobbled up the original temple, leaving the room-sized remnant seen today. What's more, construction of the apartment blocks resulted in a rise in the level of adjoining areas, and the temple was left as the lowest point in the neighborhood. Every time it rained, water flowed into the sanctum sanctorum and flooded it.
Similar stories are played out at many ancient temples, not just in Chennai, but across the length and breadth of the country. But at least this particular tale has a light at the end of the tunnel. Thanks to a few dedicated individuals who made the effort, the temple has regained some semblance of its former splendor. Narayanan, Satish and Uma were at the forefront of the Saptharishinathar Trust, formed to renovate the temple. With inputs from Sadhguru, they reinstalled the linga and renovated the temple over a period of three years, culminating in the kumbabhishekam on July 15, 2013. During an interview, Narayanan spoke about their unrelenting work in re-establishing this ancient temple and the constant presence and grace of Sadhguru that attended every aspect of their work.    
"The whole thing began in 2006 during the Himalayan Dhyan Yatra. It was there that I came in touch with Satish and Uma akka. I have always had the desire to see Ardhanarishvara – Shiva and Shakti together. When we went to Guptkashi, I saw such a linga next to the main linga consecrated by Agastya and couldn't stop thinking about Ardhanarishvara. Even a year later at Samyama in 2007, whenever I meditated I would see Ardhanarishvara.
In May 2008 I found out that right across the street from my office, there was an Ardhanarishvara temple which was being handed over to the government by its caretakers because they were unable to manage it anymore. I wanted to do the kumbabhishekam (re-energization process) for the temple but there were a lot of government approvals required. I met a lot of authorities but nothing really moved. Sometime later when I was volunteering in a Shambhavi class, exactly when the initiation was to happen I received a phone call saying the permission had been approved.
Get weekly updates on the latest blogs via newsletters right in your mailbox.
When I visited the temple and found out about the flooding and other problems, many people told me that I would have to take the linga out of the garba griha. But that isn't something just anyone can do because there are so many things involved in it. So we sent some photos of the temple asking for Sadhguru's guidance. Soon, we got a call from the ashram saying that Sadhguru had seen the photos and asking us to take a video of the place – not just the temple but the whole area around it. We sent the video and after Sadhguru saw it we were informed that the temple had originally been much larger and that we had to remove and reinstall the linga. Upto that point we did not know anything about the temple's history but when we checked the taluk records, we found that a lot of the temple land had been used for real estate construction.
In 2010, we did the palalayam – a process to transfer energies before making any changes – and planned to lift out the linga. We calculated that the linga was 6 tons in weight and because we didn't really know anything about these things we thought a 12-ton crane would do. But when we ordered for a crane, a 24-ton crane turned up. The crane operator just said, "Well anyway we have come so you pay us at the 12-ton rate." It was only when we began the lifting operation that we found out that to lift the linga, the crane boom would have to be oriented in such a way that it could only operate at less than 50% capacity. If we had gotten only a 12-ton crane, the load would have been too much and the linga may have fallen. We realized that Sadhguru's grace was there with us and we proceeded with the work.
We then wanted to renovate the temple. When we looked into this we found it would take at least 50 lakh (5 million) rupees but our budget was only 5 to 10 lakh (500,000 to 1 million) rupees at most. We didn't know where we would get the money but we went ahead anyway. Everything just started happening on its own. If I needed three lorry loads of sand, I would get a call in the evening from someone who was looking to sell three loads of sand. Things like this kept happening and I just kept executing the process.
Whenever there was a problem, I would do three things. I would go to the Tiruchengode Ardhanarishvara temple, I would go to Dhyanalinga, and I would go to the Mukteshwar temple in Sambalpur. The Mukteshwar temple really cleared many hurdles for me. Besides that, before starting anything I would always do Guru Pooja which made a big difference.
At one point, we had to create a small space for Shakti, but the space where it was to be done was taken up by a next-door apartment. Some of our trust members suggested that we adjust in the area available to us but I wouldn't accept. I did not want to construct against agama (the science of temple architecture). So I spoke to some people at the taluk office on May 7, 2012. On the very same day, the Chief Minister also spoke about the government taking a serious view on temple encroachment, and after some effort, we were given space for Shakti.
After three years of work, in April 2013, we sent a mail to Sadhguru that we had finished it the way he had prescribed and wanted his blessings. I knew I would receive a reply on my birthday and exactly on June 6, my birthday, we received a call from the ashram that since Sadhguru was busy he could not come personally, but he had asked the brahmacharies to be a part of the process and chant. During the kumbabhishekam, many people who attended the process said that when the brahmacharies were chanting, the whole atmosphere of the place changed. The reverberations were so obvious and I felt Sadhguru's presence.
Even during the kumbabhishekam, everything happened in such an orderly manner even though I didn't supervise much. We prepared a lot of annadanam (offering of food to people) and thought it would go waste, but people kept coming in unexpectedly and at the end of the function, the amount of food was exactly enough. All of this reminded me of a Sadhguru quote I received a few days ago. Sadhguru said, "When you hold the wellbeing of others above your own, that is devotion."
Editor's Note: For more info or to donate towards the upkeep of the temple, visit http://saptharishinathartrust.com
Editor's Note: Download Sadhguru's ebook, Shiva - Ultimate Outlaw, along with Vairagya, an album of sacred chants (also available as an Android App). They're free!