Sounds of Isha Perform in Bihar!
Sounds of Isha was invited to play at the prestigious Rajgir Mahotsav, a 3-day music festival in Rajgir, Bihar. One of the team shares their experience.
Rajgir in the Indian state of Bihar is historically associated with both Gautama the Buddha and Mahavira. It was also the capital of some of India's early empires. For a few years now, the government of Bihar has been organizing the Rajgir Mahotsav, a 3-day music festival here. The 2013 edition, held in December, saw performances from sufi and folk singers Kailash Kher, Kavita Seth and quite a few other well-known groups. Of course, no music festival would be quite the same without a touch of Isha, in this case provided by a 10-member Sounds of Isha team comprising of ashram stalwarts and meditators from around the country – a fusion drummer from Chennai, a tabla player from Delhi, and a folk violinist from Jaipur.  Read on to hear about their experience.
When we first heard that the government of Bihar had invited Sounds of Isha to perform at the Rajgir Mahotsav, an annual three-day music and cultural festival, we knew this would be the first of its kind for Sounds of Isha. Without the familiar support of any local meditators or the physical presence of Sadhguru, we would go as ambassadors of Isha to the northern state.
For this concert, we decided to try as much as possible to recreate the detail of the songs as they are on the CDs while also keeping room for extra additions and embellishments. Doing this required elaborate planning, several extra musicians, and a little extra technological support.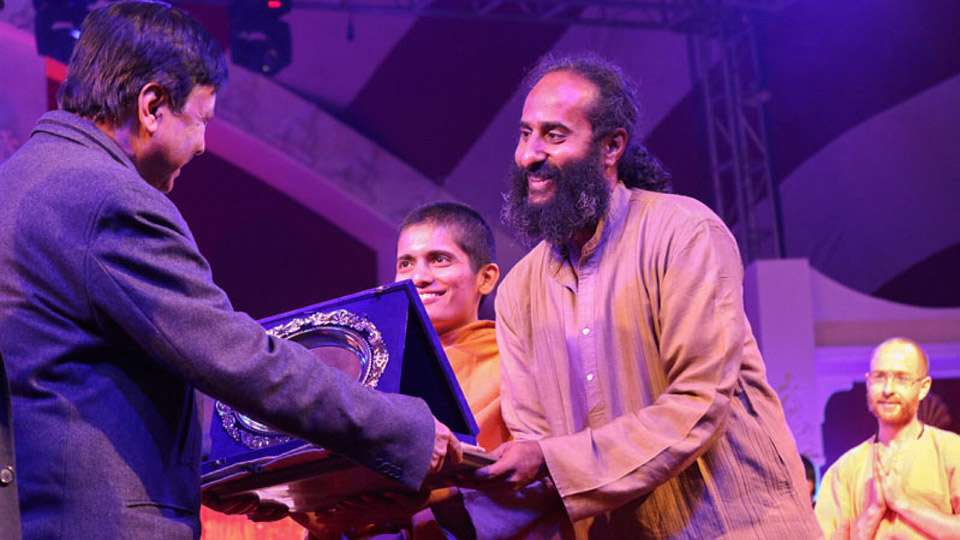 Always guilty of drawing thin the resources of the Yoga Center amidst the ongoing hectic pace of activity, we needed to involve outside meditators to accomplish this. We summoned a fusion drummer from Chennai, a tabla player from Delhi, and a folk violinist from Jaipur. Making a team of ten, we now had the hands needed to make the songs the way we wanted. However, we were spread too far apart geographically, and were unable to meet for a rehearsal before the concert. In another SOI first, we used interactive Google Hangout sessions to have online practice sessions, with different groups of people working together on different aspects of each song.
We are always looking to improve our performances and dynamics both on stage and in the studio. Whether it is the song arrangement or choice of instruments, there is always a striving within our team to present the song in a better way each time. Rajgir provided us with an incentive to revamp some of our old songs and bring out each one's full potential.
Being invited to this event in a part of India as yet untouched by Isha, and representing Sadhguru and Isha was a great privilege for us.
Understandably for our large and spread out team, the travel logistics were fairly complicated to say the least, all of us reaching the "Buddha Inn" hotel in Patna at different times on the previous day. We enjoyed dinner together – the first time we had all met together as a team - and had a good night's rest. The next morning, the day of the concert, we met in the hotel banquet hall for the first full rehearsal with the whole group together (at last!) The rehearsal was fun and all the efforts everyone had made in the preceding two weeks really paid off. It was fulfilling to hear the songs we had been playing all these years with a new level of instrumentation and dynamics.
When we were approaching Rajgir after a long three-hour drive from Patna, we started to see the hoardings and posters of the event. The festival grounds were fully packed with people, stalls, carnival rides, and you name it. We came to the dais around two o'clock for sound-check and began arranging our things on the stage, meeting the organizers and the other artists who had also come to perform. The setup was fairly large, maybe around three-fourths the size of our Isha Mahashivratri dais.
The initial get-go was a little hectic, with the other bands also sharing the dais, and there were crisscrossed ideas of band placement and space sharing. Being the opening act for the evening, we were scheduled to start at 5 pm, but certain things were taking longer than expected and a delayed start became inevitable. Surprised that we would be starting late, we then found out that the previous night's show had started two-and-half hours behind schedule. We heard one of the senior government officials (who has done our class) saying, "These are Isha people. For them five o' clock means they will be ready by 4.55." Then we realized why so many people are so impressed by the precise time keeping we maintain at all Isha events, and why Sadhguru gives so much importance to starting on time.
After everything was ready and the inaugural speech was over, they handed over the stage to us. We started with our big drum piece, followed by these songs:
Get weekly updates on the latest blogs via newsletters right in your mailbox.
https://soundcloud.com/soundsofisha/aye-hain-savare
https://soundcloud.com/soundsofisha/buddh-hai
https://soundcloud.com/soundsofisha/salem
https://soundcloud.com/soundsofisha/velliangiri
And the following songs which are yet unreleased:
It was wonderful to see the attentiveness the audience displayed during our performance. We felt they were really listening to the songs, and by their response afterwards we came to know that many were touched and appreciated our different style of music. In between the songs we spoke briefly about the different aspects of Isha, and after we finished the concert, we had the opportunity to meet the Chief Minister of Bihar, Mr. Nitish Kumar. Three of our team went to meet him, and personally presented him with one of Sadhguru's books and an Isha Kriya CD. Being invited to this event in a part of India as yet untouched by Isha, and representing Sadhguru and Isha was a great privilege for us. We hope whoever heard our performance enjoyed the music, but more significantly, we hope that it has provided a doorway for new people to make the connection with Isha and the possibility offered by Sadhguru.
Editor's Note: Visit Sounds of Isha's homepage to learn more about the creative cacophony that they produce!