Why Yaksha?
In an endeavor to preserve and promote the uniqueness, purity and diversity of the country's performing arts, Isha Foundation annually hosts Yaksha, this time a 3-day feast of music and dance. This year's Yaksha festival will begin on March 4th and culminate on March 6th.
Yaksha is Isha's very own 3 day long music and dance festival, mainly dedicated to preserving and promoting the uniqueness and diversity of India's Classical Arts. This year, the colorful feast is all set to begin on the 20th of February; Whether you have already made plans to be part of this year's audience, or are contemplating watching the live webstream, you do need to know – Why Yaksha?
Presented below are Sadhguru's words, through which we hope to give you a glimpse of his perspective on music, and the reasons behind his offering to us the very spectacular festival of Yaksha – a celebration of sound.
On his Love for Indian Classical Music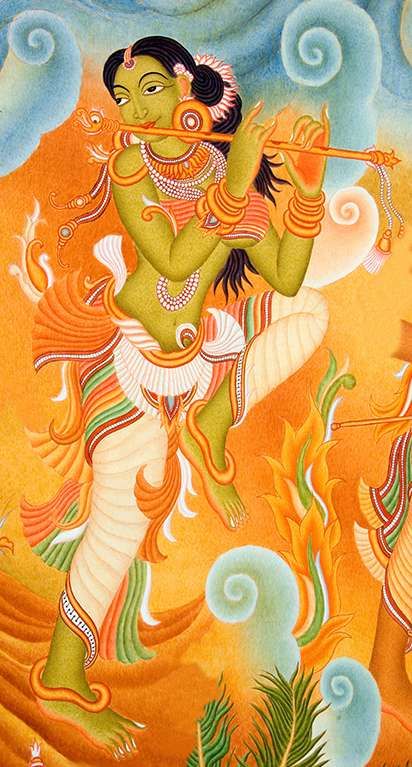 Sadhguru: When you're young, naturally your body is dominant, you know. So when I was young, though my parents were steeped in classical music, I completely hated it, I couldn't stand it. I was into western music, okay? Not once did I bother to listen to classical. As soon as they put it on I would leave the room.
But the moment I started meditating, suddenly, classical music just became music for me. The same music that I could not stand, the moment I became quiet, I immediately wanted to listen to it. When I became silent within myself, my whole perspective of sound changed. Suddenly, Indian classical music became so important for me that wherever it was playing, almost like a beggar I went there to listen. All other music just fell apart in my mind. With classical music, the connection between the right utterances of sound and meditation is so… right there.
On Becoming One with Sound
Sadhguru: So when you listen, you don't just listen to a piece of music, you become that. If you become that, a drum is not a drum, a string is not a string, a voice is not just a voice, because what you call sound, or a certain arrangement of sounds, is like the blue print of the existence.
Get weekly updates on the latest blogs via newsletters right in your mailbox.
The rhythm of the body is just not in the beat of the heart. Every fiber in the body has its own tune attached to it.  So don't simply listen to, and appreciate music.  In the process of the manifestation of creation, sound and form are neighbors. They told you, you must love thy neighbor. Love means to somehow mingle with something. You need to mingle with the sound, not listen to the sound, because what is sound and what is your form are not two different things.
On Sound as a Means to Tranquility
Sadhguru: I want you to just try this - you need not be a musician − just shout with absolute intensity, with everything in you. You will see that the moment you stop, it's like there's a certain sense of stillness in you, only for a moment, and then it goes away. But if you simply scream, you will see, poof, everything within you just gets aligned.
So the purpose of the classical arts is to bring this stillness into a human being. Absolute stillness! Without it there is no art.  Without stillness true art cannot happen.
On Taking the Arts beyond Entertainment
Sadhguru: Probably in this world more human beings come to tears of joy and intensity with music than with any other tool. The multiple forms of existence and the multiple sounds that the human voice can generate, if you get the right equation, you bypass creation and touch the source of creation. So music, as a tool for one's sadhana towards touching the Divine, has been very powerful. Consciously or unconsciously it has been used in so many different ways. But most of the time it gets reduced to a form of entertainment, not as a key to the creation. After all, a human being involves himself in any activity, because somewhere there is a hope that that activity is going to render him to a larger slice of life.
If you listen to a certain sound, you become loving, you listen to a certain sound and become joyful, and listen to a certain sound and become aggressive. This is happening, isn't it?  Sounds are creating not just emotions, they also are changing the very chemistry of your system. So the kind of sounds you're exposed to and the kind you are generating do various things to you. Classical Indian music has, to a mathematical precision, recognized which sound can do what. There are exponents of music who know it by experience.
On Yaksha, Artists, and Cultivating an Audience
Sadhguru: Once a year, we have this musical festival, Yaksha.  We have already invited top of the line musicians from across the country. Once you go through the top line, who belonged to the previous generation, if you look down there are not many of profoundness. Most have gone into the commercial arts. Not many are willing to invest their life and time into developing a certain art form.
At the same time, the existing classical musicians, dancers and other artists should understand that they must make the music and art forms people-friendly. This is very important. If you go to any of the katcheris (concerts) that happen in the country, the musicians simply come and sit, "Bo nanana tarananana," they sing and they go away. That's not the way.
You have to cultivate the people into the art. No art can live without an audience, isn't it? It is very important that you show some love for the people who have come to listen to you. You talk to them, you explain to them what you're going to sing, you involve them and then you sing. It is not about yourself, isn't it? So it is very important that the artists also don't sit on a mountain top and try to sing to people. They have to come down to the people and sing to them the way they understand, without compromising the art form. It is very much possible, isn't it?
As a part of this, we have this music festival once a year. Top level musicians will come and sing for one-and-a-half hours, and we are also creating a situation where budding artists can come and sing for about 20 minutes.
We invite you to be a part of Yaksha 2016 from March 4-6. Entry is free and all are welcome! For more information please visit: yaksha-2016.