IshaKailash.com Launched
Kailash Manasarovar Sojourn 2011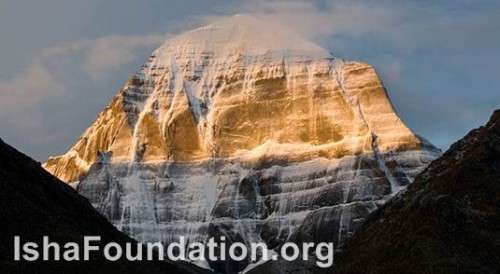 The Kailash Manasarovar Sojourn is a rare opportunity to journey to sacred Mount Kailash and Lake Manasarovar with Sadhguru's grace and wisdom guiding every step.
Mount Kailash, regarded as the spiritual center of the universe, is revered by Hindus, Buddhists, Jains and Bonpos alike. For Hindus, Lord Shiva resides on top of this wondrous peak in an eternal state of meditation, creating the sustaining force that holds the universe together. According to Tibetan tradition, whenever a certain number of realized beings gather in this location, Gautama Buddha physically manifests himself.
Twenty kilometers away from Kailash, unfolds Manasarovar, the most beautiful and sacred lake in the world. Situated at a height of 15,015 ft, it is the highest source of fresh water in the world. This blue and emerald green lake has been attributed with healing properties. Moreover, ever since Sadhguru visited Kailash and Manasarovar, many of their mystical dimensions have been revealed.
Isha also makes it possible to take this unforgettable journey back home with a gift CD of incredible photos and video.
This 16-day Yatra is available in 10 batches starting from July 8,10,12,14,16 and August 2,4,7,9 and 11.
Dhyan Yatra 2011
Dhyan Yatra is an excellent opportunity to soak in the sacred energies of the enchanting and majestic Himalayas with the grace and guidance of Sadhguru. It comprises meditations, treks and camping in some of the most idyllic yet powerful places in the Garhwal region of the Indian Himalayas.
Get weekly updates on the latest blogs via newsletters right in your mailbox.
Participants start at Hardwar – the gateway to the Himalayas, visiting the sacred sites of Gaumukh, Ganga's glacier origin; Kedarnath where one of the twelve Jyotirlingas is located; Guptkashi, famous for the ancient Vishwanath Temple; Badrinath, a significant site for Vishnu devotees; and Rishikesh, literally a town of saints and sages.
This 15-day Yatra is available in 4 batches, 2 each from June 17th to July 1st and September 17th to October 1st.
Isha's newly launched Yatra website
Find out more about these two wonderful pilgrimages, check out breathtaking photos, watch exciting videos and read the sharings of participants from previous yatras and register online on Isha's newly launched Yatra website – www.ishakailash.com
For Registration and further information:
Tamil Nadu: + 91 94 88 111 333; Rest of India: + 91 94 88 111 555; Office: + 91 94 88 111 777
Email: kailash.india@ishakailash.com, himalayas.india@ishakailash.com;
Website: www.ishakailash.com