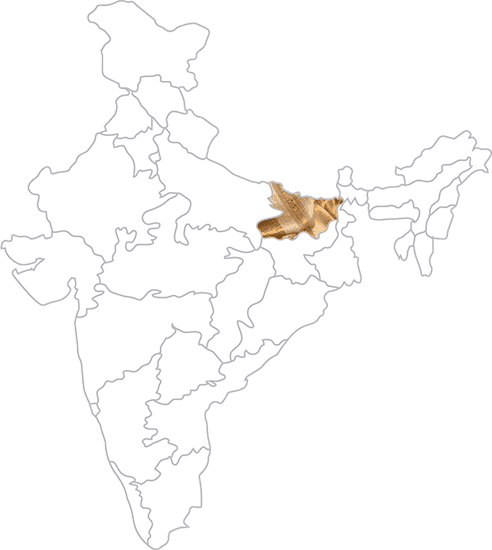 Since its discovery in 2,500 BC, silk has had an adventurous course of evolution. Traversing through the silk route for the past 4,000 years, silk stands proudly today proclaiming herself to be the queen of textiles. And the crown jewel of this queen is the historic town of Bhagalpur, also known as the silk city.
The silk industry here is hundreds of years old. We can see ancient Hindu and Buddhist texts singing praises of this lustrous fiber.
Silk has been the mainstay of the economy with hundreds of families associated with it for generations. This premium product developed great international acclaim too thus increasing its demand in overseas markets manyfold. Many European traders dealing with Bhagalpur Silk fetched high profits by selling it there. The fabric was treasured, and with the trade having been established well before the Silk route was created it became one of the oldest money generating businesses for India.
Matka silk or Mulberry silk is created with short silk fibers that are hand spun without separating the gum. This technique allowed the final product to have an uneven, rough texture resembling tweed. The word Matka literally means "rough handloom silk fabric". The irregularities in it are cherished as its unique feature. Matka silk is a thicker type of fabric with more body, making it ideal for stitching suits and jackets. By adjusting the amount of yarn, Matka silk can be used in various thicknesses and textures. Besides its rich and regal appearance, it also sews very easily making it a designer's favourite.
This versatility sees Matka silk being used in a variety of furnishing finishes also. Curtains, divan seats, and cushions are a few examples where this silk is used to add opulence. The material is so malleable that even clothes of teddy bears are made using it!
In the early days, it was understood that the rich fabric was fit to be used only by the king, his royal counterparts and the esteemed guests and dignitaries of the state. But its popularity could not be contained and slowly and steadily, it became a mass favourite for people in the middle and lower strata too. Today the silk trade market is on the higher side of 100 crores with 50% being domestic and the remaining 50% comprising of international trade. Silk fabric is exported to countries like Europe, Western Asia, USA and Japan. The industry peaked in the year 2007 with sales touching 350 crores. However this wasn't a trend that would last as in 2009 itself the figure dropped to 200 crores.
This business is also plagued with many issues that commonly affect any age old trade. Various problems like power shortages, lack of credit and increasing competition are eroding the market. Bhagalpur is slowly losing its indigenous market to Bangalore and Ahmedabad. The city faces chronic power cuts and gets only a measly two hours of electric supply a day, a highly detrimental fact for any industry. The city has around 1 00,000 people employed to separate silk thread from cocoons and for spinning the yarn. Due to shortage of collateral, the weavers aren't able to get bank loans and opt for high interest loans locally that eat up their earnings as the entire market runs on credit. This causes an increasingly vicious cycle that crushes the local traders into further ruin. It is a truly ironic and sad fact that the very artisans who weave and create cloth of ultimate luxury for the world are the ones that live in perpetual despair! Most of the local workers live below the poverty line with little or no hope for development. The silk industry is fighting to retain its foothold. Many skilled workers have shifted occupations due to the meagre earnings and become vegetable vendors or daily wage labourers.
All these issues can be easily sorted out if development and upliftment is done on a grass root level. The final silk does not need any assistance as it is already world famous, however the actual hands that create this celebrated silk must be appreciated and given their rightful due otherwise very soon they will be lost in the drudgery of everyday life.