Khushi, The 11-year old Yoga Teacher from Chandigarh
Meet 11-year-old Khushi, who is taking Chandigarh by storm with her upa-yoga classes.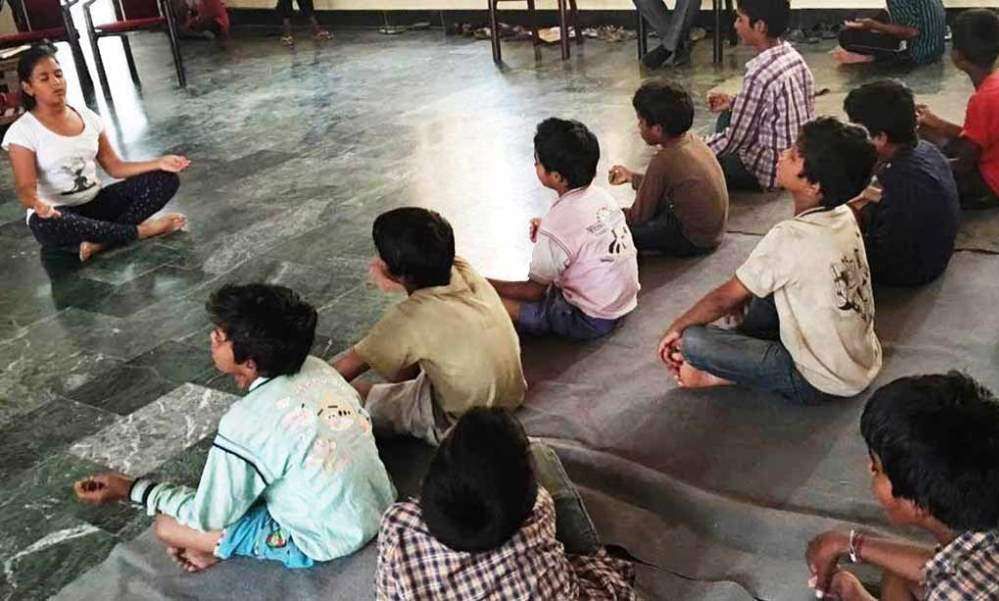 ఖుషీ – చండీగడ్ నుండి పదకొండేళ్ల యోగా టీచర్
11-year-old Khushi from Chandigarh is a busy girl these days. While most of her schoolmates are busy on a holiday or playing video games, Khushi is passionately teaching upa-yoga, as part of Isha Foundation's initiative of offering the science of yoga to all.
Khushi shares:
"I used to see my mother practicing yoga, which she had learned from Isha Foundation. I used to ask her what she gets by doing this. Mom used to tell me that she derived peace, calm and happiness by practicing yoga. She suggested that I undertake a upa-yoga workshop, which happened in April. I attended the workshop and learned not only the practices but was also trained to teach them. I had two doubts, which were cleared by the teachers, and since then there has been no looking back.
I recently conducted a session for 80 students in Snehalaya. I offered seven different exercises for health, success, peace, balance etc. Many participants were surprised to see me, being just 11 years old, and offering them these powerful yoga practices. But they really enjoyed it once the sessions began. Nada Yoga and Disha Chalan (Directional Movement) were most people's favorite practices.
Get weekly updates on the latest blogs via newsletters right in your mailbox.
I shall now be taking a upa-yoga class every Monday", she shares proudly as she gets ready to do her own practices.
What is Upa-Yoga?
Sadhguru: Something that large segments of the world – even those who are involved in yoga – are not aware of is that there is a possibility of doing what is called Upa-Yoga. This is something that gives you physical and psychological benefits but doesn't touch the spiritual dimension.
Upa-Yoga does not demand that level of commitment nor does it cause any problem if you do it improperly because you can't do it improperly – it's very simple!
Yoga itself is not an exercise form. It is a much subtler dimension. It is a technology through which a dimension beyond the physical becomes a living reality within you. Yoga is that which renders you to a higher possibility in your life. If something has the power to transform, it has the power to cause damage if mishandled. So yoga needs to be handled in an extremely committed atmosphere. But Upa-Yoga does not demand that level of commitment nor does it cause any problem if you do it improperly because you can't do it improperly – it's very simple!
In Indian vernacular languages, the word upayoga, has come to mean something useful, but actually it means sub-yoga or pre-yoga. This can be learnt in five minutes. You can practice it anywhere and the benefits are quite immense – you will be physically better and mentally limbered up. Plus, you don't need any equipment.
Benefits of Upa-Yoga
Exercises muscles and lubricates joints, stimulating the system for action
Improves neuronal regeneration, memory and sharpness
Reduces sleep and activates the spine
Brings a deep sense of peacefulness, infusing a new sense of energy and wellbeing
Editor's Note: Check out the "5-minute Yoga Tools for Transformation" – simple upa-yoga practices for joy, peace, wellbeing, success and more. You can also download the app, or join or host a workshop on International Yoga Day, or train to become a facilitator for the practices.