How Isha Agro Movement Transformed a Farm
Isha Agro Movement pioneers a turn towards natural organic farming. Valluvan, one of IAM's beneficiaries, shares the story of his own lush and profitable, organic coconut farm.
One of Isha Agro Movement's (IAM) success stories is Valluvan, who is the owner of Pollachi farm, which a leading agricultural journalist once called the best coconut farm he has ever seen. What's more, Pollachi farm is all organic. An Isha volunteer since 2001, Valluvan is a civil engineer by profession and has no background in farming.  
"Everywhere, farm land was selling at slashed rates. Lack of rainfall, lack of yields, pest attacks, ill crops, and crop failure forced out farmers who were not fetching reasonable prices for their produce," Valluvan says. He had heard Sadhguru speak many times on the hardships of farmers and the impact it has on society. 
"I was curious how to make farming feasible for the farmer and still give the consumer healthy, wholesome food. It seemed impossible to make both ends meet. I pursued it anyway despite my doubts," he says. In his quest to find the solution, he invested in a farm in Vettaikaranpudur Village near Anaimalai Hills. 
The Isha Agro movement launched in tandem, and soon enough Valluvan was welcoming Isha volunteers to his new farm. "The Isha volunteers visited my farm and the solutions they gave weren't appealing to me at the beginning. They seemed illogical," he said. "In 2009, they started their work on the ground, and I resolved to follow them blindly since I knew nothing about farming." 
"Initially, it was difficult to even spot changes in the farm. Then there was an extreme drought, and afterwards it rained, and that's exactly when I observed the difference in the soil. Only then I learned to look at the ground and not the produce. The soil and vegetation gradually began to change. Now the farm is wonderful and the yield is abundant. The growth is unbelievable. The soil has transformed, all without chemicals. 
Get weekly updates on the latest blogs via newsletters right in your mailbox.
The farm is becoming self-sufficient as the years progress and it's reaching a point that one day the gates can be closed and the farm will carry on by itself. The only jobs would be to harvest and sell the produce. Even today the revenue is used to meet the expenditures of the farm and every year I'm able to take 11 lakhs from the profit and pay my son's annual college fees."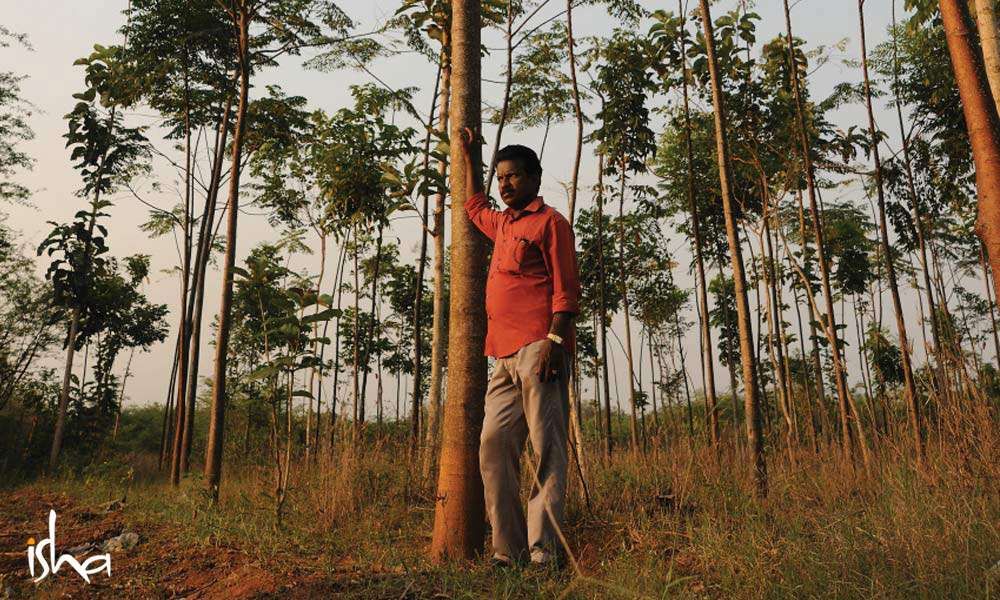 Isha Agro Movement
Isha Agro Movement is a farmers' movement that proposes an alternative self-reliant system of agriculture with a key focus on ensuring superior economic returns for farmers as compared to chemical farming methods. IAM aims to reach 800,000 to 1 million farmers in the next five years and make this self-reliant method of farming a mainstream phenomenon. 
Natural farming is the need of the hour, one which is sustainable, protects the richness of soil and minimizes water usage. Negative effects of conventional chemical farming are now widely acknowledged - its unsustainability from a farmer's perspective, as well as its adverse health impact on end-consumers. When farmers make the shift to tree-based, organic agriculture, their incomes increase thanks to higher value produce, and their costs reduce due to lower input requirements. 
Isha Agro Movement initiates training programs, which empower farmers to have deeper insight and acquire knowledge on how to switch to natural farming and keep this approach sustainable. They receive the guidance, interaction and support of fellow farmers and experts in the field. One of the programs of the IAM initiative is a 9-day natural farming training program conducted by Padma Shri awardee Shri Subhash Palekar. 
Isha has conducted 73 programs for 5,506 farmers with a focus on paddy, banana, turmeric, sugarcane, coconut, vegetables, as well as programs on input preparation, pest management, livestock management, irrigation practices, value addition, terrace gardens, etc. Several thousand farmers have undergone the training and many have shifted to natural practices. 
Editor's Note: Anukampa offers a bird's-eye view of the extent and reach of our outreach programs encompassing the primary needs of health, education and sustained livelihood among the rural population in Tamil Nadu. Read Anukampa 2018-19.