Bringing Devi to your Home
Traditionally, yantras are certain forms designed and created to receive particular benefits. However, the Linga Bhairavi yantras and miniature Devi temples are very unique and the scope of their benefits are manifold.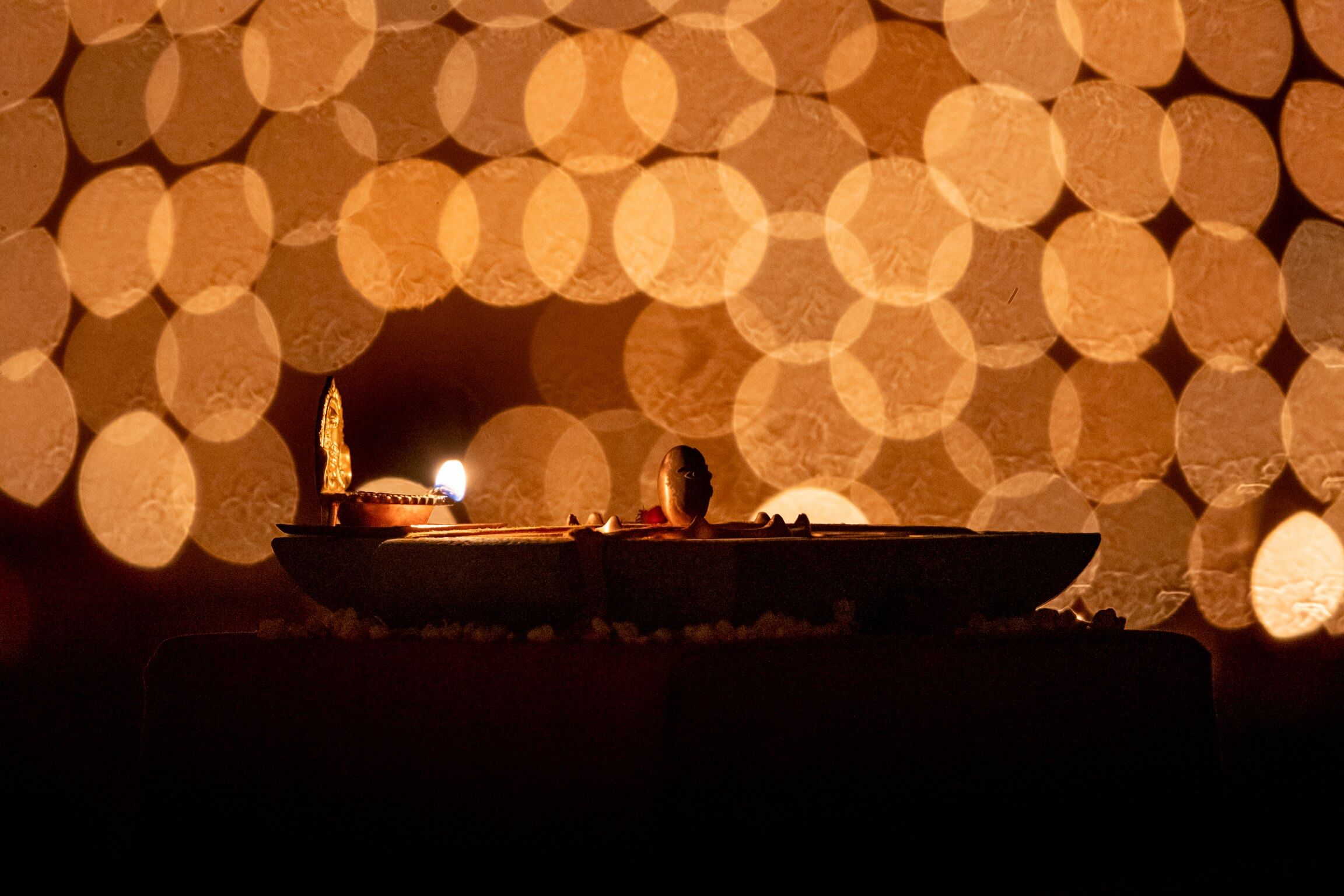 One who earns the Grace of Bhairavi neither has to live in concern or fear of life or death, of poverty, or of failure. All that a human being considers as wellbeing will be his if only he earns the Grace of Bhairavi. 
For those who desire to have the Devi's Presence and Grace in their living and office spaces, Linga Bhairavi yantras and miniature temples are now available. The powerfully consecrated yantras and the miniature Devi temples are live representations of Linga Bhairavi through which one can constantly connect to and benefit from Devi's Grace.
Traditionally, yantras are certain forms designed and created to receive particular benefits. However, the Linga Bhairavi yantras and miniature Devi temples are very unique and the scope of their benefits are manifold.
Linga Bhairavi Yantra
A Linga Bhairavi Yantra in your home allows you to physically come in touch with the Devi. The intimate physical touch between you and the Devi will bring about a profound transformation in your life. The physical touch with the Yantra brings about a change in your energy system in such a way that the Devi's grace will function from within you.
Physical, mental, and spiritual wellbeing, as well as a healthy, successful, and prosperous life will be a natural outcome for oneself & one's family.
Linga Bhairavi Avighna Yantra
The Linga Bhairavi Avighna Yantra is a unique and a powerful energy form, especially and specifically designed and consecrated by Sadhguru to create a situation of physical and material wellbeing in larger spaces, especially business locations, offices, hospitals, or any other commercial, public or private buildings, as well as residential estates of more than 3000 sq. ft.
Avighna means 'Remover of Obstacles.' The powerful energy of the Linga Bhairavi Avighna Yantra is designed to create the necessary atmosphere for your business and life to not only run smoothly but also to evolve to its fullest potential.
Linga Bhairavi Gudi
The Linga Bhairavi Gudi is a temple designed by Sadhguru, allowing devotees to behold and connect with the Devi. For the Gudi, the Devi has taken on the form of a linga with penetrating eyes, a compassionate expression, and an enormous Presence, enveloping the devotee's life with the nurturing embrace of the Mother Goddess.
The Gudi comes in various sizes. From a shrine which can fit into your home or workplace, to a larger shrine suitable for a community: apartment, village, township or city. The Linga Bhairavi Gudi can be seen as a deity to worship, an energy form through which you can cultivate devotion. It doesn't require any particular offering or ritual – one is free to express their bhakthi or devotion to the Devi as they wish. When one brings a Gudi home, it is an opportunity to make devotion your very quality, bringing a different level of intelligence into your life.
Devotion is a different level of intelligence. The world may not understand, but a devotee has the sweetest experience of life, compared to anybody else on this planet. 
Get weekly updates on the latest blogs via newsletters right in your mailbox.
Sharings
Avighna Yantra Sharing
"After the Avighna Yantra has come to us, lots of opportunities have come our way. Whatever I wished for, the Devi kept granting it. Every little thing is happening in our favor."
– Shanthini Suresh, Acupuncture Physician, Erode
"Since Sadhguru blessed us with the Linga Bhairavi Avighna Yantra, unbelievable things have happened in our life. I'm a surgeon. The moment patients arrive at our unit, they are experiencing a tremendous sense of peace and serenity. I've begun to understand what Sadhguru always says about the importance of living and working in a consecrated space."
– Vipulroy Rathod (M.S.), Endoscopic Surgeon, Mumbai
"Since we got the Yantra, we have experienced tremendous wellbeing on all levels: our physical health, emotional stability, spiritual growth as well as material growth. The Yantra works in miraculous ways to enhance your life as you become more and more devoted to the Devi."
– Purnima Rathod, Director, Endoscopy Asia, Mumbai
Bhairavi Yantra
"I've been a Devi devotee since childhood. But now with the Linga Bhairavi Yantra, it feels like she has come here in the form of all three – Durga, Lakshmi, and Saraswati – bestowing power, prosperity, intelligence in my home."
– Saroj Warke, IT Director, Mumbai
"We are doing our sadhana near the Linga Bhairavi Yantra. I can't express this experience in words, but there is a different kind of vibrancy and awareness in the vicinity of this powerful Devi. It is with the Devi's Grace that we can take our sadhana to a higher level."
– Dr. Vishal Warke, Director R&D, Mumbai
"Since Linga Bhairavi has graced my house, always there is an atmosphere of joy and enthusiasm here. When touching Linga Bhairavi, it always seems that some energy is flowing from her to me and it feels so sweet. In her presence, everything is simply happening – naturally, effortlessly. There is no disease, no trouble, no grief, now that I am living under her Grace."
– Rashmi, Housewife, Mumbai
"I was a diabetic and used to be in a constant state of fear about everything, especially my health. After we brought Devi into our house, I began to feel so confident within myself. I began to interact with people and a sense of ease arose within me.
Today, I feel so wonderful both in terms of physical and mental health; nothing affects me. Whenever I feel down in energy or am emotionally low, I just sit in front of Linga Bhairavi and that fulfills and relaxes me so much. So much has changed after Devi came in. The situation in the house is totally different."
– Uma, Housewife
Those who wish to bring the Grace of the Linga Bhairavi yantra into their homes and offices can receive the yantras as a special offering from Sadhguru. The yantra ceremony will be held on 22-24th December 2022.
Editor's note: The next Yantra Ceremony will be held at Isha Yoga Center on 22-24th December 2022. You will be initiated into a powerful process and receive the Yantra in Sadhguru's presence. For more details, click here or call 844 844 7708.