Navratri Celebrations 2013 – Life is a Celebration
On the ninth day of Navratri, we look at people's experience of past nine days, the Ayudha Pooja conducted at the Isha Yoga Center, and visit a few of the food stalls at Hands of Grace, offering cuisine from around the country.
Navratri, the nine nights that celebrate the Divine Feminine are a time of great festivity in India. At the Isha Yoga Center, several colorful and exuberant events will be taking place throughout these nine days and on Vijayadashami, the day after Navratri.
Nine Days of Navratri
"In the Indian culture, there was a time when there used to be a festival every day of the year – 365 festivals in a year. The idea behind this was to make our whole life into a celebration." - Sadhguru
Today is the ninth and final day of Navratri. A wide spectrum of events have been taking place throughout the nine days at the Isha Yoga Center. Abhishekams in the early morning, special poojas, aratis, the Navratri sadhana, Hands of Grace – the handicrafts exposition, and the nightly Dandiya Raas and garba dance. Several hundred people having been staying and volunteering at the ashram over the past nine days, and a few thousand more have visited for a few days out of the nine, and they have been touched by the Grace of the Divine Feminine and the energy of the space.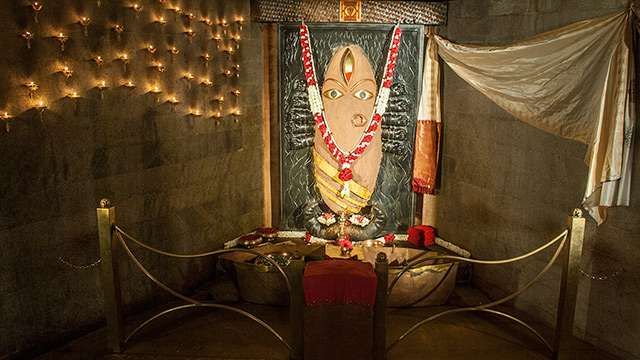 Marit from Estonia, who is on her first visit to India and has been at the ashram for a week says, "I guess I came at a really good time because of all the celebrations going on. I don't know much about Indian dance or music, but every day I got to see bit by bit some theater, some music, some dance. It has been really amazing even though I did not understand the language. Still I sat the whole time and it was just so colorful.
Of course, Devi has been an experience. Once you go there, you want to go back again and again. And the Dhyanalinga, when I stepped in I realized that this is something different that I haven't experienced before. The ashram is really amazing. It is so beautiful, but also how much effort has been put into the buildings, the architecture, I just walk around and I cannot believe it is possible to make these things. I feel really blessed to be here."
Get weekly updates on the latest blogs via newsletters right in your mailbox.
Younmi from South Korea says, "The best thing was the Indian musical performance. I never experienced Indian traditional music before. I also enjoyed the exhibition, and I appreciate that they have fixed prices. I bought some things for my friend in Korea. I also enjoyed the garbha. I don't usually enjoy group dance but the experience was amazing. I was a bit passive but people just encouraged me to come and I really liked dancing together. Linga Bhairavi at night was also really amazing. I have never seen that kind of a celebration. It looked like a God's marriage. I even wrote a letter to my friend saying that there is a God's marriage here!"
Ayudha Pooja
During Navratri, Ayudha Pooja is performed for all the implements and machines that are a part of one's daily life. Ayudha pooja can be roughly translated as the veneration of implements. Traditionally, it is said that the pooja has its origin in the time of the Mahabharata. Arjuna and the Pandavas had hidden their extrordinarily powerful weapons before going into exile. After their allotted 13 years in exile were completed, Arjuna is said to have brought the weapons out of hiding on this day and worshipped them. Traditionally, soldiers have worshipped their weapons on this day. The practice has spread to include tools and implements of all kinds. Among agricultural communities, poojas are conducted for agricultural implements such as the plow. In offices, computers, printers and telephones get their share of attention, and at homes, poojas are conducted for vehicles.
At the Isha Yoga Center, pooja was performed at the kitchen, for the vehicles, in the offices for the computers, laptops and telephones, and other implements. Prasadam was offered to everyone after the pooja.
"Bharatiya" Cuisine at Hands of Grace
Hands of Grace, the handicrafts exposition is on its final day at the Isha Yoga Center. Four stalls at Hands of Grace bring us cuisine from different corners of India. Gujurati cuisine offers the typical Gujarati thali of roti, dal or kadhi, rice and shaak or sabzi – a dish made of different combinations of vegetables and spices, which may be spicy or sweet. A popular snack at the stall is dhokla, made of besan and served with coriander chutney.
Rajasthani cuisine offers a fabulous variety of mouthwatering dishes. The spice content is quite high but the food is absolutely scrumptious. There is a huge variety of sweets in Rajasthan, which are relished and savored by all. Dried lentils and beans obtained from native plants like sangria are used extensively in the preparation of Rajasthani dishes.
Karaikudi is a heritage town near Madurai in Tamil Nadu. Many of its dishes are typically mixed and eaten with steamed rice, which is the staple food of the region. The dishes are hot and pungent with fresh ground masalas. Some of the popular vegetarian dishes include idiyappam, paniyaram, adikoozh, kandharappam, seeyam, masala seeyam, kavuni arisi and athirasam.
Kashmiri cuisine is quite famous for the gracious use of spices and dry fruits like cinnamon, turmeric cardamom, cloves, saffron, almonds and cashew nuts, which give it an exquisite aroma and flavor. Kashmiri Kahwa is a green tea flavoured with cardamom. It is customary to serve Kahwa tea at marriage feasts, festivals, and religious places.
Bommalaatta – The Puppet Show
India is said to be the true home of the art of puppetry. The first reference to puppetry is found in the Silappadikaaram, a Tamil literary classic written over two thousand years ago. In yoga, the body is referred to as a puppet of the five elements – earth, water, fire, air and space, and the whole existence is seen as a puppet show of these five elements. Puppetry has been deeply embedded in the Indian way of life for millennia.
Karaikal Kalaimamani Kesavasamy is one of India's leading artists in puppetry or bommalaatta. A retired Headmaster, this puppeteer makes his puppets and sets himself. His prominence in this unique artform has led the government to induct him as a General Council member of the Sangeet Natak Akademi, a Governing Body member of the South Zone Cultural Centre, Thanjavur, and a Selection Committee member of the Kalaimamani Selection Panel. He is the recipient of many awards and titles, including the title of Kalaimamani, conferred upon him by the Government of Pondicherry and the National Award for Puppetry by CCRT, New Delhi. He is also involved in social outreach activities and maintains an old age home for the elderly.

Editor's note: The next Yantra Ceremony will be held at Isha Yoga Center. You will be initiated into a powerful process and receive the Yantra in Sadhguru's presence. For more details, click here or call 844 844 7708.
Navratri Celebrations 2013 - Index