Christmas Baking with Marlana: Peanut Butter Cookies and Ragi Cookies
Start your Christmas baking this year with these two mouthwatering recipes from Isha Volunteer Marlana Carnett!
Marlana Carnett, and her husband Reto Caprez, are on their fourth visit to Isha Yoga Center. Marlana is an amazing baker, so we got the couple into the Isha Kitchen to make us some lovely Christmas Treats. It was a fun afternoon of baking, clicking pictures, and getting to know about Marlana and Reto's journey to Isha.
Marlana and Reto have had an interesting life – they met in Switzerland and managed and owned restaurants there till 2000. Then they decided to wrap things up and move to Canada, where Reto went to work on a farm, because he wanted a quiet rural life. Marlana went to University to get a degree in education. When their daughter became a brahmacharini in a small ashram in Pondicherry, she invited them to visit her during the winters. At this time, a friend from Switzerland recommended that they visit the Isha Yoga Center.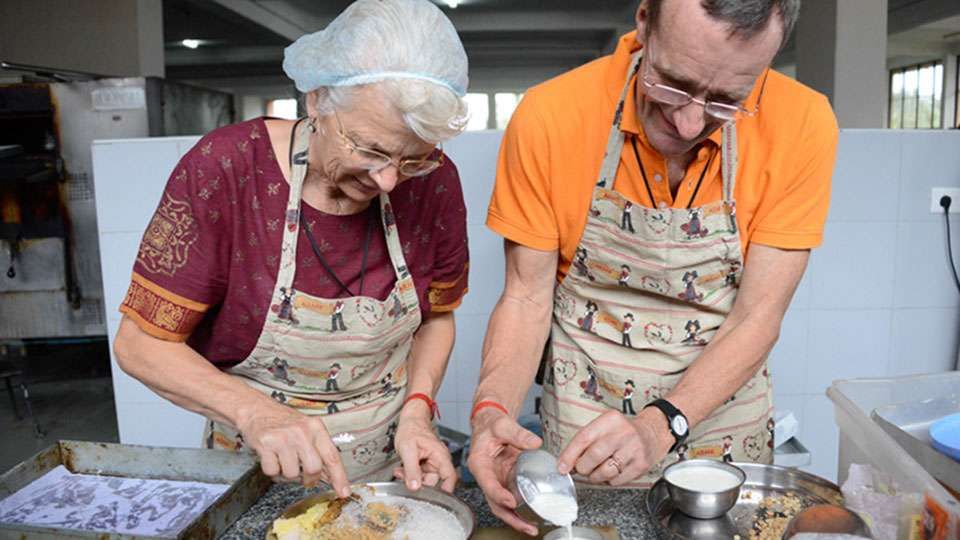 Marlana: "This was in January 2011. I stepped out of the bus and walked to the Nandi and saw this open space and buildings made with huge stone blocks. The proportions, the landscape, the location, the bustling peacefulness and gentle "Namaskaram" greetings of this place moved me.
I was back with two friends in April. We were in bliss! The dining hall filled with people eating in silence, the resonance of 500 people singing a prayer, the dips in Chandrakund, the sacred space of the Dhyanalinga, all surrounded by the fragrance of frangipani blossoms, jasmine and other colorful flowers."
The couple have been back at the ashram for two more long visits, after Marlana completed the Inner Engineering and Bhava Spandana programs. Marlana: "It was with pleasure that Reto and I set out to bake some Christmas specialties. We chose eggless recipes with the most possible pranic ingredients and variety of tastes and textures.
The classic American peanut butter cookies have become an international favorite. The Ragi flour cookies are typically Indian and will be preferred by those who like a minimum of sweetness.
Get weekly updates on the latest blogs via newsletters right in your mailbox.
I got my recipes from the internet and changed them a bit to fulfill my requirements. Here are the recipes, tested in the ashram bakery."
Peanut Butter Cookies with Lemon Frosting - Makes 36
1 cup Butter
1 cup Peanut Butter (crunchy type or add ½ cup chopped peanuts to ¾ cup smooth peanut butter)
1 cup Dark Brown Sugar/Jaggery
½ cup Yogurt
2 ½ cups Whole Wheat Flour
1 tsp. Baking Soda
For the Frosting
½ cup Butter
1 cup Icing (powdered) Sugar
1 Lemon
Cream the butter and sugar together until fluffy. In a large bowl, mix the yogurt and baking soda. It will bubble up! Add the flour to the butter and yogurt mixtures. Roll out the dough and cut out cookies. Bake at 180°C for 15 minutes. Let them cool before removing them from the cookie sheet.
For the frosting, grate rind of 1 lemon and enough lemon juice to make a spreadable frosting. Cream the butter and sugar together until fluffy, add the grated lemon rind and juice and combine gently. Spread the frosting on the cookies.
Ragi Cookies – Makes 20
2/3 cup Ragi Flour
2/3 cup Whole Wheat Flour
½ cup Butter
½ cup Brown Sugar
1 tbsp. Yogurt
¼ tsp. Baking Powder
1 – 2 tsp. Freshly Ground Cardamom
1 tsp. Vanilla Extract
Mix the flours and spread them in a flat baking pan. Roast the flours in the pre-heated oven (180°C) shaking the baking pan every few minutes, until toasted (6-7 minutes.) Meanwhile, beat the butter and sugar until soft and creamy. Dissolve the baking powder in the yogurt, then add the spices. Once the flour mixture is cooled, mix all the ingredients together to form a ball. Divide the ball into 4 equal pieces. From each piece form five balls. Place each one on a greased cookie sheet (baking pan) and use a fork to flatten each ball, making crossed lines on top. Bake for 12 minutes at 180°C. Let the cookies cool before removing. Keep in an airtight tin for one day to let the flavors develop.
Next week, Marlana shares with us her experience of food at the Isha Yoga Center, and
two more mouthwatering baked treats
! Do you have any eggless baking recipes to share? Please tell us in the comments below.