Cauvery Calling: What it Takes on the Ground
What does it take to translate a Vision into Reality on ground? Nadi Veeras dedicate themselves to fulfilling the target for the first planting season of Cauvery Calling: ensuring that 11 million saplings make their way from nurseries to farmlands in the Cauvery basin districts in Karnataka and Tamil Nadu.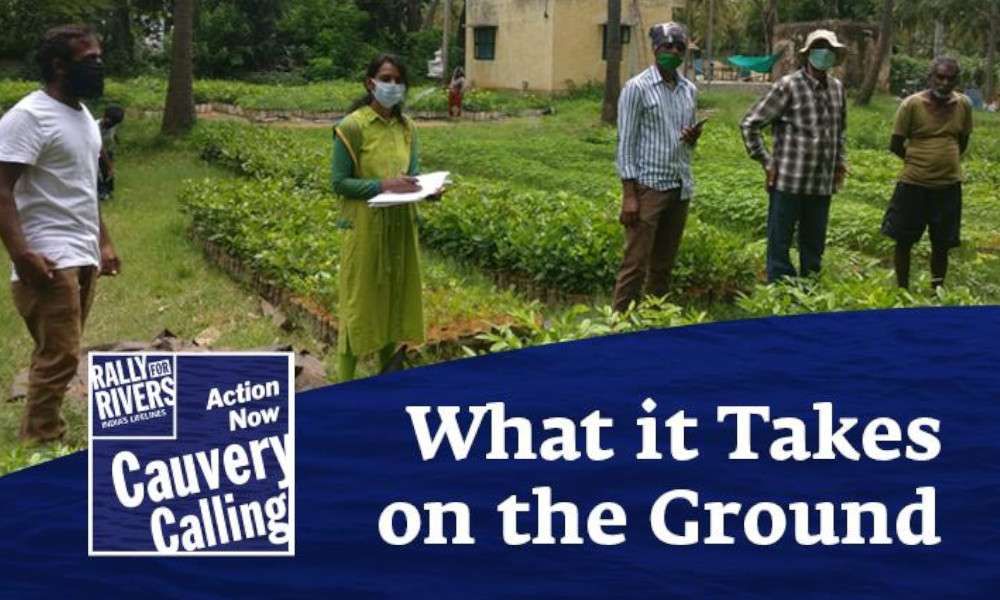 "I'm calling upon the youth of this country… I want 100 youth for three years. For these three years, the only qualification is, you must not have one particular thought. That is: 'What about me?' In keeping this one thought aside you will see in three years' time, you will grow what most people will not in three lifetimes. This is the possibility, this is my call to the Youth of India. We will turn these rivers around." – Sadhguru
When the new year began, the Cauvery Calling teams had their task cut out for them: a packed farmer outreach calendar for 2020 leading up to the 1st planting season. 
In Tamil Nadu, with the fantastic head-start of having already facilitated about 70,000 farmers into agroforestry over the last decade, the existing machinery was well-oiled and running full steam. The 36 fully functional Isha nurseries across the state produced 40 lakh saplings, which are being taken up by farmers in a smooth and efficient manner.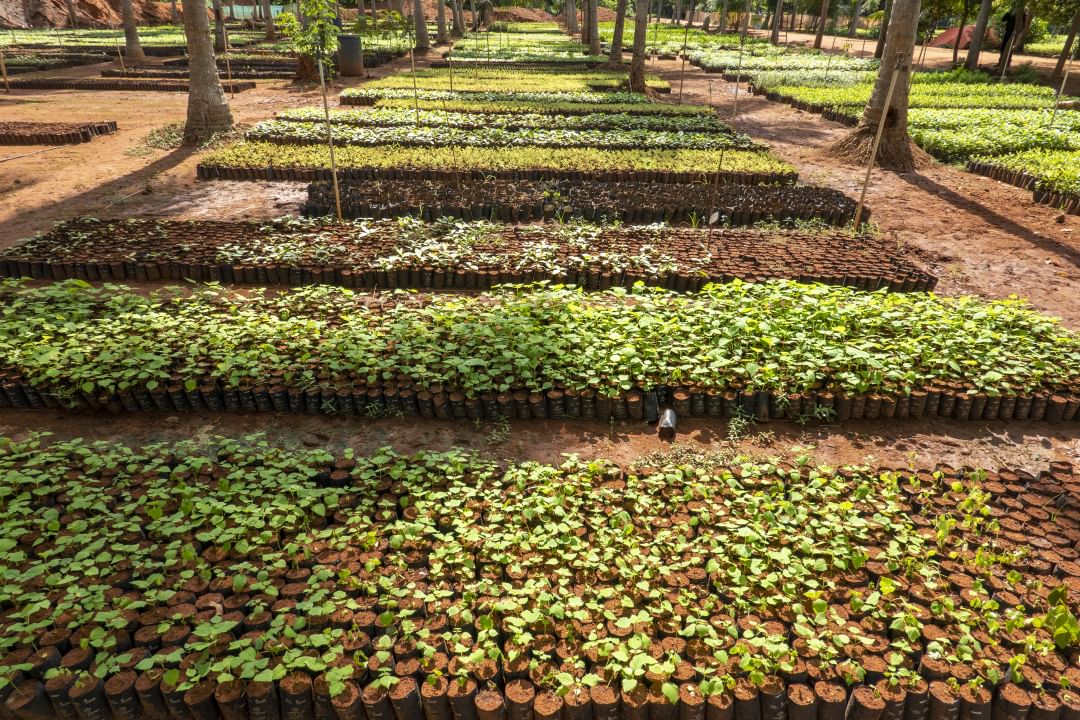 Saplings being nurtured at Isha nursery in Tamil Nadu, just a few days before the end of the lockdown.
Karnataka, on the other hand, was relatively new ground. The plan was to reach 500 farmers in each of the 54 talukas of nine Cauvery basin districts in Karnataka to adopt tree-based agriculture in a big way this planting season. An enormous fillip to our efforts came in from the State Forest Department, which not only announced an increased incentive of Rs 125 to the farmer for every surviving tree but also readied 70 lakh saplings in over 90 nurseries under the Krushi Aranya Protsaha Yojane (KAPY) scheme for the first planting season. It was now up to the Nadi Veeras to facilitate uptake so that every sapling found its way from a nursery into farmland within the four months of the south-west monsoon.
The Cauvery Calling volunteers survey saplings with help from the Deputy Range Forest Officer, Mr. Raju, at the Sathanur Range Nursery, Kanakapura taluka.
Coping with COVID
Major outreach events were planned in each of the 9 districts followed by smaller events in all 54 talukas in order to mobilize farmers and quickly capitalize on the short window of the planting season. 
However, the pandemic put paid to all physical outreach plans. Now, the off-ground communication had to be intensified and the same goals had to be met within the same time period. Pandemic or no pandemic, the planting season was not going to wait.
Going back to the drawing board, the Nadi Veeras re-drew a detailed operations and communication strategy comprising four components: 
Get weekly updates on the latest blogs via newsletters right in your mailbox.
Farmer outreach (digital and on-ground)
Government departments' outreach 
Ramping up the farmer information helpline 80009 80009 
Mass media communication 
The goal was still the same: to reach the farmer, tell them about the KAPY scheme, locate nurseries nearest to them, inform them of species availability, facilitate pick-up and track stock disbursal. All it needed was an army.
The Army of Nadi Veeras
A band of highly motivated Nadi Veeras and volunteers arrived in Mysuru. To cover 54 talukas, each Nadi Veera had to cover a substantial geography in a short period of time. Although the communication strategy had changed, physical outreach could not be abandoned. This meant intense, unrelenting effort because timely communication was key to the success of the operation.
A Race Against Time
Sifting through an enormous database of 19,000 farmers from their earlier outreach, Nadi Veeras shortlisted 10 influential farmers in each of the 54 talukas – 540 farmers in all. A tight communication strategy came into place that would leverage these contacts optimally to reach as wide a base as possible. They met Agriculture and Forest department officials, farmers, FPO members and community leaders, riding long distances, sometimes in torrential rains, as they painstakingly stitched together a robust ground network that would keep up the momentum till the goal is met: 70 lakh saplings on private farmlands in the 54 talukas. They kept a punishing pace, scheduling as many meetings as the challenging terrains and pandemic restrictions would allow. 
Nadi Veeras introducing Cauvery Calling at the Channapatna Taluka Panchayat Maha Sabha (meeting). The President, Executive Officer and all Panchayat Development Officers of the taluka were present.
Field surveys by the team revealed WhatsApp to be the medium of choice among farmers, followed by Facebook. So, 69 farmer WhatsApp groups were formed, which would reach over 3000 farmers, who in turn would multiply the reach exponentially through their own distribution lists. The most active farmer groups on Facebook, with a collective reach of over 200,000 members, were identified and enlisted.
Digital outreach teams worked feverishly to prepare and disseminate up-to-date, relevant content. A similar exercise was followed for print. Designed in the local language, newspapers, handbills and brochures carried information on the benefits of KAPY, tree-based agriculture, stories of successful farmers, and detailed information about different species of high-value trees. There was one central message: enroll into the Agroforestry program under KAPY and pick up the saplings from your nearest nursery. 
Information on the benefits of agroforestry and the KAPY scheme was also sent out through the Agriculture Department's popular Raitha Samparka Kendras (RSK), Krishi Vigyan Kendras (KVK), Farmer Producer Organizations (FPO), various farmer associations and local NGOs. 
Campaign Poster 2020 – designed to help farmers understand how they can avail the KAPY scheme and to educate them on the various economic and ecological benefits of tree-based agriculture.
Simultaneously, 80009 80009, the Cauvery Calling information helpline for farmers was ramped up. A back-end app was created to help the team collate and organize their information. The development of the app, which should normally have taken six months, was finished at breakneck speed in three weeks. More than 400 volunteers went through thorough training and mock drills to handle the calls that would pour in.
Over 400 volunteers came forward to man the helpline. Nadi Veeras were on hand to guide them on how to handle calls, respond to queries, and point farmers to nurseries nearest to them.
The information campaign began to work and the helpline exploded. Calls spiked from about 100 to 150 calls a day to about 2000 and the saplings began to be lapped up. The helpline soon turned into a live roadmap, helping farmers track down the nearest nurseries and the right saplings.
Ensuring Farmers Pick Up the Saplings
The overwhelming response from farmers only underlined the need to strengthen ground support. Volunteers were needed at the 90 nurseries to track sapling stocks and disbursal, and augment the efforts of the skeletal administration staff, owing to the pandemic. Re-enforcements came from the Isha Yoga Center. 50 volunteers travelled to join the Nadi Veeras. It was an intense effort which tested the limits of their physical and mental endurance. They geared themselves up for the task ahead with rigorous Sadhana. Armed with the immunity-boosting Nilavembu Kashayam, neem & turmeric tablets, riding gear and a kit with other essentials, they hit the road running.
A Cauvery Calling Volunteer in Madikeri taluka, heading towards Karike nursery in Bhagamandala.
And they're still running…
In spite of several personal challenges of finding food and accommodation in remote locations, torrential rains, poor connectivity, the team's only focus now is to see that every sapling in each of the 90 nurseries ends up on a farm.
Once they meet the goal for this planting season, they will begin working on demand assessment for the next planting season. Another large-scale farmer outreach will be needed to understand what species and how many numbers of saplings the farmers are likely to plant the next season. This information is crucial in order to plan sapling production for next year.
For the Cauvery Calling teams and Nadi Veeras, the experience has primarily been one of tremendous growth – of thinking on their feet, of tackling challenges head-on, building interpersonal skills, networking with assorted stakeholders, infusing their passion into everyone around them and enrolling communities into the long-term vision of Cauvery Calling: farmer welfare and ecological well-being.
This band of young, energetic, volunteers have two things in abundance: willingness and commitment. Everything else, they're building on the go.