Reviving Rural India – Isha's Tenth Rural Olympics
Isha's unique efforts to rejuvenate rural India include the Rural Olympics, a large-scale sporting event, which brings together rural communities from across Tamil Nadu.
Isha Foundation's Action for Rural Rejuvenation (ARR) and K.M.P Memorial Trust collaborated to conduct the Tenth Annual Rural Olympics on September 28th and 29th at Gobichettipalayam in Tamil Nadu. The Rural Olympics are the final stage of a state-wide competition involving around 200 teams from 350 villages. After a series of elimination rounds, eight teams reached the quarter-finals and competed at the Olympics. The throwball tournament for ladies, and the volleyball tournament for gents were the crowd pullers, while many traditional and fun rural games like kabaddi, uri-adi (blind pot breaking), tug-of-war, silambattam (martial demonstration with sticks) and the folk dance, oyilattam continued through the day.
A Unique Sporting Event
What makes the Rural Olympics unique is that it is conducted in an atmosphere of celebration rather than competition. Various aspects of Tamil Nadu's unique and ancient culture were highlighted and the whole event had the feel of a huge village festival. Most heartening of all, is the presence of women – both young and old – competing in the competitions. One match had a grandmother, grand-daughter pair playing in the same team! Special "Women of the Match" awards were also distributed for each throwball match just as "Man of the Match" awards are given for volleyball matches. Cash awards and the Rolling Trophy were given to the victorious teams.
Get weekly updates on the latest blogs via newsletters right in your mailbox.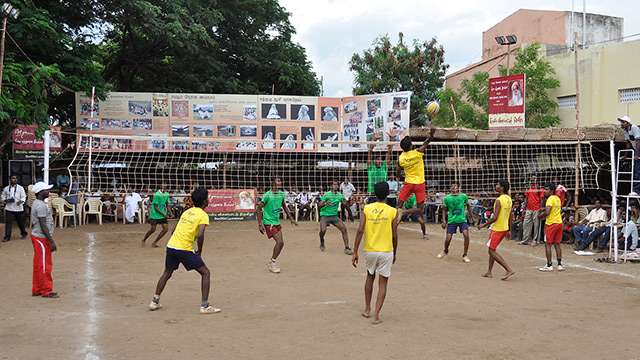 Legislators of the Tamil Nadu State government, MLAs K.A Sengottaiyan and S.S Ramanitharan,  and V.K Shanmugam, Collector of Erode district were present at the event and lauded Isha's efforts in rural rejuvenation and upliftment.
Isha's Rural Rejuvenation Efforts
Despite the growth of India's economy over the last decade, vast segments of India's rural population remain unable to participate in the economic windfall. Inadequate nutrition, lack of proper healthcare, and a dearth of quality education are the major contributing factors to rural India's decline. Action for Rural Rejuvenation is a multi-dimensional program with a holistic approach towards improving the overall health and quality of life of the rural poor. ARR is not just about giving the rural people economic or administrative help but rather it seeks to transform their life.
An integral part of ARR's work is to raise the spirit of the rural people and infuse a new sense of life and enthusiasm in them. Sports has always been used extensively by ARR in its rural upliftment activities. Encouraging community participation in sports has been an effective means to bring in a sense of oneness among people irrespective of caste or religion. Additionally women, children and the elderly also eagerly participate in the games. This creates a great sense of bonding among all members of the community. ARR's Rural Olympics is the perfect platform to effect this change across thousands of communities in the state of Tamil Nadu.