Inner Engineering in Hyderabad – 4 Days Left!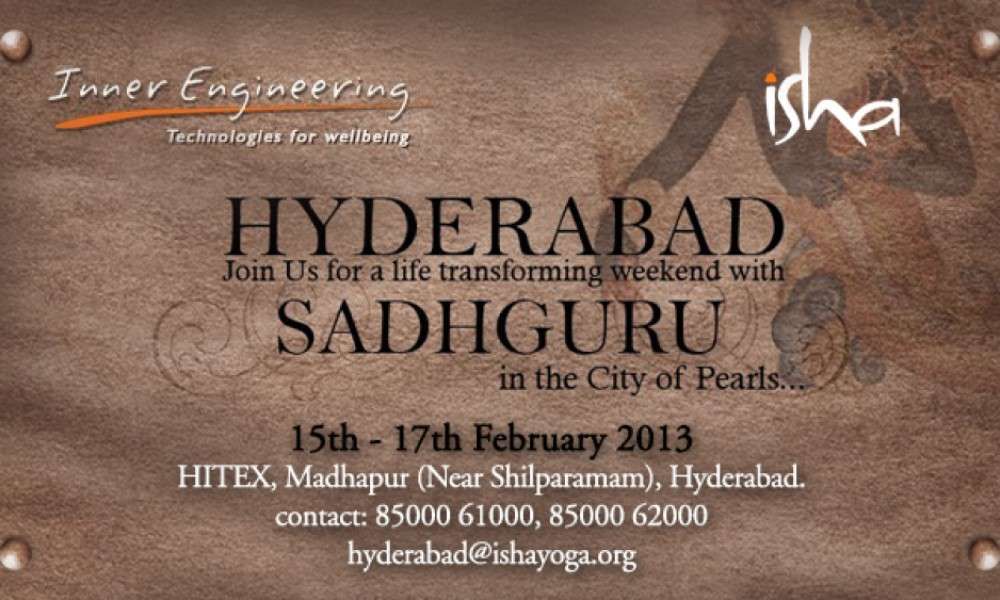 Four days remain to the 3-day Inner Engineering Program in Hyderabad, which Sadhguru will personally conduct. The scientifically structured program is an opportunity to be in the presence of a realized master, and receive the Shambhavi Mahamudra, a powerful process of immeasurable antiquity. The course includes guided meditations as well as interactive sessions with Sadhguru.
You are provided the tools to engineer an inner transformation, deepening the very way you perceive your life, your work, and the world you inhabit. Being with Sadhguru for three days straight is rare, and can open up profoundly impactful possibilities. It's an opportunity not to be missed!
After much work and dedication, translation has become available in Telugu language, to allow local speakers to take part in the program. The Inner Engineering that Sadhguru conducted in Delhi last month offered the possibility for Hindi speakers to experience the course in their mother tongue. The same will be offered in Hyderabad; translation into Telugu will be provided to those who register in advance.
The program takes place on February 15-17 and is open to all individuals who are 15 years of age and above. Registration is mandatory to attend the program.
Registrations will be on a first-come, first-served basis. For more details and online registration, visit the Inner Engineering with Sadhguru webpage.
Get weekly updates on the latest blogs via newsletters right in your mailbox.