INSIGHT 2014 - Live Blog
Welcome to the live blog of the "INSIGHT – The DNA of Success", 2014. Creating businesses and scaling them up requires exceptional skills.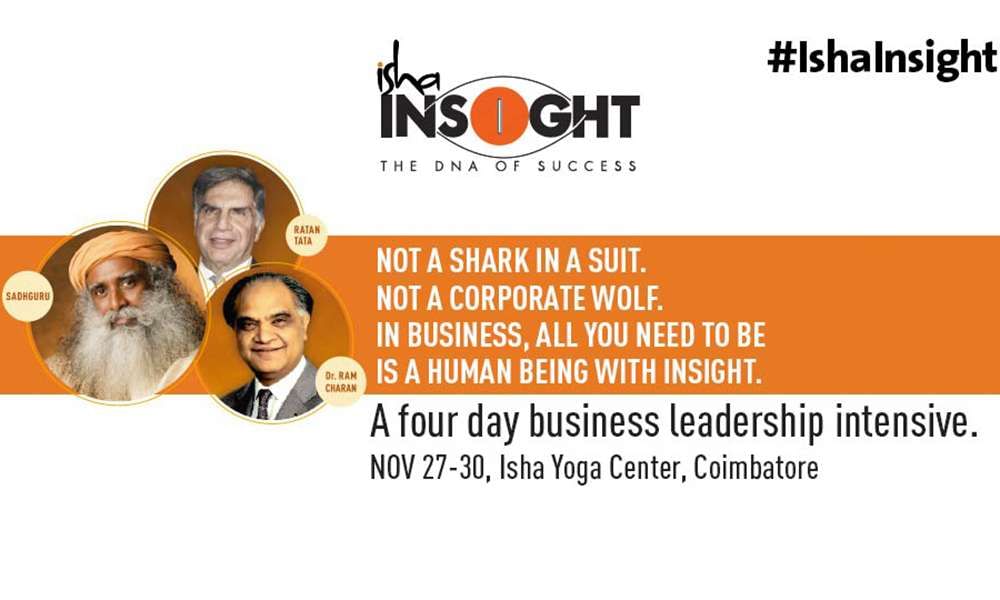 Welcome to the live blog of the "INSIGHT – The DNA of Success", 2014. Creating businesses and scaling them up requires exceptional skills. INSIGHT is a leadership program offered by Isha Foundation's Isha Education initiative, which provides business leaders with practical takeaways that multiply capability to manage both external situations and inner growth.
The 4-day program from Nov 27-30, brings together some of India's most celebrated leaders, including Ratan Tata, G Mallikarjuna Rao and Kiran Bedi, sharing their life journeys and experiences. Do follow us on @ishafoundation for live tweets.
November 30 - Day 4
Isha Insight participants take a walk with Sadhguru to bring this year's program to an end. Hope you enjoyed the live updates. Let us know your feedback in the replies.
November 29 - Day 3
9:15pm
INSIGHT 2014 was an electrifying experience for participants, as they imbibed learnings from Ratan Tata, GV Prasad and a host of top resource leaders from around the country. Here's a snapshot of the program.
3:45pm
After Mr. Velumani of Thyrocare made a brief, witty and impressive presentation on his life journey, Mr. Ravi Venkatesan lead a session of sharings from participants, as they looked back at the past three days and what they had learnt. Kanika, one of the participants said, "The air of ease and trust, the taste of meditation, the focus on self for greater clarity and vision, made this program unique for me." Another participant said, "For a professional to get away for three days is a challenge, but it has been amazing. I learned so many things from Sadhguru, Ratan Tata, Ram Charan and Prasad."
Eric, who is in India for the first time and came over specially for INSIGHT said, "I couldn't have felt more welcome from all of you. It is a privilege for me. I am really honored to be in a really wonderful program. I have been in many programs, but now I know that spirituality and business go together, and this is a place where you can see that. And I will leave here as an ambassador for India. You impressed me with your power, with your mind, your soul, with your leaders I have seen on the stage, and my wish is to come back again."
1:45pm
Speaking of how he learnt and kept himself up to date, Mr. Prasad said, "I personally read a lot and go to places where I can learn. I have seen Sadhguru at a few World Economic Forums, at YPO (Young Presidents Organization) and other conferences. If one can be open to learning every day, and tune in to what is happening around you, you can learn."
Mr. Prasad then looked at how entrepreneurs should seek out mentors they can learn from. He recalled an instance when Dr. Reddy's was going to list on the New York Stock Exchange. He said, "We were told that our board looked dull. We needed a vibrant board. We changed two and they told me they were uncomfortable with how the board meetings happened. That is how change started. And we brought in more board members who were independent thinkers."
1:15pm
Talking of delegation, Mr. Prasad said, "We often think only we can take the right decision but in my experience, we make as many mistakes as anyone else. If we recognize that and see that we are not perfect, letting go and delegating becomes easier." He elaborated on letting talented people blossom. "When you have smart people, you cannot tell them what to do. I listen to them and it works for me."
Talking about how a leader must look at the kind of individual he or she is, he said, "You should look in the mirror and ask if you are likeable. Will someone who is stuck in an elevator with you find you interesting?" "Every organization will reach its potential only if the leader at the top sees that potential. An organization will be limited by the leader's abilities, so it is a leader's responsibility to constantly reinvent himself," he added.
Mr. Prasad spoke about leveraging India's history and heritage to go from being problem-solvers to people who can imagine. "Education will be the game changer for India," he said, and spoke of how we haven't leveraged on our design history. "We need an education system that will help do that," he emphasized.
Next, he looked at CSR and how "running my business well and doing a good job of it is social service, because it is so impactful." He spoke of how Dr. Reddy's recruits students after they finish school, train them for work and enroll them in graduate programs so they earn and learn at the same time. Many of these students have gone abroad, he said and pointed out that they were a strong work force and very loyal to the company. "If we do the right thing for all stakeholders, success will follow," Mr. Prasad said.
12:35pm
GV Prasad began his session soon after noon and spoke about his journey of scaling up Dr. Reddy's Laboratories. In the first few years of the company, the focus was on making it profitable and viable. The next phase was moving from being viable to growth. This was the point when the company went global also and focused on scaling up the business organically.
Their next focus was on improving capabilities of management – the ability to handle scale, growth and an international organization. The core team worked toward making the organization professional and having people of caliber excited about coming to work.
11:00am
As a workshop session begins with three resource leaders sharing their insights and learnings that emerged from yesterday's brainstorming sessions, here is a look at a few more resource leaders at INSIGHT.

Varda Shine
Former CEO of the De Beers Diamond Trading Company (DTC)
Led the business to deliver record sales and profits
Honorary member of the London Diamond Bourse
Successfully completed relocation of DTC from London to Botswana – one of the largest transfers of economic activity from the northern to southern hemisphere

Anuroop Singh
Vice Chairman, Max India Ltd.
CEO and Managing Director of Max New York Life Insurance Company (now Max Life)
Country Head, India and Regional Head, Retail Banking, Middle East and South Asia, for ANZ Grindlays Bank
On the Board of Directors, Audit Committee and Human Resource Committee of Perot Systems
On the Board of Directors of SOS Children's Villages of India

B.S. Nagesh
Non-Executive Vice Chairman, Shoppers Stop
Pioneer of the retail boom in India
Voted by Business India as one of the top 50 managers in India
First Asian to be inducted into the "World Retail Hall of Fame"
9:30am
Day 3 of INSIGHT saw participants struggling to find words to describe the experience of the program. As one person put it, "Insight is more than a program. I am so deeply touched by everything here." "The morning session with Sadhguru was not difficult at all," exclaimed another. It will be very helpful to prevent joint pains and keep my body healthy." A couple of participants were overheard postponing their departure by a day so they could stay and experience all that the Isha Yoga Center has to offer.
Day 3 will see GV Prasad, CEO and Co-Chairman of Dr. Reddy's Laboratories sharing his life journey. Stay tuned at 12 noon. Here's a brief look at the company during a part of Mr. Prasad's tenure as CEO.
November 28 – Day 2
8:45pm
Dr. Pillai spoke about how the Indian space program blossomed out of adversity. Technology denied is technology gained, he said and explained that India developed spacecraft re-entry technology and supercomputers because the United States denied India that technical knowledge.
Dr. Pillai spoke of how leaders today empower and coach, and that creativity drives status, and vision leads to nation's development. He also spoke of education, and how India had failed to offer proper education to most children. "We haven't done much to bring youth into space. Creativity should be introduced in the early stages," he emphasized. As Dr. Pillai concluded his talk to much applause, the participants head out to the Spanda Hall lawns for dinner.
Stay tuned on Day 3, for the life journey of GV Prasad, Co-Chairman & CEO of Dr. Reddy's Laboratories Ltd.
We close today's blog with a short video from Day 1, where Sadhguru and Ram Charan look at habits and success.
7:40pm
Post Chit Shakti, participants went into a breakout session on strategy, culture, funding and family-dynamics, and groups of 10 sat with various leaders depending on the challenges they faced most.
A short break followed, after which Padma Bhushan Dr. A. Sivathanu Pillai took the stage with a talk on "Audacity of Vision to Execution".
4:35pm
After a tea-break, the participants headed back to Spanda Hall for a session with Sadhguru. Sadhguru spoke about the importance of Grace in one's life, and how success cannot enter one's life beyond a point unless there is Grace. "Many times you can see brilliant people stranded because they don't have grace," he said.
Sadhguru introduced participants to the Chit Shakti meditation. "Chit" is a certain dimension of the mind and shakti is strength. Chit is that dimension of the mind which is connected to that which we call consciousness. 90% of the people never employ it. It connects you to that which you refer to as "me." This Chit does no activity as such. It is just there. Whatever you put in Chit, will manifest because it has the power of the consciousness behind it, he explained, before leading them through the meditation.
2:25pm
Through a nourishing and tasty lunch, all conversation revolved around Mr. Tata – his gentleness and humility deeply touched and inspired the participants. The post-lunch session began with a scintillating Kalaripayattu display by students of Isha Samskriti, after which the participants got down to analyzing the DNA of Mr. Tata's success.
12:20pm
As the participants go for a lunch break after that phenomenal session with Mr. Tata, here's a look at a few more leaders who are gracing the event.

Dr. A. Sivathanu Pillai
Distinguished Scientist & Chief Controller, R&D, DRDO, Ministry of Defence
CEO, MD, BrahMos Aerospace
Technology Leader in the field of launch vehicles and guided missiles
Core team member in development of SLV-3 and PSLV for ISRO
Regarded as the Father of BRAHMOS, the supersonic cruise missile
Received Padma Shri (2002) & Padma Bhushan (2013)
Get weekly updates on the latest blogs via newsletters right in your mailbox.

Renuka Ramnath
Founder, Multiples Alternate Asset Management Private Limited
One of the most experienced private equity fund managers in India
Built several businesses in the ICICI Group including Investment Banking, e-commerce and private equity
Former MD & CEO of ICICI Venture
Among Business Today's "Top 25 Most Powerful Women in Business"

Yuri Jain
Global VP at Unilever
Profiled in Harvard Business Review as one of leading catalysts in global innovation
Began Unilever's drinking water purification business to find sustainable ways of offering safe drinking water. Resulted in Unilever's Pureit – water purifier brand. Considered one of the most innovative breakthroughs in India in the last decades.
12:15pm
As the session moved into Q&A mode. A participant asked, "How can qualities like integrity, patriotism and kindness be inculcated in family and business?" Mr. Tata replied that you have to live by what you have been espousing. You can't be a custodian for other people's values. Another question that came up was about leading people who are better than you. How does one do this? "The openness should be there that if they are better than you, you step aside," said Mr. Tata.
Another question that surely must have puzzled many aspiring leaders at one time or another was how Mr. Tata decided how much time to spend with one company or another. Mr. Tata replied that he did not set aside a day of the week for each company. That of course would be quite impossible considering that the Tata group has close to 30 companies under its wing. The time spent with each company was based on compatibility and his own interest. For example, a small company in a new business, like aerospace, interested him.
As the session neared its end, Mr. Tata had this to say to the participants. "For an entrepreneur, there has to be an inner driving force that cannot come from a textbook. See what you want to do and have the courage to pursue that."
11:53am
Mr. Tata also looked back at the horrific events of 26 November, 2008, when terrorist attacks shook Mumbai and the Tata-owned Taj hotel on the Mumbai seafront. He spoke of the terrific spirit that people embodied during 26/11. Though there was no manual, people at the Taj just came together and did what they could. Several employees even lost their lives during the attack. How the Taj employees acted is a shining example of how spirit overtakes a situation.
Mr. Ravi Venkatesan later brought up the issue of a company's moral responsibility, with respect to the community and ecology. Mr. Tata spoke about how the issue was not of money but of adding to the quality of life in a community. "You cannot mandate Corporate Social Responsibility (CSR)," he said. "It has to come from within you." He spoke of the need to be willing to sacrifice for the good of the community. "Are you willing to exit a business because the product is carcinogenic?" he asked, raising a hypothetical question. "It is important to go home at night and say you haven't succumbed. You have stood for what you considered the right thing," he said, speaking ethics and values.
Speaking of India and the recent change of government, he said, "In the last few months, the whole country has stood behind a new government that promises to fight corruption. It is telling us that the country is fed up. It is a great thing for the country if the government will deliver." He cautioned though that it is easier said than done, and may take many years to achieve.
11:30am
The session continued with some thoughts on the importance of cultivating an ambience of innovation within the company. "There is no doctrine for innovation other than that you are open," he said, and revealed that some of the best ideas in Tata companies come from the shop floor. Speaking of how to create such an ambience, he says innovation will happen when you want to go to work feeling you have the freedom to innovate.
Later, Mr. Tata also explored the topic of sustainability. "The worst thing we can do for our country is give everyone a sense of dependability on some outside force," he emphasized. He explained how the Tata Group is helping communities and individuals in many ways, but it has to be self-sustainable. "We are changing from money-givers to idea-givers, to make communities self-sustainable," he said.
10:40am
Mr. Tata also spoke about inclusive economics. "When going global, what companies need to do is see what they bring to the table, the soul they bring to the environment. You need a sense of compassion for the people who are now a part of you," he stressed. He spoke of how the inner feeling of whether you are doing the right thing for that community or geography is what a leader should be guided by.
10:05am
Sadhguru gave a brief introduction to the Tata Group, and explained how the group was unparalleled in size and spectrum. It is not seen just as a business but as a major building block in the making of this nation. Sadhguru garlanded Mr. Tata, who then began his session by explaining that he owed a great deal to JRD Tata, who was a role model. "He lived by what he proposed and demanded of everyone," Mr. Tata said. "He ran businesses not to maximize profits but to maximize impact on the community," he said of JRD, who passed away in 1993, and had led Tata Group for almost six decades, between 1938 and 1991, before handing the baton to Mr. Ratan Tata.
9:15am
The participants had their first yoga session today morning, and came away impressed with the depth and scope of what yoga had to offer. Neeraj, from Singapore who runs a marketing and communication company was blown away, despite this being only his first taste of yoga. "It was truly a refreshing experience. I have never done yoga before. This is the very first time. It's a start. I will continue doing it more."
After freshening up and partaking of a hearty breakfast, the participants are all set for another day of leadership insights, beginning with Mr. Ratan Tata's session at 9:30am. Below is a brief look at the Tata Group between 1991 and 2010, during which Mr. Tata was at the helm. Click play to begin the interactive graphic.
November 27 - Day 1
10:00pm
Here's the video of Sadhguru introducing Isha INSIGHT 2014, the 4-day leadership program, and speaks about three basic qualities essential for leadership: integrity, inspiration and insight.
9:00pm
Post-break, Kiran Bedi began her inspiring talk on "Turning Adversity in to Opportunity". Ms. Bedi is no stranger to adversity or success, and she shared real-life examples to illustrate her many points. "Siksha, skills and sanskar is my concept of education," she said. "With integrity, inspiration and insight combined with common sense, any adversity can be met," she explained, speaking about how she made a difference to thousands of inmates in Tihar Jail. Constantly educating herself instead of giving up was what helped her always, and being self-reliant and self-driven, with a home that was a haven of peace and love, was why she could do all that she did. Ms. Bedi brought the Day 1 sessions to an end with her stirring speech, and was given a standing ovation as she left the stage.
Here's the trailer of the documentary "Yes Madam, Sir" on Kiran Bedi and her distinguished career as a police officer,
The participants left for a fascinating, traditional "fire dance", followed by dinner. The dance known as Theyyattam or Theyyam, is a traditional ritualistic form from North Malabar, Kerala. This colorful presentation includes vocals and instrumental music and was traditionally performed by tribals to their local deity. The dress is designed to reflect the grand spirit of a mythological, divine or heroic character. The performance of Theyyam is supposed to bring wellbeing, prosperity, and remove obstacles in one's life.
6:00pm
The post-lunch session continued with Ram Charan. "Your job (as a leader) is to have insight into the nuances of talent," he told the participants, and asked them to never forget values. "My clothes and food are Western, my values are Indian," he stated.
This was followed by a breakout session during which participants came together in various groups to discuss the two things they would take away home and implement. Each group reverted with their thoughts and the most common take-away was following the professor's earlier dictum of asking people, "What's new?" to constantly learn new things.
At 5:30pm, Ravi Venkatesan took the stage with Sadhguru, seeking his inputs on "Inner Management" – how managers could manage themselves. Ravi asked Sadhguru how he managed time. Sadhguru says, "life is a combination of time and energy. If time runs out and you still have energy, it is called an untimely death. If it is the other way, it is a vegetative life. You cannot manage time. Time is a factor for the physical dimension of existence." Then he reminded the audience that "only miserable people have a long life. If you are joyful, it passes in a moment!"
4:00pm
Here's a look at a few more Resource Leaders at INSIGHT 2014.

Deepak M Satwalekar
Former MD and CEO of HDFC and HDFC Standard Life Insurance Company Ltd
Consultant for World Bank, Asian Development Bank and other bilateral and multilateral agencies
Chaired several industry, Reserve Bank of India and government expert groups
Independent director on the boards of several large companies
On the Board of Trustees of the Infosys Science Foundation

Anupam Mittal
Founder & CEO People Group, which includes Shaadi.com, Makaan.com, Mauj Mobile and People Pictures. Shaadi.com is the world's largest matrimonial service provider, launched in the year 1996. Over 30 million members and 3.2 million success stories
Known for sharp business acumen and eye for detail
Active angel investor with over 40 investments
Voted by Business Week as one of India's 50 Most Powerful People
Founding member & past chairman of the Internet & Mobile Association of India

Vellayan Subbiah
Part of the fourth generation of the Murugappa family
Steered Murugappa Group's BPO arm Laserwords
Currently MD of Cholamandalam Investment And Finance Company Ltd
Jeby Cherian
VP and Managing Partner for IBM's Business Consulting business in India and South Asia
Provides business consulting services across Telecom, Retail, CPG, Industrial Products and Banking
Former VP (Strategy & Business Development) for IBM India and South Asia
2:10pm
Lunch was set in the lush green lawns with views of the magnificent Velliangiri Mountains. Sumptuous, healthy and giving the participants a taste of the South, lunchtime saw some people mingling, while others were happy to eat in solitary splendor, gazing upon the mountain peaks.
Once lunch ended, participants headed to the hall to dance to Sounds of Isha's Uyir Nokkam. Can't ask for a better post-lunch energizer!
1:25pm
The professor continues the session with several more perceptive observations. There is no prize for fast thinking, it's thorough thinking that matters he says, while also encouraging participants to not merely accept criticism but invite opposite viewpoints! Talking about an essential habit of leadership, he tells the group that being razor-sharp and having dominant priorities are extremely important.
This segued neatly into a final pre-lunch question from a participant to Sadhguru: "Will habits make us rigid?" Sadhguru answers that it is important to be fluid so we can adapt to any situation and do as is needed. But till we get ourselves to such a state of fluidity, habits are a reinforcement for people who exist in a level of unconsciousness, and as such are a good survival trick.
12:15pm
After a short break, the session reconvenes and the discussion revolves around the key habits of leadership. Each table mentions one and a list emerges. Drawing on it, using real life examples, Professor Ram Charan gives insights on what needs to be done to develop these habits.
Here's a video flashback to INSIGHT 2012, to help you catch up with more of Prof. Ram Charan's guidance in past editions of INSIGHT.
11:30am
Professor Ram Charan began the "Team Building" session by pointing out to the participants that they would rarely if ever have access to 21 resource leaders of such caliber for four full days. He urged people to practice what is discussed, as practice is at the very foundation of success. Build small diverse social networks, he told the participants and made a case for embracing curiosity. Curiosity is central to personal growth so when you meet someone, do not hesitate to ask what is new – not what is new to the world, but what is new to you – he advised.
11:11am
Ravi Venkatesan, former chairman of Microsoft India, looks at scaling up, the focus of Insight 2014. Before INSIGHT began, participants were encouraged to send in three key challenges they faced. The top priority for most was talent – acquiring and managing it. The second was with regard to managing oneself – building resilience, having better control of time, facing challenges etc. The next was fund-raising, and the last was of family-driven businesses with regard to succession planning and conflict resolution.
We want to sow the seeds for business and personal success, said Mr. Venkatesan, as he calibrated expectations and encouraged participants to network with each other actively.
Here's a video from INSIGHT 2012, where Sadhguru looks at the nature of stress and how to eliminate it.
10:05am
First day, first session! Soft strains of the flute and guitar interspersed with the murmur of voices as participants streamed in and took their seats in Spanda Hall. The large spacious hall with Kerala Murals painted along the length of an entire wall is probably quite unlike anything the participants have seen before.
At 9, the session commences with Sadhguru talking about the three basic qualities of a leader – integrity inspiration and insight. Without integrity, you can't set the ambience for success. If you can't inspire and fire up people around you, it can lead to inertia. Insight above all, is the ability to see something that the majority cannot see. Being a leader is like being captain of a ship. You don't have to do all the hard work but you have to charter the path and guide, said Sadhguru, before handing over the baton to Mr. Ravi Venkatesan.
8:30am
Day 1 of the program, promises lots of exciting stuff, with sessions from Ram Charan, Kiran Bedi and Sadhguru. Stay tuned! Here's the schedule.
9 am: Welcome by Sadhguru
9:10 am: Overview of the Program by Ravi Venkatesan
9:30 am: Team building and Building the Group by Ram Charan
11 am: Executing building blocks - Session 1
1:45 pm: Executing building blocks - Session 2
4 pm: Executing building blocks - Session 3
5:30 pm: Managing yourself by Sadhguru and Ravi Venkatesan
7:15 pm: Turning adversity into opportunity by Kiran Bedi
8 pm: Fire dance and Sounds of Isha
November 26 – Day 0
Participants have been trickling in throughout the day. After being welcomed at the Coimbatore airport by some charming INSIGHT volunteers, the participants embarked on their 40-km ride to the lush foothills of the Velliangiri Mountains where the Isha Yoga Center is situated.
Participants who arrived early were taken on a tour around the ashram, visiting the Suryakund, Dhyanalinga and Linga Bhairavi, and also participated in Nada Aradhana.
In case you'd like a virtual walk-through of the ashram, check out this Google Maps Street-view.
A volunteer shares about his day so far, "It's been a busy day, with the arrival of participants coming in one by one. Though I know little about the technicalities of the program itself, one thing I can see is that the element of spirituality is making its way into the lives of these participants who manage large businesses and people."
A Leadership Program in an ashram?
We asked one of the participants about their take on a business leadership program taking place within the environs of an ashram. Here's what he said:
"It's interesting to see Sadhguru trying to help entrepreneurs and businessmen. For a businessman, profit is the bottom line. This program is specifically about scaling up, or in other words it is about making more money.
At the same time, I have seen too many successful people burning out and 'succeeding' at the cost of their family, health or something else that is dear to them. So the inner management angle that Sadhguru injects into this program is very significant for me. It is an interesting blend of profoundness and pragmatism. This marriage of both needs to happen.
So, on the face of it, it looks strange that a guru has to get into this. But I think it is the need of the hour, that not just Gurus, but all sensible, intelligent people support entrepreneurship to create a vibrant indigenous economy."
Resource Leader Cheat Sheet
Here's a look at some of the programs key resource leaders, as well as what they have to say about INSIGHT. We'll be profiling a few more resource leaders as the program continues.
Ram Charan
Acclaimed business advisor, speaker and author
Coached some of the worlds' most successful CEOs
35 years behind the scenes with companies like GE, KLM, Bank of America, DuPont, Novartis, EMC, 3M, and Verizon
Cuts through the difficult problems, gets you to the right insights
Known for his practical, real-world perspective
Ravi Venkatesan
Director – Infosys, AB Volvo
Fellow of the Center for Higher Ambition Leadership, Boston
Chairman of Microsoft India between 2004 and 2011
Former Chairman of Cummins India Limited
Kiran Bedi
India's first and highest (woman) ranking police officer
35 years of creative and reformative policing and prison management
Recipient of the prestigious Ramon Magsaysay Award and several other national and international decorations
Founder of two NGOs, Navjyoti and India Vision Foundation, which reach out to thousands in the areas of education, vocational skills, environment, counseling, and health care
Editor's Note: To get a sneak peek into what the INSIGHT program offers, we are excited to bring you a free ebook. Download to find a mini compilation of talks from previous INSIGHT programs.