Free Yoga Day at Isha Institute of Inner-Sciences
A space consecrated by Sadhguru, the Isha Institute of Inner-sciences in USA is a burgeoning hotspot for Yoga in the western hemisphere.
Free Yoga Day is a monthly happening at the Isha Institute of Inner-sciences (iii) in Tennessee, USA. This day is dedicated to offering a variety of free classes to the community, educating and empowering each individual to take charge of their wellbeing. Over 200 participants attended the most recent Free Yoga Day on August 10th, 2019. Let's see how it went…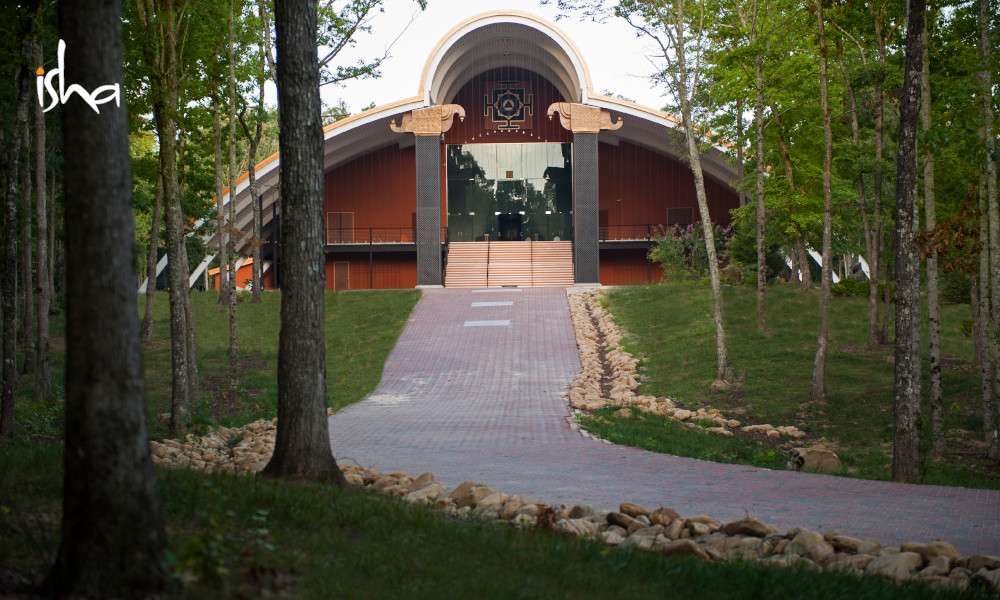 Toni Mari Sharpe is a mechanic who came from Austin, Texas to iii for the first time. Her first stop on Free Yoga Day was Adiyogi: The Abode of Yoga. The Abode is a space that is an expression of gratitude to Adiyogi, the first yogi, who offered the yogic sciences to the world over 15,000 years ago. "That place leaves you with no choice but to connect," shared Toni who was visibly touched. Next, Toni chose to attend the Nada Yoga session in Mahima Hall. Nada Yoga is the Yoga of sound and reverberation, a powerful experience to learn Yoga in the consecrated Mahima Hall. For Toni, the acoustics in Mahima felt like an "amplified vibration" and were perfect for the Aumkar chanting that she learnt in the session. Aumkar chanting is a form of Nada Yoga that brings balance and wellbeing to the mind and body. This ancient yogic practice involves a specific utterance of sounds. "Everything imparted in the Nada Yoga session was exactly what I needed to hear to keep me going on the right path in life. I hope to return to iii soon," she shared.
The Ease of Upa-yoga
Most of the participants of Free Yoga Day chose to attend one of the three Upa-yoga sessions offered. Upa-yoga is "pre-yoga," or a simple set of Yoga practices that bring ease and energy to the system while lubricating the joints. Joel Rangel was one of the participants who attended Upa-yoga in Mahima hall. He shares, "Initially, I thought it was a culture shock to be in such a distinctive space, but I quickly adjusted and remembered how Sadhguru talks about the importance of geometry, and then it struck me how geometrically perfect Mahima was." Joel recently started working in the construction activities at iii. "My work at the Institute is more intense than at other jobs I have been in. I am considerably happier working here," he says. He was glad to experience iii in a different way from the work he regularly does there.
"It is so important that as healthcare providers, we experience contentment in our lives so that we can provide wellbeing for others," says Hina Patel. Hina is a pharmacist in Nashville with family in McMinnville, and couldn't believe that she has never visited the nearby iii before! She also attended the Upa-yoga session in Mahima and felt a sense of deep calm. The visit was a profound experience for her, and it made her take pause and reflect. What she found at iii reminded her of the spiritual elements of her upbringing in India. "This is what I was taught. It's a science, and I'm all about science!" She thinks Sadhguru does a great job of imparting the science of Yoga, especially to people like her that have immigrated into the US and are looking to stay connected to their spiritual roots. In the Upa-yoga session, Hina experienced a sense of serenity and felt inspired to continue her journey of self-empowerment. She looks forward to continuing using Sadhguru's tools to explore the different dimensions within herself.
Get weekly updates on the latest blogs via newsletters right in your mailbox.
The Beautiful Cumberland Plateau
Spending a day at iii is never complete without spending some time outdoors. One of the popular features of Free Yoga Day was the hiking. The bright colors of nature at every corner and the lush green forest make the iii one of the most beautiful places in the nation for many visitors. Many Free Yoga Day participants joined the guided hike, but Vinit Chaudhari opted for the option to hike on his own with a friend. He came from Knoxville, TN, just a two-hour drive away, and the hike was quiet, peaceful, and refreshing for him. The  Isha Institute of Inner-sciences is cradled by the Cumberland Plateau, the world's longest hardwood-forested plateau, and the clearly-marked trail takes hikers past two waterfalls and continues on to a breathtaking view of the Plateau from a set of bluffs, or cliffs that overlook the forest.
Food, Meditation, Organic Products
"What was in this delicious concoction?" This is a question often asked by people who have experienced a meal at the iii Dining Hall, and Free Yoga Day offered a cooking class to illuminate how to make a tasty and healthy meal using foods that boost your energy. Additional elements of the day included Isha Kriya meditation for clarity, health, and joy, as well as the physical practice of Yoga Namaskar to nurture the physical, psychological and energy dimensions of a human being. Almost no visitor left the Institute without a stop at Isha Shoppe, the Institute's eclectic one-stop shop for Yoga accessories, organic herbal capsules, copper crafts, aromatic incense, and much more. 
Toni sums up the day best: "The feeling I'm left with after being here is serenity. Free Yoga Day brought so many different people together and that's amazing."
The Isha Institute of Inner Sciences warmly welcomes you to join our next Free Yoga Day.