Week in Review - Yaksha, Yaksha – Mahashivratri!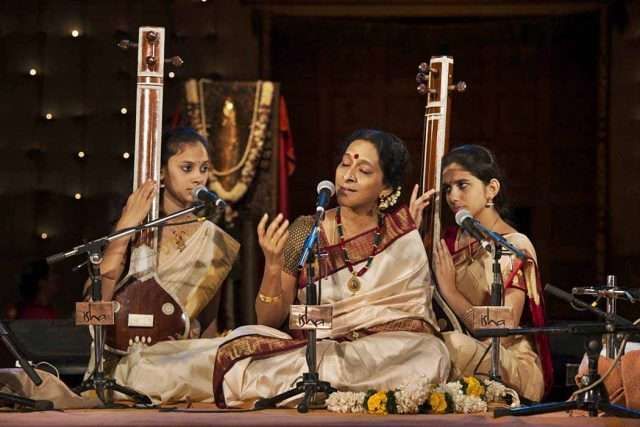 Yaksha – A Celestial Feast of Music and Dance
Artists from all over the country set sail to the Isha Yoga Center to take part in the seven-day festival of music and dance. Yaksha, a prelude to the Mahashivratri extravaganza, is a celebration of classical music and dance representing the vast array of styles throughout India.
Performances were set to take place in front of the Linga Bhairavi Temple, which was wondrously lit by 1008 lamps and decorated with flowers and garlands. Due to surprise rains, however, a few performances were quickly relocated to Spanda Hall. But by mid-Yaksha, Devi had her way! The rains halted and the remaining artists performed in the presence of Devi, dazzling in Her abundant grace.
Devi also made a dazzling appearance. After each performance was the Linga Bhairavi Procession – where a representative of Devi, the Utsvamurthy, is carried in grand style to the Dhynalinga so She can woo her love, Shiva. With fire dances, drums and the sound of conches and ancient trumpets roaring – and with hundreds of people following Devi to her destination - it is a procession of the finest order and befits a queen being received in a foreign land.
Yaksha Recap: Days 1 - 3
Yaksha so-inspired the students of the Isha Home School that many took to their journals. Here is one sharing by Goutam M. Raju, Class XI, of the first three days:
The first day of Yaksha offered people a sitar performance by Ustad Shahid Parvez Khan, who is undoubtedly one of the most talented sitar players. At times his music wafted gently and at times it was on rapid-fire. His unearthly Hindustani sitar music enchanted the crowd and kick-started Yaksha into high gear.
The second days's performance was by Dr. Sonal Mansingh. The renowned Odissi and Bharatanatyam dancer is a recipient of the prestigious Padma Vibhushan, and her performance on the 25th showed us that she is more than worthy of the award. She performed several captivating Odissi dances that day, but the most striking of these was surely the one she had created herself about the nine faces of Shiva. The great dancer's clear portrayal of emotions allowed even the common viewer to understand the dance.
Get weekly updates on the latest blogs via newsletters right in your mailbox.
The third day of Yaksha featured Shri T.V.Sankaranarayanan, a great Carnatic vocalist and recipient of the Padma Bhushan. Shri Sankaranarayanan, accompanied by his son and daughter, cast a spell of Carnatic music over all present for two full hours. The deafening applause following his performance was proof enough of how amazing it was.
Yaksha Recap – Days 4 - 7
Parveen Sultana, one of the foremost classical vocalists in India, was center stage for Day Four. A child prodigy, she gave her first recital at the tender age of twelve. Audience members soaked in her generous performance, which was both playful and mesmerizing.
Day Five brought the eclectic duo of Anil Srinivasan and Sikkil Gurucharan. Anil is a classically trained pianist in both Carnatic and western styles, and Sikkil is a Carnatic vocalist. The result was a beautiful hybrid of East and West that was especially touching to our overseas meditators, who emotionally connected with the resonance of Western melodies intertwined with Eastern tradition.
The exquisite classical flute of Ronu Majumdar was an absolute delight. At times soothing and other times exuberant, audience members found themselves enraptured by the music, and humbled by the artist's graciousness. As it has been said, "If the flute is likened to a temple, Pt. Ronu Majumdar would be its foremost worshipper."
And what to say about Pandit Jasraj –the foremost exponent of the Mewati Gharana of Hindustani classical music? All were graced by the presence of this living legend. And with his divine voice and magical presence, it was only appropriate that he conclude this year's celestial feast of music and dance.
The Hindu covered Pandit Jasraj's amazing performance at Yaksha in a recent article:
It requires a certain arrogance to comment on a personality such as Pandit Jasraj, especially so when one is unschooled in classical music. But, maybe that is why he is so great - he can keep his listeners riveted, be they connoisseurs or complete greenhorns.
So, as he sings Om Sri Ananta Hari Narayana… Mangalam Bhagwan Vishnu, Mangalam Garuda Dhwaja….in raag Durbari, there is just awe.
As Panditji builds up the tempo from the alaap, it is as if he is playing with the notes. He gathers them up, lets them loose, a note at a time, sometimes a torrent, and then reins them in again. The sargams dance and the flames of the oil lamps dance gleefully along. It is breathtaking.
We look forward to Yaksha 2012 – another collection of extraordinary artists. Join us for next year's celebration!
A Musical Beginning: Isha Home School Opens Its New Auditorium - Tarana
On 1st March, Isha Home School opened its new auditorium, Tarana. The hall was inaugurated by Padma Vibhushan Pandit Jasraj in the presence of Sadhguru. Befitting its name, the inaugural function featured tarana and tillana compositions. The junior-most students began with a fast-paced Ganapati Vandanam and the Music Club students, accompanied by their tabla and mridangam teachers, presented a tarana jugalbandhi of the Hindustani and Carnatic styles in the Raga Bhoop / Mohanam.
Sadhguru spoke about the space, which he said will host a number of artists over the coming years, with the hope of inspiring the next generation to also pursue music and other art forms. He pleasantly surprised the audience by closing his speech with a small tarana of his own. The function ended with Panditji and two of his disciples singing a medley of tarana compositions, which left the audience spellbound.
Radhe Takes the Stage!
In the latest Sadhguru Spot, Sadhguru writes about his daughter's first public dance performance, which took place at the ashram. And with so much love and support pouring in from residents and guests, especially those who have known Radhe since she was a child, there was no better place for her to make her debut! It was truly touching to see her courage, even as the rain fell, not to mention her beautiful performance and exquisite facial expressions.