Re-Engineering Detroit - Largest Inner Engineering ever in the US
People across the country, and around the world actually, are often surprised that a seemingly industrial city like Detroit has such a strong Isha meditator base. Those who live here know, this is the very reason - Detroiters know how to commit, work hard, and make something as important as a large Inner Engineering program happen. However, despite the work ethic here, Detroit has fallen on hard times. Not only are US automakers struggling to stay afloat by cutting jobs, they are decentralizing as well, putting tens of thousands of people here out of work. One in five people in Detroit are now unemployed, and even though this is a global issue as well, Detroit being a one-industry town, it is actually the hardest-hit city in the US. Sadhguru has been coming to Detroit to conduct programs right from his first visits to the US, and therefore has a deep and long-standing relationship with people here. Specifically concerned about the situation here, his intention was to offer Inner Engineering to as many people in Detroit as possible, all at one time - a huge possibility that could have a tremendous impact in the city.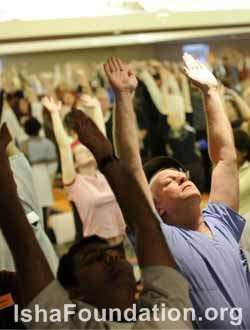 Needless to say, volunteers here jumped at the chance to make this happen. After several months of intense planning, organizing, and simply getting the word out in a myriad of creative ways, nearly a hundred Detroit volunteers were overjoyed to welcome Sadhguru and over 600 participants to the largest program every in the United States. The Hellenic Cultural Center Hall in Westland, Michigan was filled to capacity for the five-day Inner Engineering program conducted by Sadhguru. In fact, during the first hour of the open introductory talk, it was standing room only. Approximately one hundred of those who had come for the open intro talk hurried immediately to register for the entire program during the short 20 minute break. Somehow it all "magically" happened in that small span of time, and as a result of a tremendous amount of anticipatory planning by the registration team.
The organizing volunteers had hoped that as many Detroiters as possible would have an opportunity to experience a change of consciousness by sitting with Sadhguru and be initiated into Shambhavi Maha Mudra. Many of the volunteers wept seeing what had been a dream five months, then evolving in the course of the preparations, was now actually happening - 600 people in one US city were being initiated simultaneously. A volunteer shared, "The program was like a huge festival which spread over five days. Volunteering so far in my life meant doing something without anything in return. I guess, I gained a lot in return, topped off by a loving gaze from Sadhguru for all of us, a moment which I will cherish for the rest of my life."
The whole five-day event had a certain electrical quality as almost everyone present knew they were partaking in the first offering of such a scale in Detroit, a gift to a city that has been drowning in news about the next series of lay-offs or business, newspaper, and plant closings. Renewed hope and gratitude were palatable in the air, showing again how the human spirit reaches for the highest possibility regardless of the situation. The100 plus volunteers were thrilled knowing they were witnessing a special moment in many lives in a very worried and frightened city, and witnessing a special moment for the country, aware of the large imprint Sadhguru's work will continue to have in the US even after the event was complete.
Get weekly updates on the latest blogs via newsletters right in your mailbox.
It is hard to put into words the genuine thirst, attentiveness, and appreciation this large group had for everything Sadhguru said and taught. One young man stood at the inside edge of the door to the hall alone and somewhat stunned after initiation with tears of gratitude flowing quietly down his face while the rest of the group milled around him streaming in and out during lunch. When asked how he was, he said he couldn't fathom his good fortune to be here after having just come across the book Midnights with the Mystic only days before. He found himself quite speechless and in awe. Many, many stories like this were known and even many more are yet unknown. One woman came to the program after she saw the volunteers setting up the morning of the event, while she was walking her dog through the parking lot of the cultural center. She saw the industrious energy, asked what was happening, and sign up as a walk-in that evening. Announcing this with tremendous glee in her voice on the last evening, she received a gregarious round of applause.
The participants in general, came from all kinds of backgrounds -homemakers, retirees, laid-off autoworkers, former government employees looking for a new start, unemployed minimum wage workers, executives surprised by sudden terminations, and equally as many people who still hold their jobs in corporate, hospital, or other businesses doing the work now of three people, with triple the amount of stress.
In what seemed like a sea of humanity, all these people partnered to help one another learn each segment of the practices, correcting and supporting one another in good humor, in a very crowded hall.
Even though events of this size and this kind of need are nothing new to the volunteers at the ashram in India, it was a completely new experience for the US volunteers to support the environment for this many people and create a smooth and seamless process. Quite amazingly the diligent focus and cooperation allowed the program hall, meals, and initiation to run surprisingly evenly without any major glitches, although certainly, many new lessons were learned. Several participants commented on how impressive and efficient the process was handled with seemingly little confusion. This allowed participants to fall into the program and to be deeply touched and trained by the Master's hand, learning the preliminary asansas, Surya Namaskar, to Shambhavi Maha Mudra without distraction.
One participant shared that he was feeling better in every way, considering things in a different light and noticing a new feeling of lightness in his body. Another man expressed surprise that the program could be having such a profound impact on his life so quickly, especially in his work setting. He was actually finding work enjoyable in ways he never had before.
True to the unpredictability of Michigan weather, on the last night, the spring temperatures dipped to freezing during the final hours of the program, the winds howled and a mild blizzard blew in contrast to the warmth inside the hall. At programs end, even seasoned Michiganders were surprised to see blinding snow blowing outside at the beginning of April. Participants came out to volunteers offering coconut prasad. One woman exclaimed, "You made all of these for us?" She was beaming with joy as she walked out into the snow with her flower blessed by Sadhguru and her coconut sweets.
At the end of the program, many more Isha meditators began arriving for the meditators' Sathsang coming in by buses from Toronto, carpooling from Ohio and beyond. After gracing the group with his meditative chanting and inspiring words, Sadhguru opened the floor to questions. He spoke about child-rearing and marriage. He expressed that it is a mistake for parents to expect children to be in their image. As always, despite the long day, even the new meditators were reluctant to see Sadhguru leave the hall, many crowding around to catch one more glimpse of the mystic Master who had just changed their lives forever.