Rally for Rivers – A Model for a Global Ecological Movement?
Rally for Rivers is being examined in earnest by the state and central governments in India. Meanwhile, it is also being seen by global leaders as a model ecological movement.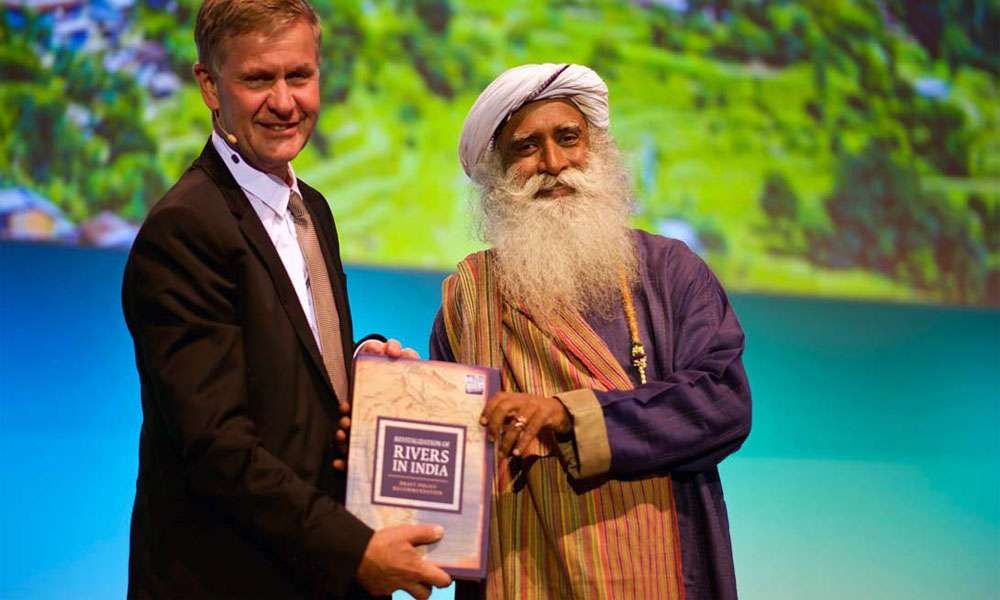 After a remarkable awareness campaign that brought 160 million people together, Rally for Rivers has taken many notable strides towards making the policy recommendations a ground reality. After millions of Indians responded with their concern about the desperate state of our lifelines and what has to be done to restore them, the state and union governments have responded as well. Six states – Karnataka, Maharashtra, Gujarat, Punjab, Assam and Chhattisgarh – have signed Memorandums of Understanding with Isha Foundation for river revitalization as a peoples' movement. On-ground project planning has commenced in Maharashtra. https://twitter.com/ishafoundation/status/906499082872487936 https://twitter.com/ishafoundation/status/891231812134948864 https://twitter.com/rallyforrivers/status/910498323437469697 https://twitter.com/rallyforrivers/status/913657647898836993 https://twitter.com/SadhguruJV/status/942716888445890561 https://twitter.com/sadhgurujv/status/935551329778278400 The Niti Aayog has set up a committee under its CEO to examine the Rally for Rivers policy proposal. And Rally for Rivers now has a Board! The board members are an illustrious group – Justice Arijit Pasayat, retired Supreme Court Judge, Ms. Kiran Mazumdar-Shaw, Chairperson & Managing Director of Biocon, Mr. Ravi Singh, Secretary General & CEO of World Wildlife Fund-India, Mr. Shashi Shekhar, IAS, who retired in December 2016, as Secretary in the Ministry of Water Resources, River Development & Ganga Rejuvenation, Government of India; and Mr. Pravesh Sharma, IAS, who last served as MD of Small Farmer's Agribusiness Consortium in the Ministry of Agriculture, Government of India. This Board will interface with Government at different levels and other stakeholders such as the industries, farmers, voluntary organizations etc. https://twitter.com/SadhguruJV/status/940879870468468737 https://twitter.com/sadhgurujv/status/936552525565648896
A Model Ecological Movement
And now, the rest of the world is taking notice too. Sadhguru was recently invited to the Global Landscapes Forum (GLF) to address an elite international audience in a discussion with Erik Solheim, the Executive Director of UN Environment. Rally for Rivers was the topic of discussion. Special focus was placed on its success as a mass ecological movement, and as an example for other nations in involving the public in ecological concerns. The thousand-strong audience that attended the event consisted of the heads of nations, environmentalists, ecologists, policy-makers and other nation-builders and influencers from around the world. https://www.youtube.com/watch?v=wk-MgC_efe8 GLF is the world's largest science-led platform on sustainable land use. It is led by the Center of International Forestry Research (CIFOR) alongside founding partners UN Environment (formerly UNEP) and the World Bank, with core funding provided by the German government. The Global Landscapes Forum accelerates action towards the creation of more resilient, equitable, profitable, productive and healthy landscapes and the achievement of the UNFCCC Paris Agreement and Sustainable Development Goals (Agenda 2030). The 2017 GLF conference took place in Bonn, Germany on December 19. https://twitter.com/ErikSolheim/status/943172522471772162 https://twitter.com/GlobalLF/status/947048382320775168 https://twitter.com/SadhguruJV/status/943131387925708800 https://twitter.com/SadhguruJV/status/943039329709862912 https://twitter.com/SadhguruJV/status/943039326484496385 GLF aspires to spark a movement of 1 billion people towards sustainable landscapes. It is no surprise then that they were keen to understand how a movement like Rally for Rivers was conceptualized and rolled-out on such a massive scale. One of the key points which Sadhguru brought forth was: "It's very important that an environmental movement presents our concerns in a way that it's beneficial for the people. They must understand that by engaging with it they will benefit in some way because they're just fighting for their survival. You can't tell them to go save the planet – it's not going to work. So, this is the fundamental difference that I try to bring about." https://twitter.com/SadhguruJV/status/945672942758764545 https://twitter.com/SadhguruJV/status/943767149641809922 https://twitter.com/SadhguruJV/status/943775432502951937 He also spoke about how those who the society trusts should be brought into the movement. This crucial trust-building exercise with the various stakeholders, including governments, public, industry and farmers is the reason for Rally for Rivers' success, Sadhguru said. Sadhguru advised other nations to replicate this: "In your countries and in your societies, whoever is that voice, you must pick out that person and make sure that person speaks. It could be a sports star, it could be a film star, it could be spiritual leader, it doesn't matter who they are but it's a trusted voice. Only then we can move the people." Other points that Sadhguru brought up were about converting filth to wealth, so that wastewater is treated and utilized for irrigation. Sadhguru also stressed on the need to remove taxation on Farmer Producer Organizations, and how local communities should be allowed to participate and also protect the forests they depend on. https://twitter.com/SadhguruJV/status/945329195529379840 The discussion was very well-received by all present, who lauded the efforts of Rally for Rivers, which they hoped can be a model for a global ecological movement. The Director General of CIFOR, Robert Nasi, sent a letter thanking Sadhguru for his participation in GLF and appreciating his insights. "The impact of your involvement cannot be understated," said Mr. Nasi. A very succinct and appropriate encapsulation of Sadhguru's and Rally for Rivers' impact! https://twitter.com/rallyforrivers/status/949870942548717568 https://twitter.com/dw_environment/status/945566516577210368 https://twitter.com/dw_globalideas/status/949271380012433408 https://twitter.com/GlobalLF/status/949324849536753666 https://twitter.com/lakshmichetan/status/949261493786177536 https://twitter.com/sakyipatrick/status/948941270470287362 https://twitter.com/GlobalLF/status/947930446024802304
Get weekly updates on the latest blogs via newsletters right in your mailbox.