Ragi Halwa
This week's recipe is a delicious Ragi Halwa, to serve as dessert after dinner, or just to snack on!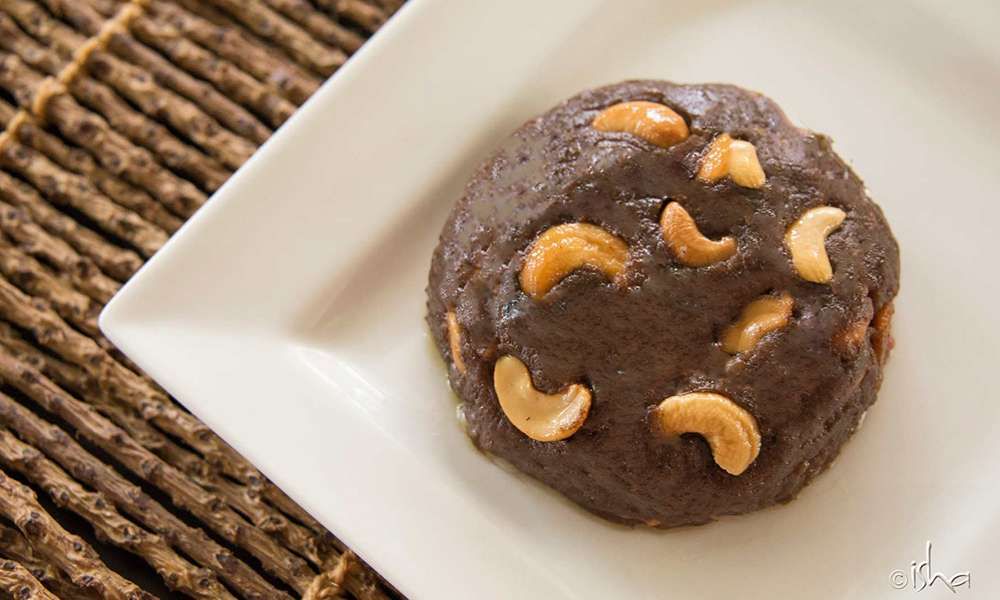 Ragi Halwa
This week's recipe is a delicious Ragi Halwa, to serve as dessert after dinner, or just to snack on!
Prep time: 10 min
Cook time: 20 min
Total time: 30 min
Ingredients
Ragi Flour : 1.5 cups
Jaggery or Coconut Sugar or Sugar (powdered) : 1.5 cups
Coconut Oil or Ghee : 1/2 cup
Cashews : 1/2 cup
Cardamoms (powdered – seeds only) : 4
Water : 3 cups
Coconut Oil or Ghee (to sauté the cashews) : 1 tbsp
Tip: Jaggery and coconut sugar go well with coconut oil; sugar goes well with ghee.
Method
Get weekly updates on the latest blogs via newsletters right in your mailbox.
Sauté the cashews in 1 tbsp. coconut oil or ghee. Keep aside.
Mix ragi flour and water into a paste.
Heat the mixture in a thick-bottomed vessel on medium heat, stirring constantly.
After 3 minutes, mix in the powdered sugar and cardamom powder.
Start adding the coconut oil (or ghee), 2 tablespoons at a time. Keep mixing until all the oil (or ghee) is used.
Lower the heat and keep stirring for another 3–4 minutes. The mixture will start coming together – from a pasty consistency to a ball. Add the sautéed cashews.
Cook for another 2–3 minutes, mixing constantly. As the mixture cooks, the oil will start to separate from the ragi ball. Drain the excess oil and transfer the halwa to a glass bowl. Serve warm.
Did you know?
Coconut oil is the most stable oil for cooking and frying. The polyunsaturated omega-6 fatty acids found in other vegetable oils like canola, safflower, sunflower, corn, and soy oil are susceptible to heat damage, which may result in toxins when used for cooking and frying.
Many believe the saturated fat in coconut oil is bad for the heart. However, it is actually the artificially hydrogenated trans-fats found in processed food, fast food, and bakery items that are ultimately responsible for a large number of fatal heart attacks.
Compared to other vegetable oils, the medium-chain fatty acids found in coconut oil makes it easier to digest and convert into energy rather than storing it as fat.
The best quality is pure, organic, unrefined, cold-pressed extra virgin coconut oil.
Editor's Note: A version of this article was originally published in Isha Forest Flower June 2015. Download as PDF on a "name your price, no minimum" basis or subscribe to the print version.