Project GreenHands – 25 Million Trees And Counting!
On World Environment Day, we look at Project GreenHands' decade-long journey of how it has facilitated the planting of over 25 million saplings.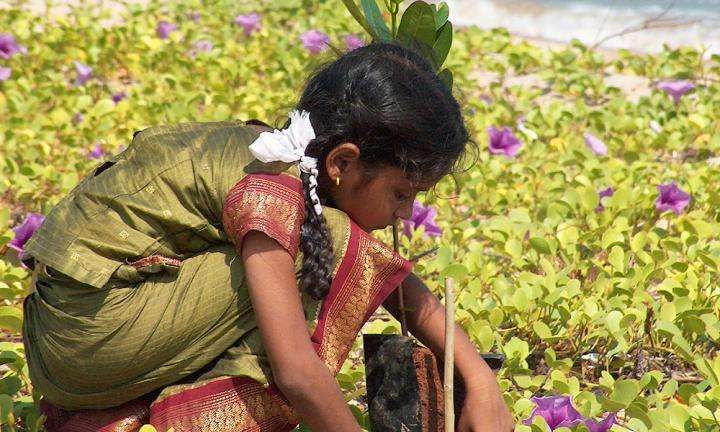 On World Environment Day, we look at Project GreenHands' decade-long journey of how it has facilitated the planting of over 25 million saplings.
Project GreenHands (PGH) is a grassroots ecological initiative of Isha Foundation that has, since its inception on June 5 2004, enabled the planting of 23.81 million saplings by over 2 million volunteers across South India.
PGH had its root in the Vanashree Eco Project, which was started in 2002 to conserve and protect the Velliangiri Mountain range, where Isha Yoga Center is located. Isha volunteers have sown lakhs of seeds to propagate the native species in the area to revive the ecology and biodiversity of the mountains.
Here's a look at how PGH has grown over the years.
2005
It was in December 2004 that Tamil Nadu, along with other states in India, witnessed major devastation in the coastal regions due to the tsunami. Isha volunteers, who were rehabilitating the affected people, observed that coastal areas that had a healthy tree cover were damaged less as compared to those areas with less tree cover. To rectify this situation and as an insurance for the future, PGH planted 25000 saplings on the seashores of tsunami-affected villages.
2006
A landmark year for the organization, PGH planted 852,587 saplings in 6,284 locations across 27 districts in Tamil Nadu, over three days in the month of October, thus earning a Guinness World Record.
2007
Over 4 million saplings produced by 427 volunteer nurseries, were planted by about 100,000 people all over Tamil Nadu and Pondicherry.
Get weekly updates on the latest blogs via newsletters right in your mailbox.
2008 – 2010
Between 2008 and 2010, 5.5 million saplings were grown and planted in every district of Tamil Nadu and Pondicherry with the support of the district administrations and volunteers.
In 2010, PGH was awarded the highest environmental award in India – the Indira Gandhi Paryavaran Puraskar (for the year 2008) under the Organization Category by the Ministry of Environment and Forests, Central Government. The award was presented on World Environment Day, June 5 2010 by the former President of India, Dr. A.P.J. Abdul Kalam.
On 30 September 2010, PGH recieved the "Sport for the Environment" award at the Beyond Sport Summit in Chicago. Beyond Sport is a global organization that promotes and funds the use of sport to create positive social change across the world.
2011 – 2014
Every year since 2011, an average of 3.5 million trees have been planted by the project under 3 models.
Trees for All
In this model, saplings are handed out as part of the education programs teaching people about the multiple benefits that trees offer. Each year, millions of saplings are grown by an expanding network of volunteer-driven nurseries and handed out to anyone who pledges to care for each tree for a minimum of 2 years. Awareness programs are also organized in educational institutions, offices and public functions, and saplings are distributed.
16.79 million saplings have been planted through this model thus far.
Trees for Life
This initiative promotes the planting of ecologically and economically beneficial tree saplings in farmlands, thereby offsetting or increasing farmers' income. The trees' yields reduce expenditures and offer the possibility of future income through small-scale forest enterprises.
To date, 3.84 million saplings have been planted through this initiative.
Green School Movement
The Green School Movement aims to create "green consciousness" in the younger generation by training them in sapling production and plantation through school nurseries. Right from sowing the seeds to finally growing it into a tree, children are involved in every aspect of the project. Environmental education is delivered as an experience, rather than something in a textbook.
3.18 million saplings have been planted by students through the Green School Movement.
PGH was awarded the State Environmental Award by the Department of Environment, Tamil Nadu State Government on April 5 2012.
On 13th July, 2013, PGH recieved the LASSIB Society Honorary award on social responsibility for its valuable service in the field of environmental and ecological restoration.
Plan For 2015
5 million trees in 2015: The Hon'ble Minister of Environment, Forests & Climate Change, Shri Prakash Javadekar officially launched PGH's planting season for 2015, by planting the first sapling at the Coimbatore nursery on May 26.
PGH's plan to plant 5 million saplings can be expected to absorb nearly 150,000 tons of carbon, once the saplings mature. (A mature tree absorbs about 30 kilograms of CO2 a year). Nearly 65,000 people's carbon footprint can be neutralized by this effort. (Each person generates around 2.3 tons of CO2 in a year).
Join us in making the world a greener, healthier place for the generations to come. For more on how you can participate, send an email to info@projectgreenhands.org