Philadelphia Experiences the Exuberance of Shambhavi!
"I want a few more ecstatic people on the planet. Will you cooperate?" Sadhguru asks Philadelphia. Find out all you need to know about the largest Isha program to date in USA.
"This is our time on this planet. What are we going to do? Are we going to make this into an exuberant, joyful, wonderful planet, or are we going to make this into a miserable, horrible one? We are free to do this either way – the choice is yours." - Sadhguru
The Build-up to the Largest Isha Program in the US
Excitement was building up on the morning of April 27 at the Pennsylvania Convention Center in downtown Philadelphia. After two days of shuffling carpets and chairs, setting up ornate shop displays and audio-visual checks, the venue was finally ready to receive over 4500 participants and volunteers from 34 countries and 45 states at the largest Isha program in the United States to date.
In the background one could hear the crash of a thunderstorms and downpouring rain. Philadelphia volunteer Nidhi remarked, "As always, Sadhguru comes with a BANG! He'll be here cleaning up the entire Philadelphia with his powerful presence before he offers the precious tool of Inner Engineering to thousands of seekers."
Lara, 15, from Grand Rapids, Michigan spent two days getting to Philadelphia for the program – driving more than 20 hours and sleeping in her car at a gas station. Since she was 13 she has been eagerly waiting to turn 15 so that she is finally old enough to attend the program. Now, finally that she is 15, her Shambhavi initiation had come!
Not only for those new to Inner Engineering and Shambhavi Mahamudra, this program hosted more than a few who came to receive Shambhavi again from Sadhguru. One such woman from Doylestown, PA commented: "I said to myself, 'You know you're 70, Sadhguru's coming right around your birthday, you have big changes to make now. It's precious. It's priceless. And if you are going, go all the way. Have that experience.'" Another, just fresh from Inner Engineering in Los Angeles in March, came to repeat the experience.
Waiting in the hall for the program to start, participant Sahana from New York City observes, "Music brings people together. And then sports brings people together - you know how many people gather around in a stadium?  I was just fascinated that something like this could have that much power to bring people together."
Sadhguru Arrives, Bringing A Wave of Ecstasy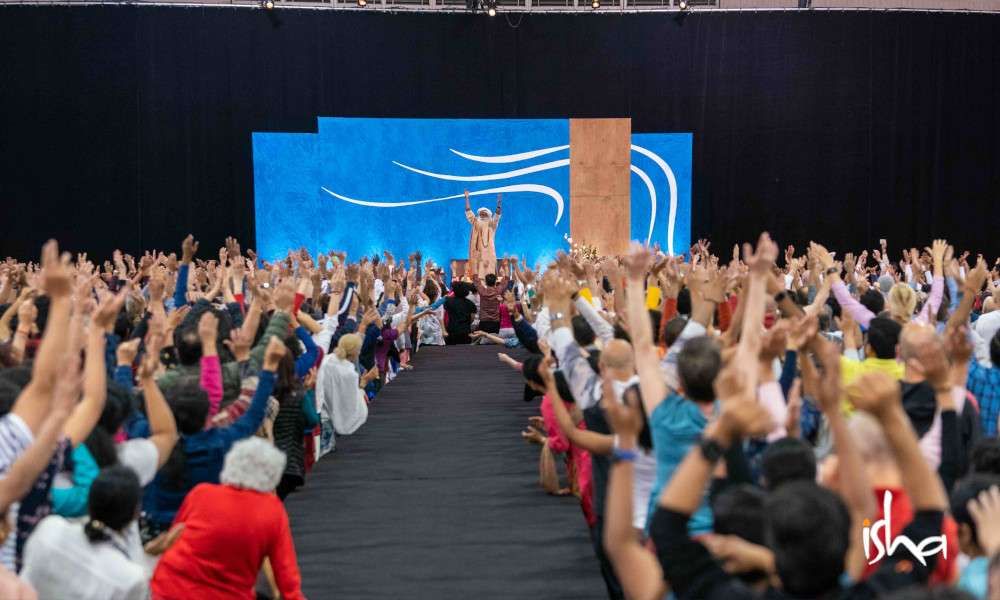 As the time for the program to begin approached, participants waited with anticipation for Sadhguru to arrive. He did not disappoint as he bounced up onto the stage to start the day. As he settled in, participants sat completely captivated seeing him in person for the first time – some couldn't take their eyes off him, others were completely still and silent, while others sat enraptured, swaying to the gentle lilt of Sounds of Isha.
"Next two days we want to build a tool," Sadhguru addressed the participants. He recounted his experience 37 years ago where every cell of his body was bursting with joy and ecstasy and that he had made a plan at that time to make the whole world blissful in 2.5 years. Here, he shared how he has been a failure even after 37 years, stroking his grey beard. Then, he continued, "I want a few more ecstatic people on the planet. Will you cooperate? "Yes!" the crowd roared.
Get weekly updates on the latest blogs via newsletters right in your mailbox.
"There is nothing more important than you being a wonderful human being," Sadhguru said by way of explanation. Karma, he says, is an action which binds you whereas Kriya is an inward action that liberates you, in reference to Shambhavi Mahamudra Kriya. Shambhavi Mahamudra is the powerful tool for self transformation, transmitted during this Inner Engineering Completion program. He then stressed the importance and efficacy of live transmission: "When it comes to subjective dimensions of life it is very important how you receive it."
As the time for the initiation process drew closer, the participants became more open and willing. When the initiation took place, everyone was left stunned in ecstasy, hands clasped in tears of joy and gratitude for what they had received. Sadhguru slowly made his way down the aisle, gracefully, lovingly looking out to the sea of participants. He stopped for a young girl from the crowd who had made her way to him and held her in the most moving embrace. In tears, she humbly walked back to her seat. Another woman who had just been initiated a month back in Los Angeles, and had followed Sadhguru to Montreal and then here to Philadelphia, made her way to the end of the aisle, where Sadhguru took her hands and briefly spoke to her. Slowly a crowd began to gather around the aisle and Sadhguru spent another 20 minutes just reaching out and touching the hands of his newly initiated participants.
At the conclusion of the program, the whole space reverberated with total euphoria, dancing, crying, and laughing with joyful abandon to exuberant music from Sounds of Isha.
Volunteers Pull Off Event Management Par Excellence
What does it mean to be a "wonderful human being?" Both volunteers and participants exemplified this throughout the weekend. The Pennsylvania Convention Center could never have imagined what would transpire over the weekend.
One participant shared, "I returned from the most mind boggling experience. I will tell you this is the coolest event implementation I have ever seen. Notice I said 'implementation' and not 'management.' The volunteers made the event. The smooth precision they work under is most amazing. This starts as you enter the convention center and are greeted with smiles and folded palms. This made my day. The seating team is super awesome efficient. Never and nowhere in the world does anyone repeatedly lay out and remove 3500 chairs in 30 minutes or less. The meal service was awesome. Good food and incredible service. Zero wait in buffet lines!  Never heard of it. Outside Philadelphia, the call center team is awesome. No hold. No music. No offshore. Just someone somewhere in the USA who is able to help out as needed. Better than any commercial service. The footwear management is mind blowingly simple. No where in the world can you see this. Over all the volunteers stole the show and my heart! I will be joining them for the next program!" She is so inspired by the volunteers that she wants to volunteer for the next program.
The staff of event managers and caterers were also stunned – in 15 years of experience, they had never seen anything like it. Within 10 minutes, lunch lines serving almost 4000 people were gone. When food for volunteers ran out on Sunday, Terry from the catering team was so inspired, she immediately prepared extra food for 300 people to serve at the end of the program. Another staff member from the sales team, Mary, was almost in tears as she commented on how well the event had come together.
The Choice Is Yours
What will participants and volunteers do after coming to the program? Nick from Chicago says he is already thinking about joining Sadhanapada at the Isha Institute in Tennessee. Sadhanapada is an offering from Sadhguru to spend 7 months to transform oneself through focused sadhana, including yogic practices and volunteering, and be immersed in powerful consecrated spaces. This time, from Guru Purnima to Mahashivratri, is viewed as most supportive for one's spiritual growth.
He is just one of many Ishas who took to heart Sadhguru's concluding wisdom in the program: "This is our time on this planet. What are we going to do? Are we going to make this into an exuberant, joyful, wonderful planet, or are we going to make this into a miserable, horrible one? We are free to do this either way – the choice is yours."
Editor's Note: Find out more about Inner Engineering, including upcoming program dates and venues.