Navratri 2021 – Nine Nights of Devi
Learn all about the nine auspicious nights of Devi and how one can make the most of this time for one's wellbeing and spiritual growth.
We welcome you to join us for the Navratri Abhishekam via the free live webstream at Linga Bhairavi, and experience Devi's powerful presence wherever you are.
When Is Navratri?
Navratri 2022 begins on 26th September and ends on 4th October. These nine auspicious days of Devi are celebrated in the Yogic culture as the time of the Divine Feminine. There are various rituals and meditative processes that are tailored specially for these nine days that one can participate in to earn Devi's grace.
Why Is Navratri Celebrated?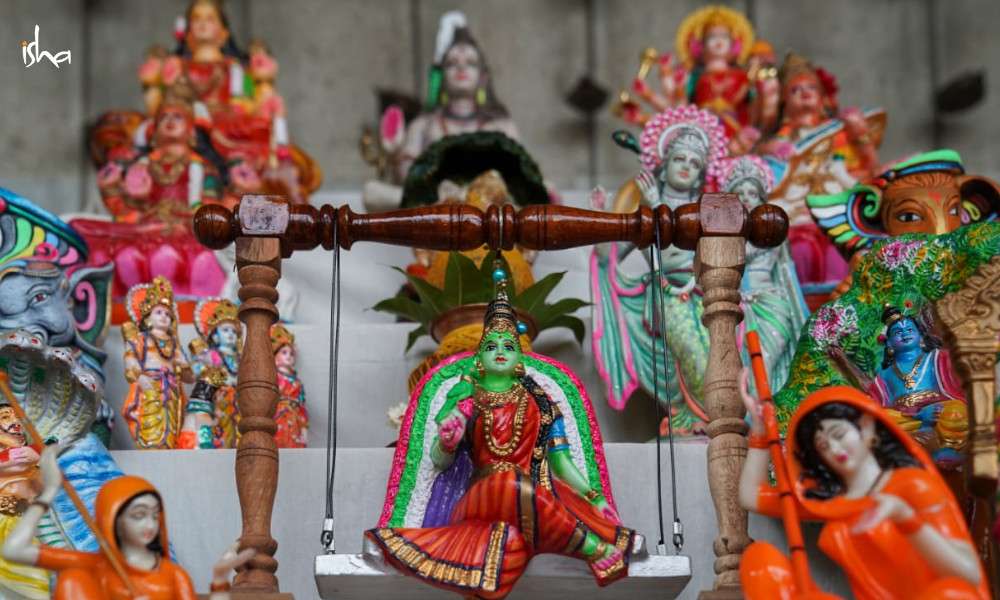 Sadhguru: The cultures that traditionally venerated the goddess knew that there is much in existence that can never be understood. You can enjoy it, celebrate its beauty, but never understand it. Life is a mystery, and will always remain one. The festival of Navratri is based on this fundamental insight.
Navratri Pooja
Navratri at Isha Yoga Center is a grand celebration with special poojas, classical music and dance concerts, folk performances, and the spectacular Linga Bhairavi procession and Maha Arati in front of Nandi. 
Each day of Navratri includes the Navratri Pooja, a powerful opportunity to imbibe Devi's Grace. The Navratri pooja includes an elaborate abhishekam of 11 offerings and a vibrant offering of music and dance extolling the glory of Devi, thereby creating an explosion of energy. 
A Navratri Story – Mahishasura Mardini
Sadhguru: You did not drop from heaven, as some people believe. You evolved. The qualities of an amoeba, an earthworm, a grasshopper, a buffalo, and every kind of beast that evolution went through are still with you as compulsive tendencies. Even modern neurology recognizes that one part of your brain is that of a reptile, at a stage of development which is instinctive. But over that, the flower of the cerebral cortex evolved.
Get weekly updates on the latest blogs via newsletters right in your mailbox.
The symbolism of Mahishasura and his buffalo is that when the masculine exists by its own nature, it lives instinctively. Only when the feminine enters, the flower opens up. When it opens, the masculine or the beastly nature falls at Devi's feet. 
Nine Days of Navratri
Navratri is an exploration of the three main forms of the Goddess – Durga, Lakshmi and Saraswati. Accordingly, Linga Bhairavi takes on three different colors and forms for every three-day period during Navratri. 
Sadhguru: The nine days of Navratri are classified as per the three basic qualities of tamas, rajas and sattva. The first three days are tamas, where the goddess is fierce, like Durga and Kali. The next three days are Lakshmi-related – gentle but materially oriented goddesses. The last three days are dedicated to Saraswati, which is sattva. It is related to knowledge and enlightenment. 
After Navratri, the tenth and final day is Vijayadashami – that means you have conquered all these three qualities.
Navratri Sadhana
Sadhguru has created a special sadhana that can be done during this Navratri period to help a devotee become more receptive to Devi's grace. Read this article to find out about the sadhana.
Navratri Songs
Music is a wonderful way to evoke devotion and can transport one to a completely different realm within. No celebration is complete without music and Navratri is no exception! Here are some artfully rendered Devi songs to brighten up your Navratri even more. 
Navratri Wishes
Wish your loved ones a Happy Navratri in style with these 15 Navratri wishes.
Navratri Quotes
Here are 25 Devi quotes by Sadhguru that capture the essence of Devi in all its complexity and glory. Let Sadhguru's words take you deeper into the colorful and vibrant world of Devi – the Divine Feminine.   
Editor's Note:
We welcome you to
join us
for the Navratri Abhishekam via the free live webstream at Linga Bhairavi, and experience Devi's powerful presence wherever you are.