Navratri Celebrations 2013 – Devi's Procession
On the sixth day of Navratri, we present Sounds of Isha's Bhairavi Shatakam, explore sea-shell craft work from Hands of Grace and sharings of the Linga Bharavi procession and Maha Arati.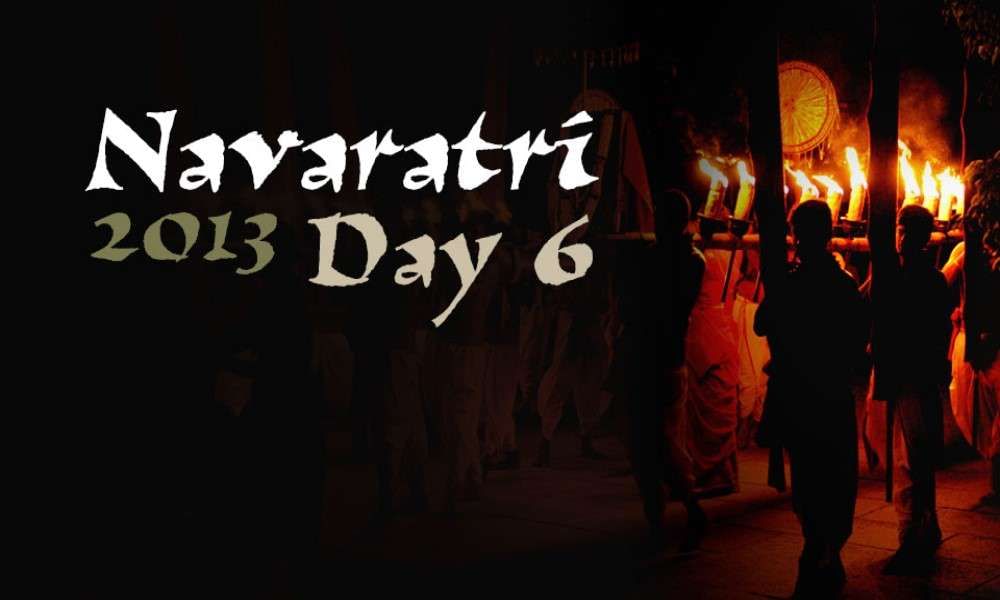 Navratri, the nine nights that celebrate the Divine Feminine
are a time of great festivity in India. At the Isha Yoga Center, several colorful and exuberant events will be taking place throughout these nine days and on Vijayadashami, the day after Navratri.
On the sixth day of Navratri
, we present Sounds of Isha's Bhairavi Shatakam, explore sea-shell craft work from Hands of Grace and sharings of the Linga Bhairavi procession and Maha Arati.
Bhairavi Shatakam
http://soundcloud.com/soundsofisha/bhairavi_shatakam?in=soundsofisha/sets/ye-devi
Linga Bhairavi Procession
The Navratri pooja, every Navratri evening, is followed by a grand procession of the Linga Bhairavi Utsavamurti (a consecrated form of Devi) towards the Dhyanalinga, representing Devi's wooing of Dhyanalinga. Tara, from Calcutta – a place famous for its Durga Pooja during Navratri – shares her experience of this exuberant event.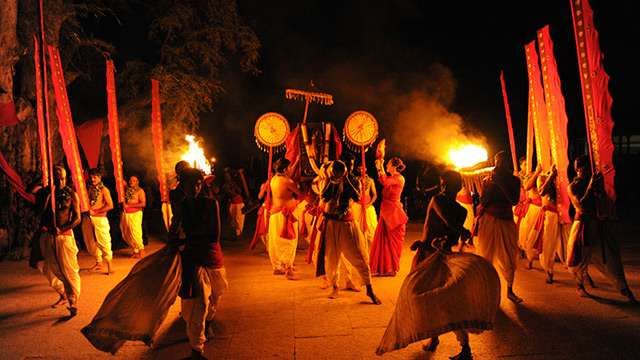 "It was such a fantastic sight watching Devi set out in all her finery to woo Dhyanalinga. The golden glow from the line of fire torches that flank her, and all the cloth fans, bells, conches and drums made me think of a royal procession, which is quite appropriate since she is a goddess. The whole procession is preceded by very fierce-looking warriors with spears, who are I believe her Guard of Honor. The procession of course, is a prelude to the Maha Arati in front of the Dhyanalinga. There, a powerful rhythmic music set me swaying to its tune, and the brahmacharis with great bowls of flame held in their hand, danced with alacrity and performed the Arati. The whole evening, left me filled from head to toe with Devi! Quite a few days have passed since that evening, but every cell in my body is still reverberating with Devi's Grace."
Get weekly updates on the latest blogs via newsletters right in your mailbox.
Sea-shell Crafts
Hands of Grace, the handicrafts exposition has begun at the Isha Yoga Center, and will run till 13th October. Today, we feature sea-shell craft work from artist Abraham Raman. Shellcraft is a folk art which is carried out by amateurs, and turns beach detritus into everything from intricate flowers to scenes showing tigers. Naturally coloured shells, adhesive like fevicol, bamboo sticks and transparent varnish are the raw material. Shell jewellery and figurines made from shells, boxes and mirror frames covered in shells and larger constructions including mosaics, encapsulate nature's beauty and generosity.
Though shell crafts are practiced across coastal India, Mr. Abraham Raman's craft items come from Pulicat village in Tamil Nadu. The story's beginning is a tragic tale, orginating in the 2004 tsunami that swept large parts of South Asia, including India's east coast. After the disaster, the people of this village were scared of the sea, without a means to earn a living. Mr. Raman, thanks to an idea from a friend, taught the villagers this art to recreate their lives again.
A Bouquet of Dances
Uma Maheswari Vivek is a Bharatanatyam dancer and teacher, who learnt the art under Kalaimamani Kalacharya S.K. Kameswaran and Natyathilakam Smt. Saroja Kameswaran. Known for her expressive Abhinaya and balanced presentations, she has been awarded the "Young Talent of the Year" award by the Department of Culture, Government of Tamil Nadu.
Vinaya Narayanan, an exponent of Mohinyattam, has trained in the art form for the past 26 years, and continues to train under the tutelage of Padmashri Smt. Bharathi Shivaji. A recipient of the title "Kala Thilakam," she has performed widely all over the country, as well as internationally in the USA, Indonesia, Thailand, Russia and Germany.
Veena has been training in Kathak for the past 7 years under Guru Rumela Mukhopadhyay of Tarang and the Kaikini sisters of Nrityanidhi from Mumbai. She teaches, experiments and innovates at her dance institution Nrithya Darpan in Bangalore. She has been honoured with many awards including "Talent of the Year" for her performances.
Uma Maheswari Vivek, Vinaya Narayanan and Veena Bhat gave a performance of dance that unified various classical dance styles in a platform called Nritya Ranjani. Uma Maheswari performed Bharatanatyam, while Vinaya Narayanan performed Mohinyattam and Veena Bhat performed Kathak. They began their unique performance with Shiv Vandana, in praise of Lord Natraja of Chidambaram. The song potrays dancers paying their obeisence to the Mahadeva and is rendered by Hariharan, and is set to Hamsadhvani raga in teen taal. Next was a keerthanam by Uma Maheshwari, with the technically intricate Janani Ninuvina by Subbaraiya Shastri, set to raga Ritigowla in tala Misra Chapu. Ms. Maheswari's performance brought alive the devotee's impassioned question to Devi, asking her, who else but she, would he turn to for solace. Next, Vinaya Narayanan performed a Mohiniyattam recital of one of Jaideva's Ashtapadi's, Lalitha Lavanga set in Vasanta ragam in adi tala. Veena Bhat then presented the Vinayak Stuti, Rang Pravesh, and later Krishna Vandana.
Join the webcast live at 5.30 PM IST (12 noon GMT) at http://isha.sadhguru.org/live/
Navratri Celebrations 2013 - Index