Manasarovar - Episode 7 of Isha Kailash Travel Journal 2010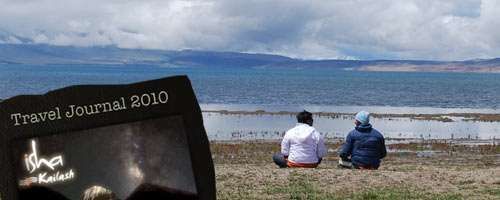 (Cross-posted from Isha Kailash Travel Blog)
After over a week of traveling, preparations, bumps, twists, bathroom breaks, early morning departures and countless other challenges, we reached Manasarovar. The anticipation was high in everyone. Just a few kilometers before we reached Manasarovar, we got stopped by the border guards who told us we'd have to wait 4 hours to continue. Perhaps by the Grace of the Guru, it was only a half hour, and when we finally arrived, we were greeted with a wet welcoming! We weren't even able to see the lake until the next morning when we went through a meditation process and got the chance to take a dip in the lake. Everyone had their own intense experience of the lake, but each seemed to be impacted in an unexplainable way.
The weather cleared up during the day and we spent some quality time at the lake and also got a chance to keep this sacred place clean by picking up the trash around the area.
The evening closed with a special Sathsang with Sadhguru, which started off by the Sounds of Isha and ended with a question and answer session which cleared doubts from many of our yatris.
Tomorrow is the day we're all anxious for... reaching Kailash Mountain... See you there!
"Manasarovar"

Episode 7 of Isha Kailash 2010 Travel Journal
Learn More and Register for Kailash Manasarovar Sojourn.
Get weekly updates on the latest blogs via newsletters right in your mailbox.