"Make a Life" Golf Jaunt with Sadhguru - Live Updates
The "Make a Life" golf jaunt has been conceived and designed to raise funds and increase awareness about education in rural India. The second edition began today at 7.30am with an inaugural tee off by Sadhguru, at the Bombay Presidency Golf Club, Mumbai.
10:06am
The "Make a Life" golf jaunt has been conceived and designed to raise funds and increase awareness about education in rural India. In December 2012, the first edition of "Make a Life" teed off in Delhi. The second edition began today at 7.30am with an inaugural tee off by Sadhguru, at the Bombay Presidency Golf Club, Mumbai.
The golf jaunt is not a tournament, but rather a friendly get together of passionate golfers interested in making a difference and contributing towards the blossoming of a child's life. Though prizes will be handed out to the 8 best scorers, these are just meant to keep them at their competitive edge. It is not really the ultimate goal of the jaunt. Akshay Kilachand of Kilachand Group, Rahul Divan, CEO of Rahul Gautam Divan & Associate, Ashish Chemburkar and Rajen Gandhi of the Bombay Presidency Golf Club are a few of the 88 business leaders in Mumbai participating in this edition of Make a Life - Isha Vidhya Golf Jaunt.
10:35am
This edition of "Make a Life" golf jaunt will support Isha Vidhya, a pioneering initiative committed to raising the level of education and literacy among rural children in India. It has a particular emphasis on English-medium and computer-based education and seeks to ensure quality education for rural children in order to create equal opportunities for all to participate in and benefit from India's economic growth. The target is to establish at least one school in each of the 32 districts in Tamil Nadu, and to partner with government schools to raise overall educational standards. To date, Isha Vidhya has set up 9 schools, with 5,200 students, 56% of who receive full scholarships. Visit the Isha Vidhya homepage or follow them on facebook for more info and regular updates.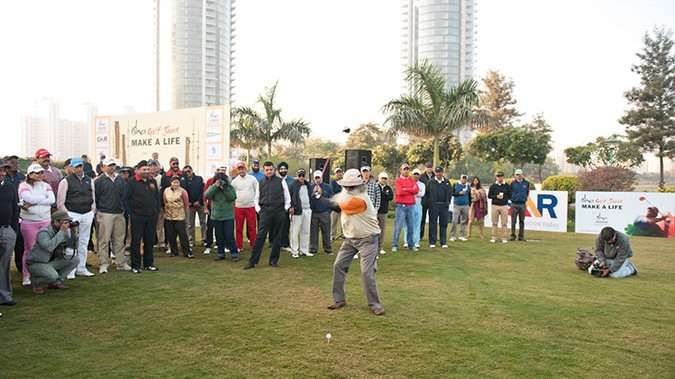 Last year's Delhi golf jaunt also supported Isha Vidhya, and Sadhguru golfed with several eminent personalities including designers Nikhil Mehra and Rohit Gandhi, Ratan Jindal, Vice Chairman and Managing Director of Jindal Stainless Group of Companies, cricketer Nikhil Chopra, and Governor of Arunachal Pradesh General JJ Singh at the Jaypee Greens Golf Course, Greater Noida.
11:42am
Get weekly updates on the latest blogs via newsletters right in your mailbox.
Amit Luthra is one of India's finest golfers who captained the country's team for twenty years and was a gold medalist at the 1982 Asian Games. Today he is a Chartered Accountant and drives Luthra & Luthra, but he still retains an eagle-eye and a powerful swing, not to mention a healthy passion for the game. He joined Sadhguru at the Bombay Presidency course for today's "Make a Life" game. He is joined by Gopal and Anand Vazirani of WMI Cranes Ltd., and Kiran Motwane and Vikas Mankar who are playing for the Suryakanti Group.
Here's Sadhguru's message about the Plight and Possibility that rural India represents today.
"I have known the pain of seeing bright star like eyes of little children in our villages turn into dull hopelessness in a few years with an unsaid fact that there is no way out of the hopeless social and economic pit. This innate intelligence in these bright starry eyes can be harnessed towards making of the nation and a better world or allow it to find expression in the form of violence, addictions, crime or terror.
This is the plight and possibility.
Make at least one life."
12:17pm
With 22 teams playing the 18 holes in rotation, the course is a busy one today. Sadhguru has named each of the teams with Indian flower and river names. So as Tungabhadra heads to hole 13, Mandara heads to hole 14 and Kanakambara moves to hole 15. Here are teams Nagalinga and Kaveri with Sadhguru.
12:42pm
The Isha Vidhya volunteers have been making this a day to cherish for the golfers. Apart from the beautiful decorations and live music during breakfast and lunch, volunteers at the course are ensuring that this golf outing is an educative one for the golfers. Their placards carry information about Isha Vidhya's many initiatives, so that golfers learn more about the cause they are supporting.
Here's a video of an Isha Vidhya volunteer in action at the schools and her experience at Isha Vidhya. Shaloo moved from the US to support Isha Vidhya's activities for a while, and she was touched and transformed by her interactions with the students, teachers and other volunteers.
The Results are Out!
The team comprising of Gurbir Bhurjee, CEO, Juniper Polymers and Harish Thawani, Chairman, Nimbus Communication won the golf jaunt leading by 45 points, giving them the opportunity to participate in the Inner Way program with Sadhguru.
The first runners up include - Rahul Divan (CEO, Rahul Gautam Divan & Associates) and Rajen Gandhi (Captain, BPGC) among others.
The overall longest drive (280 yards) was by Advait Luthra and the overall straightest drive (2ft 11inches) was by Prabhakar.
Congratulations to all the participants!
Making a Life 
Isha Vidhya would like to thank Harishankaran (Vice-Chairman, Infrastructure Leasing & Financial Services Limited) and family who have generously donated two classrooms for Isha Vidhya. Isha Vidhya also extends a special thank you to Sanjay Jain from Yatra Foundation who sponsored scholarships for 170 children.
Closing Words
Sadhguru wrapped up the golf jaunt with these words:
"Seventy percent of India lives in its villages, and unfortunately, a large number of our rural children are not fed properly. Even their skeleton system has not developed fully. We certainly do not want to have an India of such youth. Such unskilled, uneducated youth will be a burden on the nation.
We as a nation have elbow room of 15 to 20 years to turn around many things, and if we fail to do it in this period, it will be very difficult to do it later. If we inspire our rural children, India has a bright future."